Easy Salt Vinegar Smashed Potatoes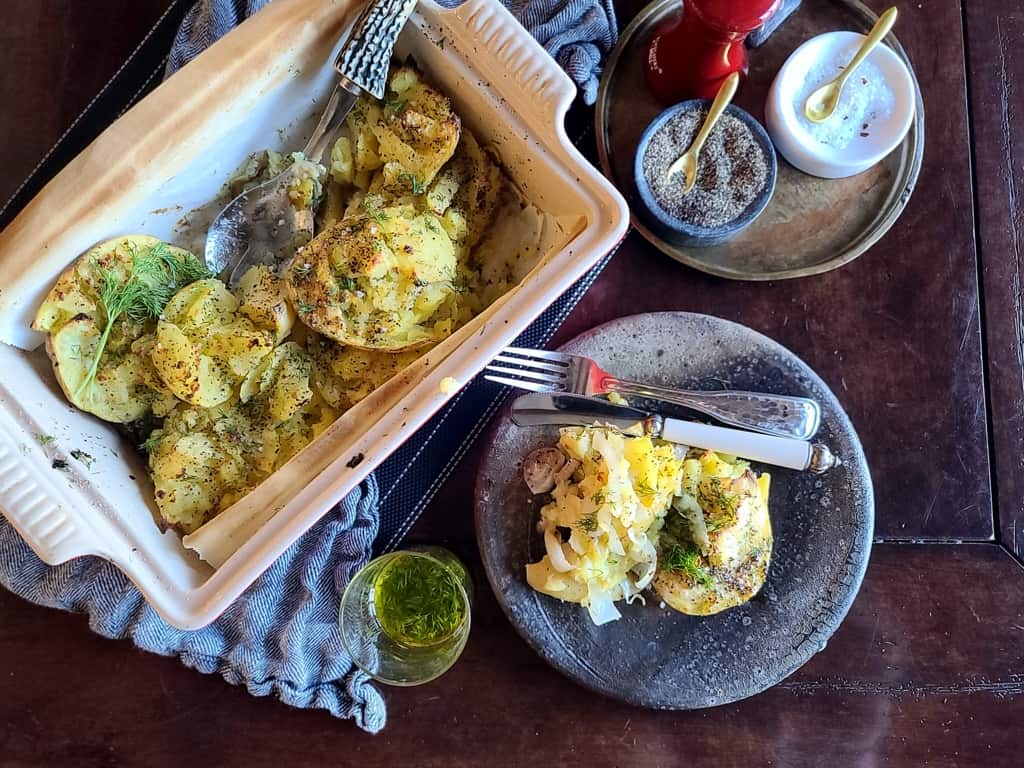 Easy Salt Vinegar Smashed Potatoes! My potato loves! You're going to have a whole new taste experience with this roasted smashed golds!
Salt and Vinegar Smashed Potatoes
Now I love me some great roasted and smashed potatoes.
And, make sure there's a good golden brown crispy on top the potatoes. In fact, right now, click this link to my easy smashed potatoes!
For me, they're superior to baked potatoes. And, I can do the same thing with smashed potatoes that I do with baked potatoes. Add sour cream, bacon crumbles, grated cheese, and whatever toppings make me happy!
Salt and Vinegar Gold Potatoes
For this recipe, I really urge you to use the Yukon gold type of potato. It works best for the recipe. That's the gospel!
When you cook them, they have this fabulous creamy and tender consistency with a rich, buttery, and earthy flavor.
Salt and Vinegar Chips
Who doesn't love fish n' chips! And, those splashes of vinegar with the fish and potatoes! Well, it's just a fabulous flavor profile.
And, if you love salt and vinegar potato chips, yes, the kettle cooked kind, then this recipe is right up your alley!
Vinegar Roasted Potatoes
Now another option with these potatoes is to finish them off with a mixture of vinegar and extra virgin olive oil.
Drizzle it on the crispy golden brown roasted potatoes, and you'll have a somewhat more intense flavor of the vinegar.
If you want to try, do one-fourth cup of olive oil and twp tablespoons of white distilled vinegar. Whisk together well. Drizzle on the potatoes. Then sprinkle with those glorious sea salt flakes! OR, leave this olive oil/vinegar mixture as a drizzle that you can use when the potatoes are served. Options are important!
Roasted Salt and Vinegar Potatoes
These potatoes make the perfect side dish for so many things. Serve with grilled steaks, seafood, a pot roast and more. So here are some of my favorite things to serve as the protein entree!
Bourbon and Brown Sugar Chuck Roast
Malt Vinegar Potatoes
What does that vinegar do to the potatoes.
Bottom line, is that you end up with a more soft in the center potato. And, not to mention, a potato that's packed with more flavor!
Vinegar Smashed Potatoes
If you make these vinegar smashed potatoes, snap a picture and share on social media. Be sure to tag me #AllysKitchen! Nothing thrills me more than YOU making my recipes!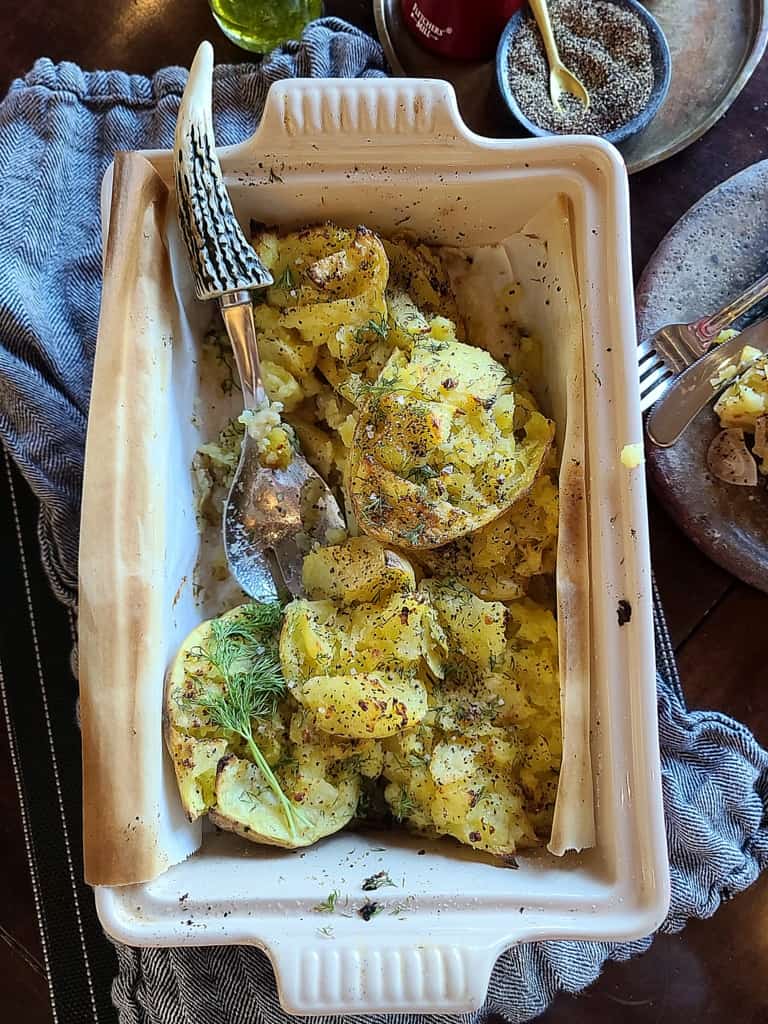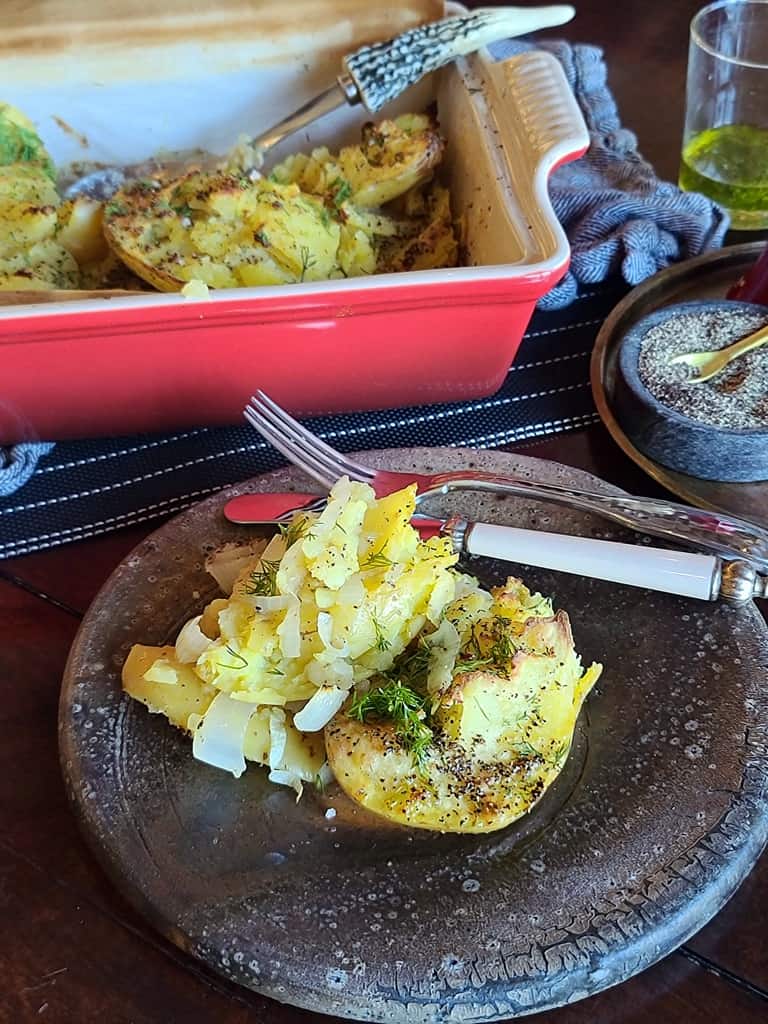 Easy Salt Vinegar Smashed Potatoes
Ingredients
6-7 large Yukon potatoes, about 1.5 lbs., washed, rinsed, dried, and sliced lengthwise in halves
1 cup distilled white vinegar
2 ½ tsp. sea salt, divided
1 tsp. coarse ground pepper, divided
1 large sweet onion, sliced thinly, French cut
1/2 cup extra virgin olive oil, divided
¼ cup fresh dill, chopped
Sea salt flakes
Instructions
Preheat oven to 400.
In a large stock pot, put enough water to cover the potatoes by about 2". Add the vinegar and 1 teaspoon of salt. Add the potatoes. Cover the pot.
Put on a high heat blaze. Bring to a boil. Reduce heat to a simmering boil. Cook for about 25 to 30 minutes or until the potatoes can be easily pierced with a wooden skewer (about 8" skewer to test for doneness).
While the potatoes are cooking, put a piece of parchment paper in about an 8 x 12" casserole dish (about 2.5 to 3" deep with a lid). Add the sweet onions on the bottom and drizzle on 3 tablespoons of olive oil. Sprinkle with one-half teaspoon of salt and pepper (1/2 teaspoon). Set aside.
When the potatoes are ready, remove from the water (discard). Put the potatoes on paper towels and pat some of the excess water off. Take a potato masher and smash each potato on the fleshy side (not skin side). Place in the casserole dish atop the onions.
Sprinkle with the remaining sea salt and pepper. Drizzle with the remaining olive oil. Cover and roast in a 400-degree preheated oven for 20 to 22 minutes. Remove the lid. Turn to broil (dish should be at least 10-12" from broiler.) Drizzle a little more olive oil on the potatoes.
Brown the potatoes for about 10 minutes or until there's a golden brown on the top ones. Remove from the oven.
Sprinkle with the fresh dill.
Finish with sea salt flakes (optional).


Notes
Make an olive oil/vinegar 'vinaigrette' to serve with the potatoes. If someone wants more of this flavor, then drizzle on!
1/4 cup extra virgin olive oil
2 Tbl. vinegar
1 tsp. fresh dill
Whisk together well.