mama's holiday turkey dressing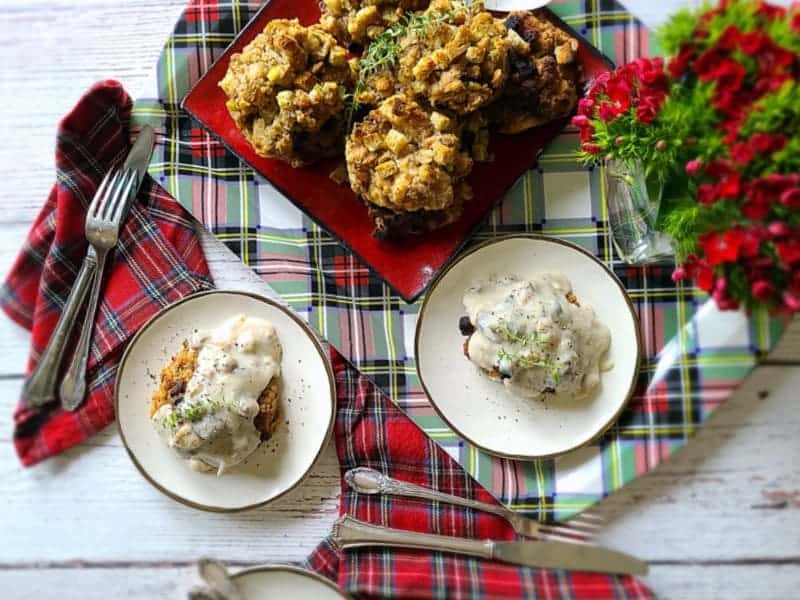 If you love moist seasoned turkey dressing with some definite crunch and crisp then you'll want to make my Mama's holiday turkey dressing!
Difference between Dressing and Stuffing
Basically the difference between dressing and stuffing is in how they're cooked. Stuffing means just what it says, 'to stuff' and that's what you do. You stuff the bird with the seasoned mixture. Dressing is another bird. It's cooked outside the turkey!
Turkey Dressing vs Stuffing
There's really no contest for me when it comes to turkey dressing vs stuffing. I'll take my Mama's turkey dressing anytime. And, I've got some great reasons why it's the best!
Turkey Dressing Recipe Southern
Now I grew up in Southern West Virginia, the heart of the coalfields. And, I'm thinking this turkey dressing recipe is Southern. If you've love crispy and crunchy with a moist and seasoned interior then you'll be so happy with this recipe.
Turkey and Dressing
In life, there are things that just go together. And, turkey and dressing is one of those duos. If you're a fan of stuffing, then you might want to expand your palate and try my dressing. The big difference is in how this great side is cooked on bird day.
How to Make Turkey Dressing for Thanksgiving
There's nothing difficult about how to make turkey dressing for Thanksgiving. I use a combination of packaged stuffing mix and stale bread, which I start colleting a week or so before the holidays.
Good Turkey Dressing
Good turkey dressing has to have rich deep complex liquids to bring together all the bread mixture. And, you have several options. Once you cook your turkey, save the liquid for both the dressing and your gravy. Be sure to boil and cook the package in the turkey that contains the gizzards, livers and neck. There's lots of nutrients and flavoring in the liquids. Then if you still need more then use a good quality chicken stock.
How to Make the Best Turkey Dressing
Showing you how to make the best turkey dressing really makes me happy. I'm sharing with you some of my legacy and believe me, we used to scramble and scrap for those crunchy crispy dressing balls that Mama would make. And, she always used lots of butter on top. This was a treat because butter was expensive, and we just didn't have it during the year. But, on Thanksgiving and Christmas, well, that's a different story!
Here's another variation of the dressing balls as Mama used to call them!
And, if you're using just a turkey breast tenderloin then you'll want to check out this Bourbon Turkey Tenderloin!
For that leftover turkey, why not make my French Madame Turkey Sandwich!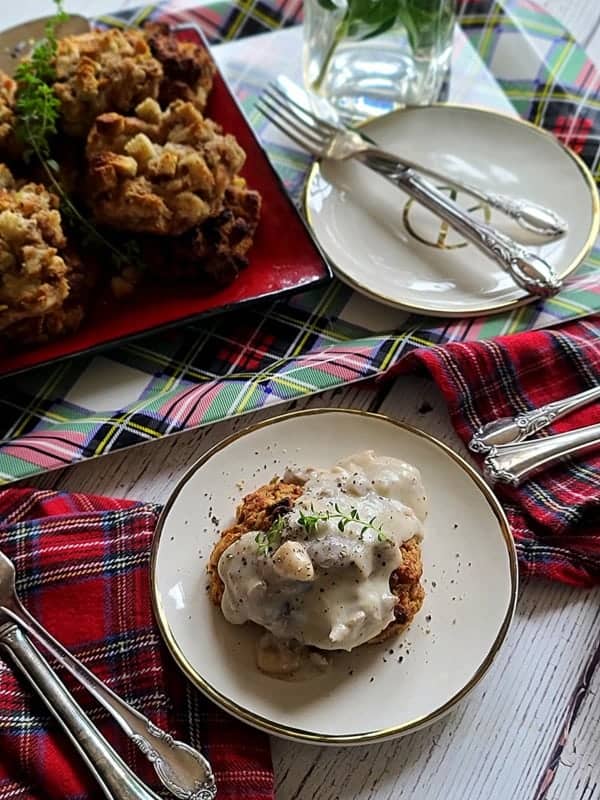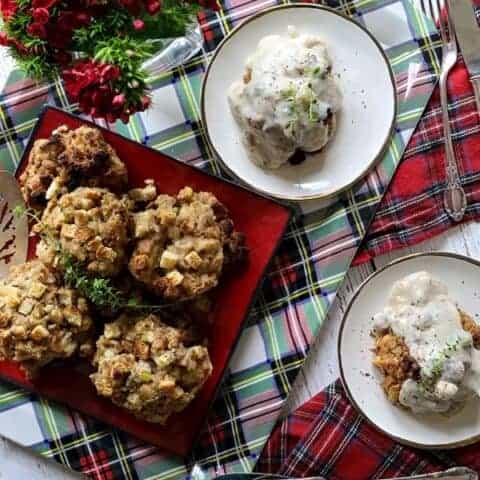 mama's holiday dressing
Ingredients
Preheat oven to 425
Makes 10-12 large dressing mounds
4 cups bread, day old or somewhat stale, cubed into bite size pieces
2 ½ cups Pepperidge Farms Herb Seasoning mixture, can use similar brand product
3 ½ cups Pepperidge Farms Herb Seasoned CUBE Seasoning mixture, divided, can use similar brand product
¼ cup oil, bacon drippings excellent
1 cup sweet onions, small dice
1 cup celery with leaves, small dice/chop
1 Tbl. garlic paste
3 ½ cups turkey stock, preferably made from boiling the neck, gizzard, livers of the bird, can use prepacked chicken or vegetable stock or some of the liquid from the oven cooked bird
6 oz. butter, chilled, cut into medium dice
Instructions
In a very large bowl, combine the bread, herb seasoning and 3 cups of the cube seasoning mixture. Mix and blend. Add salt and pepper to taste.


In a medium size skillet over medium high heat, put the oil. When hot add the onions, celery and garlic paste. Sauté (stirring and blending often) until soft and tender, about five minutes.


Pour directly into the dry bread mixture. Deglaze and clean skillet with about ½ cup of the stock mixture.
Add another two cups of liquid and blend well. Add the remaining liquid, as needed, to achieve a thick pliable and 'stick' to mixture.


Make individual dressing mounds and place on a parchment paper lined cookie sheet. Make sure there's adequate space, about two inches, all around each dressing mound.


Place a few of the remaining seasoning cubes and diced butter on top each of the dressings.


Bake in a preheated 425 oven for about 30 to 35 minutes. Remove and serve.