honey jalapeno baked chicken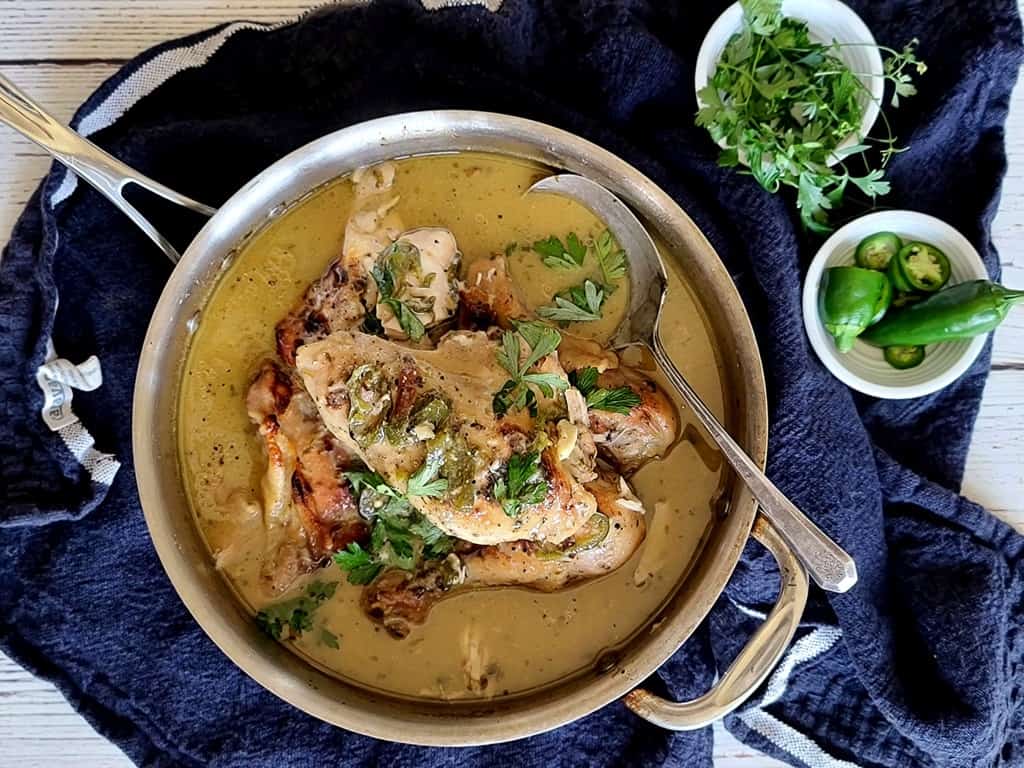 OK, when you see how EZ this honey jalapeno baked chicken is to make, you'll be serving it weekly for dinner! Perfect for company, too!
Honey Jalapeno Baked Chicken
This honey jalapeno baked chicken was created on the fly. Yes, we eat a lot of chicken, and I wanted to make something quick and easy for dinner. Of course, you know I love oven cooking. Just something old fashioned about it. So, as I conceptualized this dish in my mind, I decided may's well video it!
Chicken Jalapeno
Nothing's better than chicken with some kick! And, this chicken jalapeno delivers on all cylinders! But, if you still want even more jalapeno, then try these recipes!
Berbere Potatoes Leeks & Jalapenos
Spicy Jalapeno Bacon Deviled Eggs
Pineapple Ham Jalapeno Casserole
Jalapeno Baked Chicken
Jalapeno baked chicken is super moist and when you slow bake it in the oven, you derive all those yummy juices that just simmer and develop with the heat.
Recipe for Jalapeno Chicken
Yes, I looked at recipes for jalapeno chicken, but none seemed to satisfy my tastebuds. So with some inspiration from photos and knowing in my mind's eye what I wanted this finished chicken to look like, I pulled together the simple ingredients!
Jalapeno Honey Chicken
Now I love me some sweet and spicy. And, that's what jalapeno honey chicken is. The heat of the jalapenos are tempered by the sweetness of the bee's honey.
Jalapeno Chicken Marinade
Making a jalapeno chicken marinade was the quest. And, what better way to do it than with coconut milk. Then into that went all the spices and seasonings. This marinade would be the broth and liquid boost that the chicken would bathe in as it cooked.
Honey Baked Chicken Recipe
And, if you've never added a dash of fish sauce to anything, let alone, a honey baked chicken recipe, you might not realize that a little bit of this ingredient goes a long way with flavor.
Best Fish Sauce
Don't think fish sauce is just used in cooking 'fish'! Yes, you can use it with other dishes, too.
Fish sauce is a savory salty ingredient. It's one of those 'umami' ingredients that makes things like pad thai pop! You can use it to pack power and punch to soups, stews, vegetables, condiments, salad dressings and more. And, boy, does it do it with this chicken!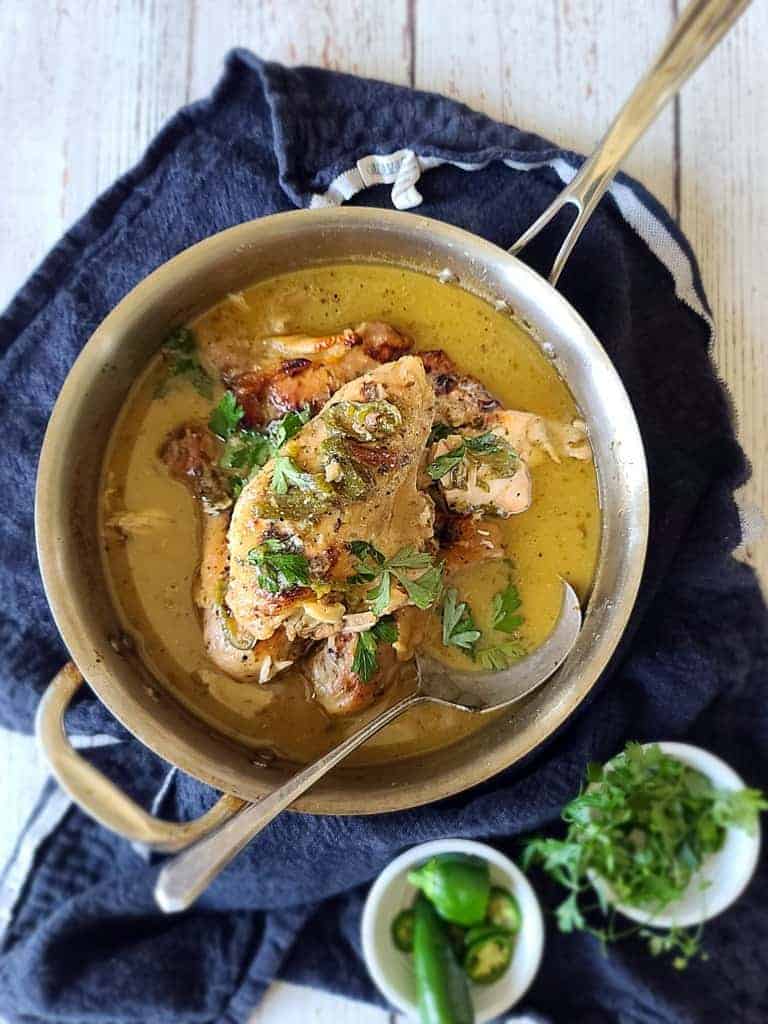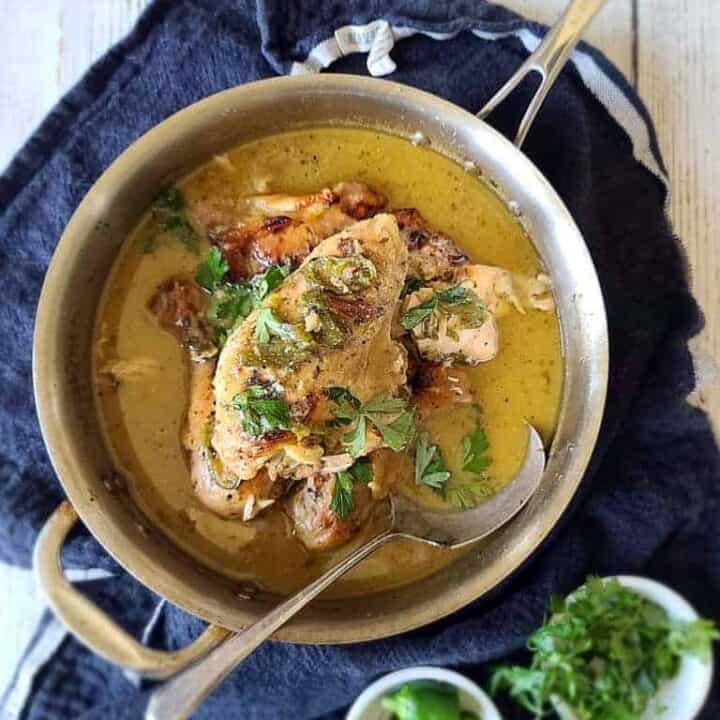 honey jalapeno baked chicken
OK, when you see how EZ this honey jalapeno baked chicken is to make, you'll be serving it weekly for dinner! Perfect for company, too!
Ingredients
Preheat oven to 425 then Broil
2 ½ to 3lb. chicken, breasts, thighs, legs, bone in, skin on
½ tsp. fresh cracked pepper
1 can (13.8 oz.) unsweetened coconut milk
3 Tbl. soy sauce
4 garlic cloves, sliced thinly
½ cup honey
1 jalapeno, thinly sliced, optional to remove some of the seeds, which create the spicy heat
1 Tbl. ginger, freshly grated or ginger puree
1 Tbl. cilantro paste, or two tablespoons finely minced fresh cilantro
3 Tbl. fish sauce
1 Tbl. onion powder
2 Tbl. toasted sesame oil
Instructions
In a medium size bowl, whisk together the coconut milk, garlic, honey, jalapeno slices, ginger, cilantro, fish sauce, onion powder and sesame oil.
Wash and pat dry the chicken. Put in a large skillet (with lid). Sprinkle with cracked pepper. Pour the coconut milk seasoning sauce over the chicken.
Bake for about 40 minutes in a preheated 425 oven. Then remove lid. Turn oven to broil (skillet should be about 12-18" from broiler) and brown chicken for about 5 minutes or until golden brown.
Remove from oven. Serve immediately. Or turn off and leave in oven covered until ready to serve (no longer than about 20 to 30 minutes).