aussie open fire lamb chops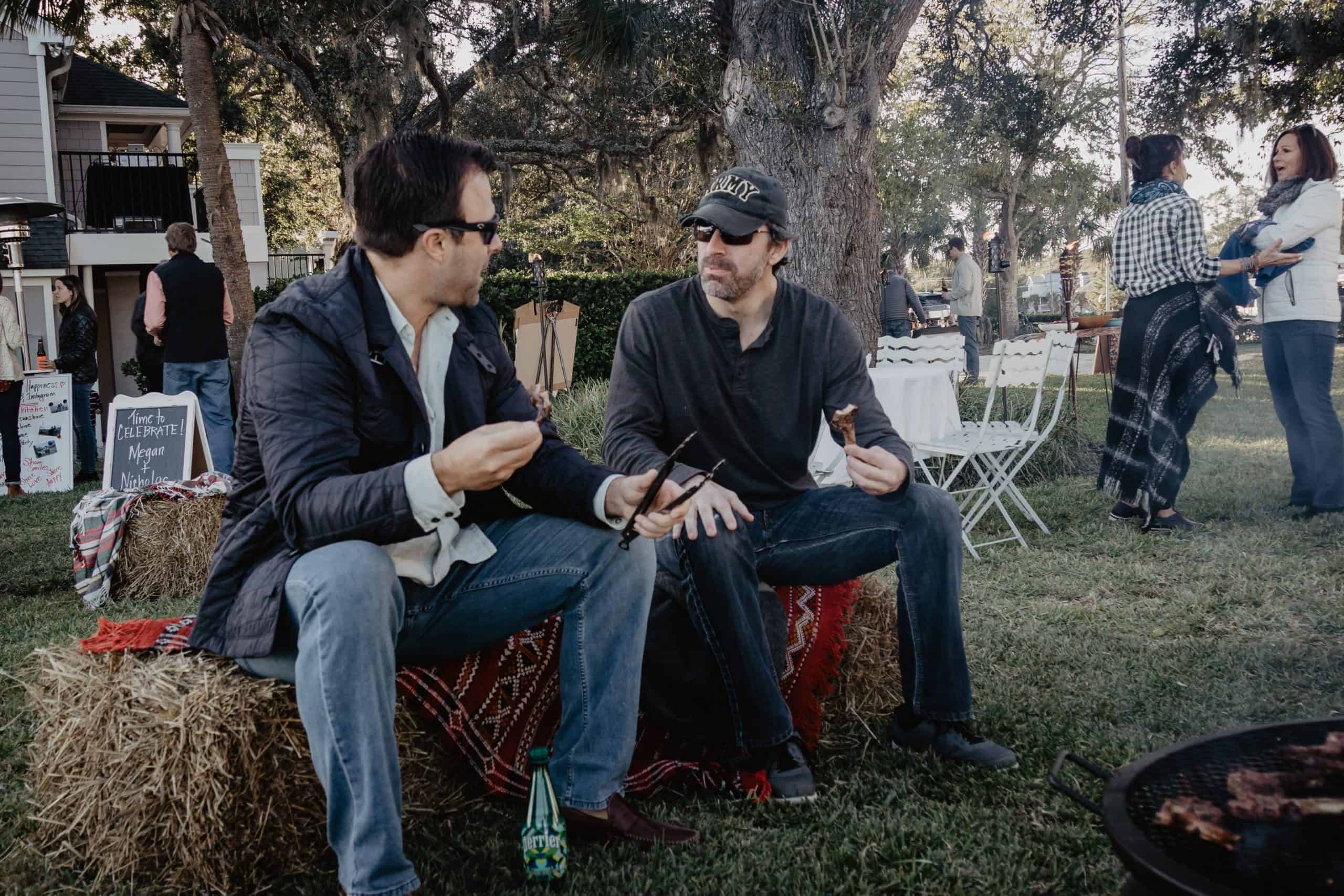 Lamb Chops
If you want to attract friends galore, then do this, create a contained open fire grill, and grill long bone lamb chops! You'll be a hero with this recipe!
Disclosure: I am a brand ambassador for True Aussie Beef & Lamb. (Yes, I'm very lucky to be working with a great company!) And, I'm compensated for creating recipes, including this one, Aussie Open Fire Lamb Chops, for them using their product(s).
Believe me, I don't partner with any brand unless I truly believe in and support their product(s). And, most importantly, would feed these products to my family and friends! All these opinions and the creation of this recipe are credited to me.
How to Season Lamb Chops
Honestly, when you purchase the best ingredients, it doesn't take much to improve the taste. And, that's precisely the case with these Aussie chops. They're the long bone type and perfect for grilling on an open fire.
Wood Fire Grills
I'm not talking a gas grill, but you could do this recipe on a gas grill. I'm talking wood fire grilling. And, if you're lucky enough to have the proper equipment to do this, then this recipe for lamb chops, ever so simple and delicious, will be gobbled up like lollipops!
Grilling on an open fire creates such a subtle yet delicious smokey taste and with the simple seasoning for these chops, that's about all you need to bring out immense flavor. Naturally tender and full of nutrients because this lamb is grassfed, you can be assured that you're eating healthy. I can tell you that at this party, our guests consumed almost one hundred of these lamb chops. I mean they flew off the grill!
Best Grilling Charcoal
I've also done this recipe grilling on charcoal. Now charcoal is probably easier to use than the wood fire grills, since it's more easily accessible in your grocery store. Just pick up a bag of charcoal. One of my favorite charcoals is Kingsford for several reasons, so if you're interested in knowing why, I've written about this long-burning smokey charcoal for cooking outdoors.
Grilling a Lamb Chop
Grilling a lamb chop takes virtually no time at all. That's why you want to remain vigilant and not get distracted. These long-bone lamb chops aren't super thick, so in about two minutes per side on a hot live fire grill that can reach temps of 500 plus, your chop will cook quickly!
How long to Grill Lamb Loin Chops
Remember you'll move those lamb chops off to the side of the grill and then off the grill, so they will continue to cook from the internal and residual heat. I suggest you err on the side of under cooking. You can always throw the lamb chop back on the grill to cook more. But, hey, we can't UNcook a well done lamb chop.
Grilled Lamb Chops Temp
You can use your digital instant-read thermometer to check the temperature of your chops on the grill. We like ours medium rare, which is a temperature of 125 degrees. You decide what temperature is best for you and your guests. It's really important to invest in a good digital thermometer if you're doing any type of grilling, whether it's gas, wood or charcoal. Your thermometer is essential. Other lamb chop temperatures:
RARE 120 degrees
MEDIUM 130 degrees
WELL DONE 145 degrees
How to Eat Lamb Chops
Oh, how to eat lamb chops in my mind is only one way. Cave man or woman style! Yes, that's why I love these long-bone chops. The bone is your little 'handle' that you hold while you munch on the tender juicy flavorful meat. And, don't forget that gnawing is allowed. The meat is sweeter closer to the bone!
After the chops were cooked, and I quickly instructed one of our guests how to grill them (hey, I had a lot to do and couldn't stand around the firepit and grill!), folks would walk up, grab the slim long bone that was the 'handle' and gobble down the tender succulent meat!
Yes, you don't need much more than this to throw an awesome party. Maybe a few salads, some good wine and beer and lots of happy hungry guests. Your party will be memorable to the nth degree! I promise!!
What to Serve with Grilled Lamb Chops
Really you can serve about anything that you want to with grilled lamb chops. Like other red meats, it's delicious with just a salad and potato. Since the lamb chops are the star of the show, I try not to have them compete with the cast of side characters. So most of my lamb side dishes are more like fresh salads and vegetables that are simply prepared.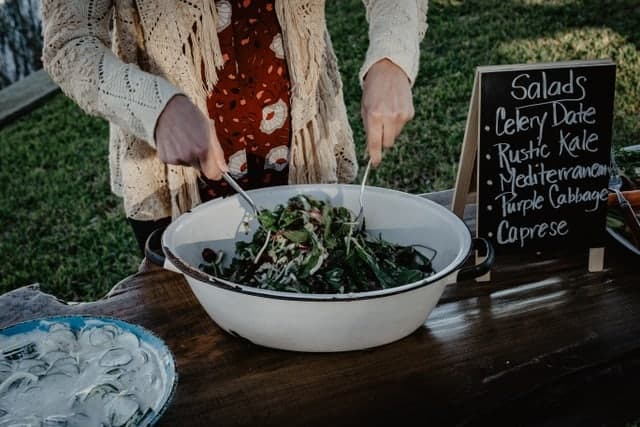 Lamb Side Dishes
Here are some of my suggested lamb side dishes:
Appalachian Cucumber Buttermilk Salad
Crunchy Pineapple Blueberry Slaw
Cucumber Celery Olive Odyssey Salad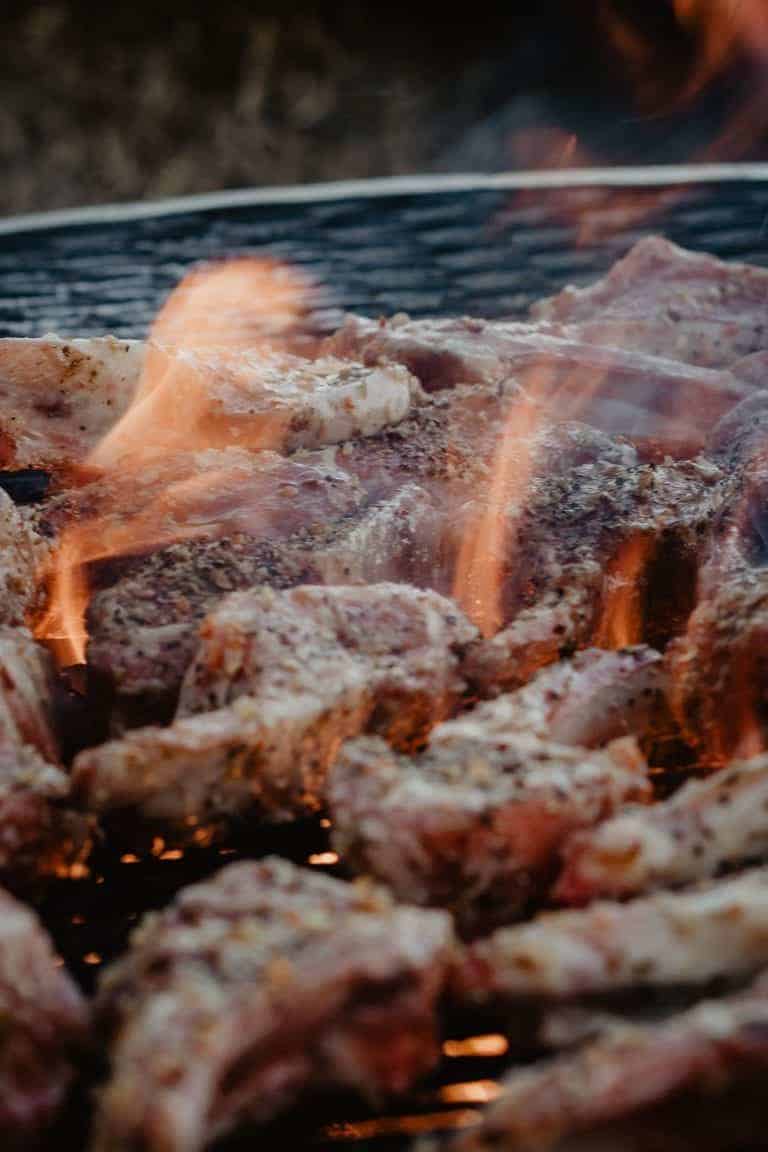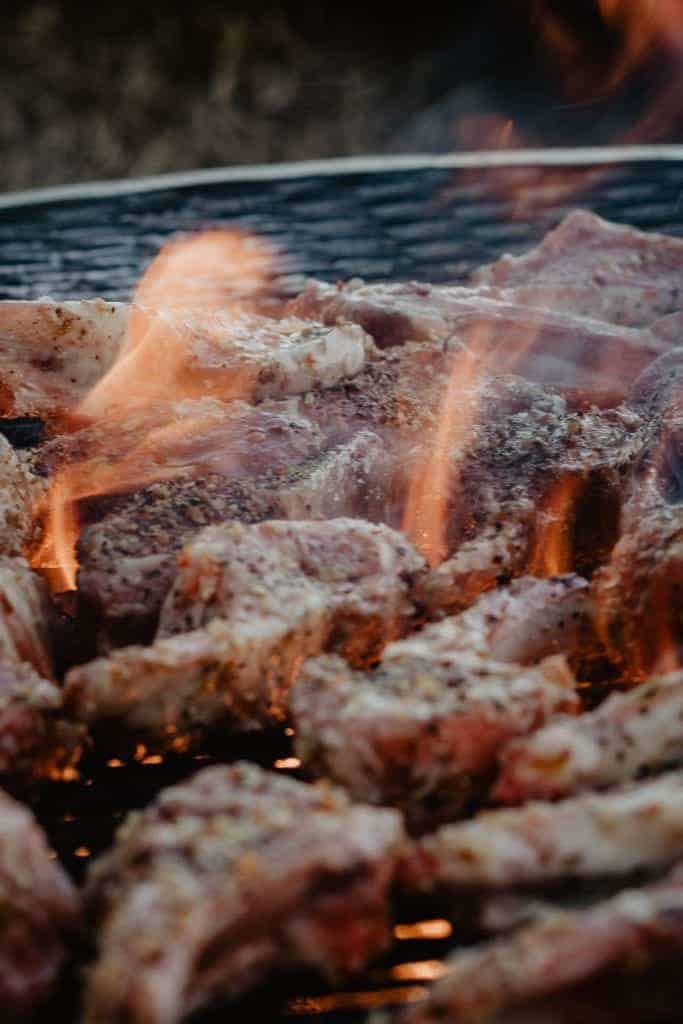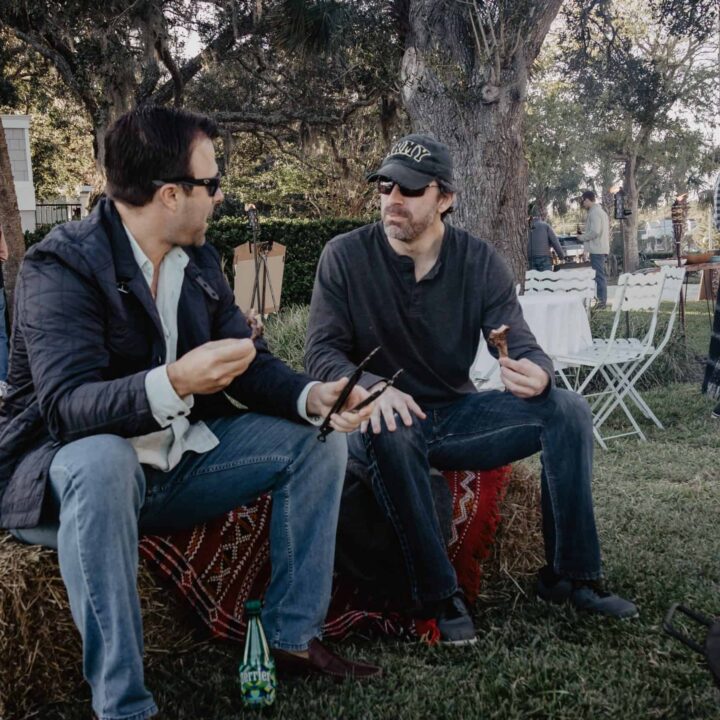 aussie open fire lamb chops
Yield: Serves: About 6-8 people

If you want to attract friends galore, then do this, create a contained open fire grill, and grill long bone lamb chops! You'll be a hero with this recipe!
Ingredients
18-24 long bone lamb chops
1/4 cup extra virgin olive oil
2 tsp. sea salt
2 tsp. coarse ground pepper
2 Tbl. Braggs Nutritional Yeast
1 tsp. red chili flakes
2 Tbl. Kirkland No-Salt Organic Seasoning Mixture
Instructions
Put the lamb chops in a very large wooden or glass bowl.

In another small bowl, whisk together the olive, oil, salt, pepper, nutritional yeast, red chili flakes and a seasoning mixture. Pour on the lamb chops.

Massage the oil/seasoning mixture into the chops.

Place on a hot open fire grill and cook on each side about two to three minutes (depending upon thickness of the lamb chop).

Remove to a platter and eat immediately!