grilled pineapple ham biscuits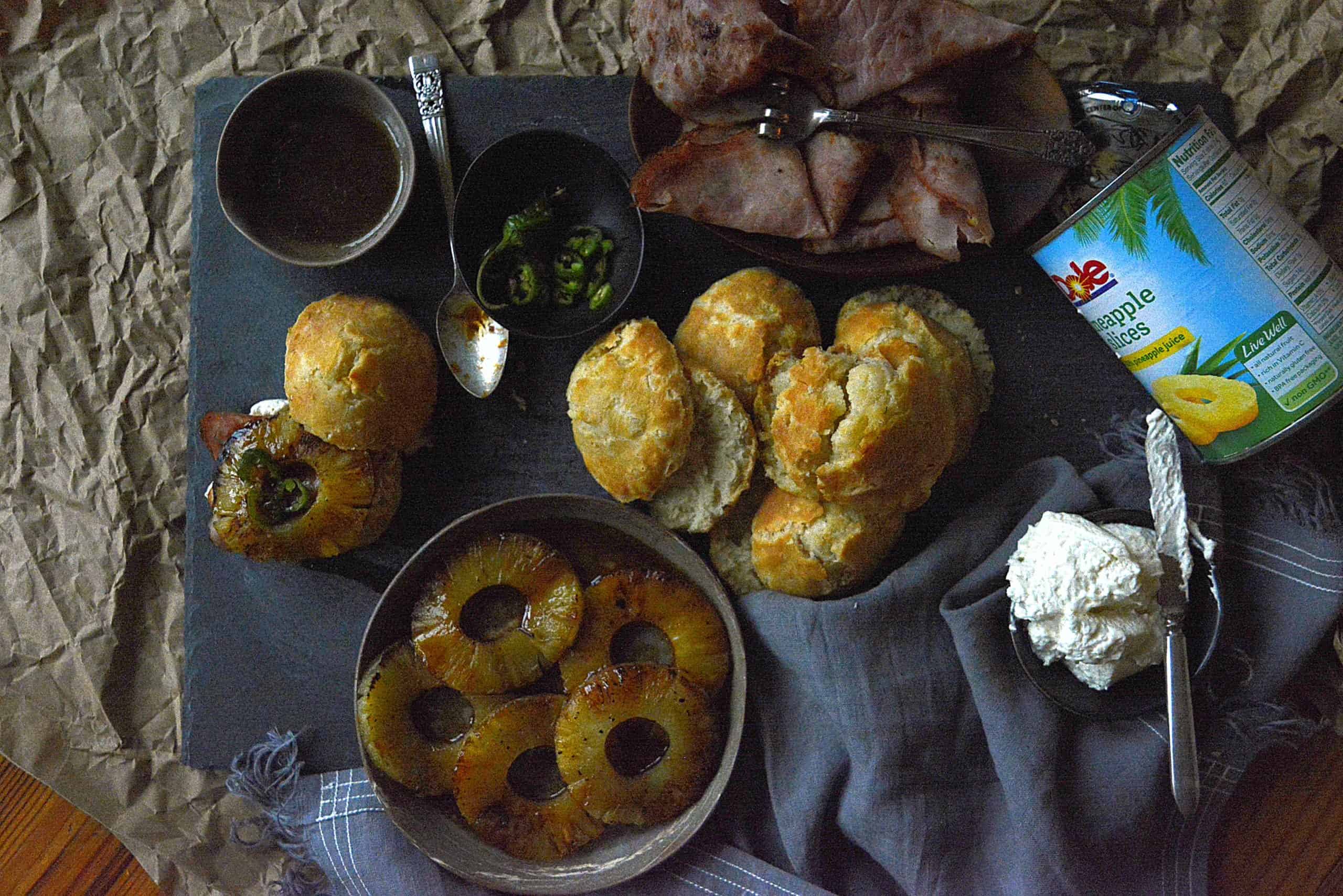 Thanks to Dole Packaged Foods for partnering with me for this grilled pineapple ham biscuit recipe! I am the creator of this recipe and for the description and information that follows. For a full disclosure, click here!
Ham biscuits! Wowzeeee, now these are great any time of the day, but they seem to be a perfect eat any time of the day. Lots of time ham biscuits are served with fried eggs. You know the breakfast menus at the drive thru fast food places? But, I'm here to tell you that this grilled pineapple ham biscuit will make you have another taste experience that might just make you a convert from the ham and egg biscuit!
Now we do have some savory creamed cheese on this biscuit, too. And, combined with the pan seared pineapple ring (yes, this brings out even more delicious flavor), you're going to need an extra napkin for the oooozing yummy goodliness when you bite into this biscuit.
To make this recipe easier and certainly save time, which we all have less of it seems every day, use the frozen biscuits. Honestly, these are as close to grandma's biscuits as you can get. Yes, you can use those in the tubes found in the refrigerated section at your grocers, but the quality and flavor, in my humble opinion, is better with the frozen homemade biscuits.
I love creating recipes using Dole Packaged Foods products. Here's one for Mexican Street Pork Fajitas that I think you'll love. Like this recipe, easy peasy! xoxo ~ally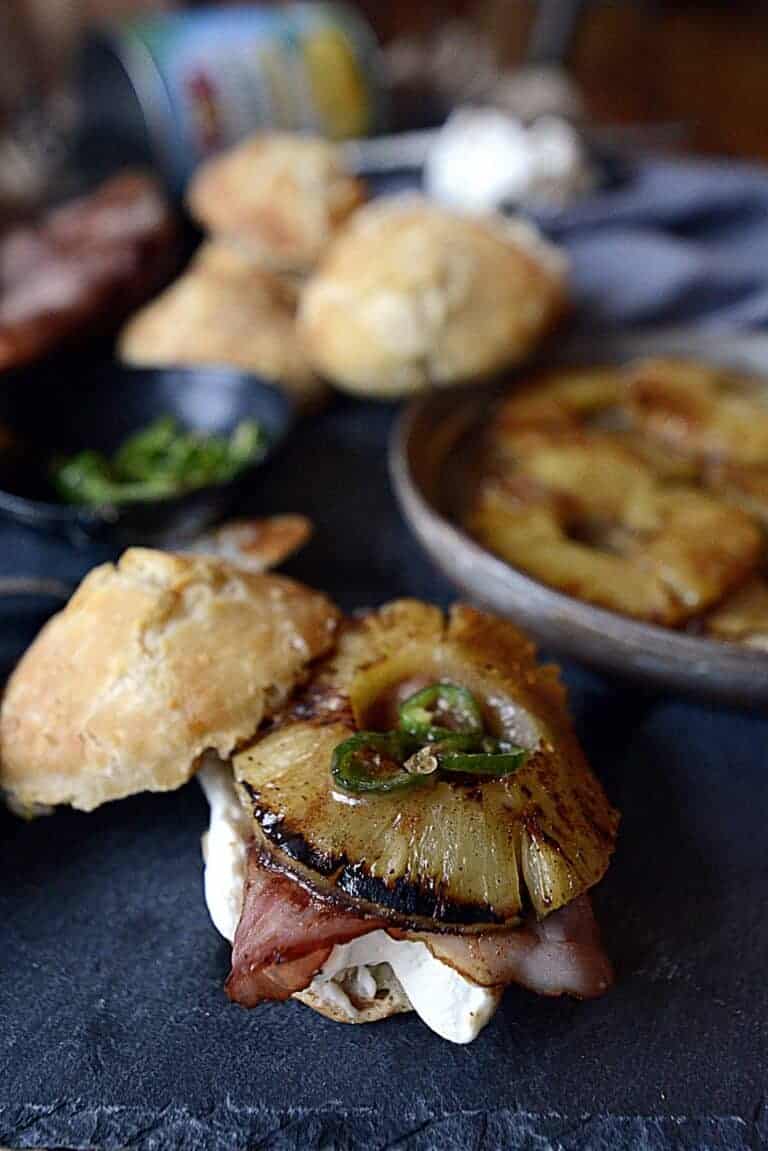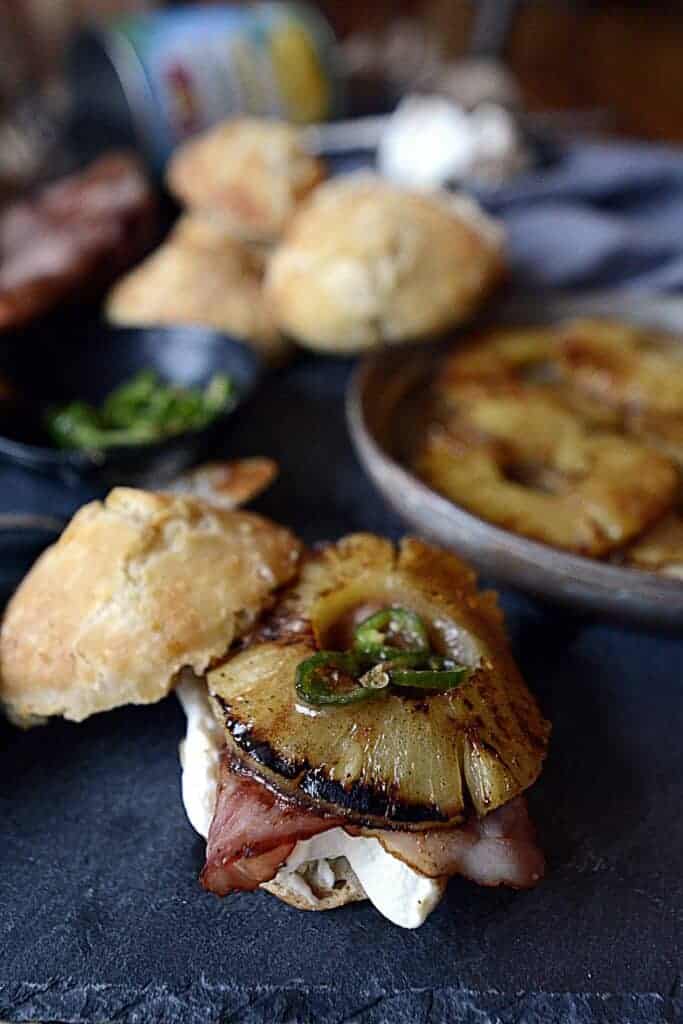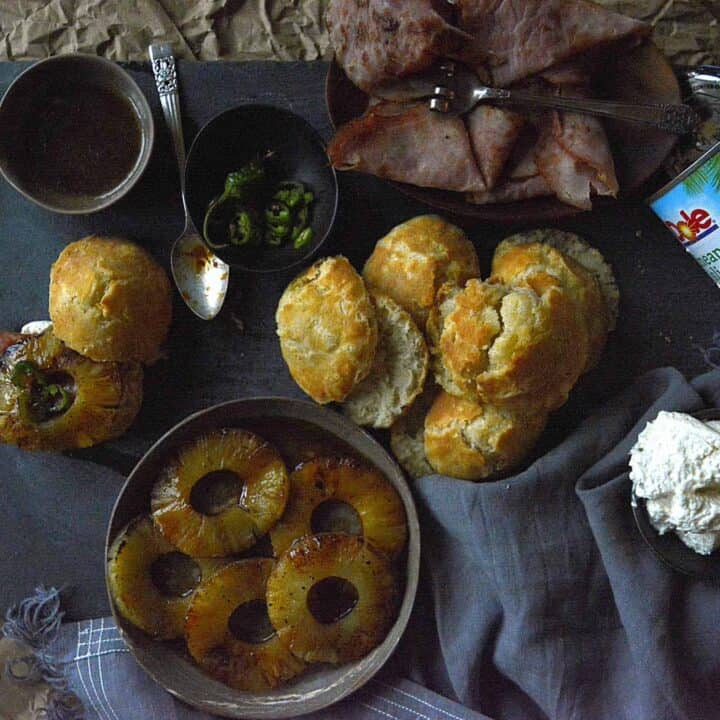 grilled pineapple ham biscuits
Ingredients
6 frozen biscuits, prepare according to package directions
1 can (20 oz.) Dole Packaged Foods Pineapple slices, drain/reserve liquid, use six pineapple slices, refrigerate remaining Tbl. butter, salted, divided
1 Tbl. dark brown sugar
½ tsp. ground cinnamon + more for dusting/garnish, optional
6 slices deli Virginia Smoked ham, do not get sliced paper thin
½ cup whipped cream cheese, room temperature
1 serrano pepper, sliced very thinly into rounds, some of the seeds removed
Instructions
Prepare the biscuits per package directions.
Heat a non-stick about 10" skillet over medium heat. Melt one tablespoon of butter in it. Put two to three slices of ham in at a time and pan sear about 20-30 seconds one each side. Remove and fold over then a second fold over. (This makes it pa perfect size for the biscuit.) Stack the pieces on a small plate.
Put two tablespoons of butter in a small microwavable bowl with the brown sugar, cinnamon and two tablespoons of the pineapple juice. Cover and microwave on high for 25 seconds. Remove and set aside.
Wipe the skillet. Turn heat to medium. Add one tablespoon of butter and melt. Add the pineapple rings and pan fry about 20 to 30 seconds on each side or until you get a nice char golden brown. Carefully remove to a plate.
Drizzle on about a tablespoon of the brown sugar/butter mixture.
When the biscuits are done, use the remaining butter to coat the tops of them. Slice biscuits part of the way through. Slather on equal amounts of cream cheese. Put a piece of folded ham, a slice of pineapple, drizzle about one-half teaspoon of the brown sugar/butter mixture and a couple of serrano slices.
Serve immediately.
Notes
This recipe prefers frozen biscuits, not canned. They are much more like homemade.