preserved lemons fresh mint thyme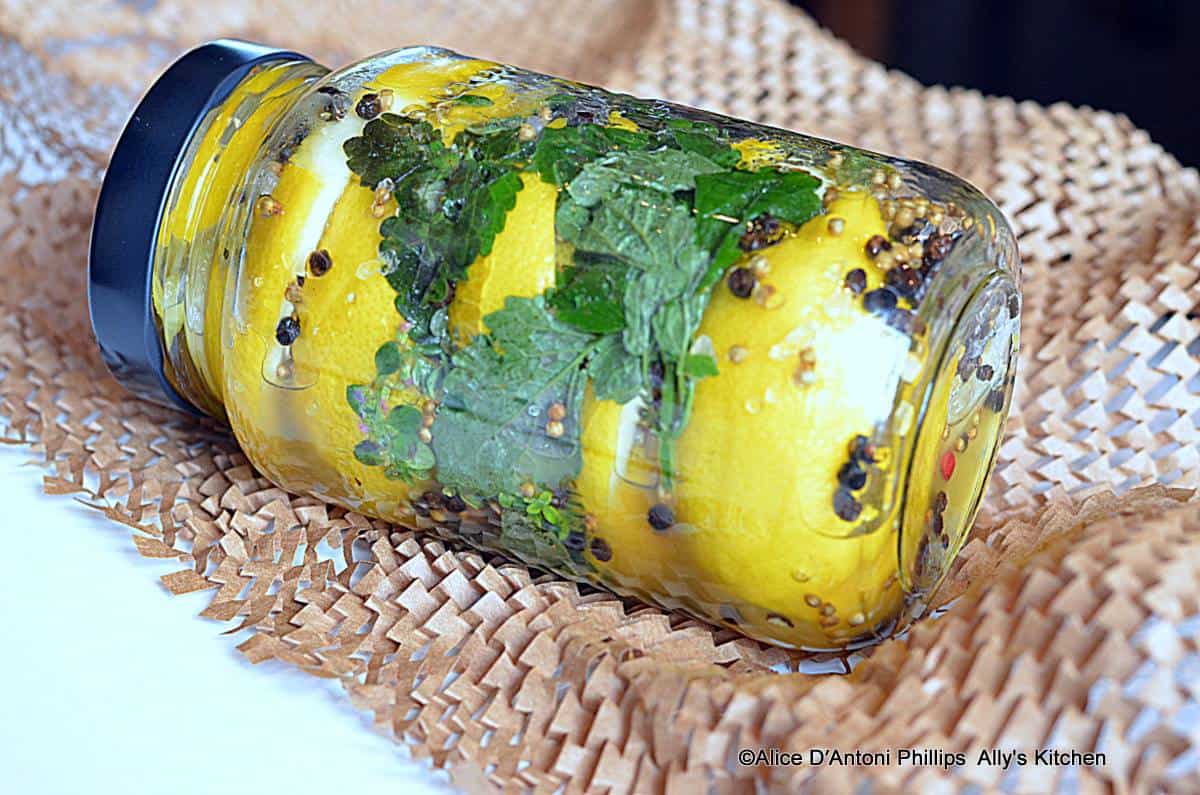 Preserving Lemons
Elevate so many dishes with preserved lemons. Such an easy recipe that combines herbs and spices to dazzle and make preserved lemons.
Preserving lemons is popular and essential in the Middle East and especially in North African kitchens. Lemons gives you dishes that have an added brightness and taste. You can use your lemons in stews, sauces, tagine recipes like these below and so many other ways!
Recipe for Preserving Lemons
My recipe for preserving lemons has one really important step. It's important to be certain they are completely covered with salted lemon juice. And, with my recipe you can use the lemon juice more than one time.
As a matter of fact, I keep a jar of used pickling juice in the kitchen, and when I make a Bloody Mary or salad dressings and have half a lemon left over, I toss it into the jar and let it marinate with the rest of the gang. Use wooden utensils to remove the lemons as needed.
Using Preserved Lemons
There are so many ways of using preserved lemons. Take a few lemons out, dice them finely and toss into your salad. It makes a fabulous addition. Using preserved lemons in your homemade vinaigrette and salad dressing elevates the flavors. And, if you want to use preserved lemons in sauces, like a caper butter sauce for drizzling over chicken, then you'll have vibrant citrus tastes!
Try some diced preserved lemons in this recipe Greek veal kefta!
Cooking with Preserved Lemons
You can actually do some cooking with preserved lemons, too. The pulp can be added to stews or sauces. You don't need much because a little goes a long way. It just seems to add some zest to the dish. When you're cooking with preserved lemons, it's the peel that's the most valued. It's slightly tart but has a robust lemony taste!
Now don't think that just a regular lemon can give you the distinct difference of a preserved lemon. Preserved lemons have a unique pickled taste. And, the fragrance is unmistakable. It's so simple and easy to toss in preserved lemons with chicken or lamb if you're baking it or have in a casserole. Simply add salt and pepper, spices, maybe some olives and you've got tastes of Morocco.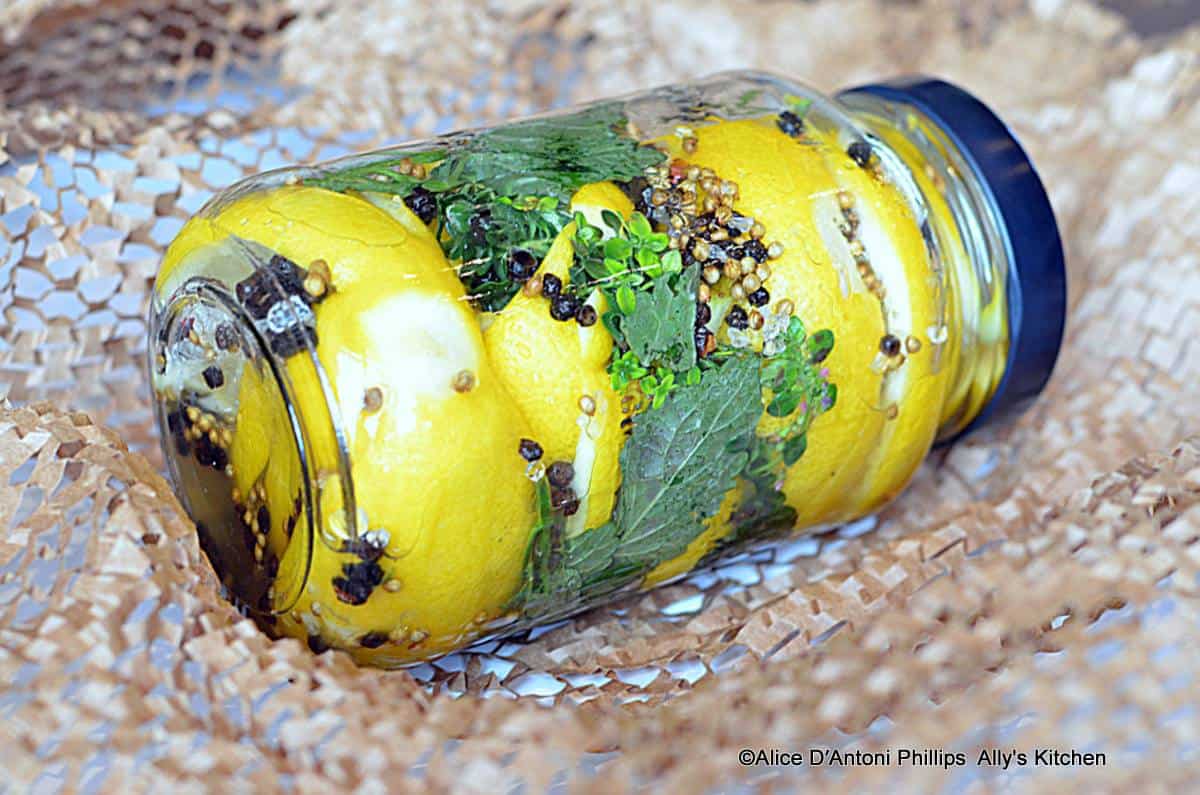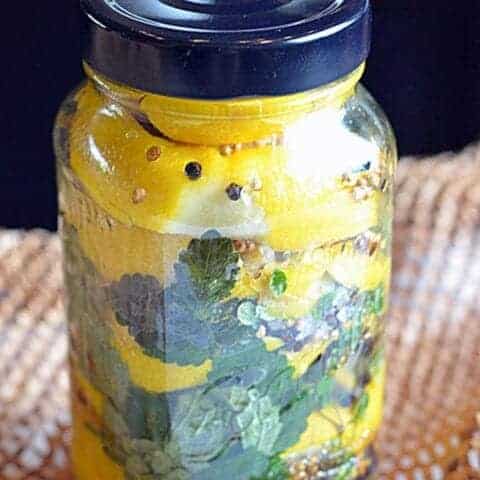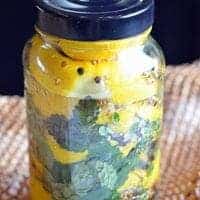 preserved lemons fresh mint thyme
Elevate so many dishes with preserved lemons. Such an easy recipe that combines herbs and spices to dazzle and make preserved lemons.
Ingredients
5 large lemons
½ tsp peppercorns
¼  cup sea salt (divided)
½ tsp coriander seeds
5 sprigs of fresh mint
5 sprigs of fresh lemon thyme
Instructions
Slice a small piece off the stem side of the lemon so it will stand without wobbling. Standing the lemon, cut almost to the bottom in half, but not all the way through. Then slice into quarters (do not cut completely through). Take about ½ teaspoon of sea salt and stuff in the opening.

Push the lemon into a clean quart canning jar. You'll squeeze out juice! Repeat with the next lemon. Then add some of the fresh mint and thyme. Repeat with the remaining lemons adding the mint and thyme. Add the remaining salt, peppercorns and coriander.

Flip the jar upside down to incorporate the ingredients. Let lemons preserve about a month and then they're ready to use however your little heart desires!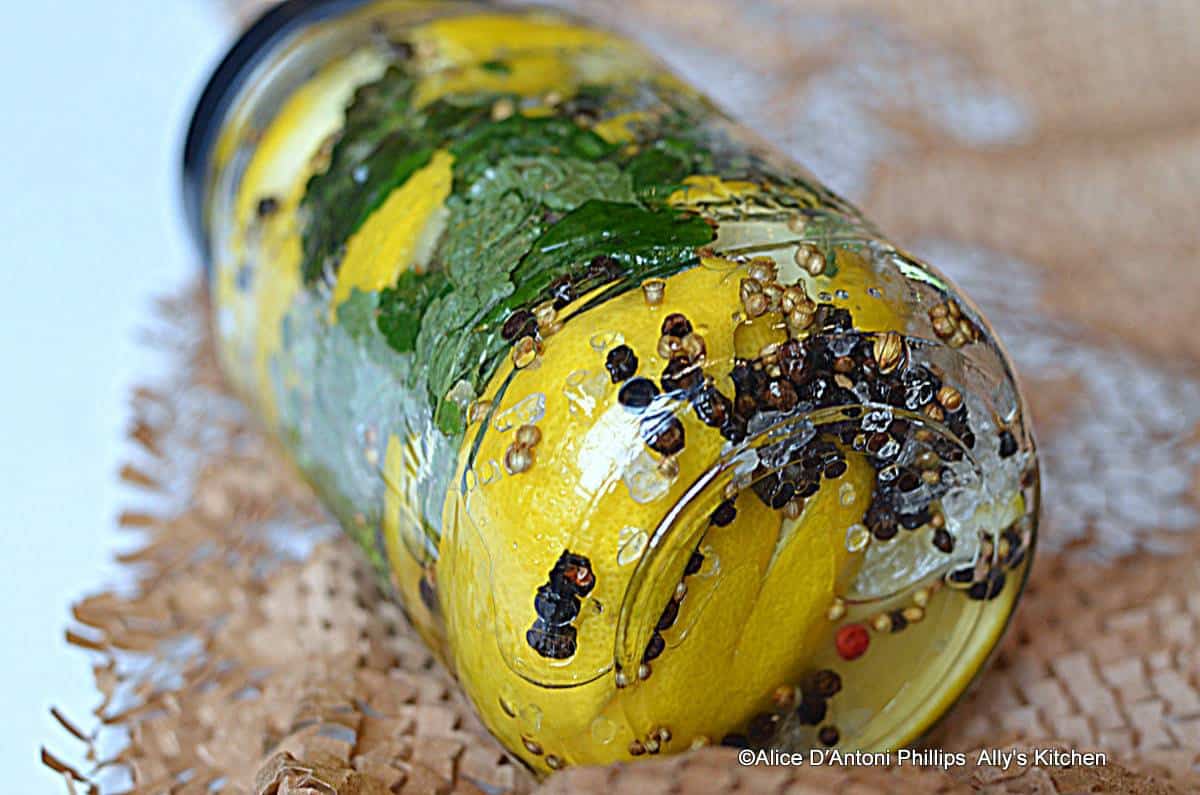 ©Alice D'Antoni Phillips Ally's Kitchen