dill pickle creole shredded pork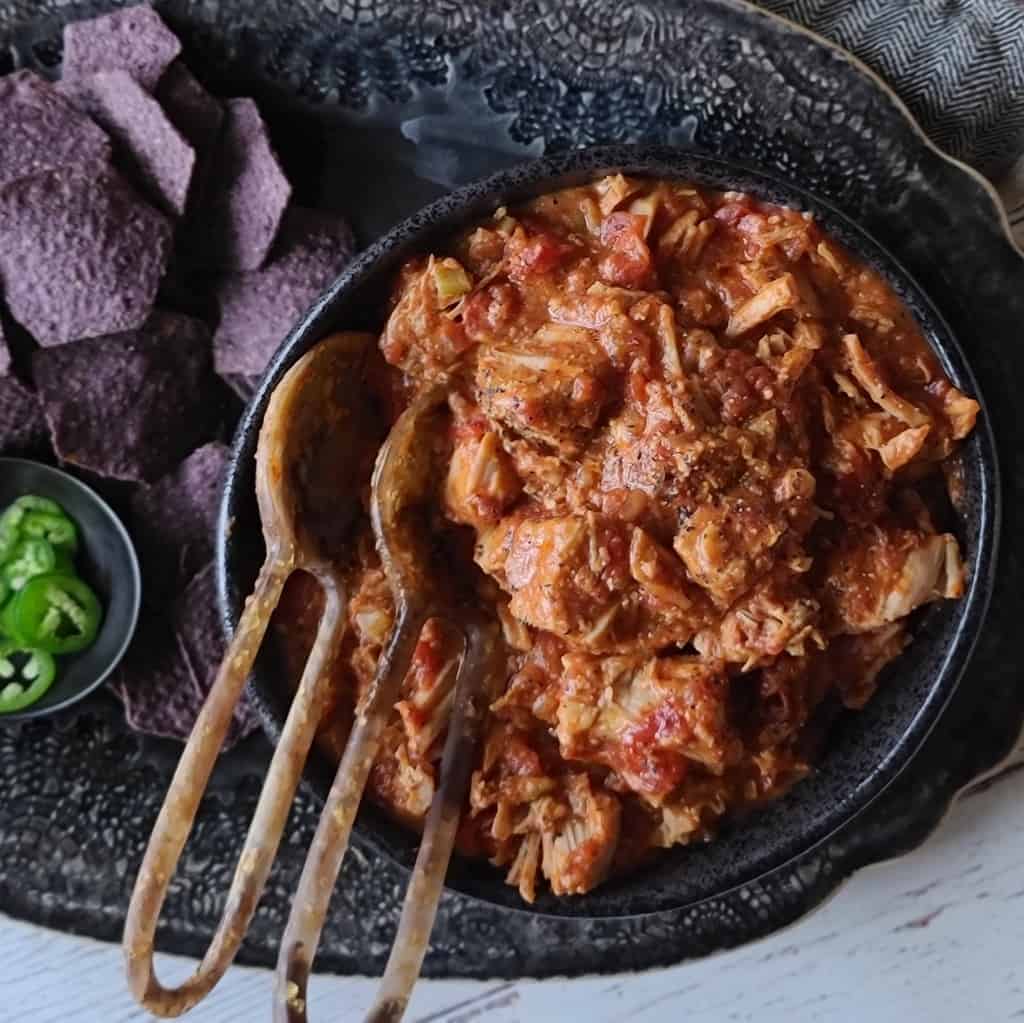 Ready to taste nirvana in this dill pickle creole shredded pork> You'll be amazed at what the dill pickle juice does for flavor! Nachos, yes!
BIG NOTE HERE! Since making my video I've edited a couple of the ingredients to make this recipe even healthier and tastier! So don't just rely upon watching this video because you'll not see some of the ingredients in the recipe below! Hey, that's what happens with recipe development over time, you're always looking for better!
Pickle Juice is Good for You
It's a fact. Pickle juice is good for you! It helps with muscle cramps. Studies show that pickle juice actually could lower blood sugar ups and down. And, pickle juice has an array of antioxidants like vitamins C and E! Don't throw out that pickle juice!
Benefits of Pickle Juice
Now that we've got some information on knowing that there are, indeed, benefits of pickle juice, let's figure out how to use that pickle juice we're saving from our pickles. And, don't just think it's dill pickle juice. I save the juice of olives, pepperoncini and more. Yep, use this liquid in my cooking.
Reuse Pickle Juice
Oh, pickle juice! Such a glorious liquid. And, there are so many ways that you can reuse pickle juice! So, don't throw out the pickle juice. Recycle it. This dill pickle chicken recipe is just one way you can use. And, chicken with pickles is a fabulous combo. In fact, when I go to my fave fast food, Chick Filet, I order chicken nuggets and several extra sides of dill pickeles.
Pickle juice can be used for things like in your mac and cheese (just a dash! It brightens flavors!), to re-pickle things like zucchini, carrots, cucumbers. Just put them in the pickle juice jar and let them hang out a few days, then you have tasty munchies. For more ways to reuse pickle juice, check out this article from Bon Appetite!
Here's another great cheeekin recipe! Pineapple Enchilada Slow Cooker Chicken!
Dill Pickle Chicken Recipe
This dill pickle chicken recipe is so easy. You throw the chicken into a zip lock bag with pickle juice. Refrigerate overnight, then have it ready to prepare for dinner the next day.
Pork Recipes Oven
Pork recipes using your oven are perfect for cooking in the Fall and Winter. You can use that residual heat from the oven to warm your home. And, if it's a small home or tiny home, then you'll probably end up heating the place. That's what I love about recipes in the oven. And, this shredded pork is perfect for oven cooking.
Pork Recipes Slow Cooker
Now you could certainly do this pork recipe in the slow cooker, too. Since I haven't done it, I'm not exactly sure of the time. But, I would use the high setting for at least 4 hours. Check your pork tenderness, is it shredable, and then go from there as to cook more or less.
Cajun Pork Chops
And, in this recipe I'm using a pork loin that I've cut into small chunks so it'll cook faster. The creole, or you could use cajun, seasoning is gonna give these chops a kick making it the best creole shredded pork you've ever eaten.
Cajun Pork
Dill pickle creole pork or cajun pork is perfect for so many things. Make sliders. Load up some tasty nachos. Serve on buns with coleslaw. Cook some fluffy delicious rice and load up the cajun pork on top. And, yes, this pork does get better on days two and three. And, it can easily be frozen!
Creole Food
Here're a couple of my favorite creole recipes, too. Remember I'm all into easy!
Super Quick Creole Chicken Dinner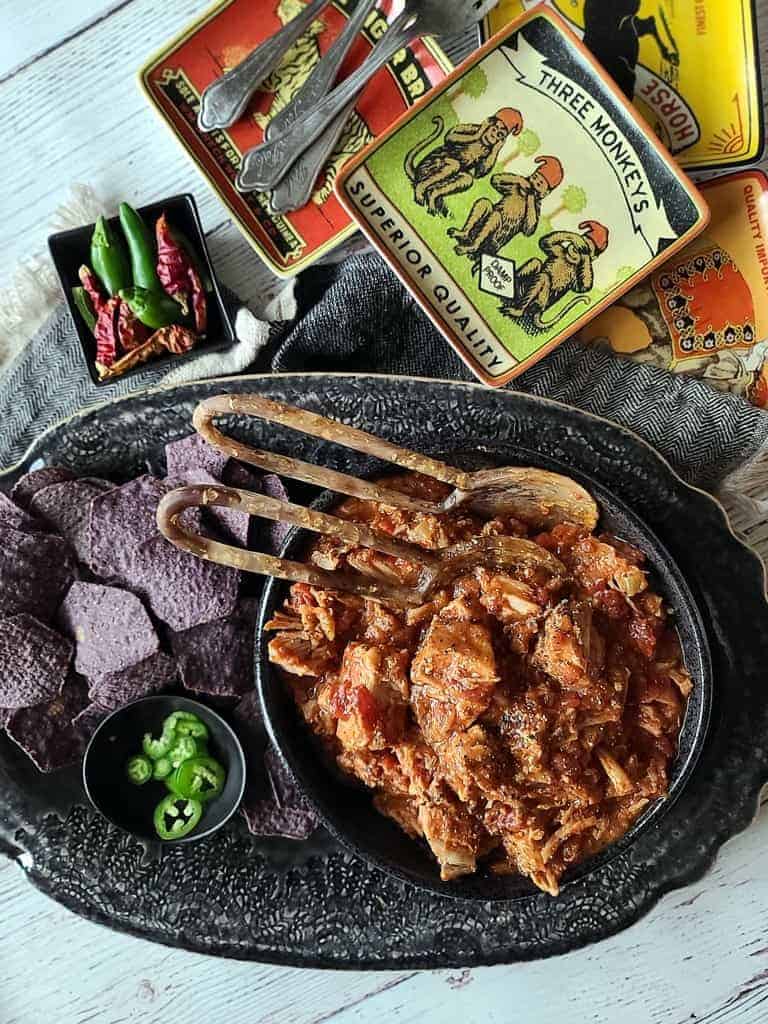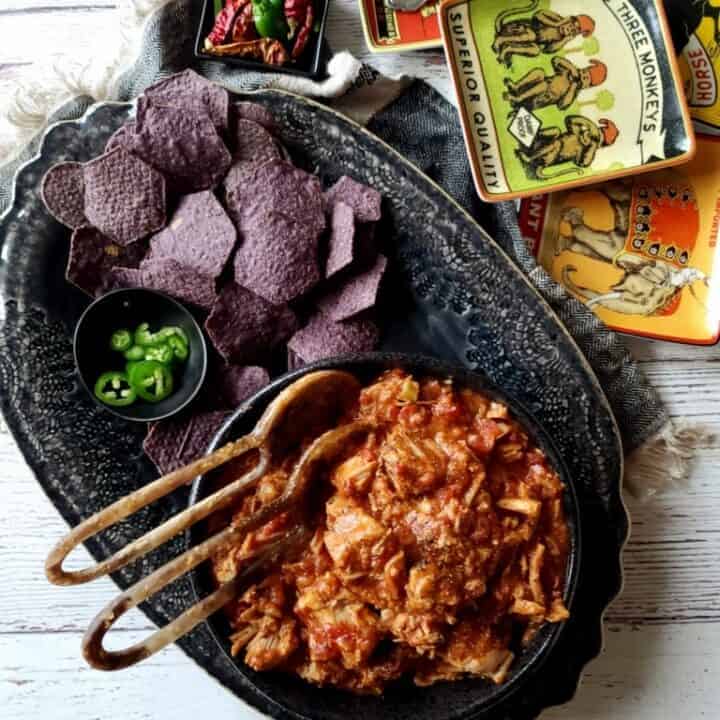 dill pickle creole shredded pork
Ready to taste nirvana in this dill pickle creole shredded pork> You'll be amazed at what the dill pickle juice does for flavor! Nachos, yes!
Ingredients
Preheat oven to 425
2 ½ to 3 lbs. thick cut boneless pork chops, cut into four chunks each
1/2 cup celery leaves and tender stems, chopped
1 large sweet onion, medium dice
1 cup fire roasted red pepper strips
1 cup dill pickle juice
2 Tbl. creole seasoning
2 Tbl. nutritional yeast
2 cans (14.5 oz.) chopped tomatoes + 3 cups water
Instructions
Put the meat in a Dutch oven. Add celery, onions, and dill pickle juice and blend together.
Sprinkle on the creole seasoning and nutritional yeast. Add the tomatoes/water. Cover and cook in a preheated 425 oven for about 2 ½ to 3 hours or until meat is fork tender.
Check once or twice to see if you might need to add more liquid. It should simmer down over time into a thicker gravy-like sauce.
Notes
Write additional notes: If using a multi-cooker, reduce amount of water to 2 cups.