smokey chipotle pork chops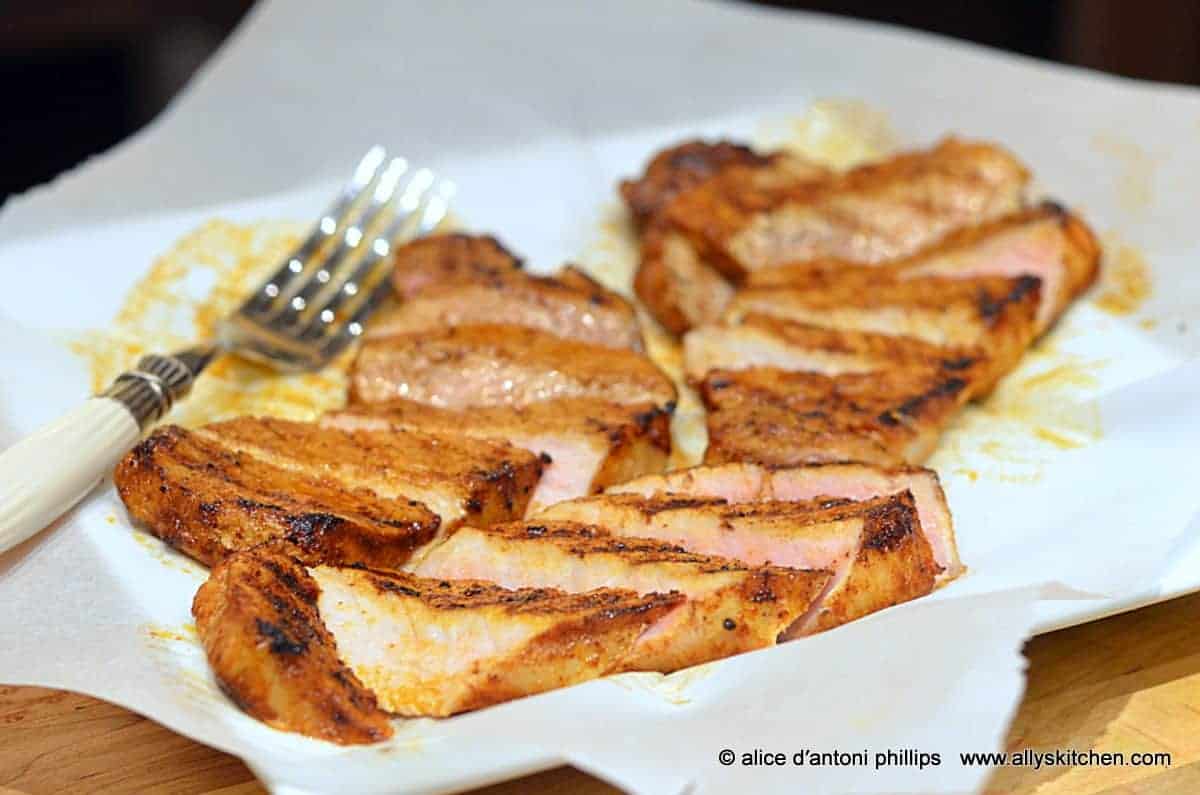 Pork chops~~easy seasoning, easy prep, easier cooking.  What more do you want!  Then after they're all done…yep, with those cool grill stripes from the cast iron skillet…I like to slice these smokey chipotle pork chops at an angle and serve atop something yummmeeee~~think mashed taters, corn/kale combo (like you see here, and, yes, there's a recipe for this boho mixture!), a turnip or cauliflower puree, black rice, whatever.
One place Ben and I love to dine is at our coffee table, so you'll see the layout here~~it's a real 'boho' adventure complete with candles, napkins, wine, and a blazing fireplace! We had a few slices leftover and the next morning I did sunnyside up eggs with the pork~~oh, yeah, it was good!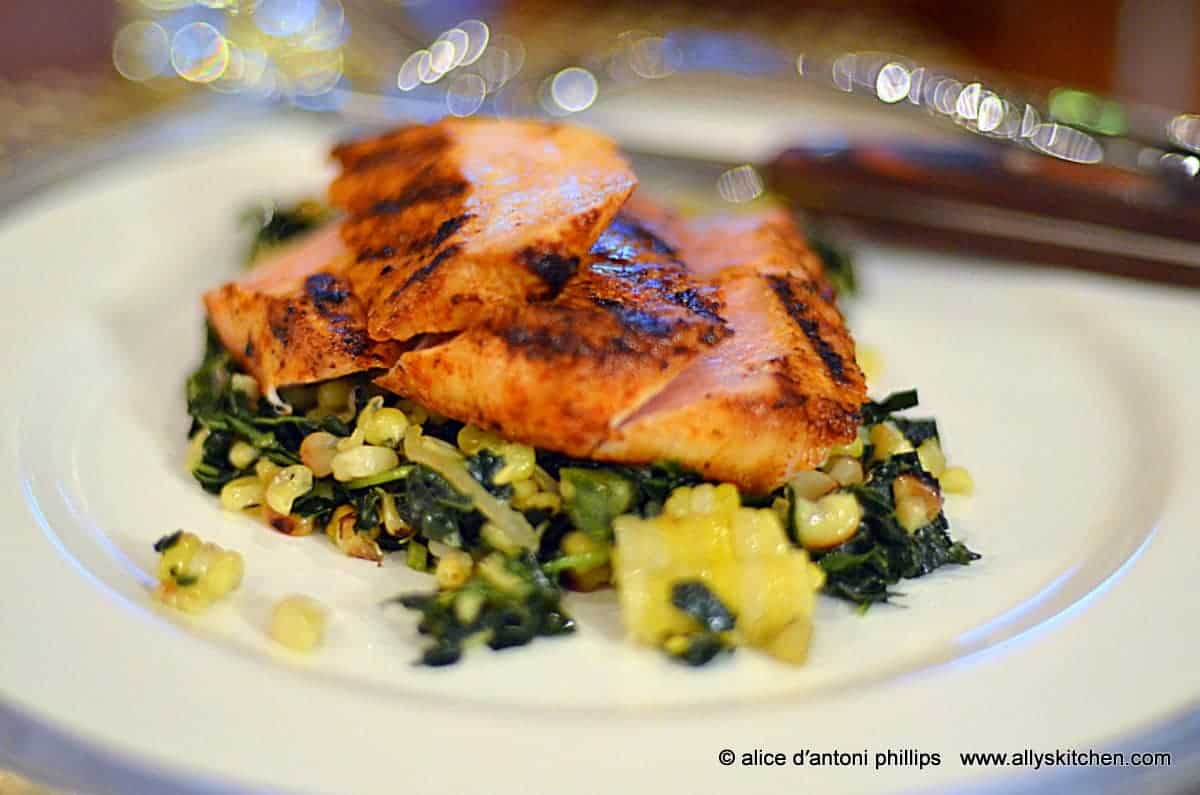 Serves: 2
What you need:
1/4 tsp chipotle chili pepper
1/2 tsp smoked paprika
1/2 tsp sea salt
1/2 tsp coarse ground pepper
2 tbl Worcestershire sauce
1 tbl olive oil
2-3 boneless thick pork chops (about 1 to 1.25 total pounds~~about 1.5 to 2″ thickness)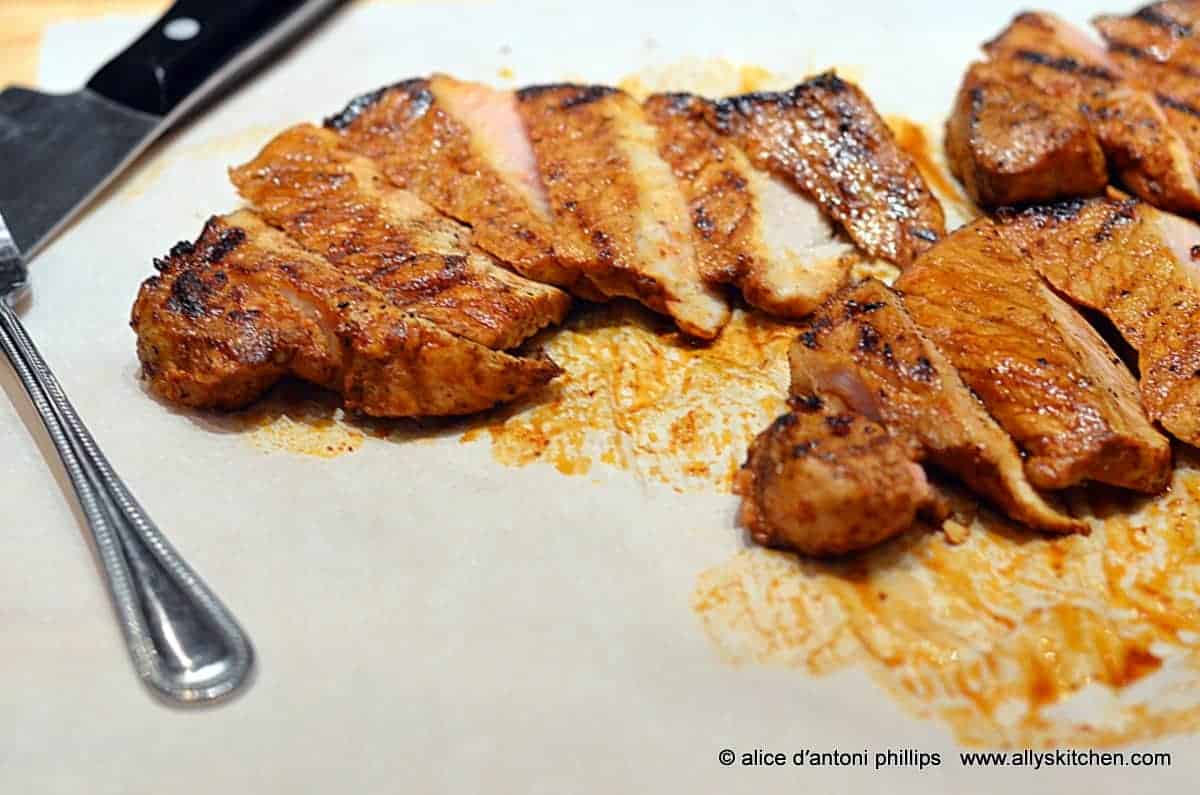 What you do:
In a small bowl, mix the chipotle, paprika, salt, pepper, Worcestershire sauce and olive oil.  Blend well.  Put the pork chops in a pie plate and cover with the sauce, flipping and coating all sides.  Refrigerate and marinade for about 30+ minutes.
Coat a cast iron skillet well with cooking spray.  Turn heat to medium high and let it get hot. Put the pork chops in (do not crowd) and cook on each side about 4 minutes varying heat flame between medium and medium high  Remove to a cutting board covered with parchment paper.  Deglaze the skillet with about 1/3 cup of water then pour this 'au jus' into a container for serving  with chop if desired. Cover  the chops with a lid and let rest about 5 minutes. Slice at an angle and serve.