smokey chipotle pork chops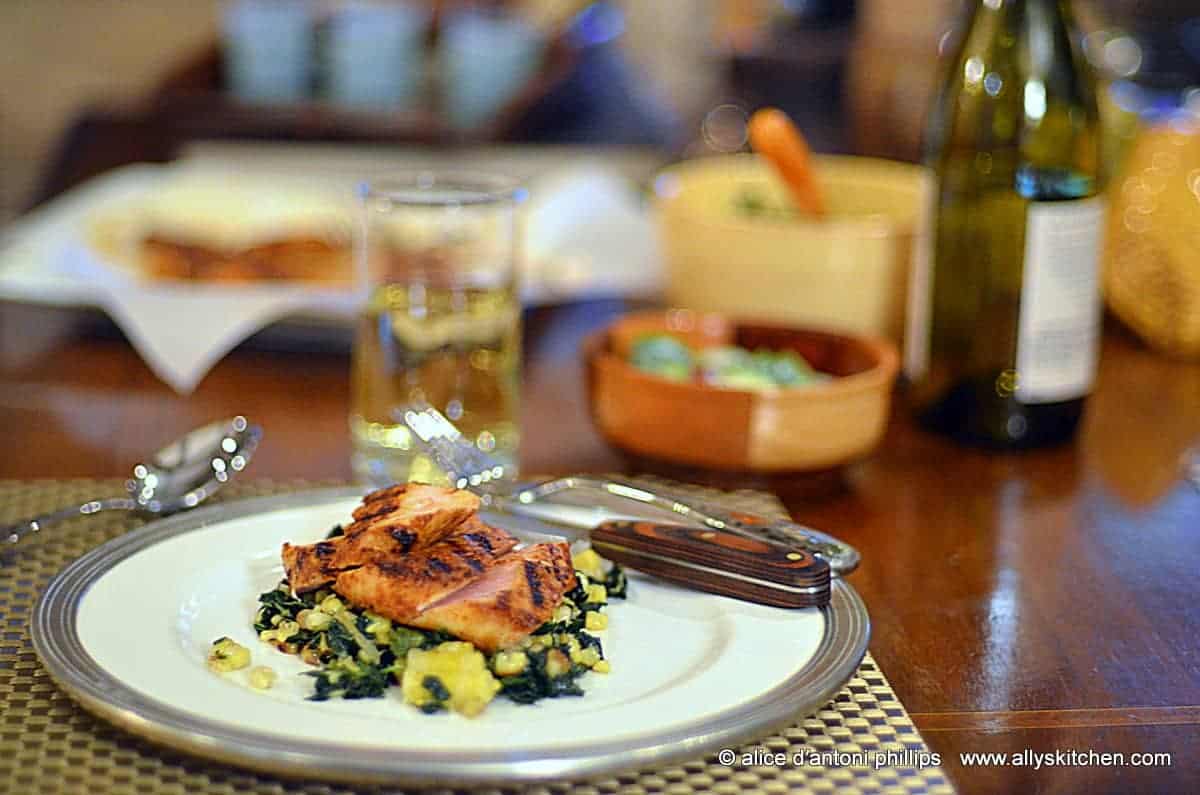 Throw together just a few ingredients, and you have smokey chipotle pork chops! Grill outdoors or throw them in you hot cast iron skillet!
Pork Chop Meals
Pork chops. Easy seasoning, easy prep, easier cooking. What more do you want! Then after they're all done, clean up is simple. One skillet. I've used both a 'grill' cast iron skillet that gives the 'stripes' on the meat and just a plain cast iron. no stripes.
I like to slice these smokey chipotle pork chops at an angle and serve atop something yummmeeee. This is totally your choice.
Great Pork Chop Recipe
Think mashed taters, corn/kale combo like you see here, and, yes, there's a recipe for this boho mixture, a turnip or cauliflower puree, black rice, sauteed onions and peppers, whatever.
Whole 30 Pork Chop Recipe
One place Ben and I love to dine is at our coffee table, so you'll see the layout here. It's a real 'boho' adventure complete with candles, napkins, wine, and a blazing fireplace!
Make it completely Whole 30 with your side dish like greens. Nothing better than pork n' greens. Truly a Southern delight.
Easy Pork Chop Recipes
Cooking pork chops doesn't get any easier than this recipe. It's all about the spice seasoning.
Decide bone in or boneless. Choose your thickness. This will dictate how long you need to cook it.
I've used both thick cut and thin cut chops. Each time, super delicious.
We had a few slices leftover and the next morning I did sunnyside up eggs with the pork. Oh, yeah, it was good!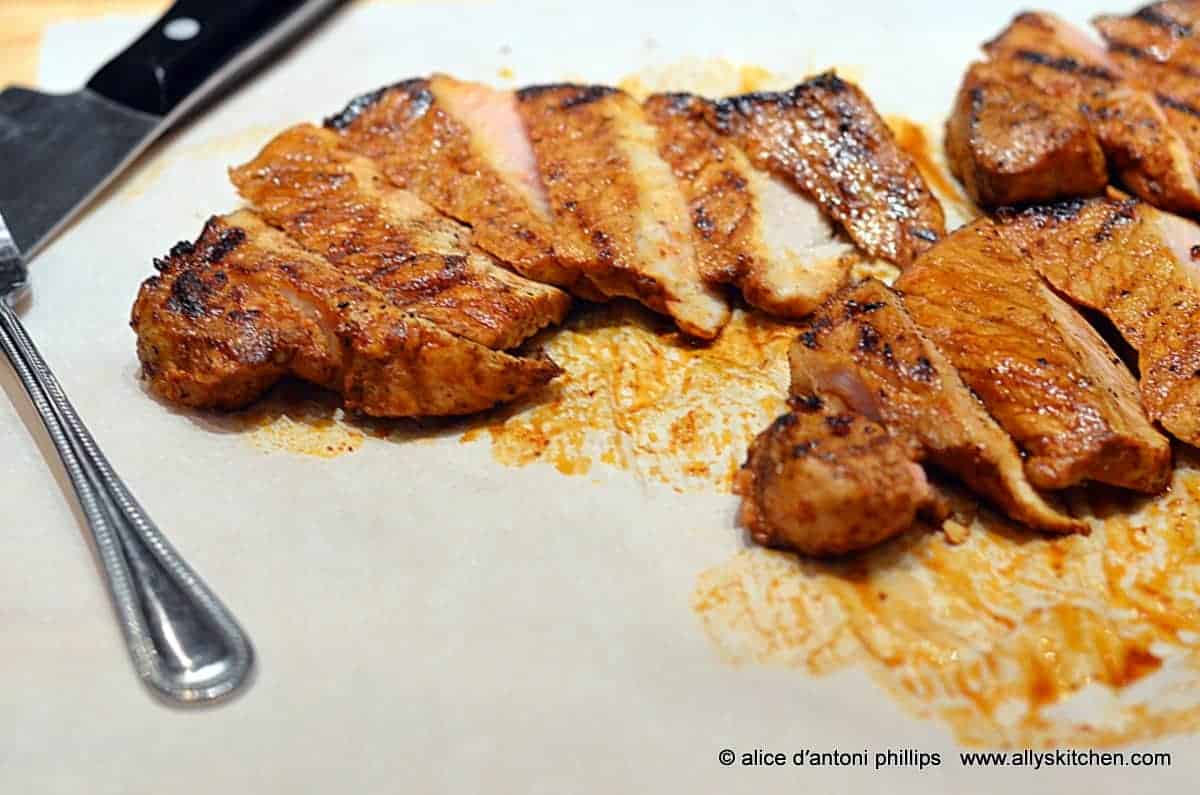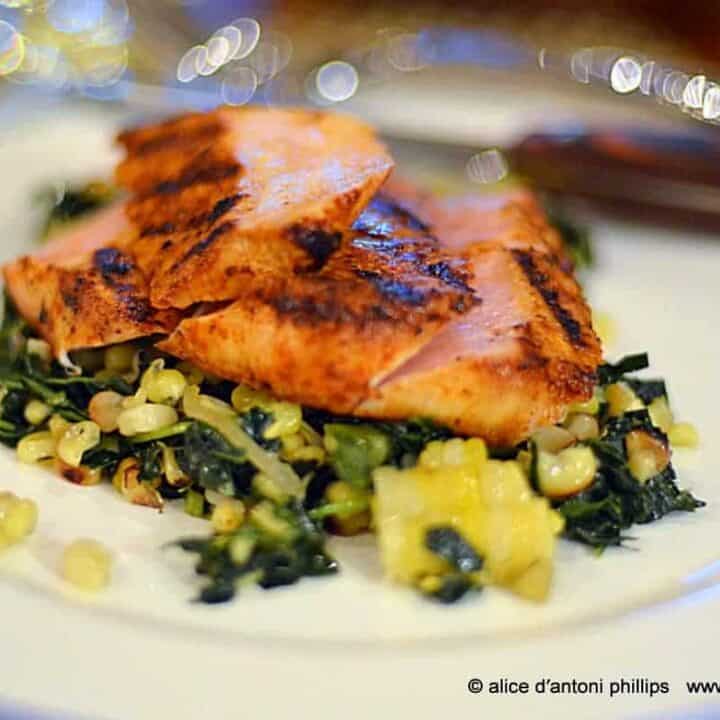 smokey chipotle pork chops
Ingredients
1/2 tsp. chipotle chili pepper
1 tsp. smoked paprika
1/2 tsp. sea salt
1/2 tsp. coarse ground pepper
2 Tbl. Worcestershire sauce
1 Tbl. extra virgin olive oil
2 boneless thick pork chops. about 1.25 to 1.5 pounds
Instructions
In a small bowl, mix the chipotle, paprika, salt, pepper, Worcestershire sauce and olive oil. Blend well.
Put the pork chops in a pie plate and cover with the sauce, flipping and coating all sides. Refrigerate and marinade for about 30+ minutes.
Coat a cast iron skillet well with cooking spray. Turn heat to medium high and let it get hot.
Put the pork chops in (do not crowd) and cook on each side about 4 minutes. The thickness of the chop will determine how long they are cooked. Internal temperature should be 145 for serving.
Remove to a cutting board covered with parchment paper. Put a loose cover of parchment paper over the chops.
Deglaze the skillet with about 1/3 cup of water then pour this 'au jus' into a container for serving with chop if desired.
Cover the chops with a lid and let rest about 5 minutes. Slice at an angle and serve.