awesome bacon sweet potato hash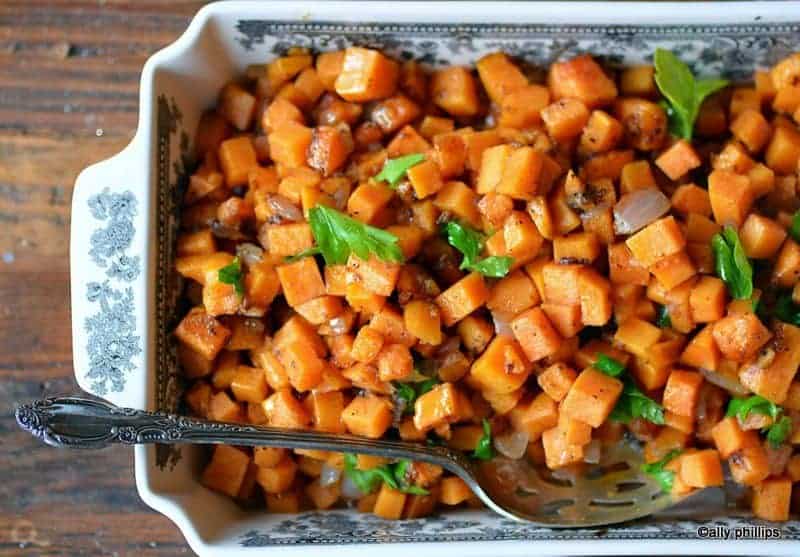 Finding healthy is easy with this bacon sweet potato hash. Steam an egg on top for breakfast. Serve as a casserole side dish! And, more!
Bacon Sweet Potato Hash
Now talk about an easy and deliciously healthy dish! And, in no time you'll be eating something that makes you just feel like you're a million bucks!
Maple Bacon Sweet Potato Hash
If you want to add a drizzle of maple syrup to the finished dish, then that's just a cherry on top. So simple and easy to do. And, talk about enhancing flavors.
Sweet Potato Bacon Hash
Sweet potatoes are such a versatile vegetable.
Here in South Carolina, we have home grown sweet potatoes at most every roadside stand and farmers' markets. They're inexpensive, abundant and super healthy.
Sweet potatoes are perfect for baby's first food. Check out my Grandma's Healthy Sweet Potato Baby Food recipe!
Bacon Sweet Potato Casserole
In my world, most anything's better with bacon. Just the aroma of it early in the morning is intoxicating. Smells do evoke deep seeded memories. And, for me, the scent of frying bacon brings back floods of happy memories from childhood.
From early morning flag raising at music camp and then heading to the mess hall for breakfast to spending summers with my favorite Aunt Deliah and Uncle Frank. His speciality was cooking up big breakfasts for us kids, yes, always bacon.
Sweet Potato Hash with Bacon and Spinach
Sweet potatoes are such a complete ingredient. And, it's one of the first vegetables young Moms will start feeding their babies. Check out my Grandma's Healthy Sweet Potato Baby Food. It's elevated dinning for young ones. We're talking a healthy soufflé!
And, to add to the immense textures, flavors and healthiness, you can throw in some baby spinach. Fresh works but, you could certainly use frozen (thawed). And, if this is your option, be sure to use paper towels to squeeze out as much of the liquid as possible before adding to your mix.
Sweet Potato Bacon Hash Oven
Bacon is a fat that adds immense flavor to food. And this sweet potato hash is really amplified with it! As the potatoes cook with the spices and drippings, it's all absorbed into the naturally sweet 'sweet potato'.
Of course, I always keep my bacon drippings. It would be like throwing out 'gold'.
Yes, it's part of my West Virginia food heritage when times were tough and you didn't waste anything. So, if you don't have drippings in a can or jar, then when you fry it, use the thick cut, then crumble up the bacon and toss it on top the potatoes! I guarantee you're gonna have immensely delighted happy and satisfied food seekers!
Paleo Sweet Potato Bacon Hash
You can certainly adjust slightly the ingredients to make this recipe Paleo or Whole 30. Swap out regular bacon for nitrate free bacon no sugar added for Whole30.
Whole 30 Bacon Sweet Potato Hash
Another swap would be with the bacon drippings. Use ghee or coconut oil, or other cooking fat for sweet potatoes.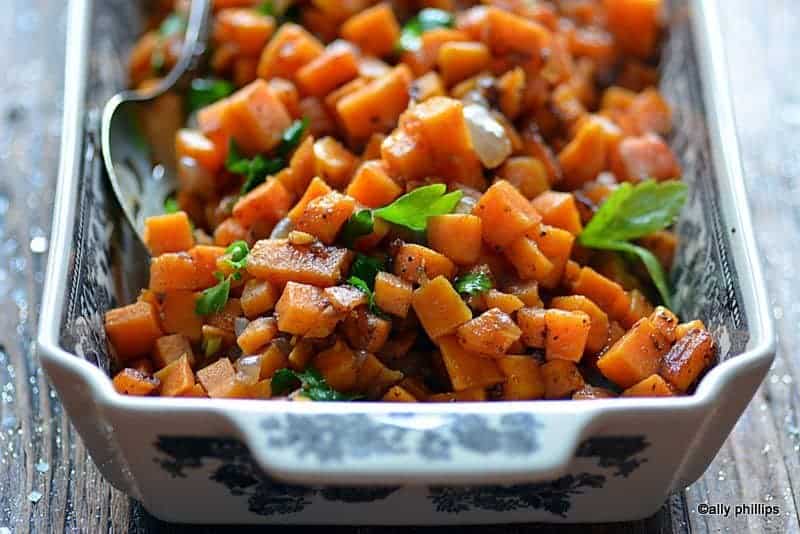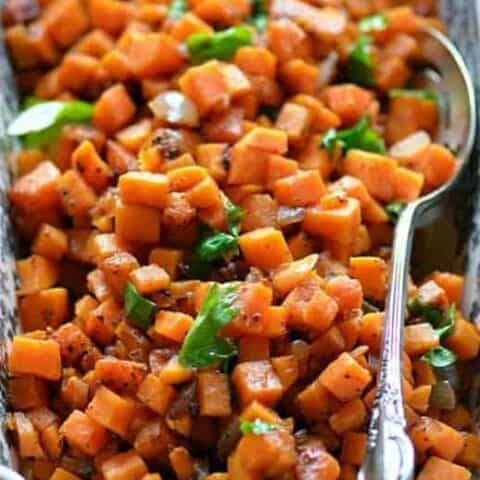 awesome bacon sweet potato hash
Ingredients
4 Tbl. Bacon drippings
4 cups sweet potatoes, diced
2/3 cups sweet onions, diced
½ tsp. sea salt
½ tsp. ground cinnamon
½ tsp. ground allspice
½ tsp. pepper
1/4 cup maple syrup
1 tsp. vanilla
¼ cup flat Italian parsley, chopped
1 Tbl. fresh mint, chopped
Instructions
Heat a 10" cast iron skillet with bacon drippings in it on medium high. Put the potatoes and onions in a large mixing bowl.
Combine the salt, cinnamon, allspice and pepper in a small bowl. Sprinkle on the potatoes/onions and toss and blend with your hands.
Put in the skillet and cook about 5 minutes turning and blending. Reduce the heat to medium low, cover with a lid and cook another about 15-17 minutes.
Toss with a spatula a couple of times. Turn off heat, keep covered and let the potatoes steam until tender. Turn off heat.
Mix vanilla with maple syrup. Drizzle maple syrup on the hash and give a quick toss and blend. Cover and let the hash stay warm.
Before serving, add the parsley, mint and blend.
Notes
Try serving with a dollop of sour cream or creme fraiche! Sooooo yummy! And, freshly grated nutmeg!