I was a walking zombie when I was in my late 20s, 30s and early 40s. With finishing my doctorate degree, having kids, a home, family, tons of laundry, shuttling kids here and there, and starting my own business, I was time-starved and brain dead when it came to cooking. How much would I have LOVED to have been able to click on 'Ally's Kitchen' website and get recipe ideas that would be healthy, easy, quick and not the same ol' thing. Alas, back in the day when I was scrambling to keep my head above water with all these demands, there was not an Internet nor foodies who became our second brain, our food brain.
That's why I love creating fabulously delicious recipes that use ingredients that you can find just about anywhere and cook something up in no time at all. This 'Chicken in Onion Wine Sauce with Farm Vegetables' is something that will fly out of the skillet when you serve it. And, if you have leftovers, it's going to be better on day two. You're going to have this dish in your oven in about 10 minutes. Then you just go about your merry way, do some laundry, answer emails, run and pick up the kids at tee ball practice, and when you come home, the house will smell like Grandma's broken in and is hijacking your kitchen!
My kids now are in their 30s. They're in the GenX and Millenial category. I hear their stories. Feel their pain of trying to eat healthy and find time to cook. That's a big reason why I'm creating recipes with just a few ingredients that can be done by someone who knows nothing basically about cooking. All you need to do is following the instructions. And, I guarantee you even if you don't do everything right, these recipes will be fabulous! Trust your instinct. They're really no brainers. You'll think you're eating in a fine restaurant. You haven't just fixed a box of mac n' cheese, you've created a meal that's worth of kudos!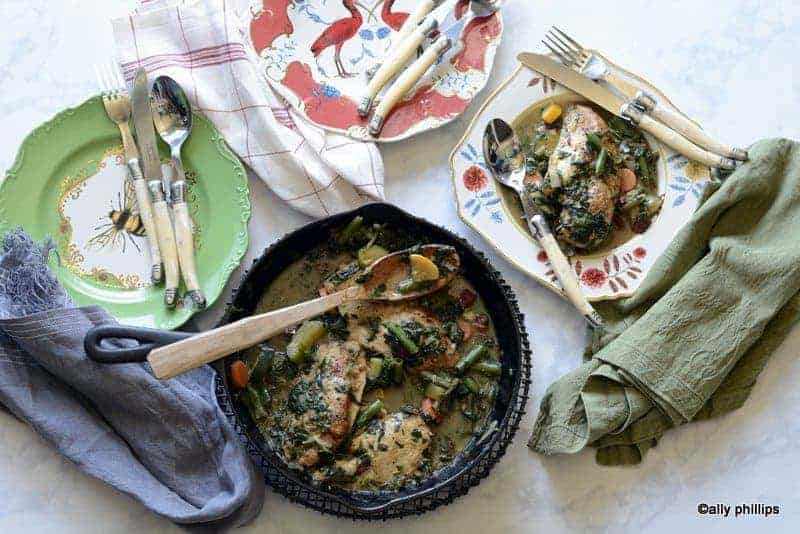 chicken in onion wine sauce with farm vegetables
Ingredients
Preheat oven to 425
4 chicken breasts, boneless, skinless, thin (if thick, slice lengthwise in half), about 2 pounds
1 ½ tsp. coarse ground pepper
4 Tbl. grapeseed oil
1 cup white wine, chardonnay (substitute apple or pineapple juice if you want non-alcohol)
1 envelope (1 oz.) onion soup mix, dried + 1 cup warm water, mixed and blended together
1 (10 oz.) packaged frozen spinach, broken into 3-4 pieces
3 cups frozen mixed vegetables (many varieties available in the freezer section), use fresh if in season
Instructions
Put the chicken on plate. Liberally pepper each side and pat in.
In an 10"+ cast iron skillet over high heat, put the grapeseed oil.
When the oil is hot, reduce heat to medium high and add the chicken. Brown on both sides (about 2 minutes/per side). Remove to a plate.
Slowly add wine to deglaze skillet stirring for about 60-90 seconds. Turn off heat.
Whisk together the onion soup and water in a measuring cup. Add to the wine in the skillet. Add the frozen spinach pieces and blend in. Return the chicken to the skillet.
Cover with a lid. Cook in a preheated 425 oven for 22 to 25 minutes.
Remove lid. Add frozen veggies. Blend. Return to oven for 15 minutes.
Remove from the oven. Put on the stove top and let the chicken/veggies rest for about 3-4 minutes.
Notes
Use seasonal fresh vegetables when available.
Many varieties of frozen vegetables are available. Get creative and experiment!
The wonderful broth is great with artisan rustic bread for dipping!
Your cozy abode will abound with amazing aromas as this dish cooks in the oven!
Sit back. Have a glass of wine. And, await the goodliness!
At first the sauce will be like broth, but after it cools and sits a while or the next day it will thicken and congeal more.
https://allyskitchen.com/chicken-onion-wine-sauce-farm-vegetables/
©ally's kitchen intellectual property