lemon rosemary chicken casserole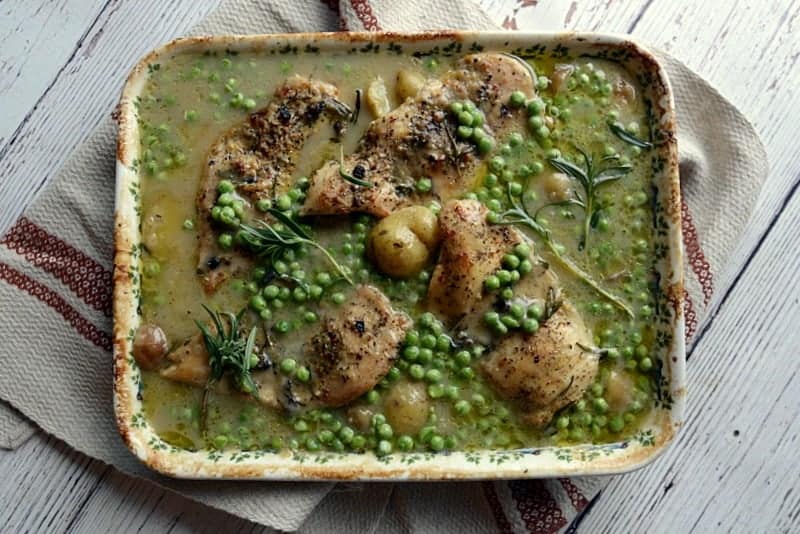 Simple Chicken Casserole
One dish lemon rosemary chicken casserole! Come home to goodliness! The aromas of rosemary and the gravy that only needs to be slurped with each bite!
I think a lot of folks are always looking for new chicken recipes. And, I know that most all of us don't want anything complicated that we have to have culinary school training to execute the recipe. That's why you'll love this chicken casserole dish.
Chicken Casserole with Rice
Now a chicken with rice is what you might see in a casserole dish, but it's time to change it up. And, when you add the lemon, potatoes and rosemary and bathe the chicken in a mushroom sauce or gravy with petite peas, you have a hearty meal.
Uses for Rosemary
Rosemary is one of my favorite herbs! In fact, I have probably ten rosemary plants in and around the outside of my home. It's a hearty herb and withstands the cooler weather.
With its lemon pine flavor, rosemary also has hints of being woodsy and peppery. Aromatically rosemary is akin to a pine scent. Because of the deliciousness of rosemary, it's used frequently in barbecuing dishes and on grills.
Rosemary has lots of uses. From simply rubbing fresh sprigs in your hands or on your arms and getting the scent like a cologne to putting in your hot tea or using in your cooking. Rosemary's also pretty easy to grow even if you have a black thumb! I even clip large woody stems of rosemary, put in water and use it as a floral arrangement.
Rosemary for Cooking
When you snip your rosemary sprigs, rinse them with cold water and let them drain in a colander. Then you can pat them dry with a paper towel and use it for cooking.
If you just want the needles, then strip them off and chop and mince them. They're perfect for flavoring stews and roasts be it lamb or chicken, even fish. Butter artisan bread and sprinkle on a few bits of minced rosemary and toast the bread. It's divine. Garnish chicken soup with a sprinkling of finely chopped rosemary. It's perfect for so many things.
Don't underestimate rosemary whether you're cooking other kinds of poultry poultry, game, lamb, pork, steaks, and especially oil fish.
Rosemary Chicken
Rosemary chicken is quite a popular dish. And, it doesn't really matter how you prepare the chicken, baking, frying, stewing, steaming, grilling, whatever, if you add some rosemary it's even better. Rosemary and chicken just go together like peas and carrots or salt and pepper. It's a natural combination.
Besides rosemary chicken, rosemary seasons salads, soups, casseroles, stews. And, it goes well with things like potatoes, spinach, mushrooms, onions and grains.
In cooking, rosemary is used as a seasoning in a variety of dishes, such as soups, casseroles, salads, and stews. It also goes well with grains, mushrooms, onions, peas, potatoes, and spinach
Baked Lemon Chicken
This is one easy dish to prepare. The baked lemon in the chicken also infuses the onions and potatoes with hints of citrus. This brings out even more flavors. And, don't think you can't eat these lemons. Yes, you can. And, my dear sister, Nan, devours them as the best part of this dish!
Rosemary Chicken and Potatoes
This recipe really is a complete meal. Next time I'll make it in even a larger casserole dish because we're talking tender potatoes and chicken that have been steeped in a luscious mushroom sauce with peas added in the end to round out the meal.
If that's you and if you're looking for a kickin' deeeelish chicken recipe, here it is. This recipe is made in one casserole dish. Yes! You're in luck! If there are leftovers, you can make a great chicken soup by just adding some additional veggies and chicken stock.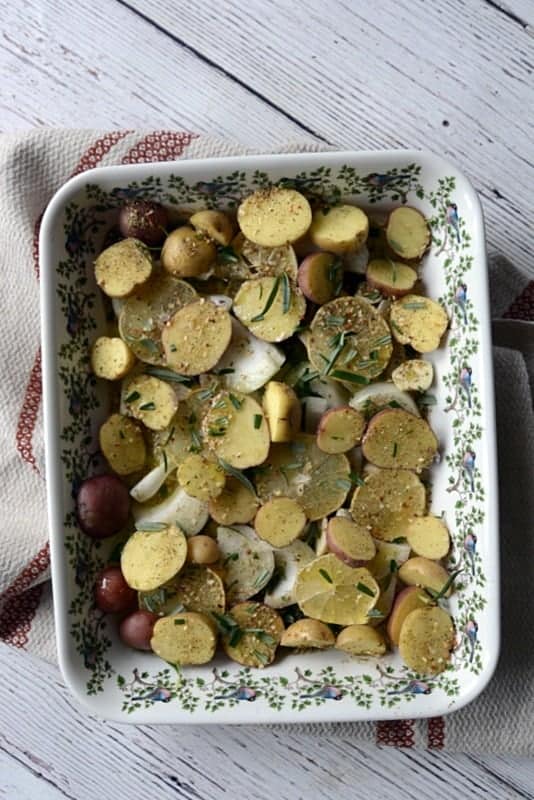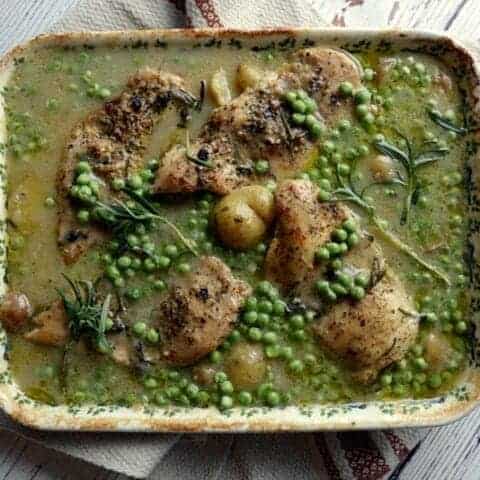 lemon rosemary chicken casserole
Yield: 2 really hungry folks or 4 somewhat hungry ones!

One dish lemon rosemary chicken casserole! Come home to goodliness! The aromas of rosemary and the gravy that only needs to be slurped with each bite!
Ingredients
Preheat oven to 400
½ cup extra virgin olive oil, divided
1 sweet onion, sliced thinly
4-5 garlic cloves, peeled and sliced
4 cups baby potatoes, cut in halves, very small ones left whole
1 lemon, cut into thin slices
2 tsp. sea salt, divided
1 tsp. coarse ground pepper, divided
2 ½ Tbl. fresh rosemary, minced, divided + sprigs for garnish
3 Tbl. Kirkland's No-Salt Spice Mixture, or similar garlic/herb/multi-spice mixture
4 chicken breasts, boneless and skinless, about 1 ½ to 2 lbs.
1 box (12.5 oz.) Pacific Organic Mushroom Soup + 1 cup water
3 cups frozen petite peas
Instructions
Begin layering the ingredients. Start with half of the olive oil, onion slices and garlic cloves. Add the potatoes, lemon slices, one teaspoon of salt, half of the pepper, one tablespoon of rosemary, one and a half tablespoons of the spice mixture. Add the chicken breasts, the remaining salt, pepper, spice mixture and one tablespoon of rosemary.

Dollop the mushroom soup on top. Add the water. Cover tightly with doubled foil. Bake in a preheated 400 oven for 50-60 minutes. Turn off oven. Remove casserole to the stove top and take off the foil (watch out, it will be steaming hot!). Add the peas, blend in somewhat with a fork or spoon. Recover with the foil.

Return to the warm oven for about 15 minutes or until ready to serve. Garnish with remaining rosemary and sprigs.
Notes
IF there are any leftovers, well, get ready for a big treat! Hey, you might have to hide it in the refrig!!