I think a lot of folks are always looking for new chicken recipes. And, I know that most all of us don't want anything complicated that we have to have culinary school training to execute the recipe. That's why you'll love this chicken casserole dish.
If that's you and if you're looking for a kickin' deeeelish chicken recipe, here it is. This recipe is made in one casserole dish. Yes! You're in luck! If there are leftovers, you can make a great chicken soup by just adding some additional veggies and chicken stock.
You know I don't write a lot about recipes because I think what you want is THE RECIPE NOW! So, here you go. Lemon rosemary chicken casserole!
Hey, why not try these killer mashed potatoes with this dish!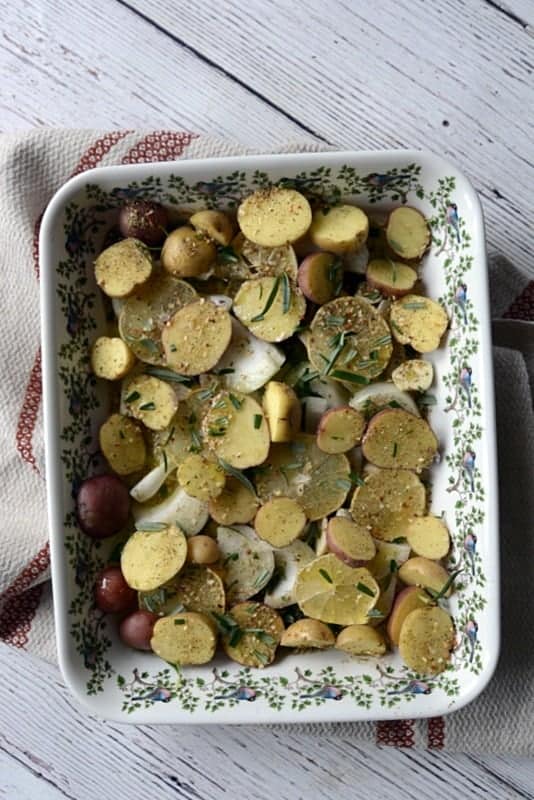 lemon rosemary chicken casserole
Ingredients
Preheat oven to 400
½ cup extra virgin olive oil, divided
1 sweet onion, sliced thinly
4-5 garlic cloves, peeled and sliced
4 cups baby potatoes, cut in halves, very small ones left whole
1 lemon, cut into thin slices
2 tsp. sea salt, divided
1 tsp. coarse ground pepper, divided
2 ½ Tbl. fresh rosemary, minced, divided + sprigs for garnish
3 Tbl. Kirkland's No-Salt Spice Mixture, or similar garlic/herb/multi-spice mixture
4 chicken breasts, boneless and skinless, about 1 ½ to 2 lbs.
1 box (12.5 oz.) Pacific Organic Mushroom Soup + 1 cup water
3 cups frozen petite peas
Instructions
Begin layering the ingredients. Start with half of the olive oil, onion slices and garlic cloves. Add the potatoes, lemon slices, one teaspoon of salt, half of the pepper, one tablespoon of rosemary, one and a half tablespoons of the spice mixture. Add the chicken breasts, the remaining salt, pepper, spice mixture and one tablespoon of rosemary.
Dollop the mushroom soup on top. Add the water. Cover tightly with doubled foil. Bake in a preheated 400 oven for 50-60 minutes. Turn off oven. Remove casserole to the stove top and take off the foil (watch out, it will be steaming hot!). Add the peas, blend in somewhat with a fork or spoon. Recover with the foil.
Return to the warm oven for about 15 minutes or until ready to serve. Garnish with remaining rosemary and sprigs.
Notes
IF there are any leftovers, well, get ready for a big treat! Hey, you might have to hide it in the refrig!!
https://allyskitchen.com/lemon-rosemary-chicken-casserole/
©ally's kitchen intellectual property