Chicken Marsala Mushroom Stew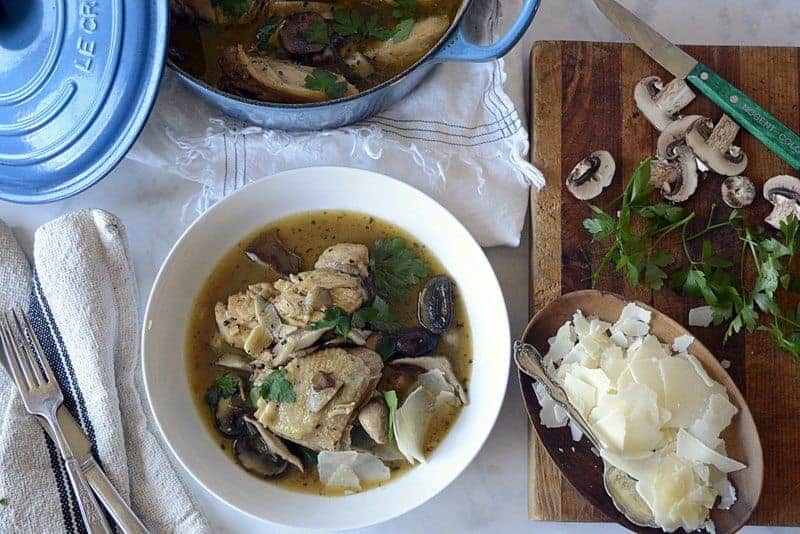 An easy, healthy recipe for Chicken Marsala Mushroom Stew. Give it a try today!
Chicken Marsala Mushroom Stew
One of my most popular recipes is chicken marsala soup. OMG! If you haven't tried it, then you want to! Here's the link. I mean, this recipe gets huge traffic as per my Google analytics! So, I thought, why not build on something popular. Something that people like. Something that would be another version of this great Italian dish is chicken marsala. Yes, that's how I came up with this recipe, chicken marsala mushroom stew. It's a spinoff of the iconic chicken marsala!
Chicken Marsala
Chicken Marsala is a soft and juicy chicken fillet in a sauce with mushrooms, cream, and wine, and even cooks quickly – what else do you need? The most delicate chicken in a creamy sauce with mushrooms is suitable for an everyday table and will become a decoration for a holiday.
Slow Cooker Chicken MarsalaChicken is a frequent guest on the table with families. In addition to being one of the budget sources of protein, it also has outstanding taste. A variety of recipes for cooking chicken in a multicooker can satisfy any taste preference. You can make a Chicken Marsala with a crust in a few minutes, or stew the poultry for a little longer to get tender, soft meat fibers.
How to Make Chicken Marsala?
This chicken marsala mushroom stew is so simple to make. It's all about just having your ingredients ready and the few steps of preparation before you put it in the oven to roast into a marvelously delicious stew. From just a few ingredients, you get the most gloriously delicious depths of flavor. And, like most stews, soups, sauces, it's better on days two and three. That is IF there's anything left to eat!
What Sides go with Chicken Marsala?
You decide how you want to serve this dish. With pasta? Yes, that's what I chose. A nice al dente linguine that was tossed in basil pesto! Simple. And, perfectly paired with the chicken marsala gravy and chicken. If you want risotto or rice, then that would be a nice pairing. And, imagine for a moment, creamy garlic mashed potatoes topped with the chicken marsala stew. OMG, I'm heading to the kitchen now!
Chicken Marsala with Wine
Chicken Marsala is an amazing and simple chicken dish with a delicious sauce based on Marsala's Italian dessert wine. Marsala is a dessert wine from Sicily with rich color, 17-18%.
Here are other quick recipes that you should give a try:
Chicken Marsala Soup
Slow Cooker Chicken Marsala
Cumin Corn Soufflé Cilantro & Caramelized Onions
Chicken Cacciatore Soup
Rustic Hearty Best Stew Recipes
Enjoy my foodie peep luvs!! xoxo ~ally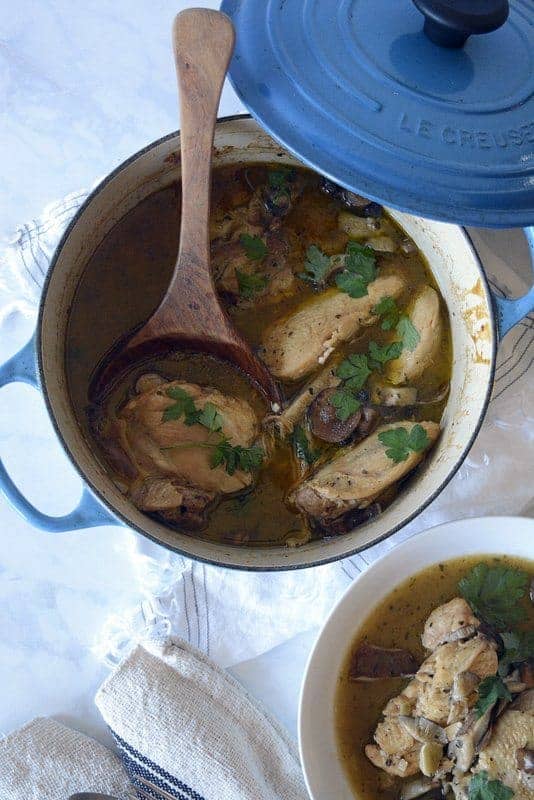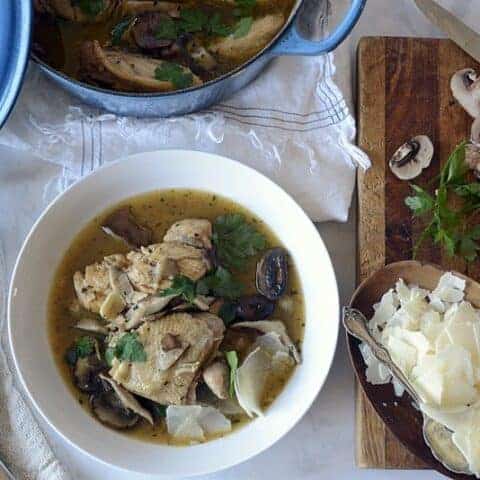 chicken marsala stew
Yield: Feeds 6-8 hungry folks

An easy, healthy recipe for Chicken Marsala Mushroom Stew. Give it a try Today!
Ingredients
Preheat oven to 375
¼ cup bacon drippings
3 lbs. chicken, about half and half skin on and bone in thighs and boneless and skinless breasts
½ cup Marsala cooking wine
1 (12 oz.) organic cream of chicken soup (I used Pacific brand.)
2 cups chicken broth
1 Tbl. Italian dried seasoning mixture
4 garlic cloves, thinly sliced
1 ½ tsp. sea salt
1 tsp. white pepper
8 oz. mushrooms, shitake and baby bellas
GARNISH:
Fresh flat parsley
Shaved Parmesan
Instructions
Use a large Dutch oven pot with lid. Put the bacon drippings in and turn heat to medium high. When hot, add the chicken and brown on all sides cooking about 10 minutes. Move the chicken around to brown all pieces.

Add the Marsala cooking wine and let it cook about 2-3 minutes. Add the cream of chicken soup, chicken broth Italian seasoning, garlic slices, salt and pepper. Blend well.

Cover with a lid and roast in a 375 preheated oven for 45 minutes. Remove and add the mushrooms. Blend into the mixture. Return to the oven for about 15 minutes. Remove and ready to serve.

Garnish with fresh flat parsley and shaved Parmesan.
Notes
Serve with your favorite pasta.

Serve with grilled veggies.