This flourless chocolate tart was not only fabulous and easy, but when I shared it on Instagram, the iconic chocolate company Ghirardelli reshared it. Of course, I tagged them in my post and obviously they were enchanted enough to share with their chocolate loving followers!
This tart is rich and gooey. You can slice or simply scoop. Doesn't matter because either way, it's going to make your heart pitter patter. You don't need much. Just a sliver or heaping tablespoon. Load up on fresh fruit with it and maybe a dollop of whipped cream or, if you haven't tried a dollop of creme fraiche, then please do. Serve it warm. Put it in the microwave for just a few seconds (don't over do it!!).
If you're looking for something that will impress on all counts, then this is the right 'direction'…I mean just look at the compass!            xoxox ~peace & chocolate~ ally
Want the best dang brownies ever? Then here's your recipe!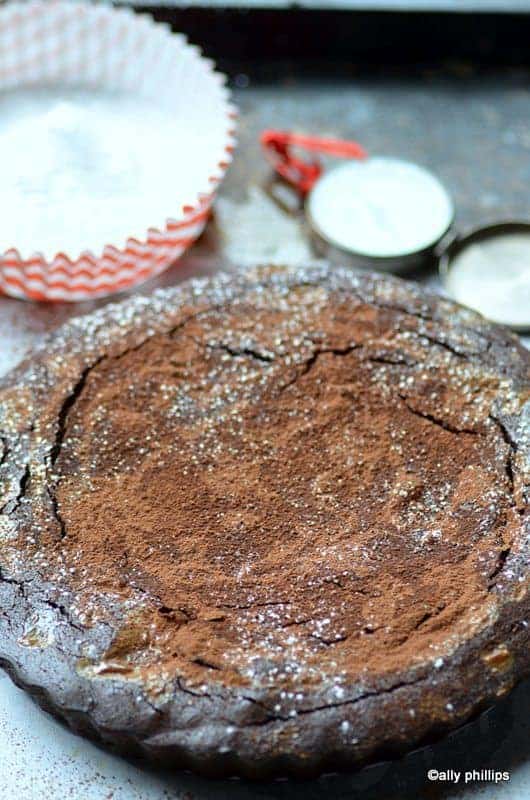 Ingredients
Preheat oven to 375
5 oz. 60-70% chocolate
½ cup sugar
8 Tbl. butter, salted, melted, cooled
3 eggs, organic & beaten lightly
1 tsp. chocolate extract
1 cup chocolate cocoa + 1 tsp. for dusting garnish
2 tsp. instant espresso, powder
1 Tbl. Bailey's Cream
GARNISH OPTIONS:
Powdered sugar
Whipped Cream
Raspberries
Strawberries
Instructions
Melt the chocolate over a double boiler. Add the sugar and stir well dissolving the sugar. Add the melted cooled butter and work in well stirring about 2 minutes.
Add the chocolate extract to the beaten eggs. Drizzle half into the chocolate mixture and blend well. Continue with the remaining eggs and whip well. The 'batter' will become thick and shiny.
Sift in one cup of cocoa powder and espresso and work into a thicker batter. Pour into a greased tart pan. Drizzle the Bailey's on top. Put the pan on a cookie sheet and bake in a preheated 375 oven for 21-24 minutes.
Remove to a rack and cool. Dust with cocoa powder and/or powdered sugar.
https://allyskitchen.com/baileys-chocolate-espresso-tart/
©ally's kitchen intellectual property