whiskey smoked cowboy chili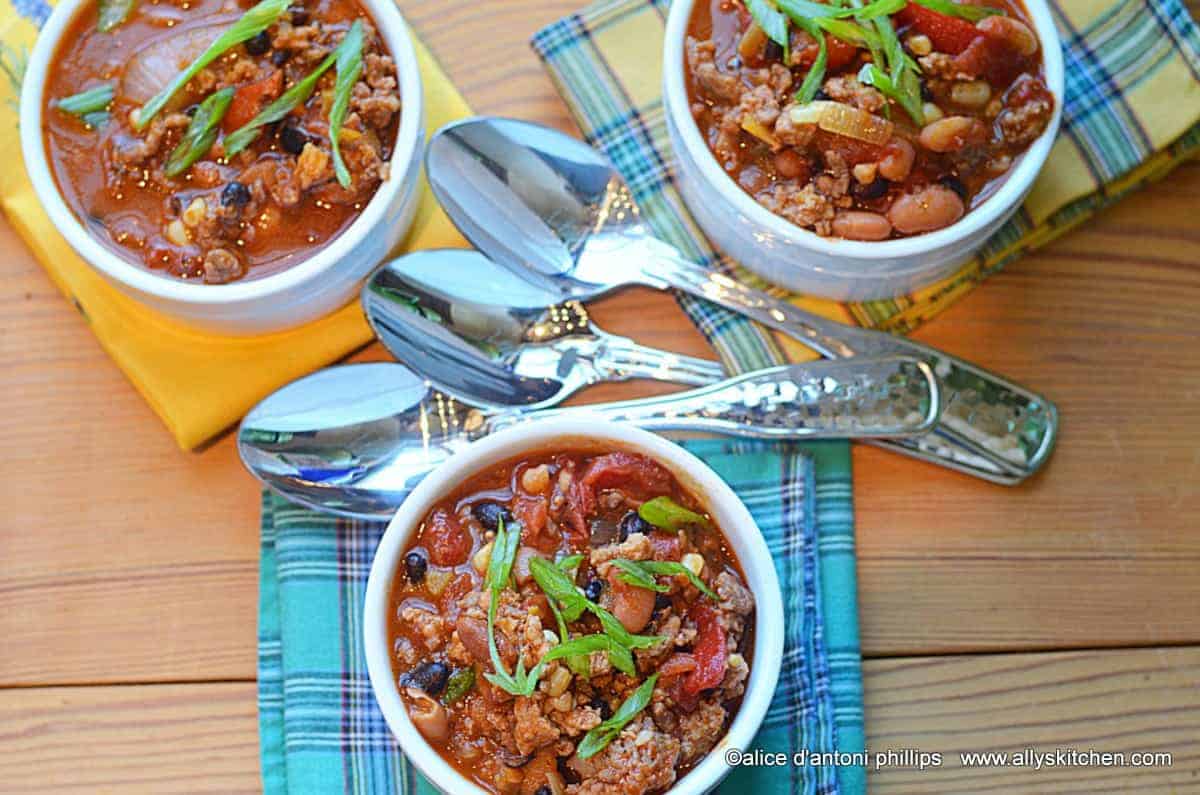 When we're  in Colorado in the winter, there's nothing better than chili!  The grandkids come off the slopes after a big day of skiing and snowboarding and are ravenously hungry. It's always good to have something hot on the stove and sweets and fruit on the kitchen counter. I love it because it all gets eaten, and I can cook more!  So, I wanted to create something using whiskey and since I had an opened container of V8 juice in the refrigerator, I decided that would be used instead of crushed tomatoes.
The spices in this cowboy chili are kickin', like a sneak up on ya hot. Yep,  your mouth can be on fire!  So if your palate calls for less spice and heat, then just reduce the amounts to your liking.  This chili got great reviews from my food seekers. Remember you can add a dollop of sour cream and some shredded cheese and make even more of a meal. And, think about this chili with nachos…oh, yeah!  The possibilities are endless!  Here's to heating up your palate. xoxo ~ally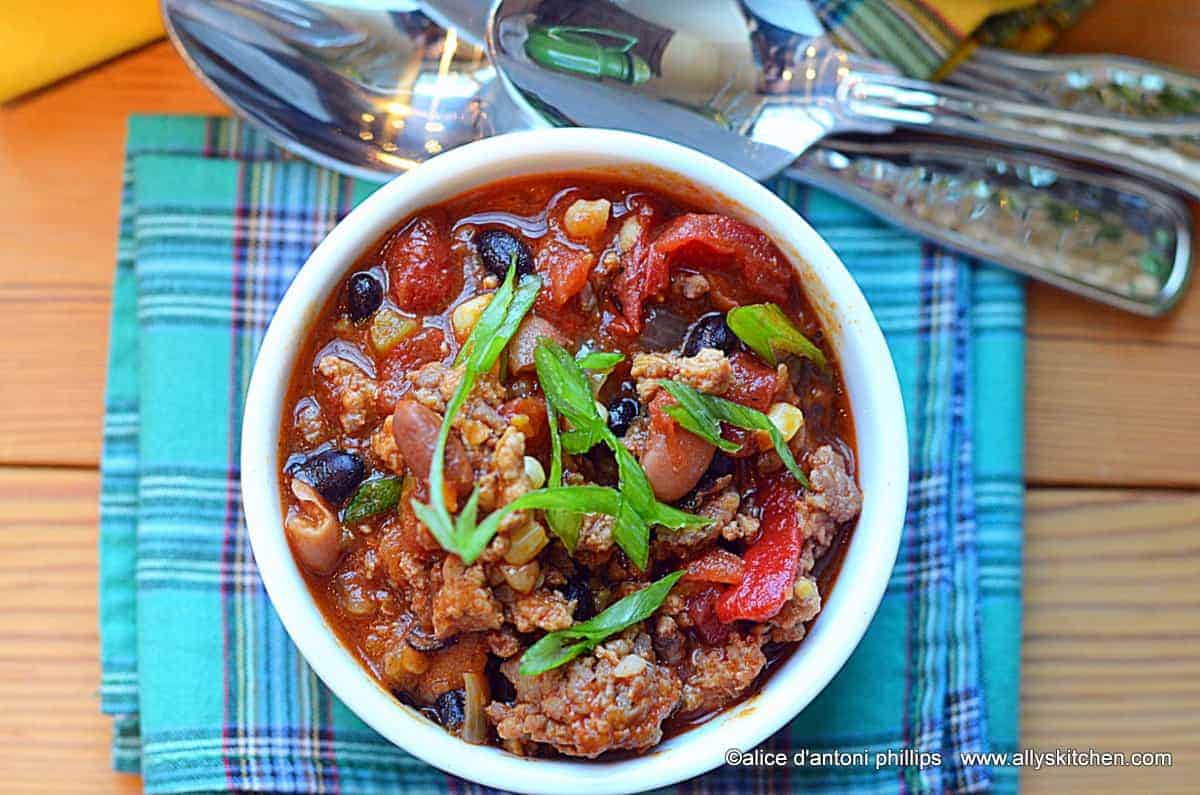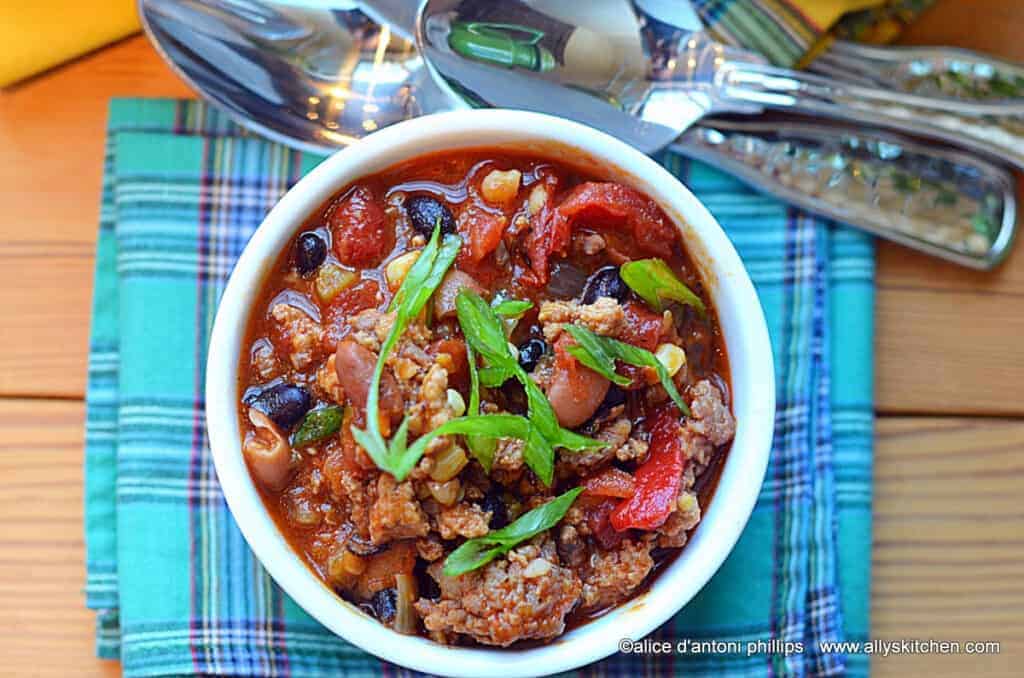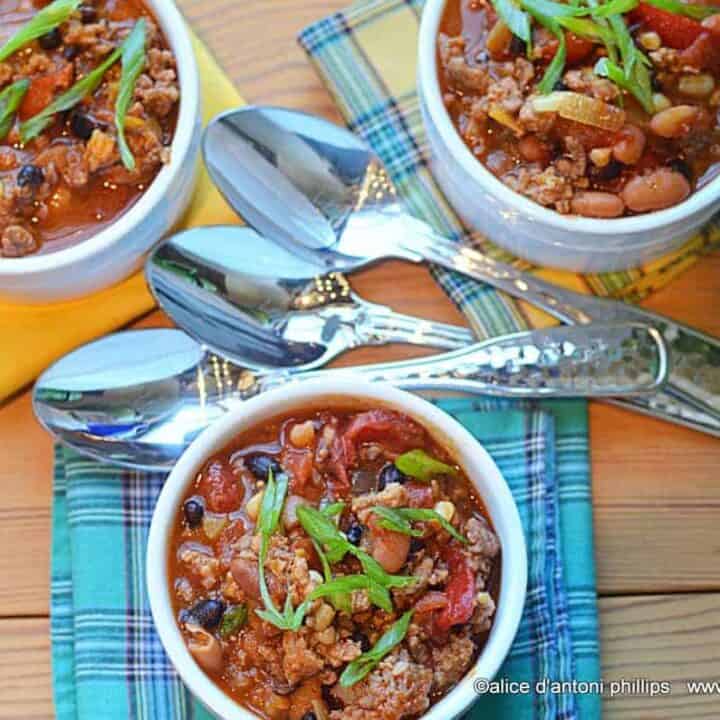 whiskey smoked cowboy chili
Ingredients
1 carrot cut, cut into several chunks
1 rib of celery, cut into several chunks
1 small onion, cut into several chunks
6 garlic cloves, peeled and smashed
1/2  cup extra virgin olive oil (divided)
1 lb. ground hot Italian sausage (or ground pork)
1 lb. ground turkey
1 tsp. sea salt
1/2 cup whiskey
3 tsp. ground cumin
2 tsp. smoked paprika
2 tsp. chipotle chili powder (can sub 1/2 tsp cayenne or 1 tsp chili flakes)
1can (15 oz.) black beans
2 cans (15 oz.) pinto beans
2 1/2 cups V8  juice
2 cans (15 oz.) diced tomatoes
1/2 cup red roasted pepper strips (from jar)
10 oz. frozen corn
4-6 green onions chiffonade cut for garnish when serving
Instructions
Put the carrot, celery, onion, garlic cloves and 1/4 cup olive oil in the food processor and pulse into a ground mixture.
Put the remaining olive oil in a large skillet over medium high heat. Add the food processor contents and saute about 5 minutes.
Add sausage (or pork), turkey and salt and brown the meat. Add the whiskey and cook about 5 minutes. Reduce heat to medium and add cumin, paprika and chili powder and blend well.
Add in the remaining ingredients one at a time and blend after each addition. Cover chili with a lid and cook on medium heat about 45 minutes stirring occasionally.
Reduce heat to medium low and cook another hour plus stirring occasionally.
Notes
Add water or chicken or beef stock/broth if you need to thin the chili.