fresh pear custard upside down pie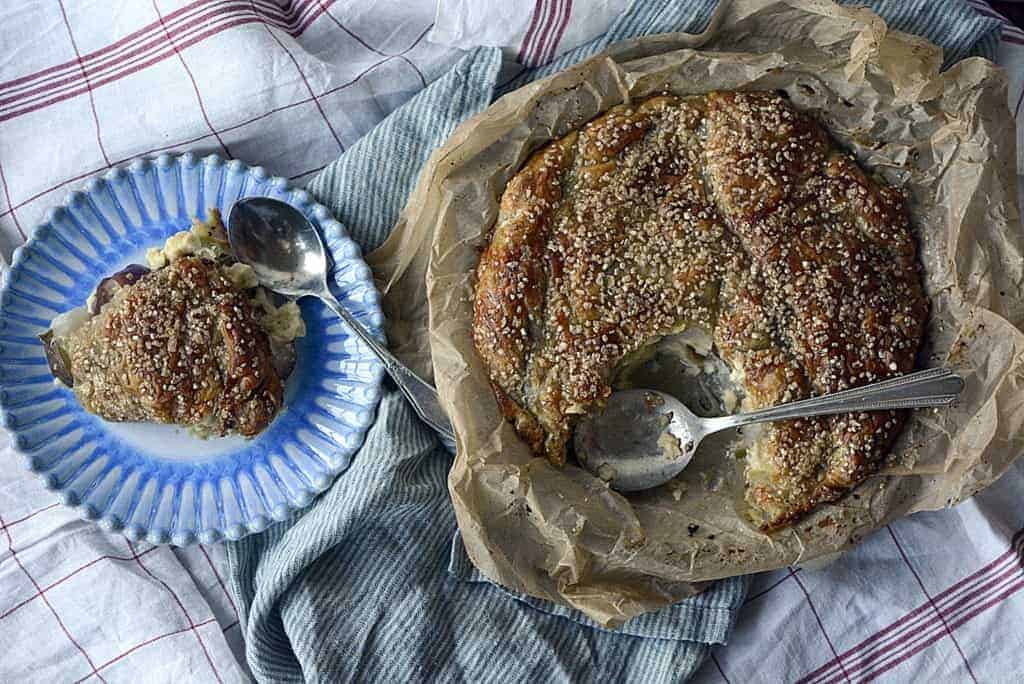 Probably the best part of a pie for me is the crust. I think a lot of people really like their crusts. Especially, the crust around the perimeter of the pie. Why do we so love that part of the crust. Well, it's got a little crunch and browning and it's just a nice texture that feels good on our palates with the inside of the pie whether it's fruit, cream, custard, or whatever. This fresh pear custard upside down pie is just what you want to make if you love that perimeter crust. Why? Well, because you've got a top layer of all the goodliness of the crust, the crunch, the 'cookie' like texture, and you still have the inside of the pie that's just even better!
This fresh pear custard upside down pie is really a no brainer in terms of making. Just slice your pears, and I used red anjou because they're just so darn pretty when sliced, and then arrange them in the pie plate. Now, as you can see from my photos, I used crumpled up parchment paper in the pie pan. Why did I do this? Well, a couple of reasons. It makes for super easy clean up. The pie plate is virtually clean. And, I think it adds a unique dimension when you serve from it. There's just something interesting, at least for me, and oddly beautiful about the paper that becomes somewhat browned and has the evidence of baking on it. And, if you wanted to remove it from the pan, place on a large platter and serve, it would be super cool and fun!
For this upside down pie, I decided to use puff pastry. Yes, I could have used a refrigerated roll out pie crust, but I wanted more crustiness and flakiness. And, puff pastry bring this on. I also added another dimension of sweet crunch with the turbinado sugar sprinkled on the top. Now these sweet juicy cooked pears in the puddles of baked custard are even more glorious with each bite!
For me, baking is all about being simple and straight forward. If it's complex, requires lots of time, immense detailing, and profuse concentration, then I'm just like a ball lost in high grass. If you're that kinda ball, then you'll probably really like this dessert!!
xoxox
~peace & namaste~
ally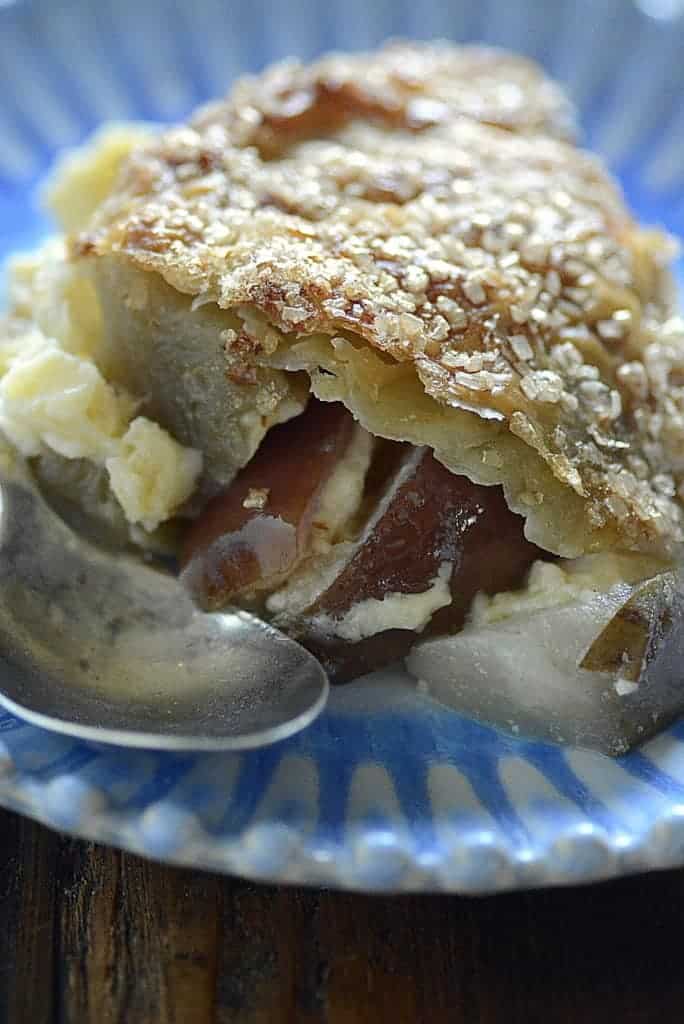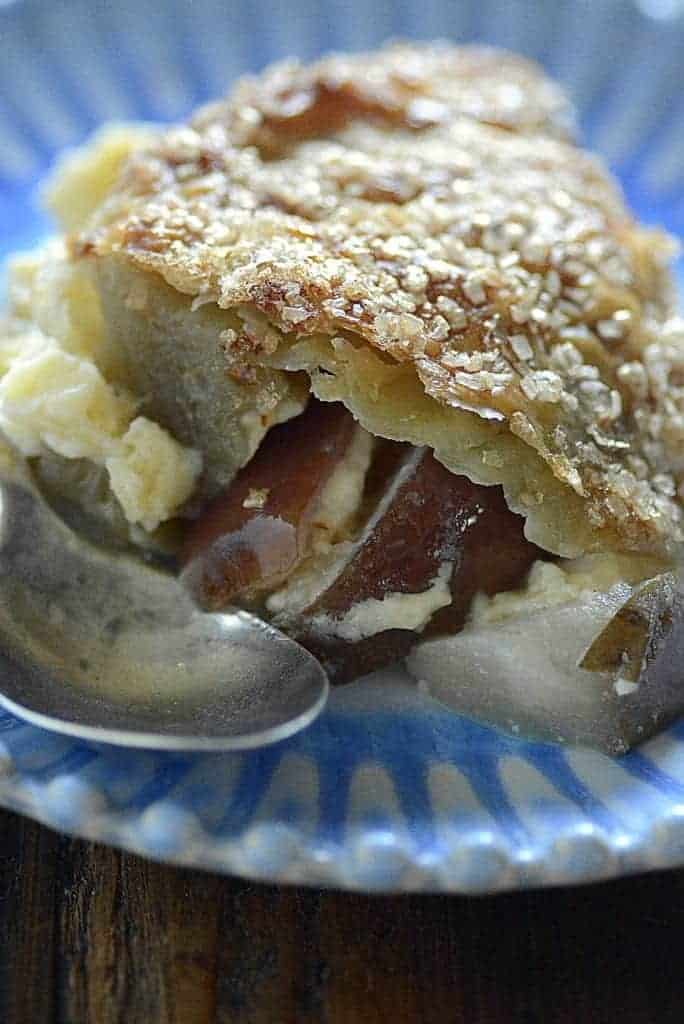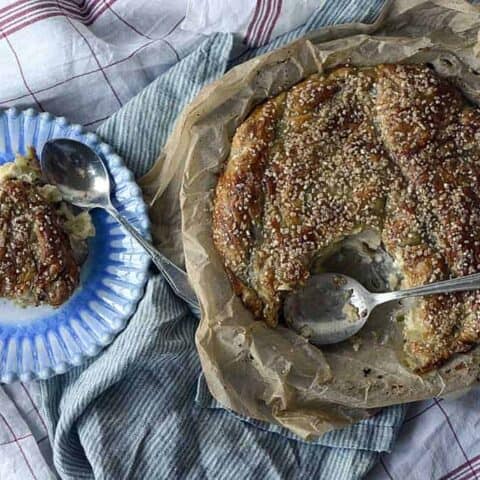 fresh pear custard upside down pie
Ingredients
Preheat oven to 350
3 Tbl. butter, salted, room temperature
3 pears, washed, stems removed, sliced into halves lengthwise then thin slices
½ cup sweetened condesned milk
2 eggs, divided
¼ cup heavy cream
2 Tbl. flour, all purpose
1 tsp. vanilla
1/4 tsp. salt
3 (3x9") pieces of puff pastry, room temperature
1 Tbl. turbinado sugar
Instructions
Take a piece of parchment paper, about 14x14. Crumple it up. Place in pie plate. Roughly slather the butter on the parchment paper.
Atop the butter, add the sliced pear pieces in a circle.
In a small mixing bowl, combine the sweetened condensed milk, one beaten egg, cream, flour vanilla and salt. Whisk together well. Pour over the pear slices.
Take the 3 pieces of puff pastry and pinch together into one large piece that is about 9x9" square.
Place on top the pears. Pinch and tuck (somewhat into the pears) the puff pastry around feeling for the rim.
Put the remaining egg in a small bowl. Use a pastry brush and coat the top. Sprinkle the sugar all around the top.
Place the pie plate on a cookie sheet. Bake in a preheated 350 oven about 25 to 30 minutes or until the pastry dough is golden brown. Remove to a cool rack for about 15 minutes.