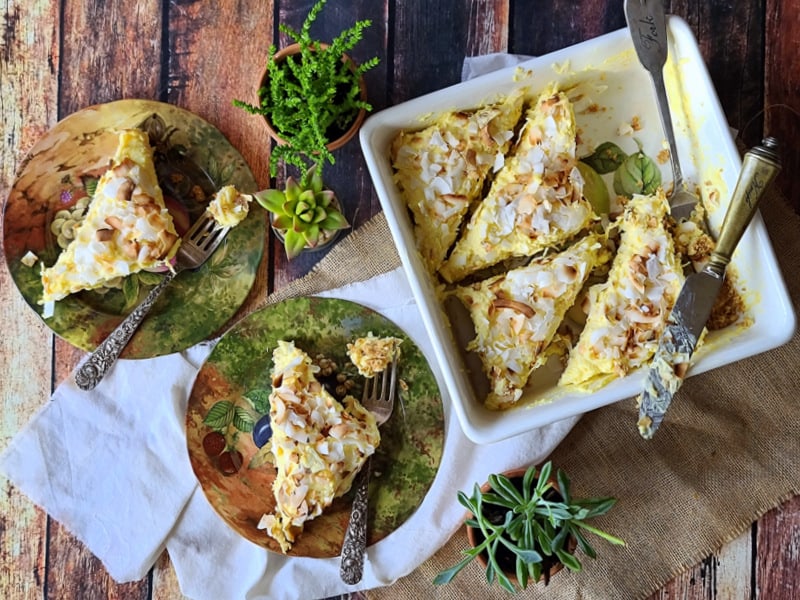 Just the name silky coconut pie makes you want to savor a bite of this amazing delicacy. Creamy coconutEEE and absolutely easy and delicious!
Easy Coconut Cream Pie
Ya know, I used to be intimidated about making homemade custard or cream for a pie filling. I just thought it would be so complicated. But, boy was I wrong.
Coconut Custard Pie
Coconut pie with a silky creamy custard is so simple to make. Now, the big deal about this is paying attention to the custard as you're making it.
Coconut Custard
Coconut custard is simple egg yolks, milk, always whole but I prefer half and half, that's half whole milk and half cream. And, you'll see that I'm also using coconut milk. Now you do not want anything but whole coconut milk. No low fat. It's got to be the real deal.
Then you've got sugar to sweeten and vanilla extract to bring out more flavor. To add a tad bit more thickening to it, I'm using corn starch.
Creamy Coconut Pie
This creamy coconut pie gets better on days two and three. And, yes, when you keep it refrigerated and covered tightly with plastic wrap, it's going to be tasty for a couple of days. Well, if it lasts that long.
Coconut Cream Pie with Coconut Cream
The technique with coconut cream is to pay attention as I said. You'll gently let it come to a simmering boil. Then you'll whisk occasionally as you're standing there at the stove. No, please don't walk away. I know I know, this is a bit 'high maintenance' but it's totally worth it.
Coconut Cream Bars
I'm making this coconut cream pie in a square baking dish. So is it really a pie or are these coconut cream bars? I love the square or rectangular shapes that we can cut. And, if you want to get creative, cut into squares, then slice each square diagonally and make triangles. Just a littl' extra flair for serving.
Custard Pie
Silky coconut custard pie is perfect for any occasion and for any season. My recipe doesn't give you an overly sweet pie. You're going to have more of the velvety cream with the flavor of coconut. Now I'm using shredded sweetened coconut, but you could also use frozen sweetened coconut in the filling. I'll always toast coconut to finished off the top of the pie just for some added golden brown happiness.
Coconut Custard Pie Recipe
Besides this coconut custard pie recipe, I have an insanely even easier, if that's possible, custard peach pie. Honestly, you will not believe how quick it is to make. Then when strawberries are in season, why not try my strawberry custard pie! And, apple season? I have you covered with my easy apple custard tart!
Check out some more pie & cakes recipes:
spicy chocolate red dragon cookie sandwich
cocoa espresso babovka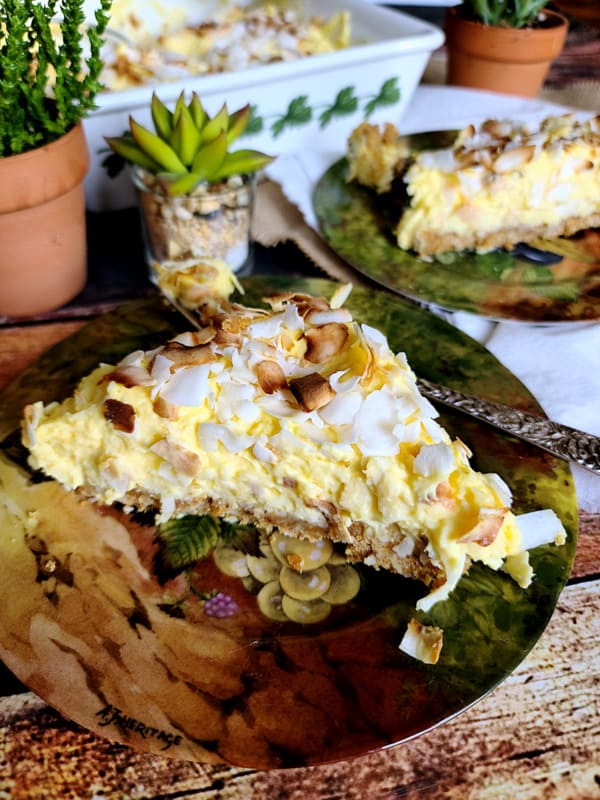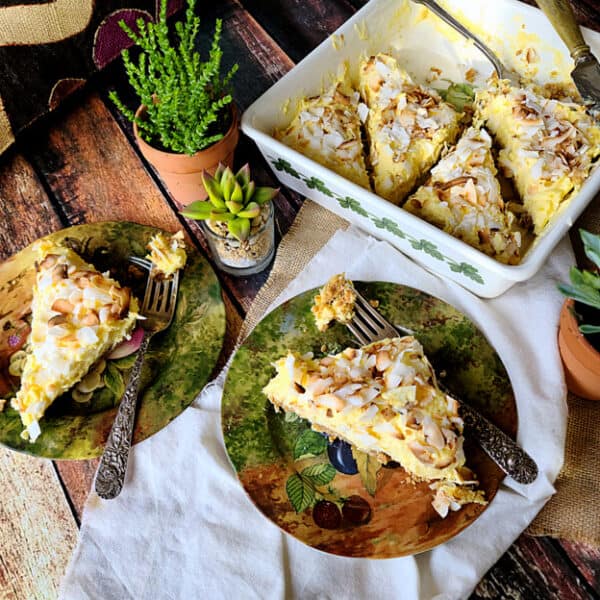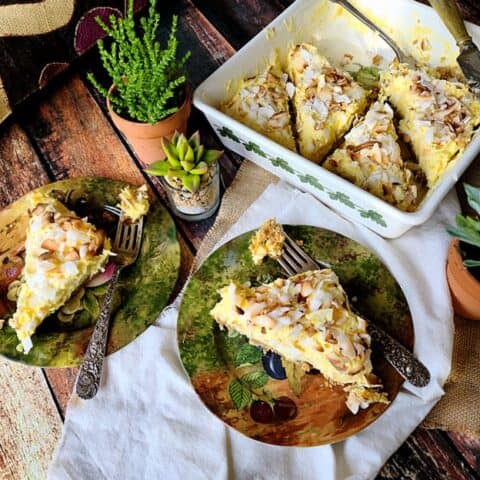 silky coconut pie
Yield: One 8 x 8 baking dish
Ingredients
CRUST:
3 cups graham crackers, crushed
1 ½ cups sliced almonds, crushed
½ cup wheat germ
8 Tbl. butter, salted, melted
CREAM FILLING:
2 cups half and half
1 cup coconut cream milk, full fat, not refrigerated type coconut milk
6 large egg yolks
1 Tbl. cornstarch
1 tsp. vanilla
½ cup coconut sugar, can substitute regular sugar
3 cups coconut, shredded sweetened + more for toasting and garnish
Instructions
Combine the crushed graham crackers, almonds, wheat germ and
butter. Blend and mix well. Put in an 8x8 baking dish. Pat down the mixture
well. Bake in a preheated 350 oven for 6 minutes to set crust. Remove and let
it cool thoroughly.


In a large saucepan, whisk together the cream, egg yolks, sugar
cornstarch and vanilla. Turn heat to medium high and let the mixture come to a
simmering boil for about 2 minutes. Be sure to stir and blend occasionally as
this is heating and begins to simmer boil.


Reduce heat to medium. Sauce with thicken as the mixture continues
to simmer boil (stir occasionally so mixture does not burn on bottom) another
about 5 to 6 minutes. Once the cream is a velvety sauce, remove from heat and
add 3 cups of the shredded coconut and blend.


Put plastic wrap on top the mixture. Place in the
refrigerator to chill about 30 minutes.


When the cream filling is chilled, pour on top the crust.
Smooth and blend.


With the remaining coconut, spread on a parchment paper
lined cookie sheet. Place about 8-10" from the broiler. Turn on broil and toast
the coconut to a golden brown. Remove. Cool. Sprinkle on top the pie.


Refrigerate the pie several hours before serving.