aussie moroccoan lamb kefta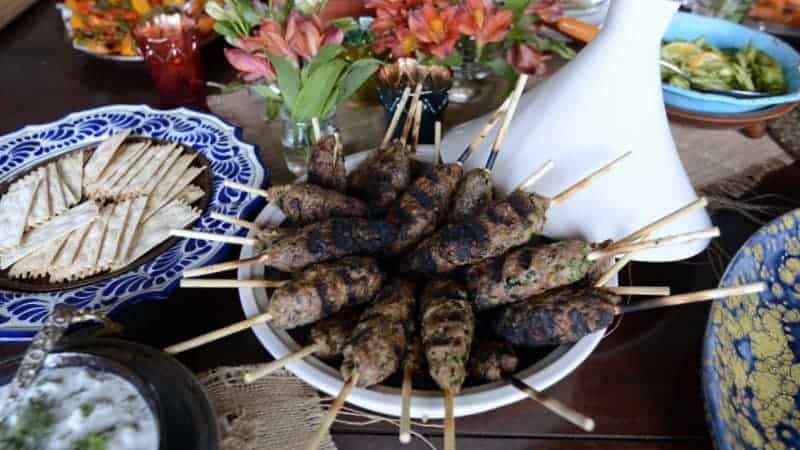 This recipe is brought to you by True Aussie Beef and Lamb. I was compensated for creating this recipe using their product. All of the thoughts and opinions written are mine completely.
There's nothing more exhilarating for me as an avid home cook than to experiment with new flavors, textures and create new recipes. And, when I have fabulous ground lamb, then I know I want to make it into something that's not only delicious tasting but extraordinarily beautiful to look at. And, you can't get anything more exquisite than 'aussie moroccoan lamb kefta'! These perfectly spiced and moist 'meatballs' on a stick are perfect for a party. And, that's just where I served them!
I served this beautiful recipe along with many more at an Aussie Winter Tapas & Mezze Party hosted alongside my amazing foodie friend, Merry, of A Merry Recipe! If you don't know Merry, you must! She's just prolific in her cooking talents and she's quite the competitor in the cooking arena. Merry's won so many contests, cooked for the likes of Bobby Flay, Rachel Ray and more. Having her with me, is like having my own private chef teacher! OMG, we worked together in the kitchen most all day doing everything from the cooking of course but also the cleaning, styling, table setting, dish washing, sweeping and then we finally threw on some fresh frocks and makeup and welcomed our nearly twenty five guests!
When you look at the ingredient list, don't get wigged out! This recipe is all about the spices and herbs and that's what makes the ingredients list look rather daunting. In fact, of the 17 ingredients, eleven are spices and herbs! And, don't forget, one 'ingredient' is listed as the 'skewers'. Feel better? Yes, this recipe is made all in one big bowl. You use your hands to massage into the tender ground lamb the spices, fresh herbs, and other binding ingredients, then you simple shape the meat, almost like a meatloaf or meatball, on the skewer.
I served the lamb kefta with tzatziki but you could also serve with a labneh sauce. Both are cool and refreshing and are a nice contrast and complement to the warm spicy tenderness of the lamb. I've never seen 'BBQ'd' kefta with a BBQ sauce, but, hey, that could be something you'd like to venture out and try. That's what food's all about taking something that might inspire you, like this aussie moroccoan lamb kefta, and then spinning off your own version and design of it. I also think this kefta would be fabulous with a spicy mustard sauce and some dill pickles, olives, naan bread. Oh, the ideas for serving are endless!
If you've never tried True Aussie Lamb, then you're really missing something quite spectacular. It's available at grocery stores, so check their website for your zip code and where you might find it.
Here is some interesting information about True Aussie Lamb. In today's world of food, we want to know about where it comes from, how it's raised and tips on using the product. You can read more at the True Aussie website, but I'll snip some information and share it with you here:
Lamb from Down Under has the all-natural advantage. It's free-range and naturally fed on our abundant pasturelands, so it's mild tasting and naturally lean and tender. Plus, Aussie Lamb is free of artificial additives and hormone growth promotants — a pure product of its pure environment.
When it comes to choosing healthy proteins, lean Aussie Lamb is a delicious and healthy choice for racking up your high quality protein needs. With Aussie lambs raised predominately on pasture, Australian lamb products are lean and naturally contain 13 essential nutrients required for good health, including Iron, Zinc, Omega-3 and B vitamins. 
Bring your meat up to room temperature before cooking – and prevent it from drying out.
Grassfed meats require less cooking time – about 30% less is a good rule of thumb.
Allow steaks, chops and roasts to rest 5-10 minutes before cutting – it keeps them nice and juicy.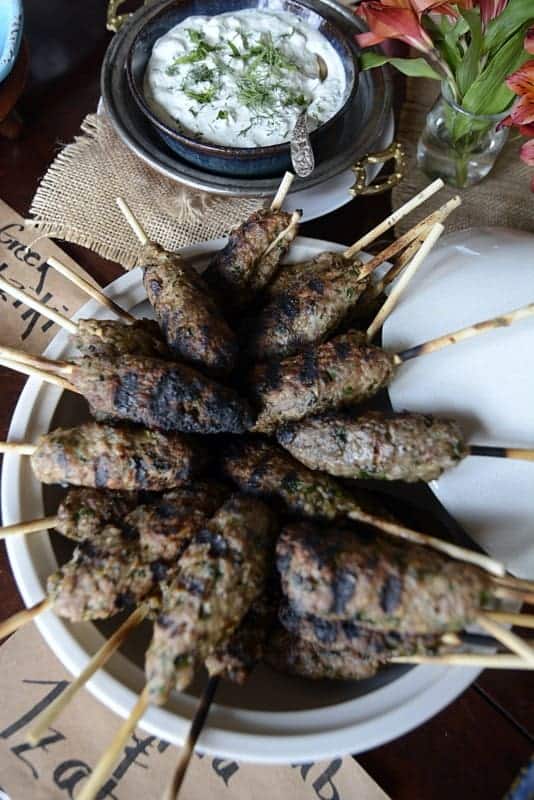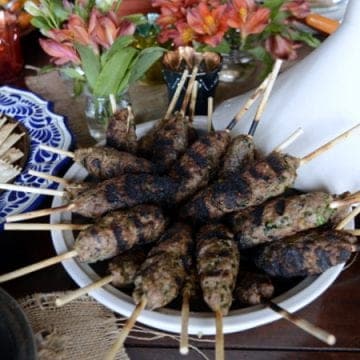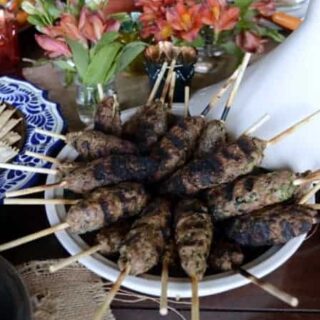 aussie moroccoan lamb kefta
Yield: Makes 15 to 18 kefta skewers
Ingredients
15-18 6" skewers, previously soaked for a couple of hours in water
2 lbs. Aussie ground lamb
½ cup extra virgin olive oil
2 Tbl. garlic, minced
3 eggs, beaten
¼ cup sweet onions, minced
1/3 cup fresh basil, finely chopped
1/3 cup fresh flat parsley, finely chopped
3 Tbl. fresh mint, finely chopped
2 Tbl. fresh cilantro, finely chopped
2 tsp. ground cumin
2 tsp. sea salt
1 tsp. white pepper
1 tsp. ground coriander
1 tsp. red curry
½ tsp. red chili flakes
½ tsp. ground cinnamon
2 cups bread crumbs
Instructions
In a very large mixing bowl, crumble the lamb and add the olive oil, garlic, eggs and onions. Mix into a wet mixture.
In a small bowl, combine the basil, parsley, mint and cilantro. Mix together. Blend into the meat mixture.
In a small bowl, combine the cumin, salt, pepper, coriander curry, chili flakes, and cinnamon. Blend well and sprinkle on the meat mixture working into all the meat with your hands.
Add about half the bread crumbs and blend. The mixture will be thickening into a moldable consistency. Add more of the bread crumbs as needed. Take the meat mixture and put about two heaping tablespoons in your hand forming an oblong meat'ball' around the skewer. Repeat with all the meat.
Heat an outdoor grill to 450 to 500. Coat the meat skewers with cooking spray. Cook on the grill about two and a half minutes on each side turning to get grill marks. Watch carefully. When done remove to a casserole dish or large baking pan. Cover with doubled foil. Then finish cooking in a preheated 325 oven about 8-10 minutes. Keep the kefta covered until ready to serve.