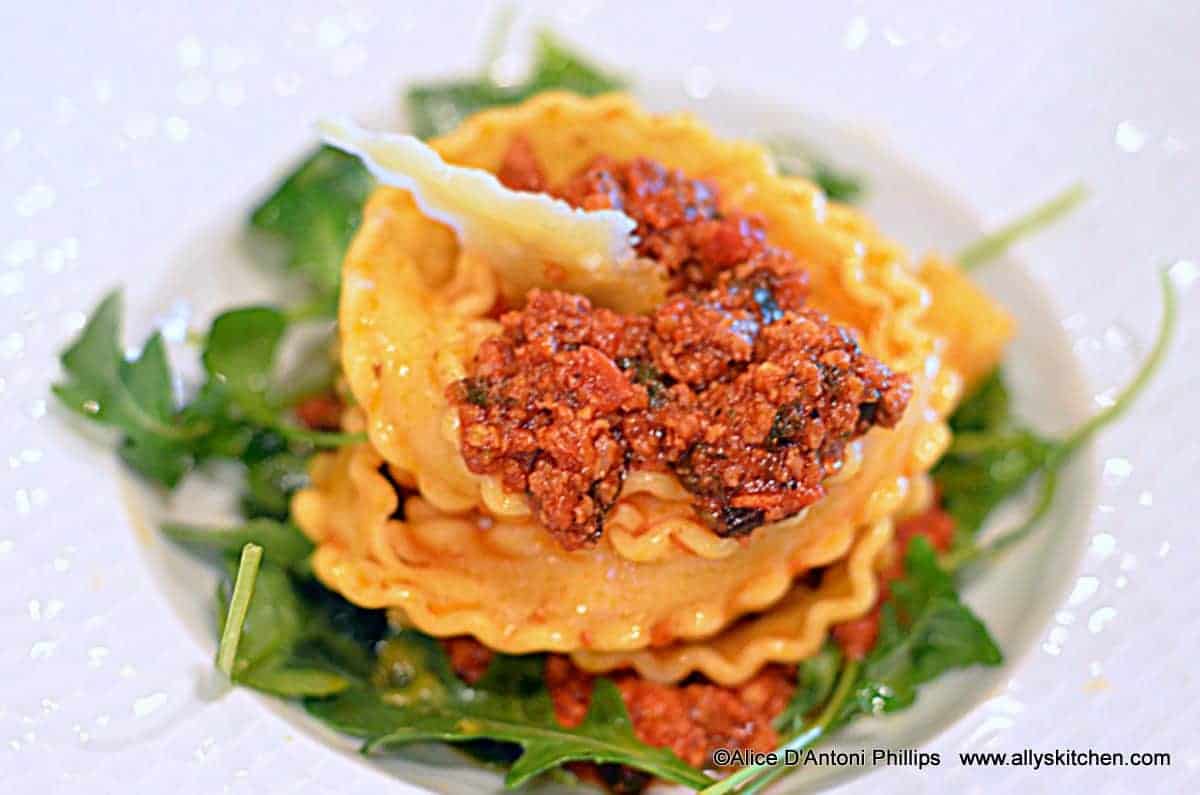 A variation of my other bolognese recipes that have won awards, I worked months on this recipe for the 2013 World Food Championships~~and, it was my first build called the 'signature' build of the competition in Las Vegas.  Because I had only about an hour and a half to make a deep rich delicious bolognese, I used several different products that brought out the flavors and intensified the depth of this sauce.
I must say it was absolutely fabulous, and I was stunned that it didn't score higher than it did!  One thing's, for sure, Tiffany the host of the reality TV show about the WFC loved it, and actually sent her assistant back to get an entire plate of it after the round was over!  Enjoy the various photos of this stunning dish~~I must have made this sauce 10 times during 'rehearsals' and practice!
This recipe is brought to you by DOLE Packaged Foods, however, all of the recipe development and creative food artistry, including the photography, is solely the work of Ally in her Kitchen.  For more information CLICK~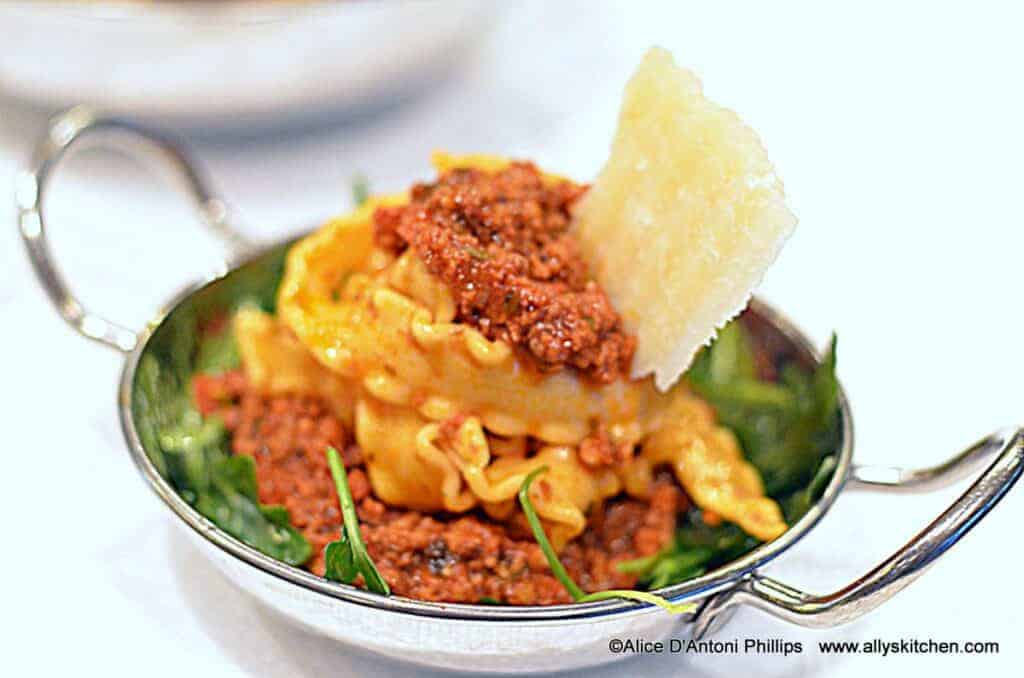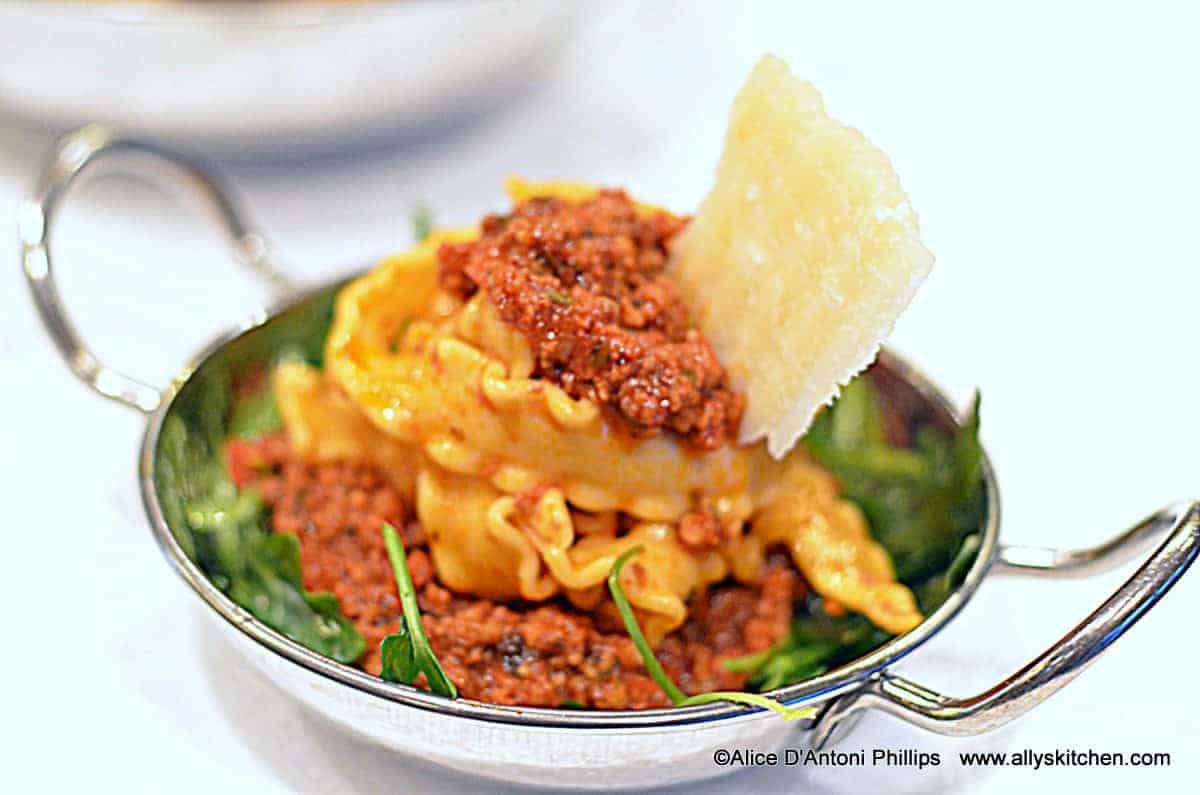 Makes:  A lot!  About 2+ quarts
What you need & What you do (after each step):
Step 1:
2/3 cup drained DOLE Tropical Fruit (reserve juice)
1 stalk celery cut into several big pieces
5 peeled garlic cloves
1 peeled medium size shallot
¼ cup DOLE drained tropical fruit juice
¼ cup extra virgin olive oil
Put all of these ingredients EXCEPT THE OLIVE OIL in a food processor and make a thick sauce.  Pulse about 90 seconds.
Put the olive oil in a large heavy pot over medium high heat.  Add the sauce and cook about 5 minutes.  Reduce heat after a couple of minutes. 
Step 2:
½ lb 80/20 ground beef (can substitute bison)
½ lb ground pork
½ lb Italian Mild ground sausage
½ lb ground veal
¾  cup chopped (fine) pepperoni
1 tube (4.5 ounces) concentrated tomato paste
¼ cup basil pesto (prepared)
½ cup red wine
2 tsp smoked hot paprika
1 tsp red chili flakes
2 tsp sea salt
1 tsp coarse ground pepper
1 (28 oz) can crushed tomatoes (good Italian brand)
1 (large) jar Williams & Sonoma Mourad's Moroccan Spiced Tomato & Herb Braising Sauce (can substitute a good marinara sauce)
1 cup + 2 tbl chopped fresh herbs—basil ½ cup/thyme 2 tbl, Italian parsley ¼ cup, oregano ¼ cup
2 tsp dried oregano
Rinds (heels) of parm reggiano (to go in while sauce is simmering)~you can ask to buy the rinds/heels from the cheese monger, if you can't find the, then increase the next ingredient by 1/2 cup
1 cup freshly grated parmesan reggiano cheese (plus more for garnish plating)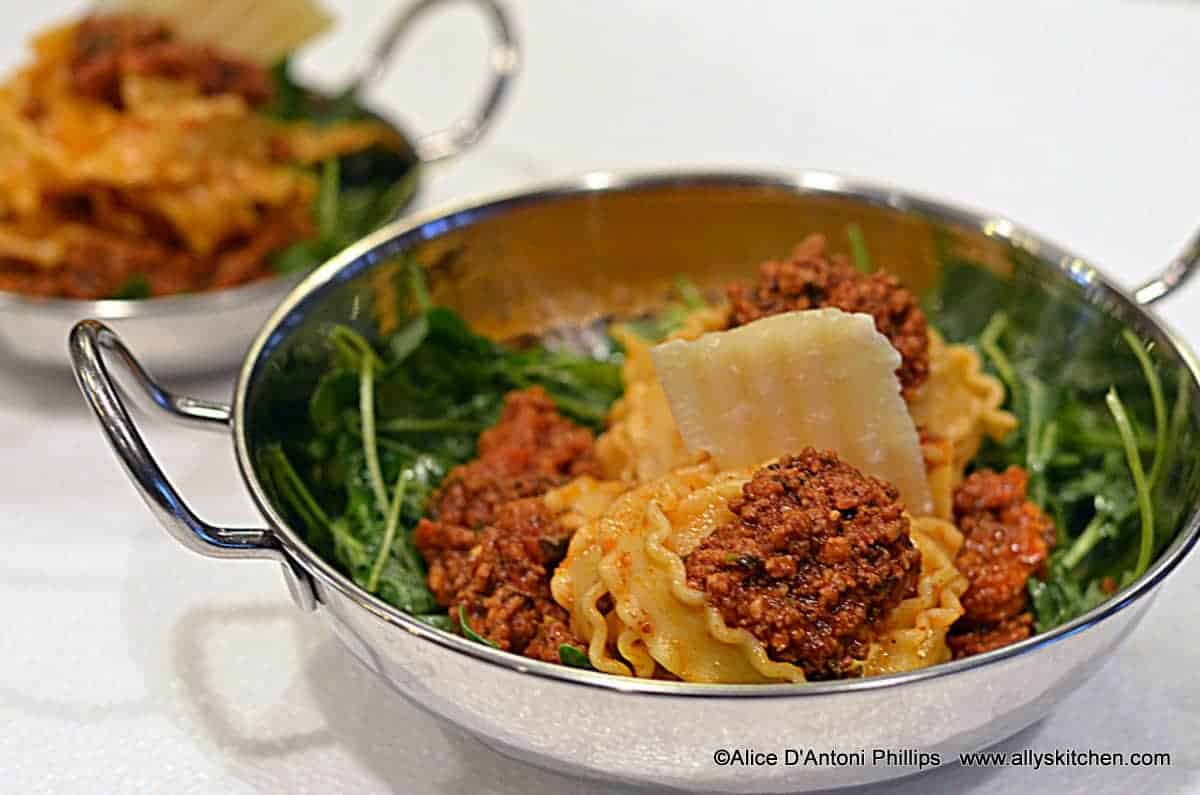 Add the meats (breaking into pieces with our hands) into the pot.  Increase heat to medium high and brown the meats with the step 1 ingredients working all together. (Takes about 5-7 minutes)
Add the tomato paste and worked into the meat.  Let this sizzle and cook about 10 minutes.  Add the wine and blend cooking another 10 minutes letting the wine bubble and alcohol burn off.
Add the paprika, salt, pepper and blend, then add the  crushed tomatoes, and W&S braising sauces and blend.  Bring to bubbly boil and cook about 15 minutes.  Reduce heat to medium.  Add fresh herbs and dried oregano and blend.
Cook about 30 minutes stirring occasionally.  Add grated cheese, blend and simmer another 20-30 minutes.
Note:  Taste for need for additional salt.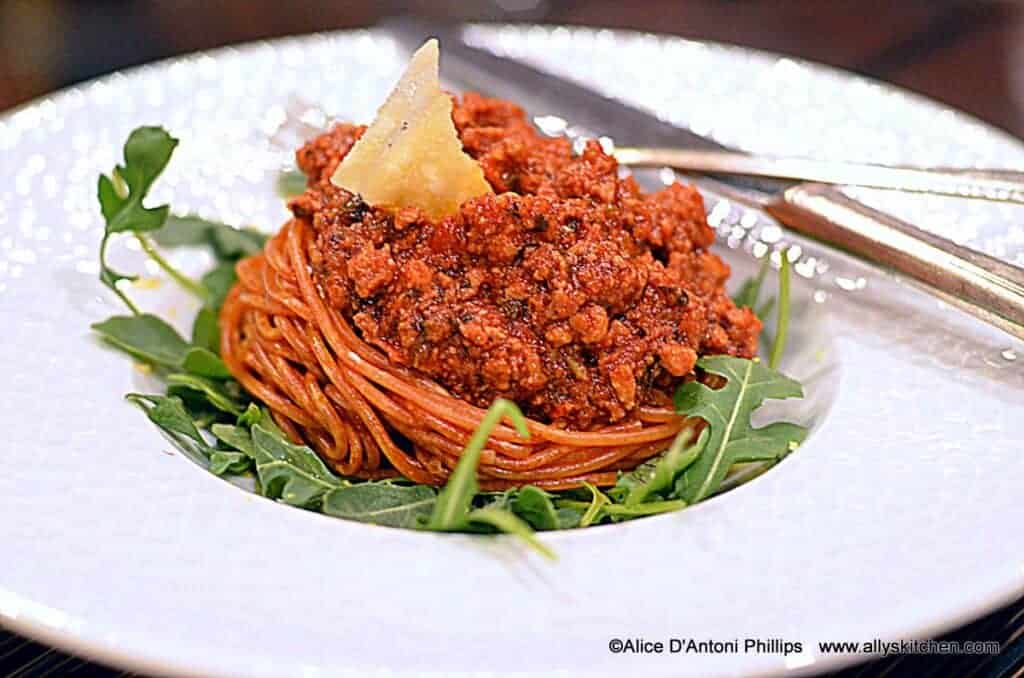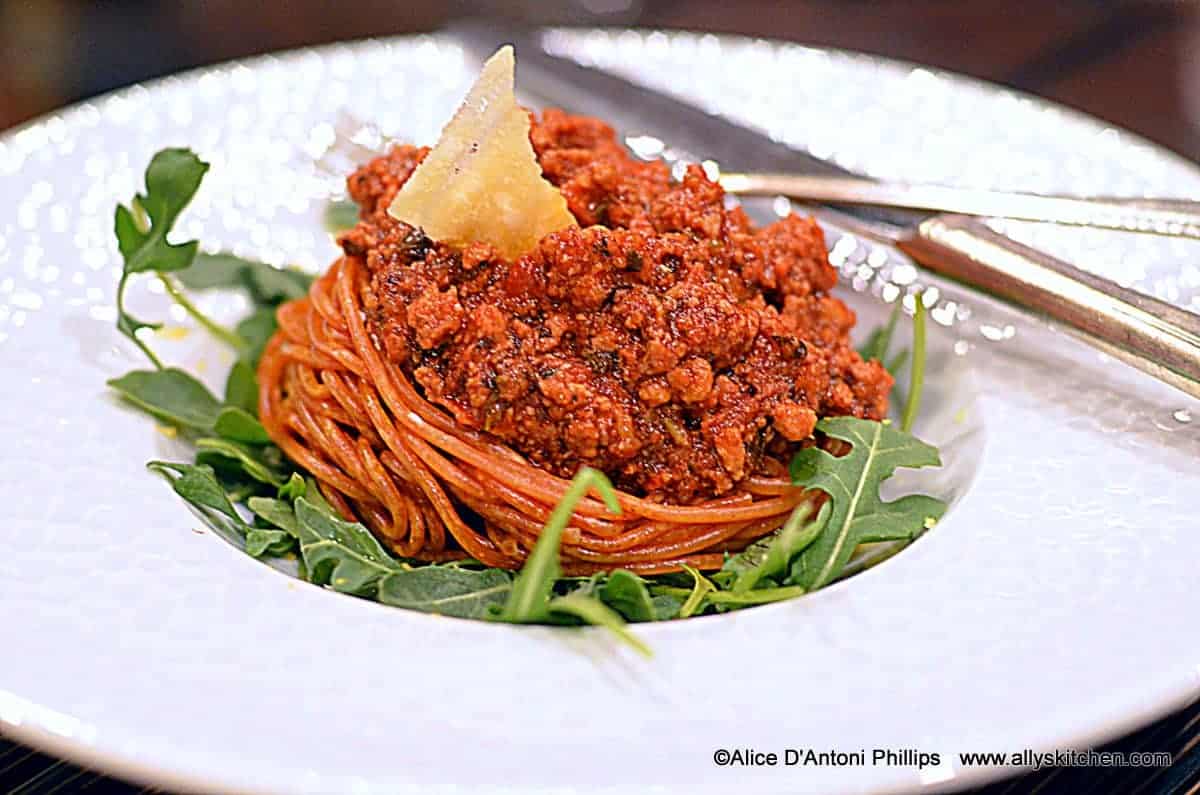 Step 3
Prepare pasta according to package directions~~cook about 20 before serving.
Toss drained pasta in some of the sauce and coat the noodles.
Garnish/Plating:
2 cup roughly chopped arugula
½ cup fresh basil leaves
¼ cup fresh flat Italian parsley
2 tbl EVOO
1 tbl lemon juice
Sea salt
Finishing salt
Rough cut chop the arugula, basil leaves and parsley.  Toss in EVOO, lemon juice and a touch of sea salt.  
Plating
Display Dish:  Use a white shallow bowl with a wide rim and small opening. Add a few tablespoons of sauce and swish around in the serving plate Add a small 'nest' of the arugula/basil mixture.  Put in about 1/3 cup of sauce. (Try not to hide the greens)  Take a long noodle and twirl creating a 'volcano' like 'mound' with an opening.  If necessary secure with a toothpick so the twirl does not collapse.  Put a few tablespoons of sauce into the cavity opening and on top.
Garnish with grated parmesan reggiano shavings and chiffonade sliced basil and chopped parsley.
Judges' Servings:  Use a white small oval bowl (World Market or Pier One) or small square appetizer dish w/sides (World Market).  Put a few tablespoons of sauce in the bottom.  Twirl a long noodle.  Top with some sauce, basil and parsley.  (Note:  Use a toothpick to secure mound and remove right before presenting to judges).