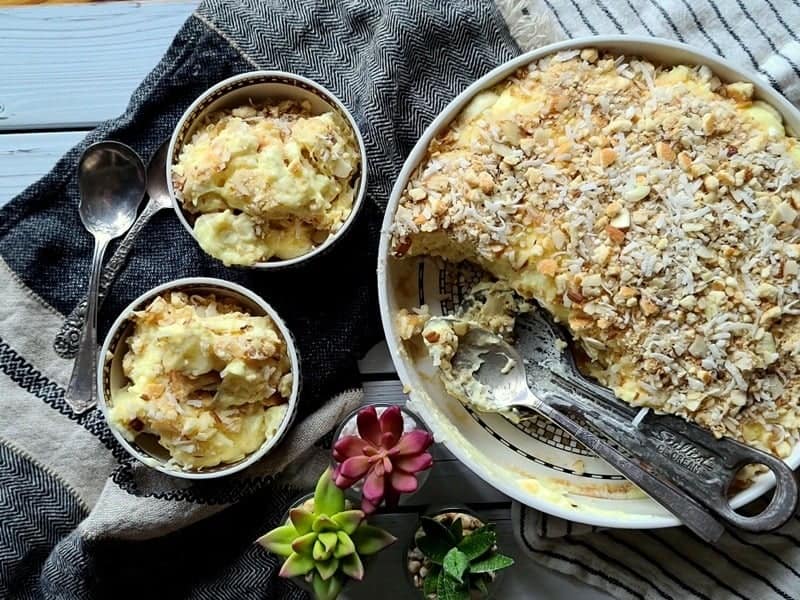 This banana cream coconut pie has all the tradition with new flair! Coconut & almonds! Your prettiest pie plate makes it a statement dessert!
Banana Pie
Banana Pie. Yes, it's as good, no, maybe better than banana pudding. But, really in all honesty, it's about the same and we're making it in a pie plate!
Easy Banana Cream Pie
Now an easy banana cream pie comes with some shortcuts. Yes, we can make our own pudding. And, I have some great pudding recipes in these dishes, so jump over to them if you want to make pudding the old-fashioned way. But, with this recipe, I'm talking easy!
Boston Cream Whiskey Banana Pie
Lady Jane's Spiced Whiskey Banana Pudding
Vanilla Wafer Banana Pudding
Now a vanilla wafer banana pudding is the typical and expected. But, don't think that vanilla wafers are the only thing you can use. Why not try graham crackers or a butter cookie. Or you might use lady fingers like I did in the Lady Jane's Spiced Whiskey Banana Pudding!
No Bake Banana Cream Coconut Pie
This is definitely a no bake banana cream coconut pie. It's got all the elements of a pie without heating up the oven. I scooped out my servings, but that's ok because I wasn't interested in clean neat slices. I suppose I could have tried, but we all were ready to dig in!
Custard for Banana Cream Pie
The custard for this banana cream pie definitely has a short cut. Yes, we're using an instant pudding mix. You could choose banana or coconut or vanilla. But, what makes this 'custard' even more luscious, well, you'll just have to check the recipe!
Banana Cream Pie Easy Recipe
A banana pie is a more 'sophisticated' take on banana pudding! Yes, this banana cream pie, an easy recipe, has all the elements of your pudding, and you'll be using your pie plate rather than maybe a square, round or rectangular dish. I know this might sound silly to some of you, but I love using all my cookware and serving pieces, and when I do I just put a tad bit of flair to the traditional making it new and, what I think is, improved.
Banana Pie with Pudding
The best part of a banana pie is the pudding. As I said, you can make the pudding from scratch, and, I have several recipes showing you how to do that, sometimes you're on a quest for fast, easy and convenient. I get it. My life runs that way, too. And, I can really say that many of my devoted 'food seekers' have no idea that I bypassed from scratch pudding and used a pudding mix. Plus, the addition of the yogurt just makes it ultra creamier and healthier! I know I know. That's an oxymoron!
Ultimate Banana Cream Pie Recipe
Yes, I do consider this to be the ultimate banana cream pie recipe. You won't be disappointed. And, if you want to make it a 'pie' complete with a crust. Then simply pre-bake your pie crust, omit the cookies, and, there you go. You have a beautiful banana cream pie with a pie crust!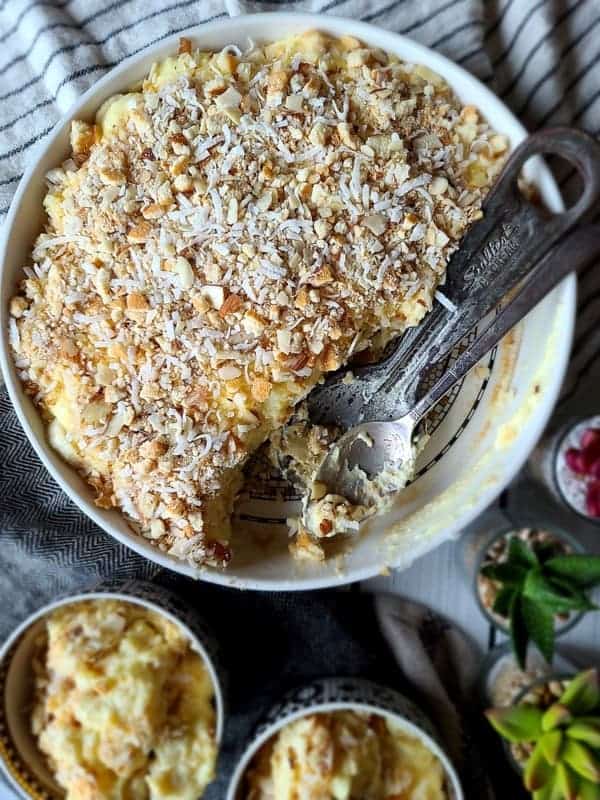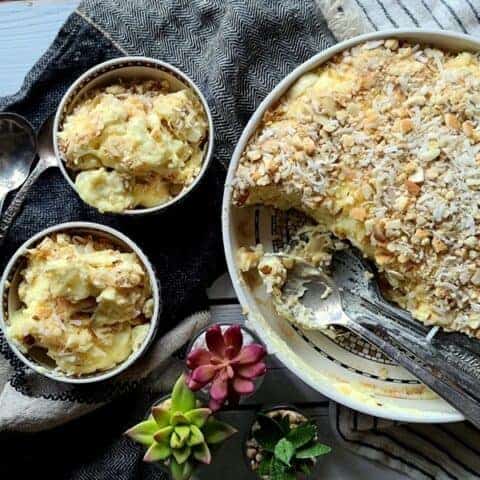 banana cream coconut pie
This banana cream coconut pie has all the tradition with new flair! Coconut & almonds! Your prettiest pie plate makes it a statement dessert!
Ingredients
1 (3.4 oz.) vanilla instant pudding & pie filling
1 tsp. vanilla
3 (about 5 oz.) containers Greek yogurt, coconut, vanilla, coconut-vanilla
1 box (11 oz.) vanilla wafers, divided
4 to 5 ripe firm bananas
1 cup almonds, sliced
1 cup shredded coconut, sweetened, divided
Instructions
Prepare the vanilla pudding according to packaged directions adding the vanilla with the milk. Add the yogurt one container at a time and blend well. Put in refrigerator for about 10 to 15 minutes.


Line the pie plate with vanilla wafers. With the remaining wafers put in a large plastic zip lock bag, add the almonds and crush into a crumbly mixture (crushing any large pieces of cookies). Add three-fourths cup of the coconut and toss and blend.

Put the remaining coconut on a cookie sheet and under the broiler to toast a few minutes. Watch carefully!


Slice the bananas on top the cookies in the pie plate. Add about one-half of the crushed cookie/nut/coconut mixture. Pour the pudding mixture on top.


Top with remaining crushed cookie mixture and toasted coconut.


Cover the pie with plastic wrap and chill a few hours before serving.
Notes
I would not use plain Greek yogurt.

You have the option of using a different type of cookie. Yes, vanilla wafers are traditional, but there are other ways to 'skin a cat' so to speak! Maybe ginger snap cookies, Chessman cookies, shortbread cookies. butter cookies and maybe even more! If you find a great one, PLEASE leave a comment!

If you would like to toast coconut for the topping, to add some beautiful golden brown, put one cup of shredded coconut on a cookie sheet. Place about 12-15 inches from the broiler. WATCH carefully. Brown for a very short time until golden brown!

Use some of this toasted coconut for the topping. Put the remaining toasted coconut in a plastic bag and put in the freezer. It can be used for other desserts like topping on ice cream!