Four-Layer Boston Cream Cake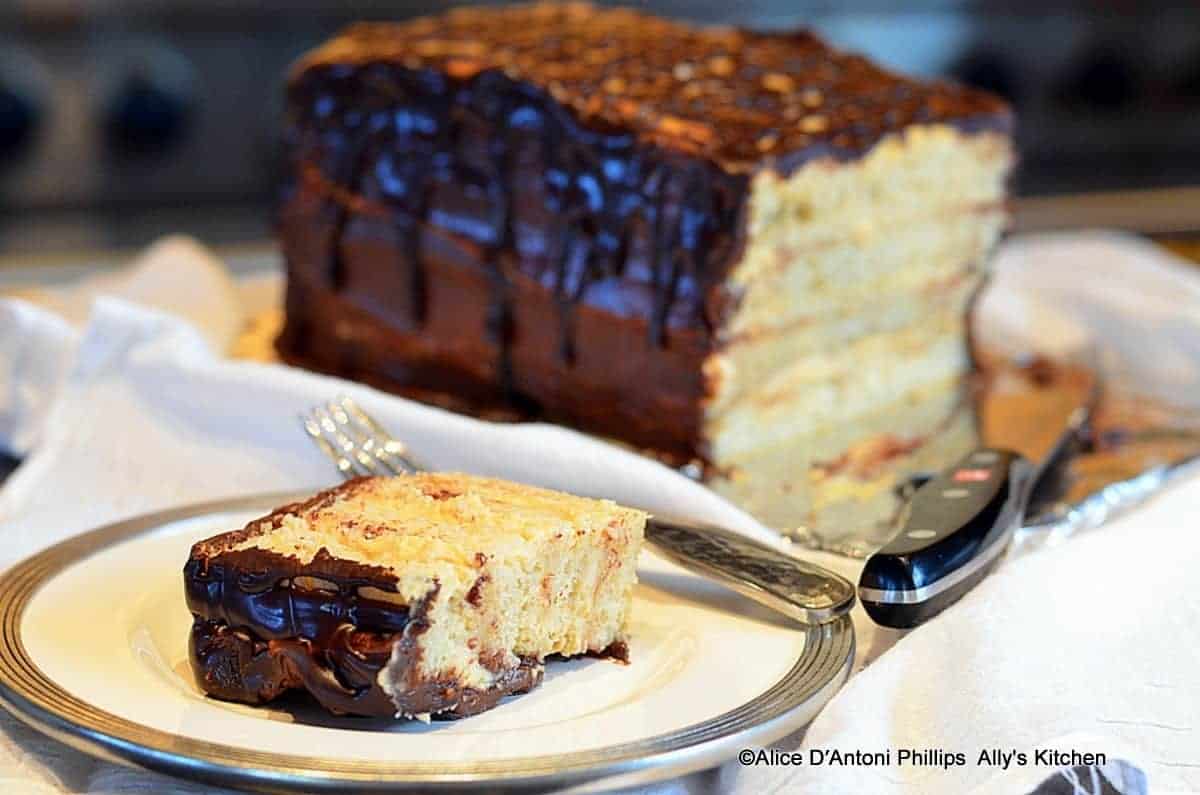 Four-layer Boston cream cake is a heavenly delight for all sweet tooths. This cake is obtained with a delicate coffee aroma and delicious taste. In my opinion, this is a wonderful dessert for a festive table.
Boston Cream Cake
Boston Cream Cake is a delicate, soft and delicious cake. It consists of white biscuit, Patisiere cream and chocolate glaze. Yes! Very simple, and it seemed to me at first that the taste would not surprise. But from the first bite, the gustatory emotions are off the charts. It's just a delicious combination. The cake can be eaten in a few hours – it is soaked very quickly. And if he stands overnight in the refrigerator, he just melts on his lips.
Boston Cream Pie
Boston cream pie is a delicious, delicate pie that looks more like a cake. Absolutely not greasy, not cloying, just perfect! I want to invite you to try a very tasty and delicate cake! Its advantage, in my opinion, is that it is quite simple and quick to prepare! Even a cook who is inexperienced in baking cakes will succeed in it … And having tasted this cake, your friends and family will not even guess that it took you relatively little time and effort to prepare it!
Boston Cream Cupcake
These cupcakes are an excellent rendition of the famous Boston cream pie with their shiny dark chocolate glaze spilling over the tops of sweet vanilla flavored cupcakes that are filled with deliciously rich pastry cream. If you love the flavors of Boston cream, definitely you'll love these Boston cream cupcakes!
Boston Cream Cake Poke
One of my favorite desserts of all time! It's a very simple, luscious dessert. Poke cakes are a fun and easy dessert that has a surprise inside! This is the perfect dessert for your next potluck or party. It'll certainly be a crowd favorite, just like the ever delicious Boston Cream Whiskey Banana Pie.
Strawberry Boston Cream Cake
Tender Boston cream cake, fresh strawberries, and strawberry filling, and cream cheese whipped cream…yep, this cake is pretty much awesome. This Strawberry Boston Cream Cake Recipe is perfect for summer parties, BBQs, potlucks, or other get-togethers.
Another super easy, delicious, and healthy recipe that you should try is Boston Sour Cream Cake! xoxo ~ally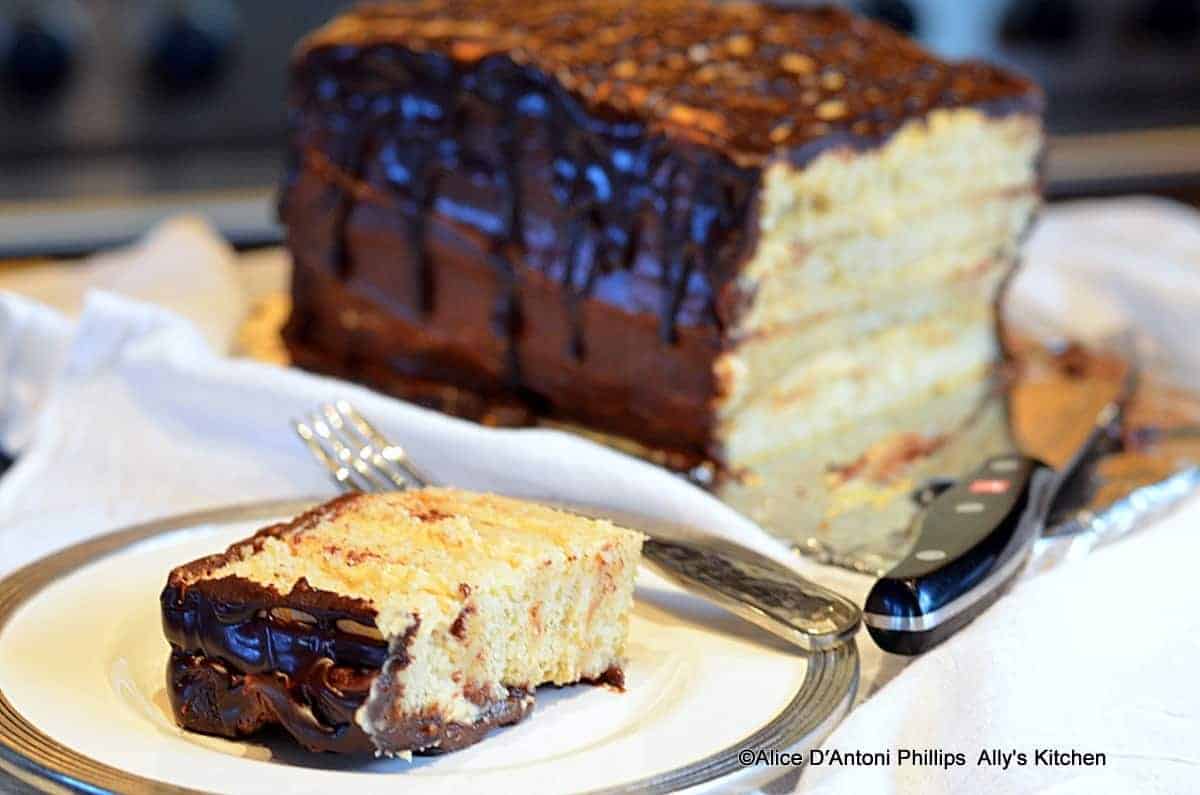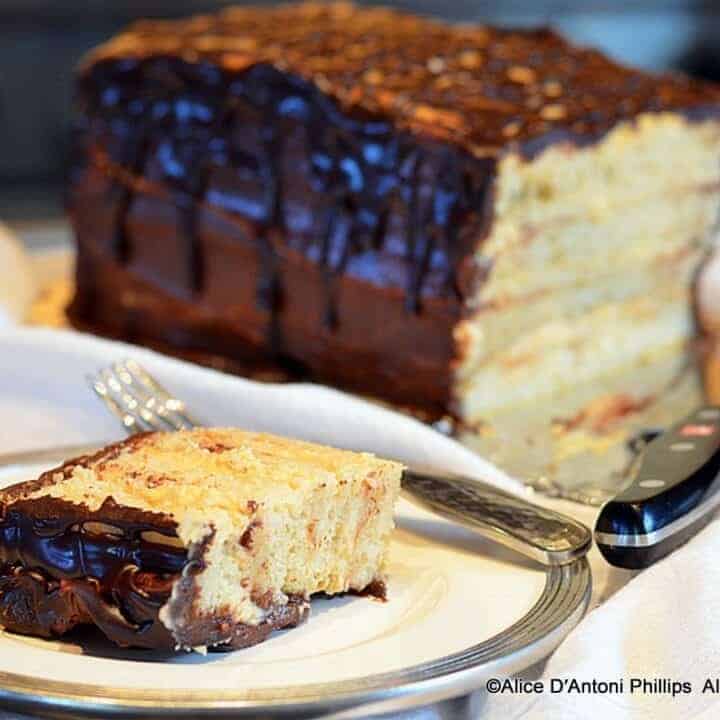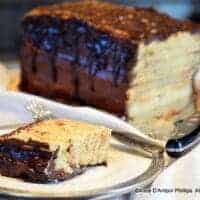 Four-Layer Boston Cream Cake
Yield: Makes: One 4-layer cake. Preheat oven to 350

Four-layer Boston cream cake is a heavenly delight for all sweet tooths. In my opinion, this is a wonderful dessert for a festive table.
Ingredients
Cream Filling:
2 cups milk
2 tbl cornstarch
1/3 cup sugar
2 beaten eggs
1 tsp vanilla
1/3 cup brandy
Cake Mix:
Note:  Line an 11x17 cookie sheet with parchment paper.  Coat the sides with cooking spray.  You also can use 2 store-bought yellow cake mixes if you don't want to make it from scratch!)
¾ cup softened butter
2 ¼ cups sugar
4 beaten eggs
3 ¼ cups flour
1 tsp salt
4 ½ tsp baking powder
1 ¾ cups milk
2 tsp vanilla
Icing:
1 can packaged chocolate icing
1 ½ cups Chocolate Ganache
12 ounces 60%+ chocolate cut into chunks
1 cup heavy cream.
Instructions
Procedure: Put chocolate pieces in a large bowl. In a small pot on medium high heat, bring cream to a slow boil. Pour over chocolate and whisk and stir until all is blended, mixed, and there is a 'glossy' shine to to it. Cool a little before drizzling (I used a glass measuring cup w/a 'spout' of sorts.) over the top/sides of the refrigerated/cooled cake. Ganache gets thicker as it cools and sits. Microwave a few seconds to make it more pourable

Cream Filling:

Combine in a heavy saucepan the milk, cornstarch and sugar and whisk together well over medium heat. Continue cooking until the edges begin to bubble; the mixture will be thickening. Cook for about 5-7 minutes whisking so as not to burn. Remove from heat. Set aside.

In another medium-sized bowl combine the beaten eggs, vanilla and brandy. Drizzle in 2 tablespoons of the cream mixture and blend. Drizzle slowly the remaining warm cream mixture and blend well. Place a piece of plastic wrap over the bowl patting the wrap down directly on the cream pudding. Refrigerate at least an hour or more to chill.

Cake Mix

In a large mixing bowl, blend well the butter and sugar into a fluffy mixture. Add the eggs beating in with a hand mixer for about 2 minutes on medium low.

Combine the flour, salt and baking powder in another bowl and blend. Add 1/3 to the butter/egg mixture and blend. Add another 1/3 of the dry ingredients, the vanilla and half of the milk and blend well. Add the remaining dry ingredients and milk and blend into a thick fluffy batter.

Pour into the cookie sheet filling about two-thirds of the way. (If there's extra batter, make some cupcakes!) Bake in a preheated 350 oven about 21-23 minutes or until the center is done.

Remove and let cool. With a serrated knife, cut into four equal pieces.

Layer cake and put equal amounts of the cream pudding between the first three layers. Top with the 4th piece of cake. Ice the sides of the cake with the packaged chocolate icing. Drizzle the top/sides with chocolate ganache. Refrigerate a few hours before serving.