Easy Ground Pork Meat Sauce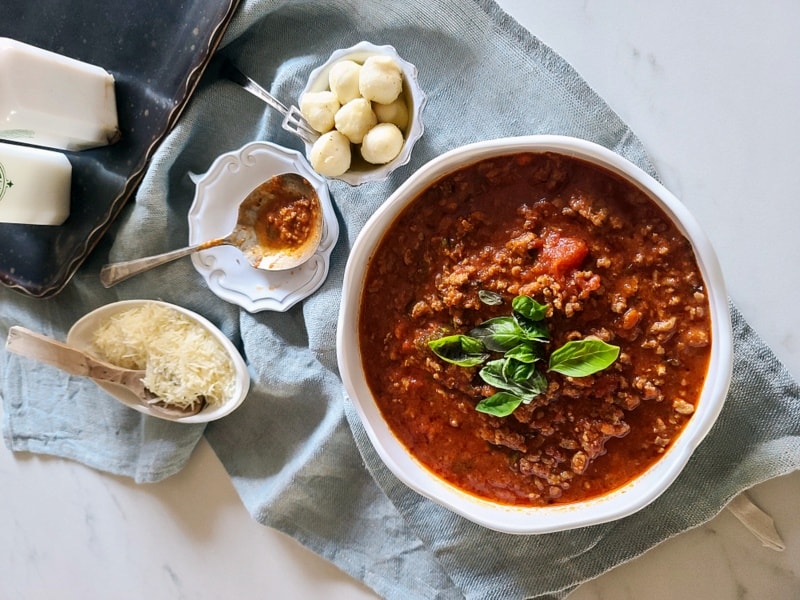 Everyone needs an easy ground pork meat sauce! And, this one will be served in no time. Meaty, thick and full of flavor! It's versatile!
Easy Meat Sauce
You'll think this sauce has been simmering for hours! But, wait, it's easy and that means you can do it from start to finish in under two hours.
I've been to Italy multiple times in my life. Eaten at some of the best restaurants all over the country. And, one thing that I know about Italian food is that you must use the very best ingredients.
When you use high-quality ingredients, you will taste the difference.
Ground Pork Ragu Sauce
This ground pork ragu sauce is meaty and delicious. That's because it's got some great ingredients that boost flavor. Like the anchovy paste that's used. It's got that omami flavor that just makes this sauce pop with tasty!
I'm making it easy for you to find. Just order from Amazon! Now you'll find that more of my recipes use anchovy paste, so not to worry about not using! I'm even using in a chicken puttenesca!
Ground Pork Bolognese
Ground pork is full of flavor because of the fat. It's also somewhat lean. So you have a double benefit.
When you're using the marinara, try to find the best and highest quality that you can. All organic and the ingredients that are known to you. Ingredients that you can pronounce. Tomatoes. Salt. Extra Virgin Olive Oil. Pepper. Water. Spices.
Italian Sauce with Pork
Nothing's more fabulous for so many things than an Italian sauce with pork.
That's the uniqueness and beauty of this recipe. You make it and you have a base for other things that you might want to create.
Ground Pork Meat Sauce
A great ground pork meat sauce is like a 'sour dough' starter. You can add a few more spices and create a fabulous chili. Use it as a topping for nachos. And, don't forget Sloppy Joes. This sauce is thick and rick and sloppy. Perfect on a tender fresh bun with coleslaw. And, speaking of coleslaw, why not try my blue cheese coleslaw or my purple cabbage coleslaw. Both would work beautifully with the flavors in this pork sauce.
Easy Meat Sauce Recipe
What will make this meat sauce even better, I mean if that's possible, is to make it. Then after it cools, refrigerate overnight. Those flavors will permeate each other in the chill of the night. And, what you'll have is something even more spectacular.
Pasta with Ground Pork
Pull out your favorite pasta and I'm sure folks will load it up with huge scoops of this ground pork sauce. Guaranteed. It's gonna be your go to easy sauce.
Once you get it all in the pot, you simmer it for a while. Check on it a couple of times. Stir and blend. It's doing its thing and working magic in the heat! You can go about your business of other things you're doing.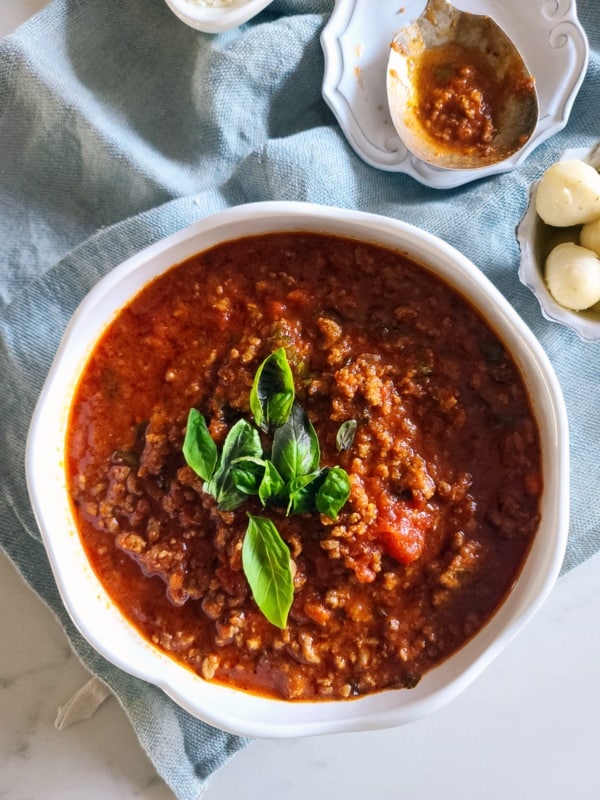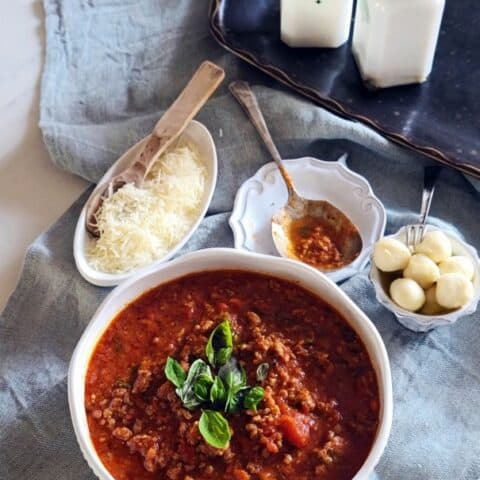 Easy Ground Pork Meat Sauce
Ingredients
3 carrots, cut into 2-3" pieces
3 celery ribs, cut into 2-3" pieces
1 large sweet onion, cut into several smaller pieces
1/2 cup extra virgin olive oil
3 lbs. ground pork
2 Tbl. Italian seasoning mixture
2 Tbl. nutritional yeast
1 Tbl. garlic granules
2 tsp. sea salt
1 can (28 oz.) San Marzano whole tomatoes in juice + 1 cup water
3 Tbl. anchovy paste
1 tube concentrated tomato paste
1 jar (25 oz.) marinara sauce + 2 cups water
1 cup fresh basil leaves, packed, chopped
Instructions
Put the carrots, celery, onion and one-fourth cup olive oil in a food processor and pulse into a grainy mixture.
In a large Dutch oven (5.5 quart minimum) over medium high heat, put the remaining olive oil. Add the ground carrots/celery/onion and sauté for about three minutes.
Add the ground pork and brown partially.
Combine the Italian seasoning, nutritional yeast, garlic granules, and salt in a small bowl. Blend then sprinkle on the the pork and work into the meat.
Add the whole tomatoes/water. Blend. Then add the anchovy paste and concentrated tomato paste and blend well.
Add the marinara. Rinse the jar with water and add about a cup to the sauce. Cover and let the sauce simmer boil for about 45 to 60 minutes. Check it occasionally to see if you need to add more of the water.
Add the fresh basil and blend. Turn off heat. Let the sauce cool somewhat and refrigerate.
Serve the next day!