Who wouldn't fall in love with a cajun beef recipe that can be done in little time and have flavor, texture and beauty packed into it! This recipe for cajun beef onions peppers and paprika pineapples promises all that and more.
You've got some seriously complex flavors going on here. Yet, the simplicity of the preparation will make you feel like a rock star when you serve it. And, you can be the creative genius in how you want to serve it. Maybe with tortillas and let everyone build their own version of happiness. Maybe with some steamed rice. Or stay basic and serve on top a Texas size hot baked potato with sour cream and butter!
I'm really all about making being in your kitchen simple and easy. But, getting from your time something complexly delicious and superb. Here's another recipe for meaty pizza bolognese that will knock your socks off!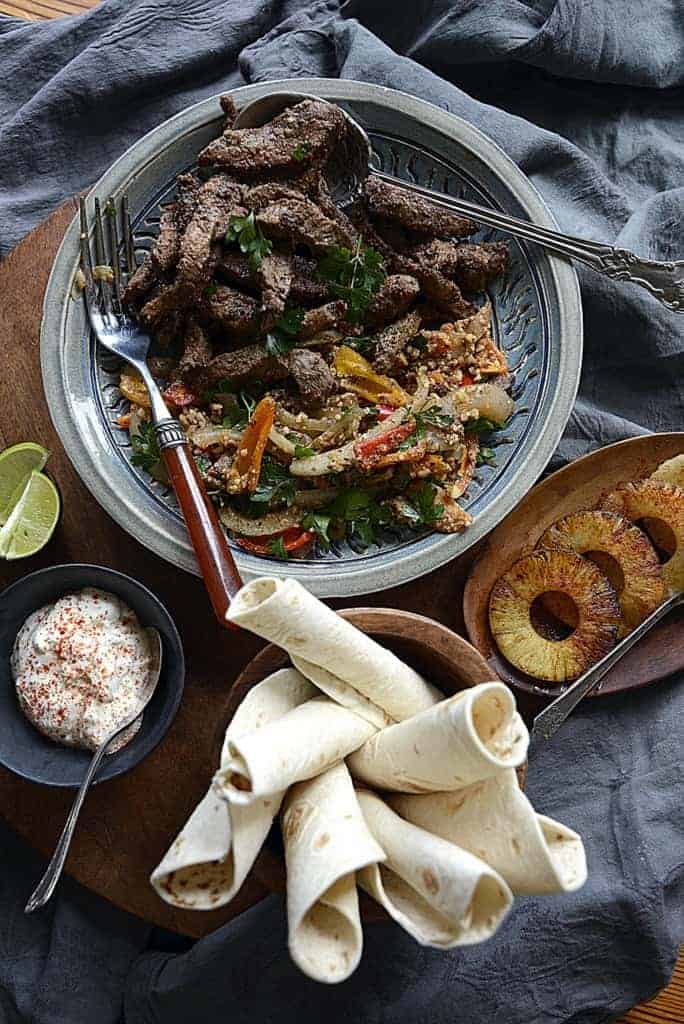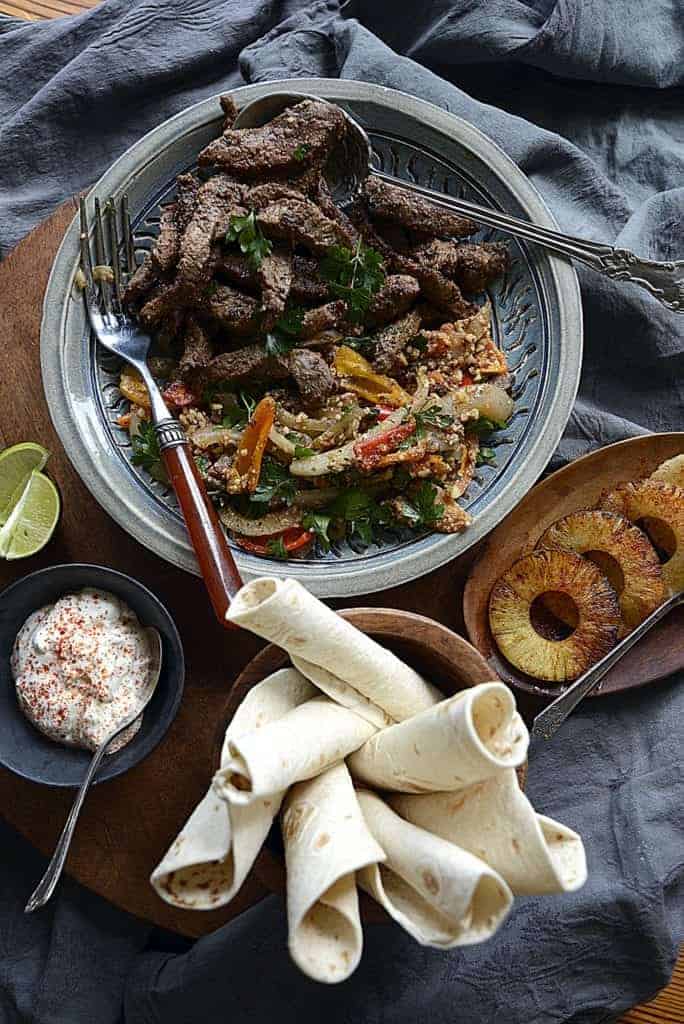 cajun beef onions peppers & paprika pineapples
Ingredients
¼ cup oil
1 to 1 ¼ lbs..grassfed beef, cut in fajita style strips
2 tsp. Cajun seasoning mixture
1 tsp. smoked paprika + more for dusting
2 cups sweet onions, French cut, thin half moons
1 cup mini peppers, multicolored, sliced lengthwise
1 serrano pepper, most of seeds removed, diced
½ cup almonds, ground
¼ cup Italian parsley, rough chop
5-6 pineapple slices
2 Tbl. butter, salted
Instructions
Put a large skillet over medium heat. Add the oil and let it heat. Add the beef, Cajun seasoning misture and smoked paprika blend and brown the meat. Increase heat to medium high to get a nice browning on the meat. Cook about 5 minutes tossing and blending.
Reduce heat to medium. Push the meat to one side of the skillet. Add the onions, peppers and diced serrano. Toss and blend. Cover with a lid and cook about 5 minutes.
Reduce heat to simmer. Toss the almonds and parsley in with the onions/peppers. Cover until ready to serve.
In another small to medium skillet over medium heat, melt the butter. Add the pineapple slices and pan sear to a golden brown on each side. Remove and dust with paprika.
Serve with street size flour tortillas, grilled paprika pineapple slices, sour cream or Greek plain yogurt (dust with paprika), lime wedges, hot sauce, and whatever makes you happy! Add salt and pepper to taste.
https://allyskitchen.com/cajun-beef-onions-peppers-paprika-pineapples/
©ally's kitchen intellectual property