Smoked Chipotle Red Wine Beef Short Ribs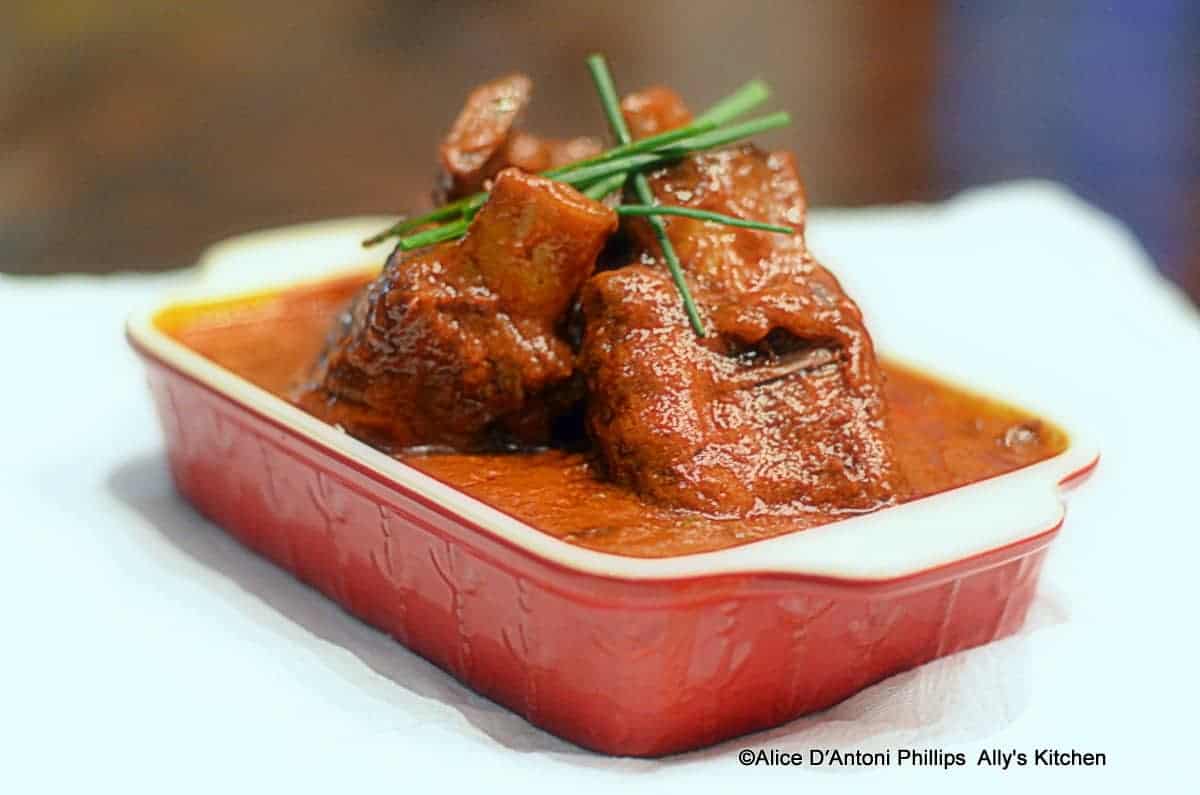 When I find something really interesting on sale, as in marked down 50% or more, like these beef short ribs, I snatch 'em up…good thing there wasn't anyone around eyeing them, too, because I might have gotten really snitty, horned in, and grabbed 'em! There were just four, perfect for Ben and me. With such a small amount, I decided not to do my gorilla climb up the top cabinet shelf where the big slow cooker is stored.
Instead I pulled out a Le Creuset heavy cast iron cooking pot, my off white one~~I mean I was thinking fashionable soon-to-be laden in chipotle red sauce beef short ribs would look stunning in this cookware~~pathetic, you might think, but, hey, that's what Boho is all about cooking, the adventure~~I revel in making my food fashionable, chic, stunning to look at the and boholicious to eat! There was no recipe in hand…I just started working the magic like I would a chuck roast or a similar cut of meat that needed some good seasoning and slow, low cooking!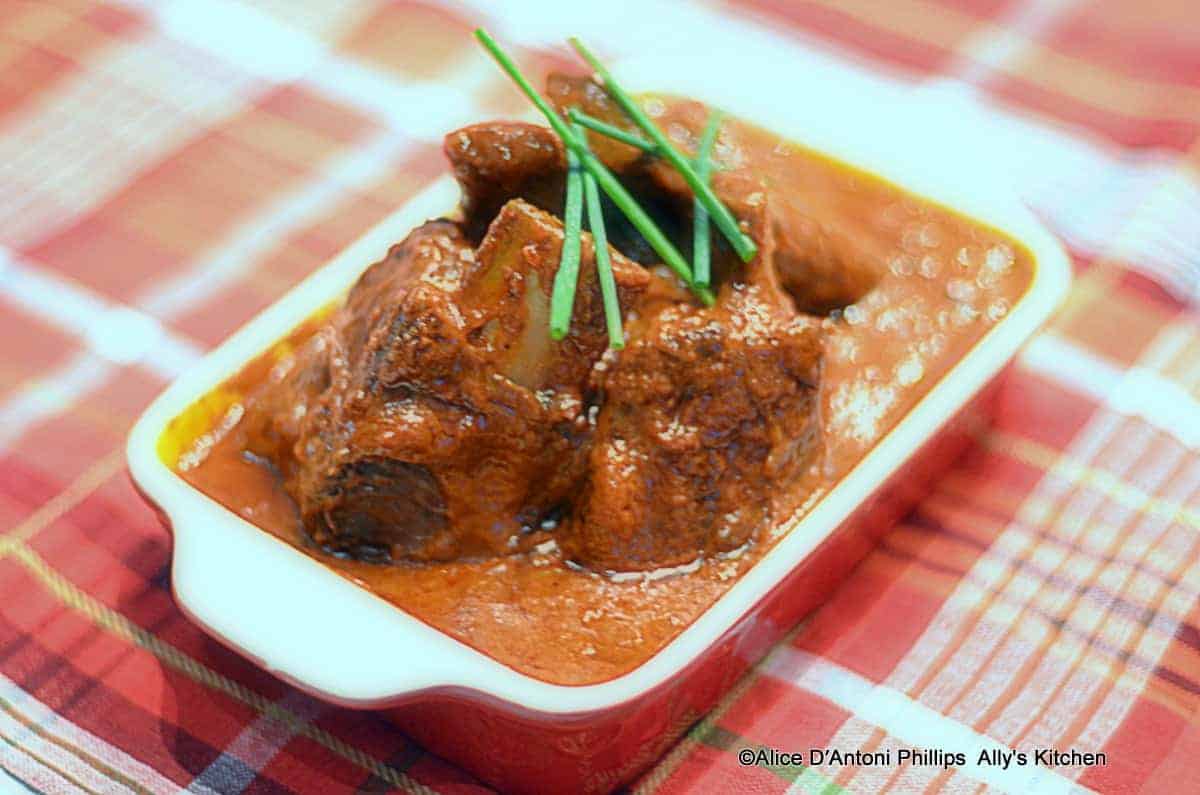 Serves: 2
What you need:
4 large beef short ribs
½ cup flour
1 tsp sea salt
1 tsp coarse ground pepper
1 ½ tsp ground ground chipotle pepper (divided)
¼ cup canola oil
1 cup red wine
32 ounces beef broth
1 can (10 ounce) tomato paste
Water (as needed)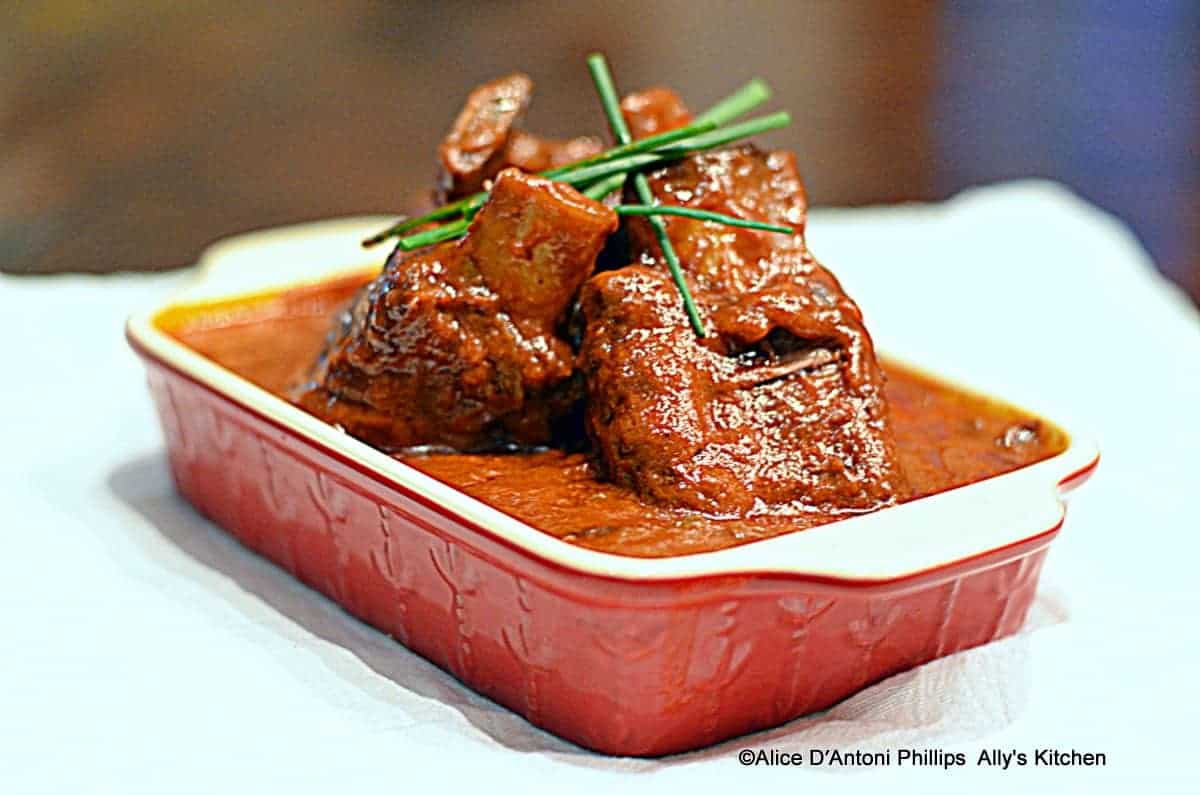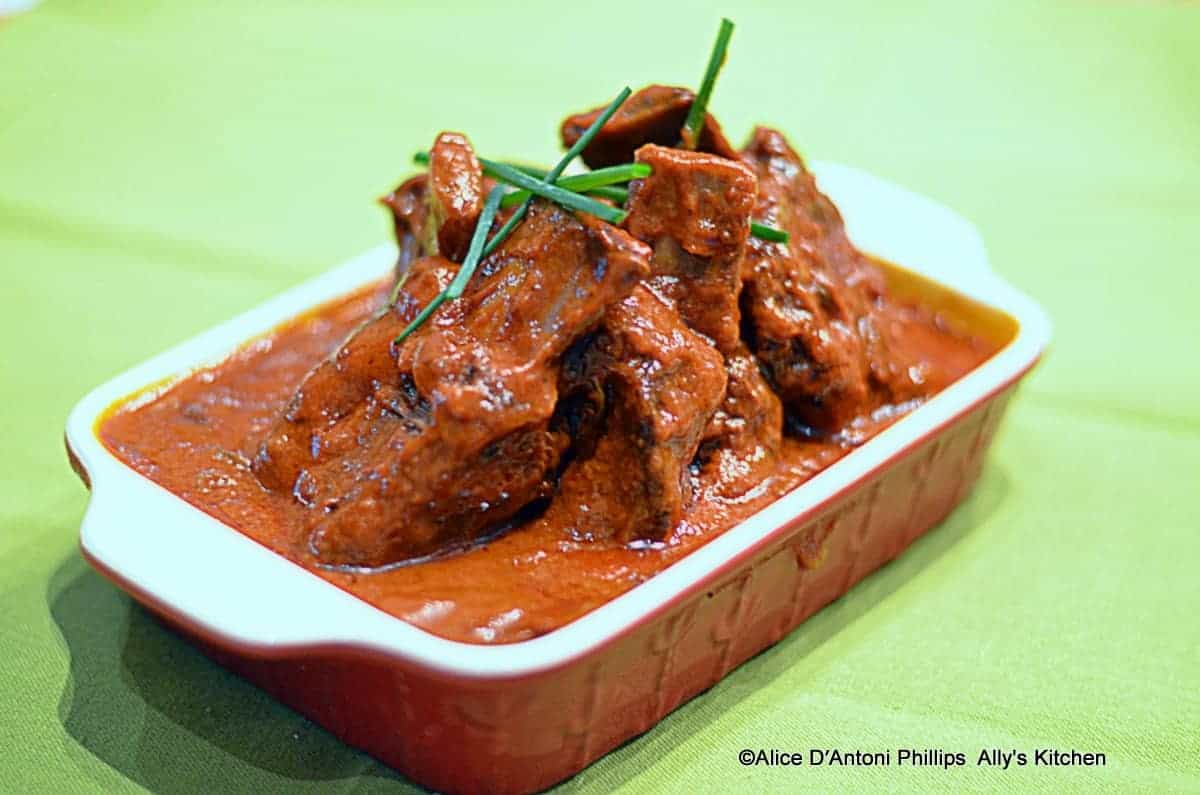 What you do:
Combine the flour, salt, pepper, and ½ tsp chipotle ground pepper in a pie plate and blend well. Dredge and coat the beef short ribs well with the flour/seasoning.
Put the oil in a heavy stove-top casserole pot (about 2+ quart pot) over medium high heat. Put flour-coated beef short ribs in and pan sear all over to a golden brown. Add the red wine and deglaze pan moving ribs around to get the good stuff scraped off. Cook about 15 minutes. Then add 2 cups of beef broth, half of the tomato paste and blend. Reduce heat to medium, cover and cook about 60 minutes stirring occasionally and adding broth as needed.
Continue cooking another hour plus on low adding broth and the remaining tomato paste. When the short ribs are tender, as in fall-off-the-bone tender, they're ready to serve. Keep your heat on low/simmer. Don't let the liquid/sauce dry out. Add water as needed once the beef broth is gone or more beef broth—your choice!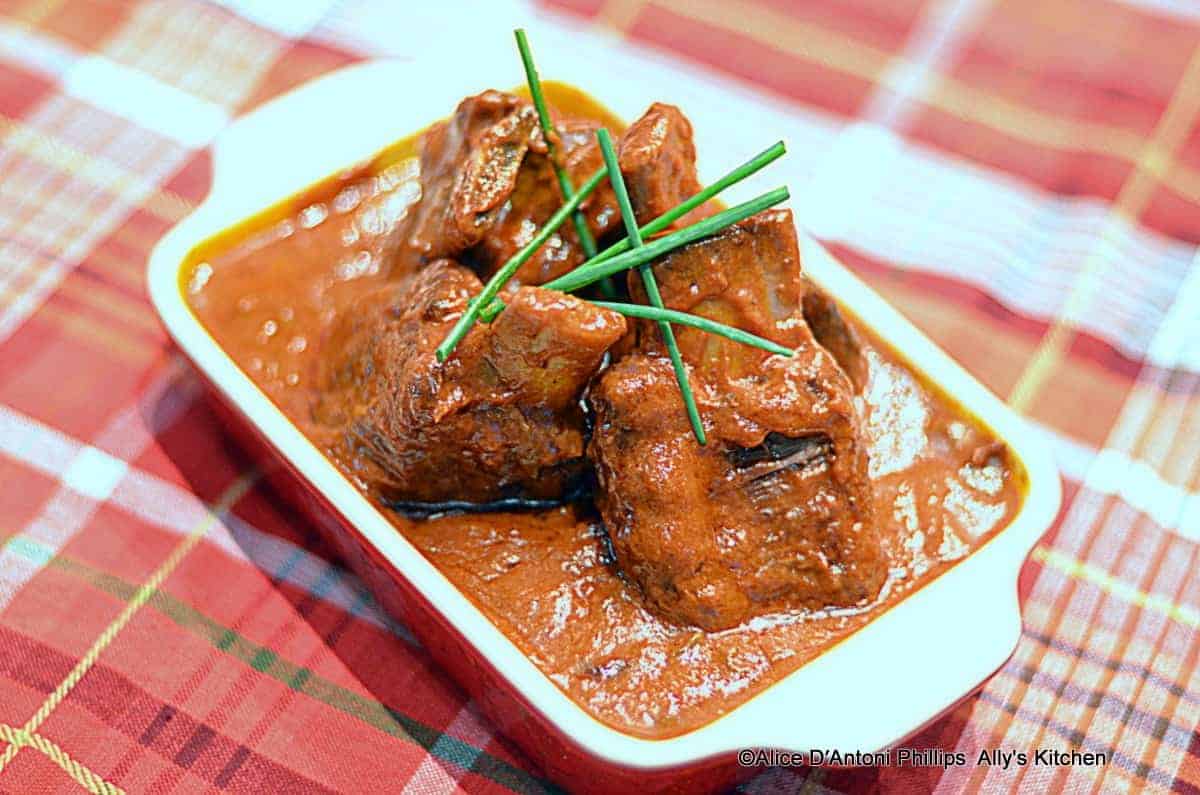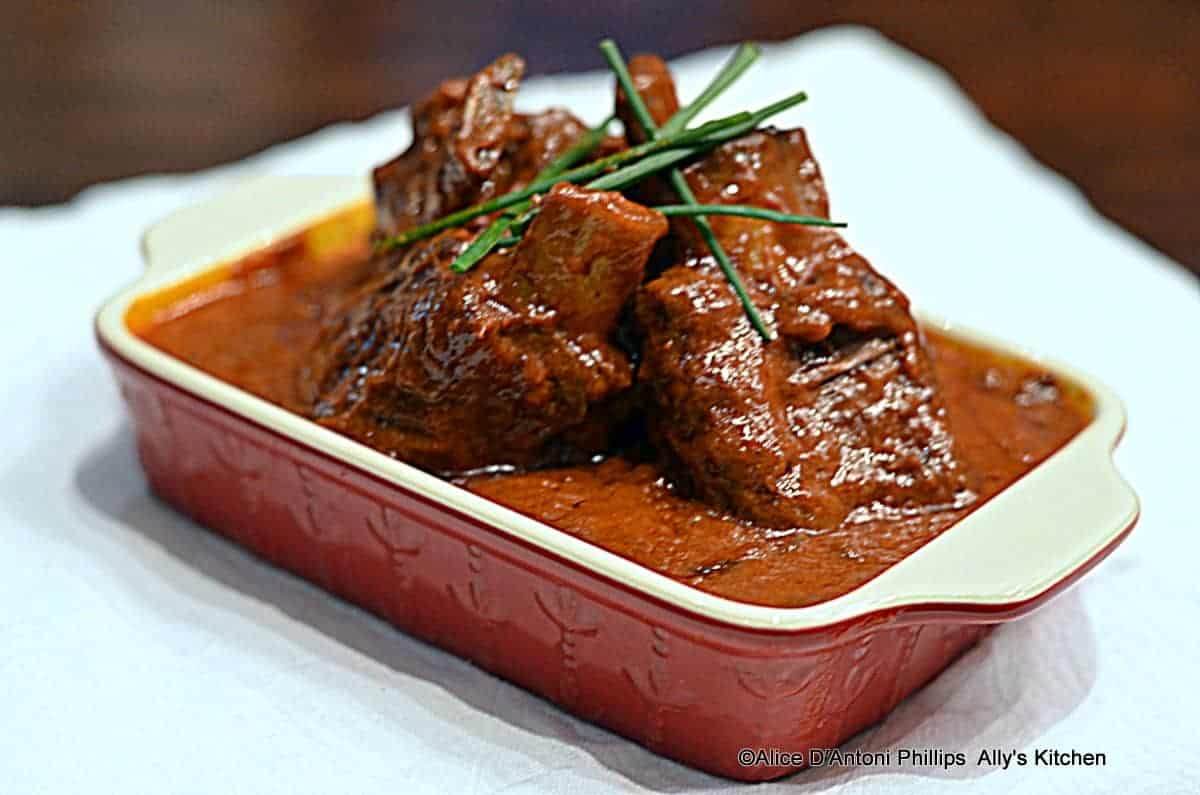 ©Alice D'Antoni Phillips Ally's Kitchen