rigatoni & smoked italian sausage chicken sauce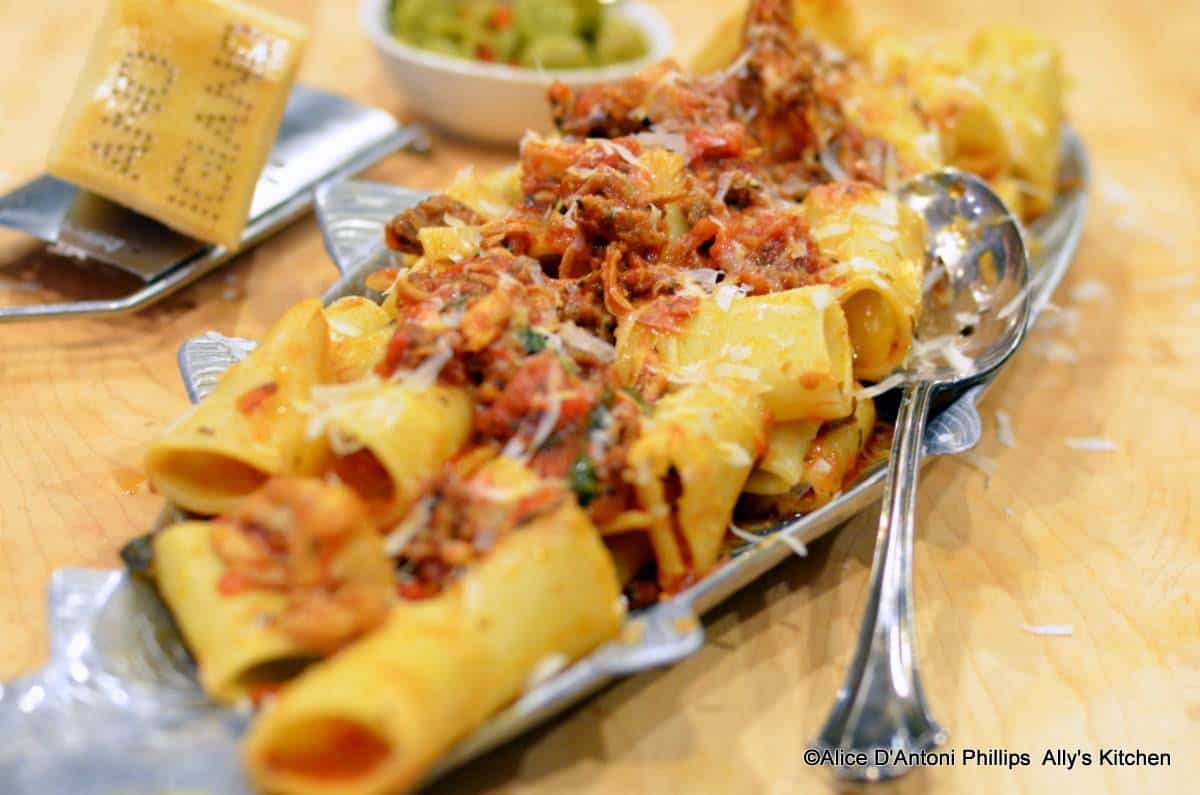 Growing up pasta, well, rigatoni in particular, was my three boys' favorite! I'd do different sauces, the bolognese being their favorite, and this meaty almost goulash-like sauce was a close second. Interestingly, this was one way to get some veggies into their diets~~my youngest son didn't like onions at all~~I mean he could detect an onion like a CSI investigator, but once I learned to pulverize them, thank you food processor, he was clueless.
Now, please don't divulge that secret because even though he's in his 30s, he'll still rake through a sauce looking for evidence of an onion! This Italian sausage and chicken gets a special smoked flavor with Hungarian smoked paprika. Maybe that's the goulash connection!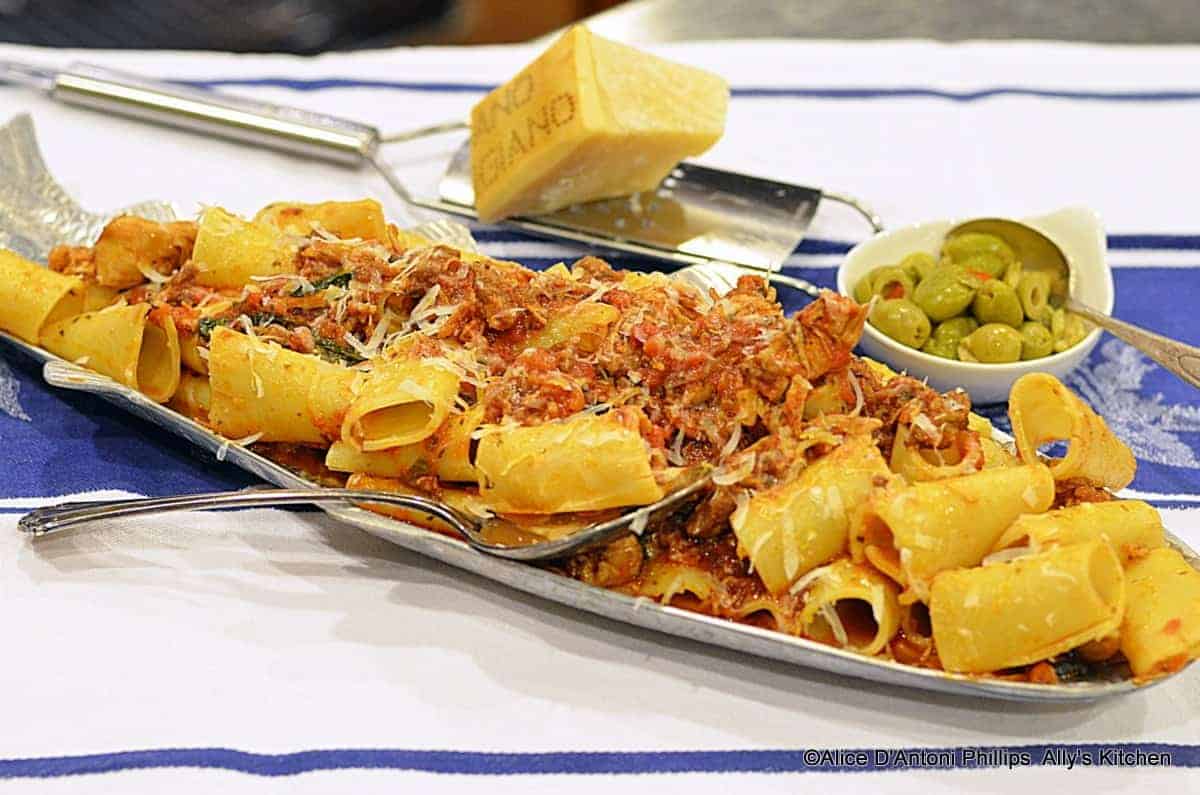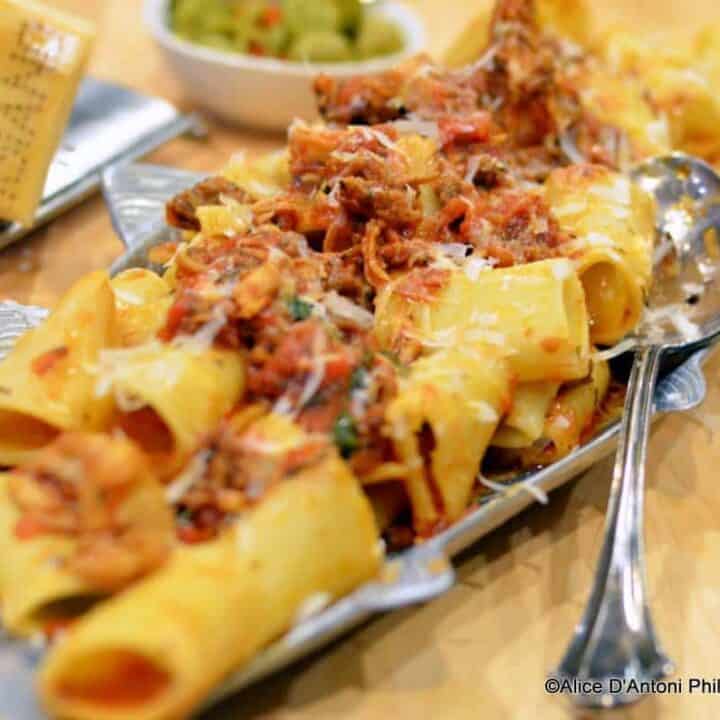 rigatoni & smoked italian sausage chicken sauce
Ingredients
1/3 cup coconut oil
1/3 cup chopped shallots
3 Tbl. minced garlic
1 lb Italian ground sausage, remove meat from casings and crumble
½ cup chopped pepperoni
1 Tbl. smoked paprika
3 tsp. dried basil
2 tsp. dried oregano
1 cup red wine
1 large can very good Italian tomatoes
¾ cup grated parmesan reggiano
1 jar very good jar Marinara Sauce (store bought)
Sea Salt/Coarse Ground Pepper to taste
4 Tbl. olive oil
2 large chicken breast fillets
Instructions
In a large skillet over medium heat, put coconut oil and saute the shallots and garlic until translucent. Add the Italian sausage and brown. Add the pepperoni, paprika, basil, oregano and wine and blend and cook about 5 minutes over medium heat.
Add the wine and tomatoes, and if they're whole roughly cut into pieces in the skillet. Blend well and reduce heat to medium low and cook about 30 minutes. Add parmesan reggiano and and marinara and blend. Turn to low and let it simmer while you prepare the chicken breasts.
Salt and pepper the chicken breasts on both sides. In another heavy skillet, put olive oil and turn heat to medium. When hot, add the chicken and sear on each side about 3-5 minutes getting a golden brown.
Reduce heat to medium low, cover with a lid and let cook about 20 minutes. Remove chicken to a cutting board and tear apart/shred the chicken with a fork into random size pieces. Add this to the sauce mixture and blend. Deglaze the skillet with about ¼ cup of water and add this to the sauce, too.
Let this sauce simmer for about an hour or more. Add water or some chicken broth if it becomes too thick.
Notes
This is a sauce you can 'boho' into something else great!  You can make this a goulash by adding some chopped carrots and potatoes (if you like celery throw that in, too!) and let them cook in the sauce. Microwave the carrots/potatoes until al dente then put in the sauce and cook until tender.) Serve over rigatoni (or your favorite pasta).