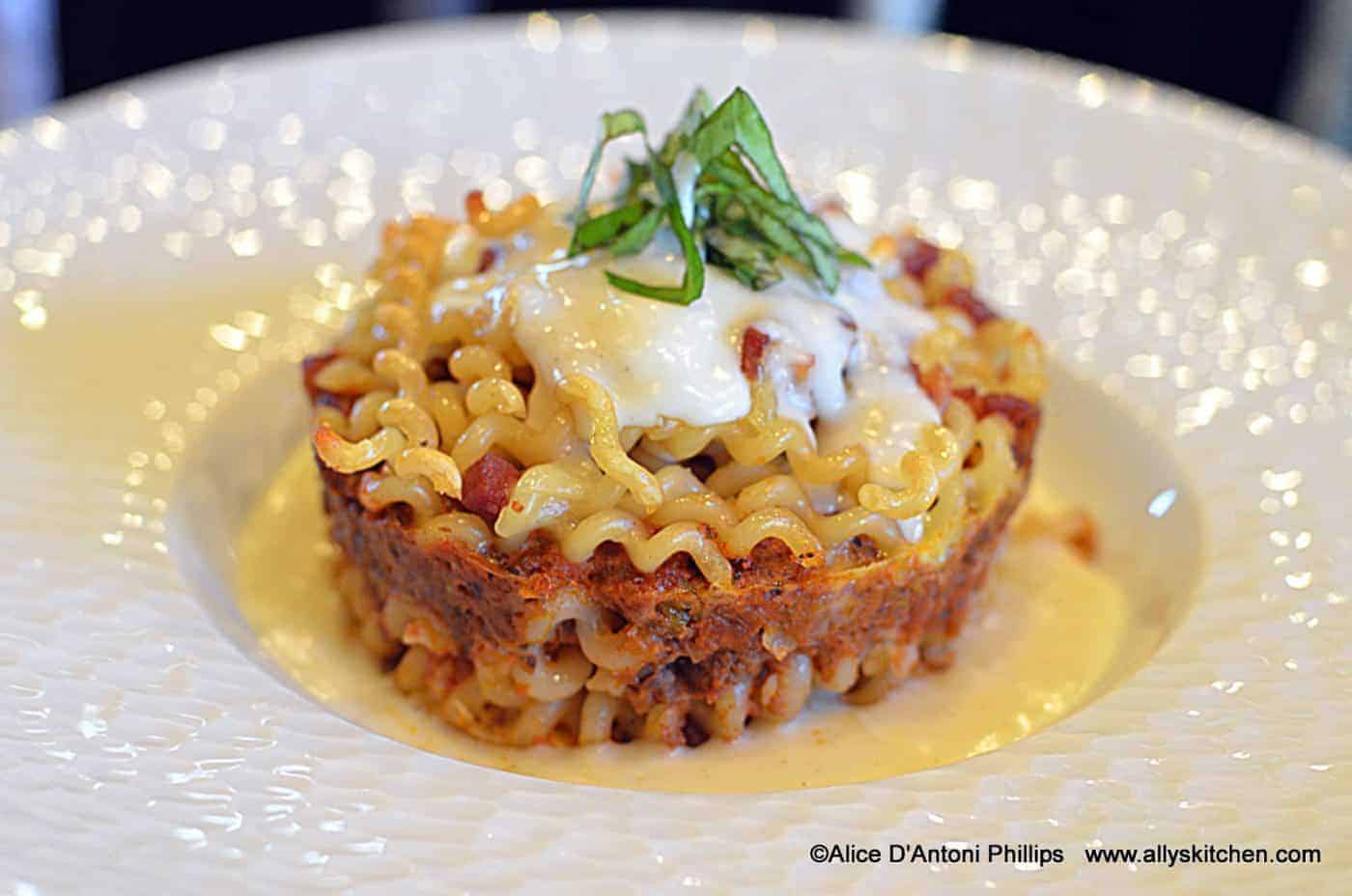 In the 2013 World Food Championships, I made it to the Top 10 in my category, Recipes. The 'infused' ingredient was bison because the National Bison Council was sponsoring this division of the competition. So there was just the evening, actually, a few hours, to really think about what my Dole Team and I were going to create for the third round of competition~~I selected two cuts of bison~~rib eye and sausage. From this, I decided that we'd do a thick, rich, meaty ragu with a hearty pasta noodle.
So, how did this recipe fare in the Top 10? #4~~not too shabby~~it was served with Harissa Tunisian fettucine!
This recipe is brought to you by DOLE Packaged Foods, however, all of the recipe development and creative food artistry, including the photography, is solely the work of Ally in her Kitchen. For more information CLICK~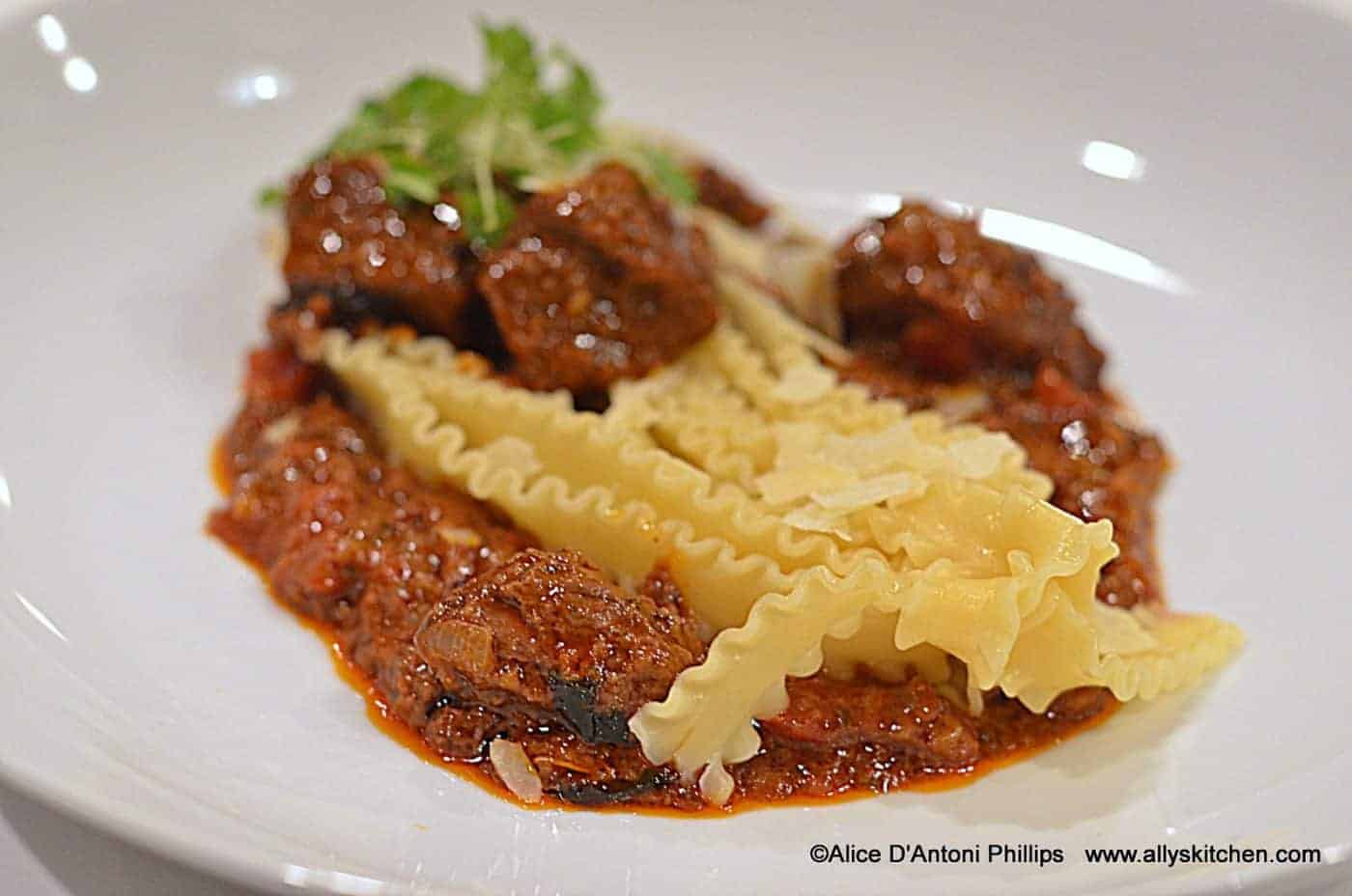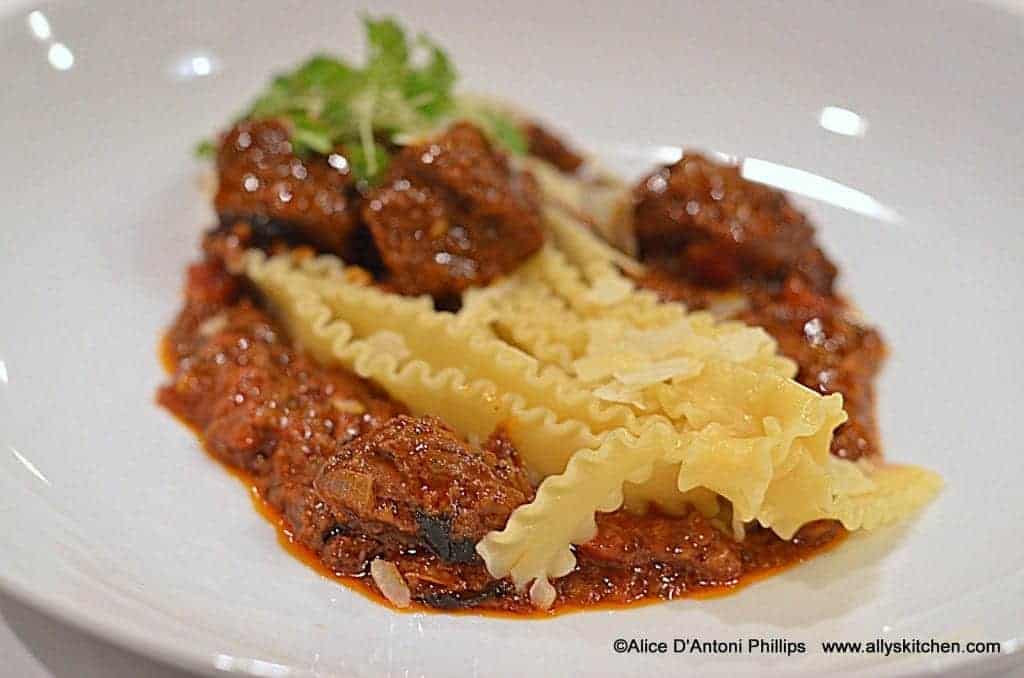 What you need & What you do:
1 tsp sea salt
½ cup flour
1 lb small cubed bison beef stew meat
8 tbl EVOO (divided)
¾ cup fine chopped pepperoni
½ cup crushed DOLE Tropical Fruit
Coat bison cubes with sea salt. Dredge in the flour. Heat 4 tbl of EVOO in a heavy cast iron large skillet on medium high heat. Add meat and brown/caramelize on all sides. Add pepperoni and tropical fruit and blend.
3 tsp Harissa
½ tsp red chili flakes
¾ cup red wine (good wine!)
Sprinkle on harissa and chili flakes and blend. Add red wine, blend throughout the meats, let it sizzle and cook about 3-5 minutes.
2 cups beef broth
Add the beef broth. Cover tightly with foil and a lid and cook in a preheated 450 oven for 30 minutes
½ lb Italian hot sausage
1 (15 oz) can diced Italian tomatoes (GOOD brand)
½ cup packed chopped fresh basil
½ cup grated parm reggiano
Meanwhile, in a separate skillet add 4 tbl EVOO and crumble/brown the sausage. Set aside.
After 30 minutes in the oven, add the sausage crumbles and diced tomatoes and blend. Reduce heat to 425 and cook another 20 minutes. Bison stew meat should be tender and pull apart easily making it 'shred' in the sauce. Add the fresh basil and parm reggiano and blend.
Ally NOTE: Add some of the drained pasta water to the ragu as needed if it is too thick.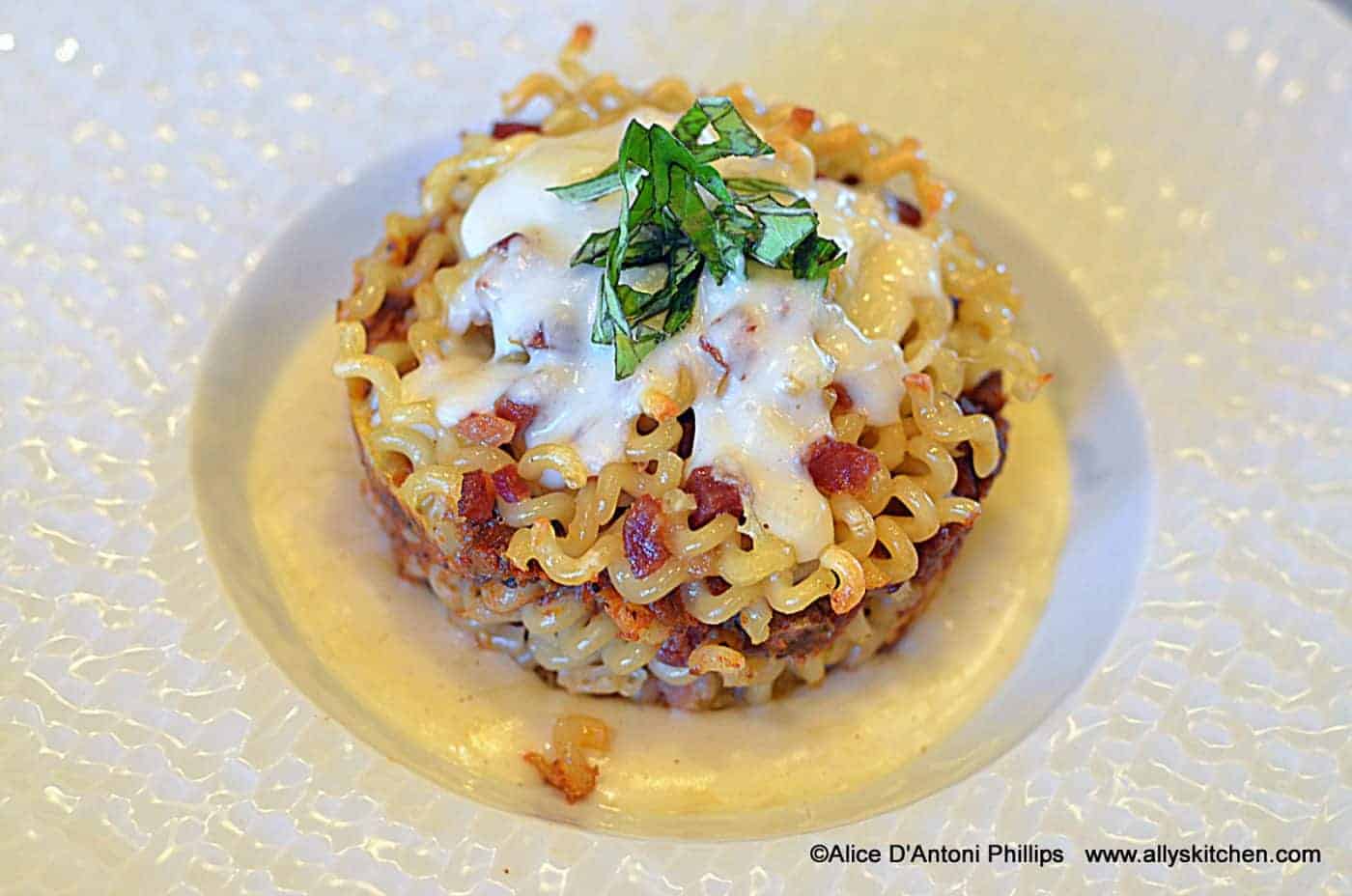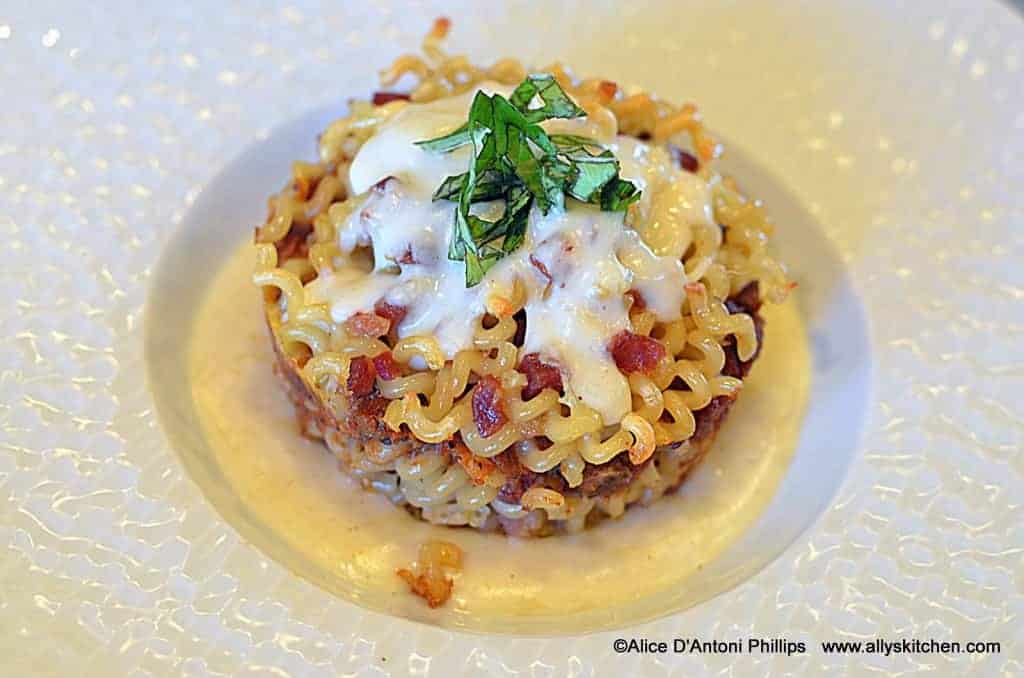 Pasta (cook according to directions) + reserving 2 cups of the drained water for the sauce
Optional~~Take some of the ragu sauce, thin out with pasta water, put in a bowl with some chopped fresh basil/Italian parsley and/or basil pesto, and toss.
Microgreens
Serve some of the ragu on the bottom of the bistro bowl. Place pasta on top. Add a more of the ragu sauce with chunks. Top with microgreens.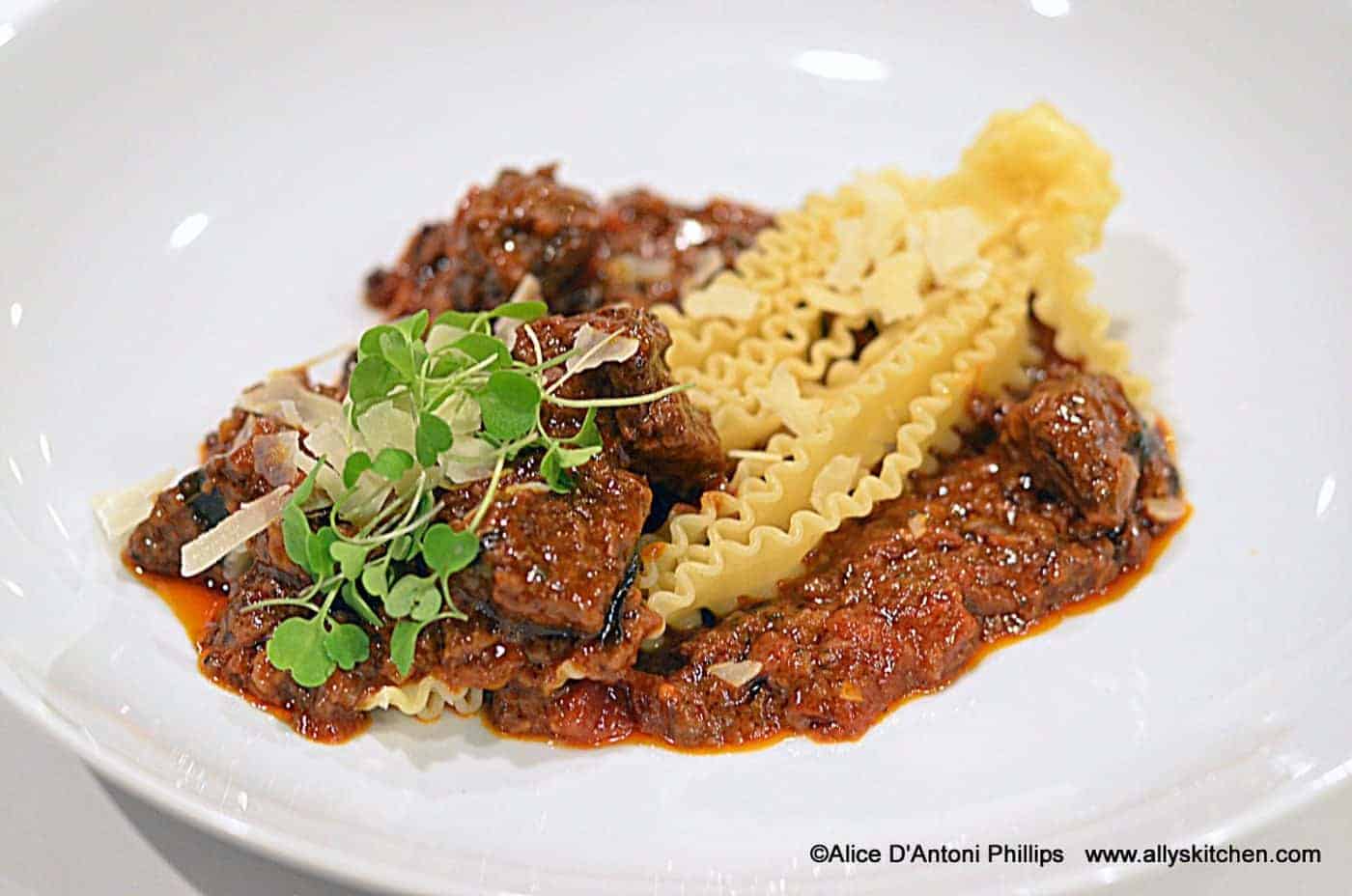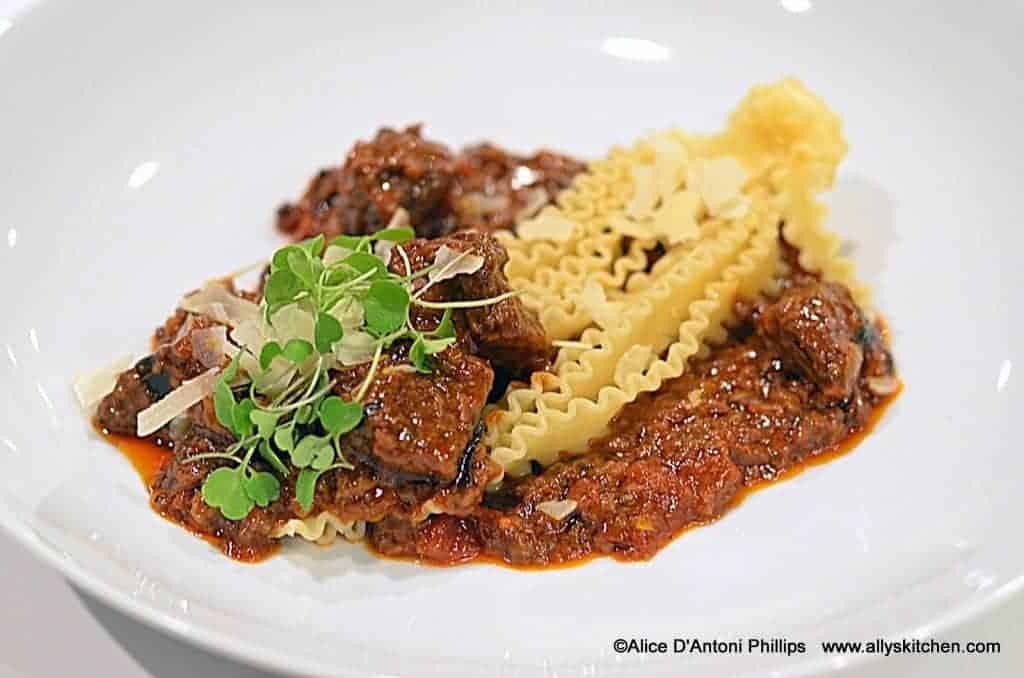 ©alice d'antoni phillips www.allyskitchen.com