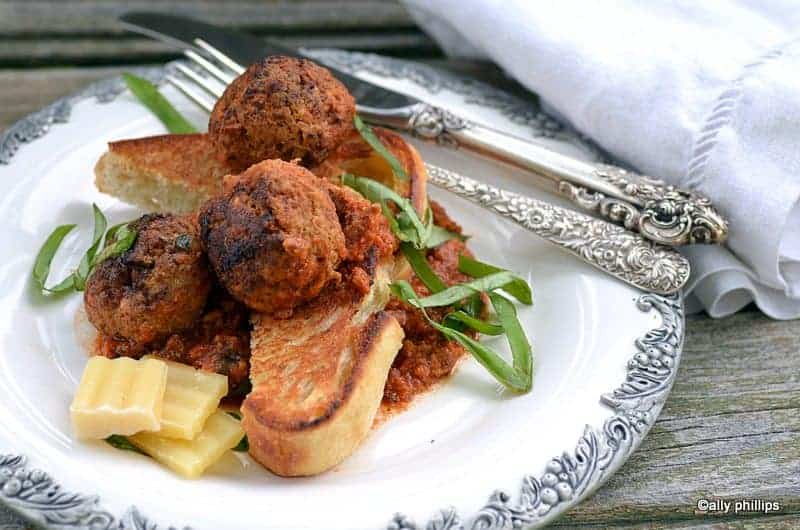 Meatballs. Meatloaf. Is there a difference? We're using similar ingredients. Big difference is size. Meatloaf meatballs make your belly happy!
Meatballs Recipe
Sooooooooooooo, I'm combining the two and making meatloaf meatballs. Call them mini-meatloafs.
Meatballs Recipe Easy
Call them meatballs. When it all shakes out, you get them on your plate and you start eating them, you'll just call them dang good!
Meatballs in Oven
Probably the easiest way to cook your meatballs before you put them in the sauce. Just line a cookie sheet with parchment paper and put them in the oven to bake.
Then put them in the sauce that's in a pot on the stovetop and just let them bask in the deliciousness!
Homemade Meatballs
There's nothing easier and more delicious than homemade meatballs. And, remember, they get better on days two and three.
The cool thing about cooking meatballs, too, is that they can be used for so many different things. Don't forget if you have some left over, you can make your meatball sandwich just like you do with your meatloaf sandwich the next day!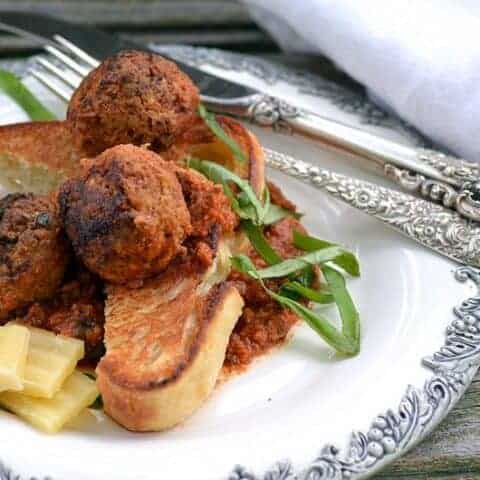 meatloaf meatballs
Yield: About 18 meatballs (about the size of a golf ball)
Ingredients
Preheat oven to 350
1 ½ lb. ground beef, 85/15
½ lb. ground pork
1 tsp. sea salt
1 tsp. smoked paprika
1 tsp. garlic powder
1 tsp. onion powder
1 tsp. red chili flakes
2 eggs, beaten
2 Tbl. fresh oregano
½ cup fresh basil, chopped
1/3 cup ricotta
1/3 cup Italian bread crumbs
1/3 cup ketchup
2 Tbl. Dijon mustard
2 Tbl. Worcestershire sauce
1/3 cup canola oil
1 (24-26 oz.) jar or box tomato garlic basil sauce or marinara sauce
Instructions
In a large mixing bowl, combine the beef and pork and blend together with your hands. Mix the salt, paprika, garlic powder, onion powder and chili flakes in a small bowl then sprinkle on the meat mixture.
Add the eggs, oregano, basil, ricotta, mustard and worchestshire sauce. Now blend together well with your hands working all the ingredients together. Remove 1 ½ cups of the mixture and set aside.
Roll the remaining meat mixture into about 18 meatballs. Place on a parchment paper lined cookie sheet
Heat the oil on medium high in a large cast iron skillet. Place 8-10 meatballs at a time in the hot oil an brown on all sides. Regulate your heat between medium and medium high. When browned, use tongs to remove and place on the cookie sheet. Continue until all meatballs have been pan seared.
Bake in a preheated 350 oven for 8-10 minutes.
Meanwhile, in the skillet that the meatballs were seared in, place the 1 ½ cups of meat mixture. Crumble and brown over medium heat. Add the tomato sauce. Reduce heat to low, blend, cover and let the mixture simmer.
Add the meatballs to the sauce, cover and let them simmer about 10 minutes. Ready to eat!
Notes
If you want more sauce, just double the marinara or tomato sauce ingredient.

I buttered and grilled some thick artisan bread and served the meatballs on it.

Always room for more fresh basil when serving.

I like to slice thin pieces of asiago cheese another great garnish would be black and/or green olives.