cherry bourbon baked brie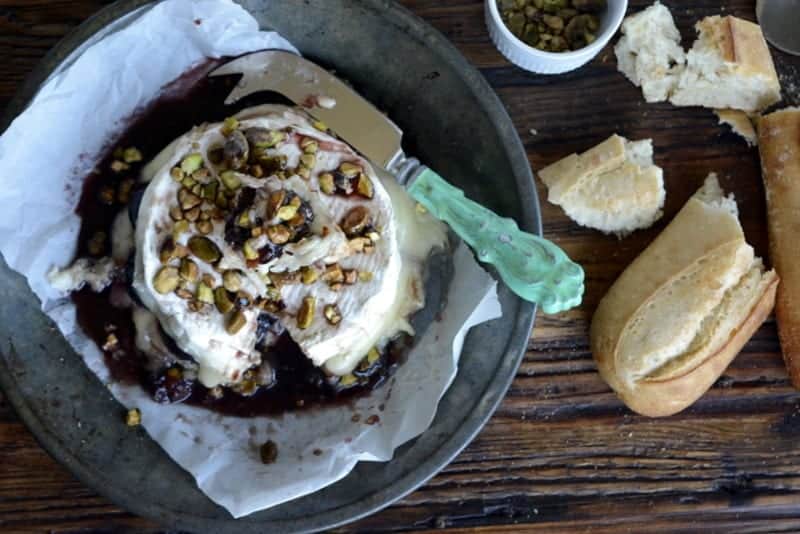 Thanks to Dole Packaged Foods for partnering with me for this cherry  bourbon  baked brie!I am the creator of this recipe and for the description and information that follows. For a full disclosure, click here!
Who doesn't like warm melted stringy cheese that just oozes and bubbles and then you scoop it up on a piece of bread, use a spoon and eat it, or take a chip or cracker and load it with the melted cheese. Well, that's what you have going on here with this cherry bourbon baked brie. But, besides the cheese, man oh man, you've got so much more!
Crowning this baked brie are bourbon cherries and an amazing sauce! Yes, just the idea of that has to make your mouth water! Warm and bursting with flavor, this sauce, coupled with the cherries drenched in bourbon, is explosive. I mean you just can't stop, or you don't want to stop eating it!
Dole Sunshine's frozen cherries are the bomb as in cherry bombs! Yes, they are juicy, sweet, picked at perfection and flash frozen to ensure freshness. You know this when you open the bag! I use these cherries in so many recipes, both sweet and savory. Check out these for more ideas! Cherry on! xoxo ~ally
Dark Red Cherry Biscuit Scones
Cherry Ricotta Cheesecake Jars
Sweet Dark Cherry Buttermilk Pancakes
Dark Cherry Yogurt Poundcake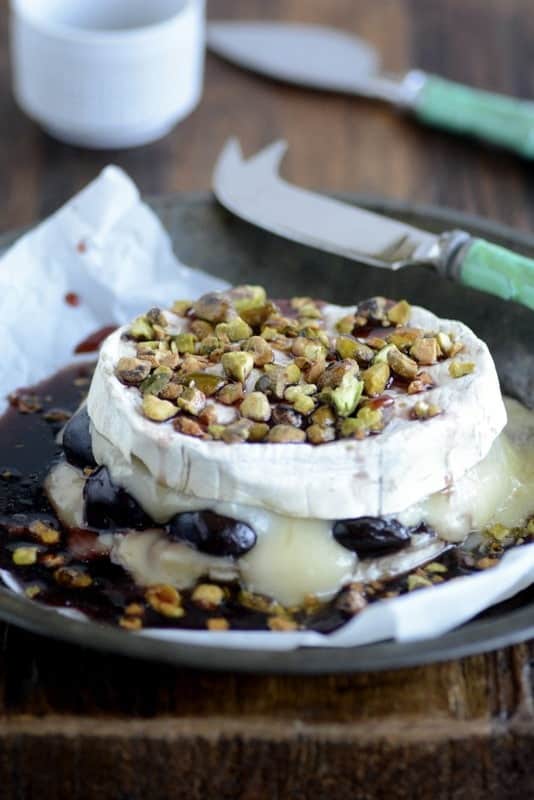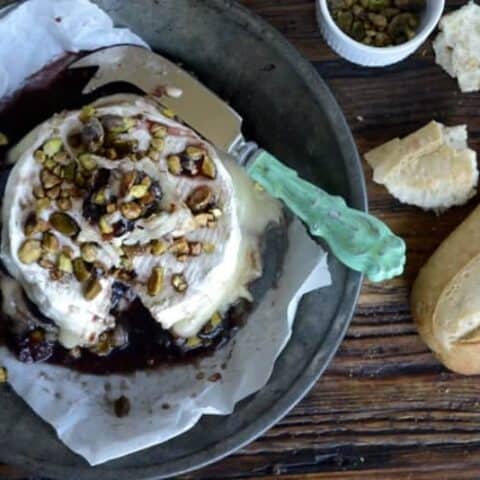 cherry bourbon baked brie
Ingredients
Preheat oven to 350
1 (8 oz.) brie cheese, slightly room temperature
15-18 Dole Sunshine dark red cherries, frozen
¼ cup bourbon
¼ cup honey
1 small lemon, juice
½ cup pistachios, roughly crushed
Instructions
Put the cherries and bourbon in a small mixing bowl. Let the cherries thaw completely. Drain off the liquid and reserve.
Put the cherry/bourbon liquid, honey and lemon juice in a small sauce pan. Turn heat to medium high. Bring to boil for about 5 minutes. Stir occasionally. Turn off heat. Let it sit on the blaze.
Slice the brie cheese (sideways) through the middle making two large circles. Place on a parchment paper covered cookie sheet.
On the bottom circle, use your thumb or the tip of a spoon to make divots (indentations) all around. Place the cherries in these indentations. They will 'sit' more securely. Sprinkle on about half of the pistachios and about half of the reduce liquid.
Put the top brie round on. Gently press down. Drizzle with the remaining liquid and sprinkle on the remaining pistachios.
Bake in a preheated 350 oven for about 8-9 minutes or until the cheese begins to ooze out the sides.
Remove and serve directly from the cookie sheet with hot baguette bread.
Notes
If you want to swap out cherries for Dole Sunshine's frozen blueberries, raspberries or pineapple chunks, then make that substitution. All would be fabulous!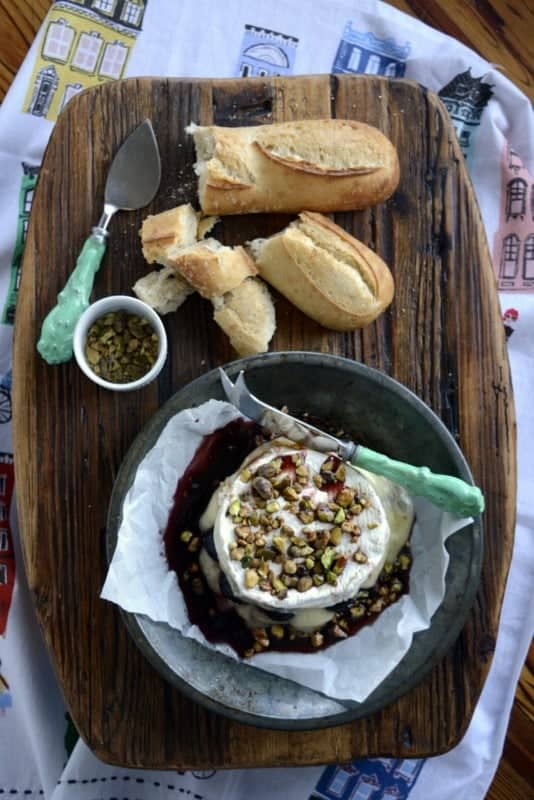 Another super EZ no cook no bake recipe!