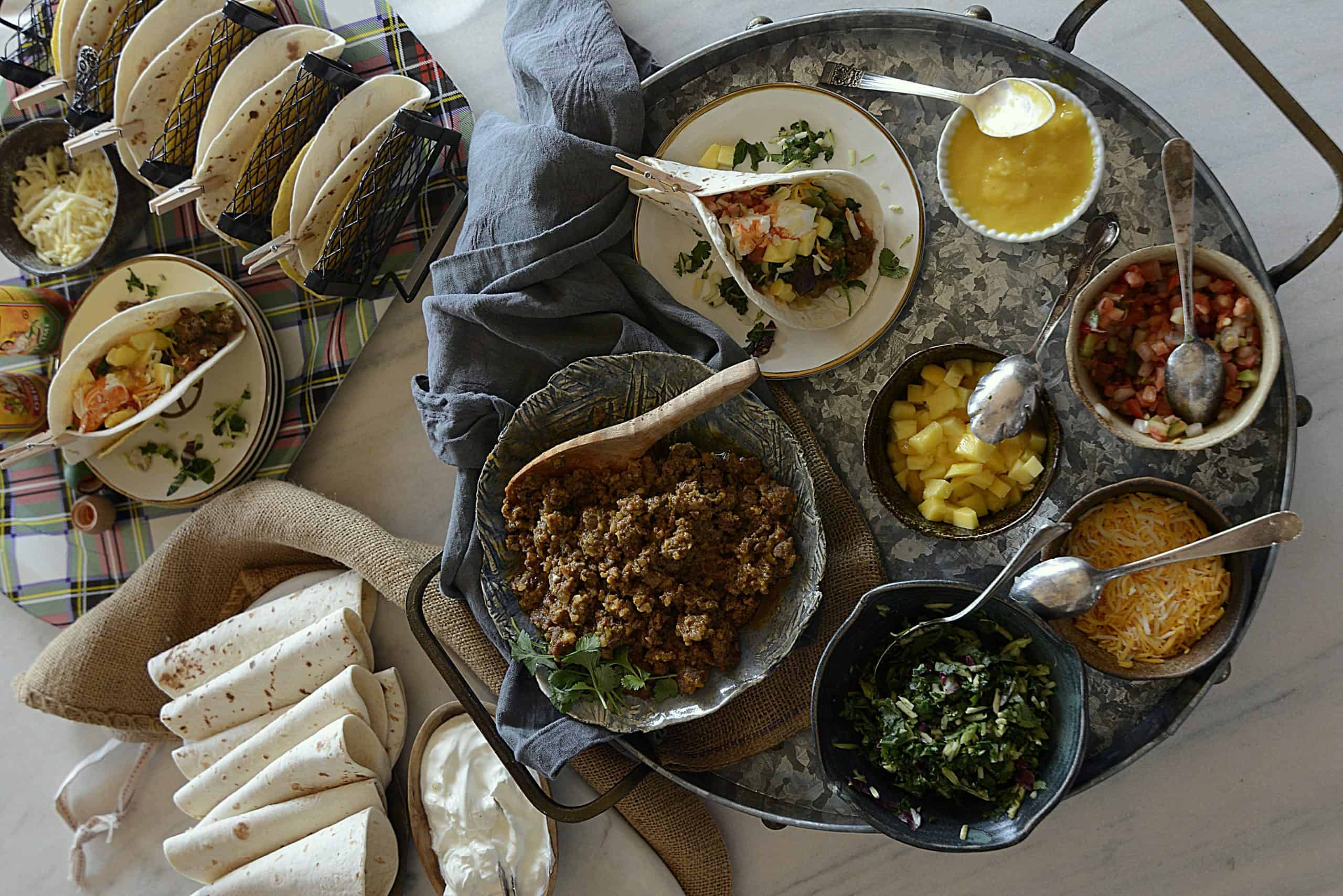 This is a sponsored post in paid partnership with True Aussie Beef and Lamb. This recipe and what you're reading is entirely my own creative intellectual property. Enjoy!
OK, there's some serious cuteness going on here with these lamb mango street tacos. Now, it doesn't have to be the holidays to enjoy them, but, hey, why not serve up something unique and delicious and different (we like different!) for your appetizers. And, these cute delicious tacos are perfect! I mean clipping them off with a baby clothespin is just off the scales cute and, in actuality, practical!
What are you going to taste in these tacos? Probably something that you're not expecting. Yes, you're going to have the savory, the heat, but you're going to have an under current of subtle sweetness and coolness from the mango puree that's so easy to make. Just throw your ingredients in the food processor and it's done.
Convince me to Buy Aussie Lamb
Why do I love True Aussie Beef and Lamb? It's pretty compelling for me to make this choice when I know that the grassfed beef and pasture-raised lamb are good for you. You're getting more flavor and taste. Plus, because these animals graze out in the free open range they're eating grass and natural ingredients full of antioxidants, minerals and vitamins that are passed on to you in the meats. I really love creating new twists on family favorites, like tacos, and using the ground Aussie lamb takes your taco to the next level of deliciousness! As my family and friends are chowing down on these lamb mango street tacos, it truly gives me great satisfaction knowing that I'm giving them something that's tasty and nutritious. Honestly, there's no reason why healthy nutritious eating and fun-eating can't go together. And, it definitely happens with these lamb mango street tacos!
If you're not sure where to find True Aussie Grassfed Beef & Lamb, then just click here, put in your zip code, and you'll find available retailers! xoxo ~ally
Here's yet another great recipe for ground Aussie lamb–BURGERS! Check out my Burger Night Party. And, if you're sharing this recipe and any other of my Aussie recipes, I'd love for your to use the hashtags #BeAussome (because YOU are!) and #OwnYourParty!
For more great holiday recipes and to see where you can buy Aussie Grassfed Beef and Lamb in your area visit their website!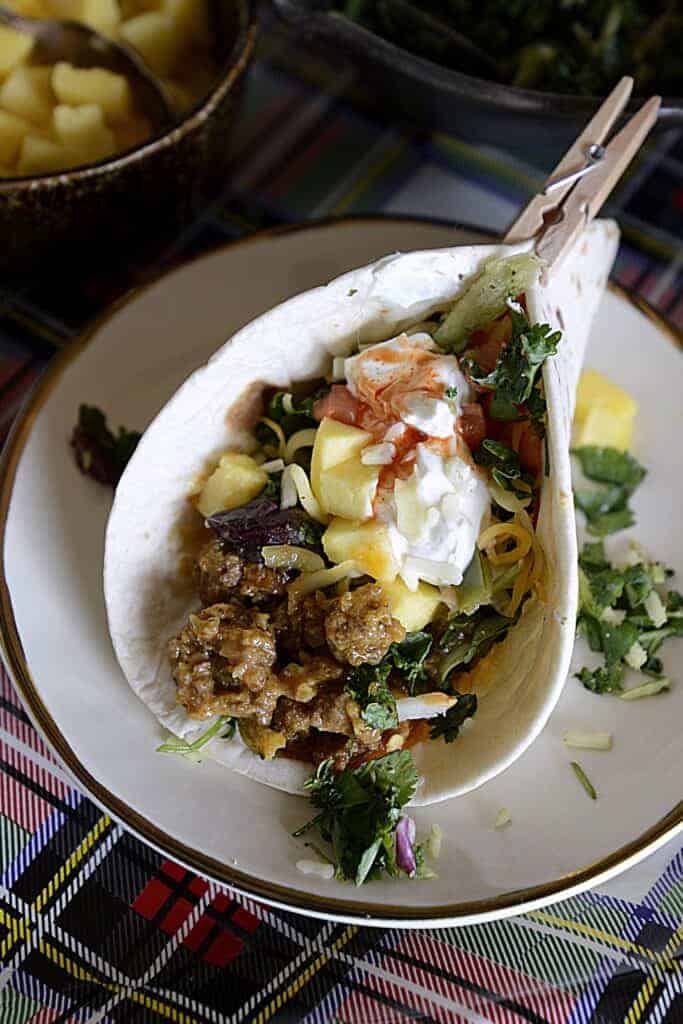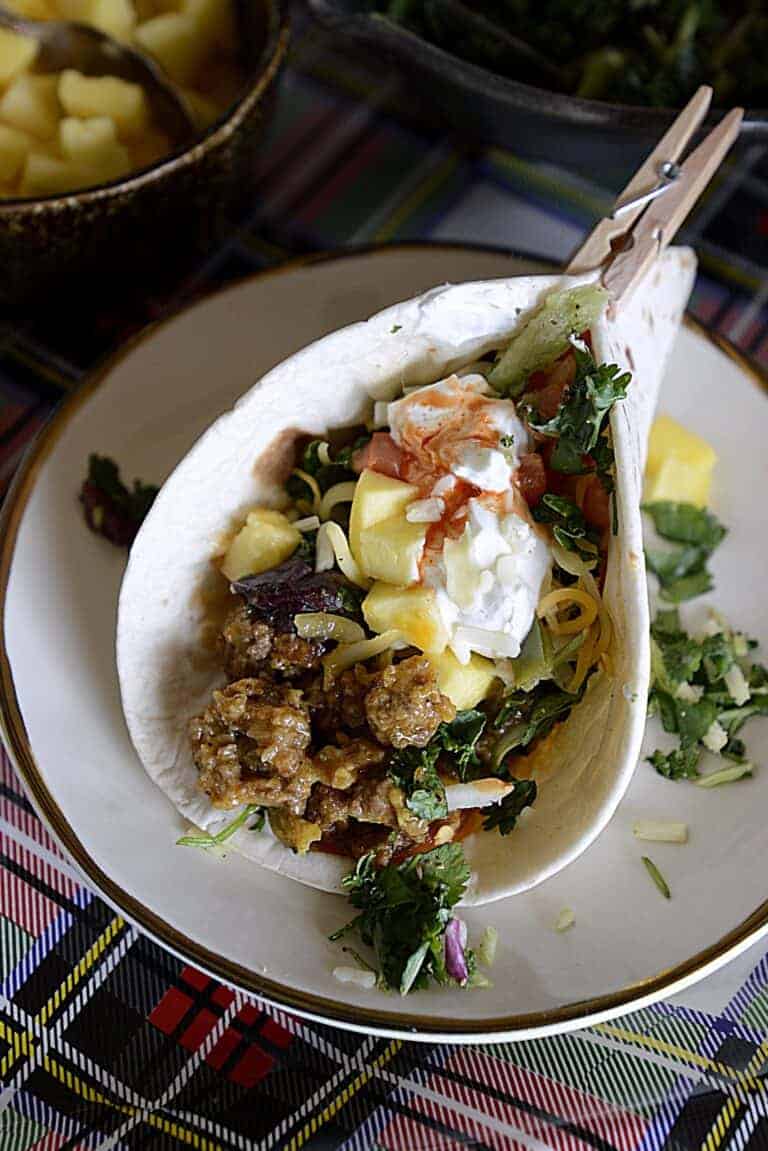 aussie holiday lamb mango street tacos
Ingredients
SLAW:
1 (11 oz.) bag Broccoli & Kale Slaw, Trader Joes, chop up into a somewhat finer mixture
1 lime, juice only
¼ cup fresh cilantro, finely chopped
¼ cup Dole Packaged Foods Pineapple Juice
2 Tbl. extra virgin olive oil
Salt/Pepper to taste
MANGO PUREE:
1 (16 oz.) bag Dole Packaged Foods Mango Chunks, somewhat thawed, divided
½ cup Dole Packaged Foods Pineapple Juice
¼ cup Tequila
Pinch of sea salt
TACO FILLING:
¼ cup vegetable oil
1 lb. True Aussie ground lamb
1 lb. ground Italian hot sausage
1 package McCormicks Organic Taco Spice Mixture
1 tsp. Chili Lime mixture, Trader Joes
1 tsp. ground cumin
½ tsp. caraway seeds
1 cup mango puree
TACOS:
1 package (20 count) Mission Soft FlourTacos, 5" diameter or street taco size
1 package Old El Paso Taco Dinner Kit Stand n' Stuff, 10 shells
GARNISH:
Small diced mangoes
Grated cheeses, pepper jack, Mexican blend, etc.
Sour Cream
Fresh chopped cilantro
Fresh made salsa
Fresh lime wedges
Salted chopped peanuts
Instructions
SLAW:
Put all the ingredients in a bowl. Toss and blend. Refrigerate until ready to serve.
MANGO PUREE:
Put two-thirds of the mango chunks, pineapple juice, tequila and salt in a food processor. Pulse into a thick creamy mixture. Pour into a bowl. Refrigerate.
TACO FILLING:
In a large heavy skillet over medium heat, put the oil. Let it get hot. Crumble in the lamb and sausage and brown/fry.
Add the taco spice mixture, chili lime seasoning, cumin and caraway seeds and blend well. Turn heat to medium low. Cook about three minutes. Add the mango puree. Turn heat to low, cover and let it simmer about ten minutes.
Serve with warm tacos and the fixings. Offer the crispy tacos as another option. Let each person build their own taco!
https://allyskitchen.com/aussie-holiday-lamb-mango-street-tacos/
©ally's kitchen intellectual property