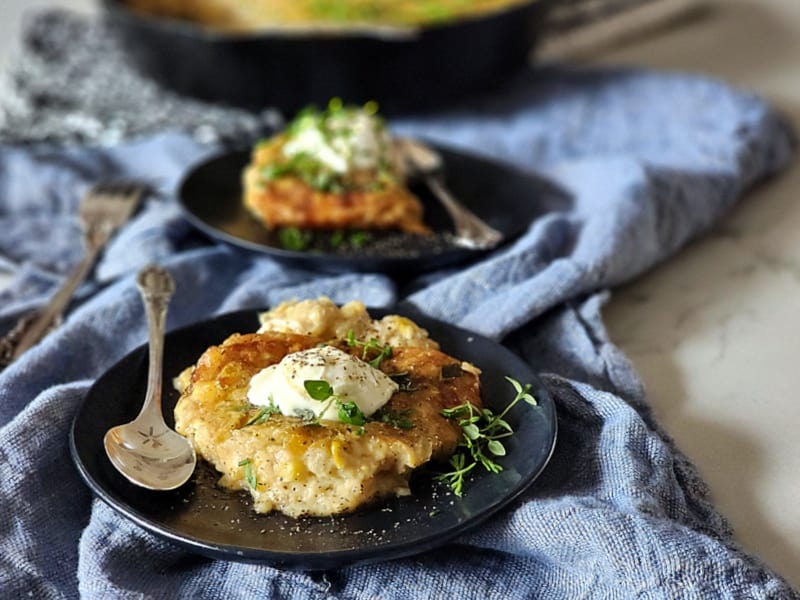 My creamy corn pudding is a must on your holiday table or anytime of the year! It's got a Thai Curry twist for flavor and character!
Corn Pudding Casserole
Corn pudding. Not sure it's a well known side dish for the holidays unless you live in the South or Appalachia.
If you've not had it, get ready for a delightful addition to your holiday table. Of course, don't wait for the holidays, serve it any time you want something fabulously different to serve with most any type of meat or seafood!
Corn pudding is a creamy culinary dish prepared from stewed corn, water, any of various thickening agents, and optional additional flavoring or texturing ingredients. It is typically used as a food staple in rural communities in the Southern United States, especially in Appalachia.
Best Corn Pudding Recipe
What makes this the best corn pudding recipe.
Well, I think it's the health value of the ingredients. I'm using Kettle and Fire's Thai Curry Soup and their vegetable broth to ramp up the nutrients in this casserole.
If you've not tried this soup (AND the Butternut Squash) from KF, oh, goodness, you're in for excellence. And, I've used it in two other recipes. Yes, that's how much I love it as an ingredient that is a pro move in recipes. Take a gander at RECIPE ONE and then jump over to RECIPE TWO. I'm withholding the names of the recipes because I don't want you to automatically jump to a conclusion!
Thai Red Curry Soup
Oh, yes, you could make your own curry soup for this recipe, but why would you when you can use this soup from Kettle and Fire! Plus, if you use my discount code at checkout, ALLYSKITCHEN, you'll get 20% off your order. Not too shabby. Believe me, the soups from KF are outstanding AND healthy!
It's made with organic ingredients and has things like coconut milk, vegetables, spices, vegetable broth and more. You can certainly just warm it and sip for lunch, too!
Easy Corn Pudding
There's nothing complicated about this recipe.
It's like a dump cake. Everything is mixed in a bowl then dumped into your baking vessel. That's about as uncomplicated as it gets.
Corn Pudding Ingredients
Of course, the star ingredient is the corn. You can use fresh or frozen. Around the holidays, it might be iffy to find really good fresh corn. But, if you're a good little' squirrel and planned for the winter, then you probably froze some fresh corn off the cob back in the Summer when it was abundant!
Creamy Corn Pudding
This is a creamy pudding like texture. It's got a hint of sweet with the maple syrup.
Some corn pudding recipes call for sugar. The maple syrup makes it even more holidayEEEEE.
Thai Corn Pudding
Now I absolutely love Thai Curry seasoning and another corn recipe that I have uses the Thai Curry paste.
It's an easy skillet dish, too, that would be perfect for the holiday table as well. I've done this Thai Red Curry Corn with whole corn, too. It's messy to eat, delicious and finger licking yummy!
Fresh Corn Pudding Recipe
Another great corn pudding/casserole recipe that you might want to explore for a different side dish is my cumin corn soufflé cilantro & caramelized onions. Talk about exquisite! Yes, it's one of those dishes that you don't expect. And, like this recipe where we have the 'pro' move of a dollop creme fraiche and a drizzle of maple syrup with fresh herbs on each serving, serving this cumin corn soufflé also has a 'pro' move!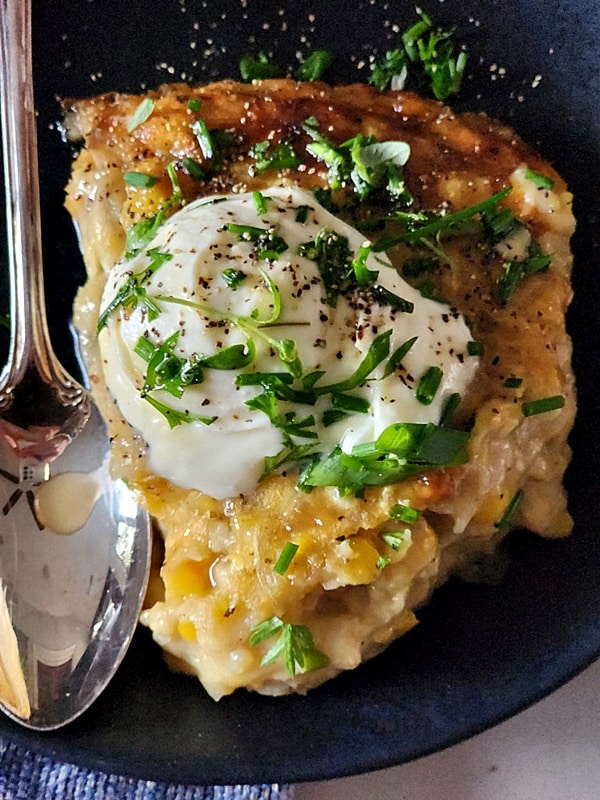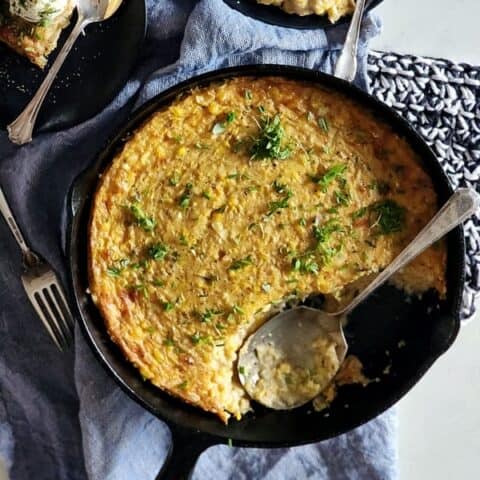 Easy Creamy Corn Pudding
Yield:
One cast iron skillet 10"
Ingredients
Preheat oven to 350
4 cups corn, packed, previously frozen, quickly pulsed in food processor leaving whole kernels and shreds of kernels
1/3 cup vegetable broth
1 box (16.9 oz.) Kettle Fire Thai Curry Soup
3 eggs
3 tsp. garlic granules
1 1/2 tsp. sea salt
1 tsp. black pepper
3 Tbl. maple syrup + more for garnish
2 cups cheese, grated, smoked gouda or your favorite
1/2 sweet onion, grated
1/4 cup + 1 Tbl. tapioca flour, can substitute regular all-purpose flour, arrowroot
Salt and Pepper also to taste
GARNISH:
Fresh Chopped Herbs, chives, flat Italian parsley, thyme
Creme Fraiche
Instructions
Preheat oven to 350
If using frozen corn kernels, let it thaw somewhat. Fresh corn cut off the cob can also be used.
Place corn kernels in a food processor and pulse a few times. You'll have some whole kernels and some of the corn will be more chopped. Don't over pulse. You want more kernels than not.
In a one cup measuring cup, whisk together the eggs, salt, pepper, garlic granules and maple syrup. Set aside.
Put the grated onions and cheese in a large mixing bowl. Add the veggie broth and KF Thai Curry Soup. Blend together these ingredients well.
Add the egg mixture to this and blend well. Add the tapioca flour and blend.
Grease a baking dish, casserole dish or cast iron skillet (10" diameter) with coconut oil. Pour in the corn pudding mixture.
Bake in a preheated 350 oven for 54 to 60 minutes. Remove and let cool about 7-10 minutes.
Serve with fresh herbs and a dollop of creme fraiche. Optional. Can substitute sour cream or plain Greek yogurt. Drizzle with a about 1/2 tsp. of maple syrup! PRO move!