Honey Mustard Salmon and Walnuts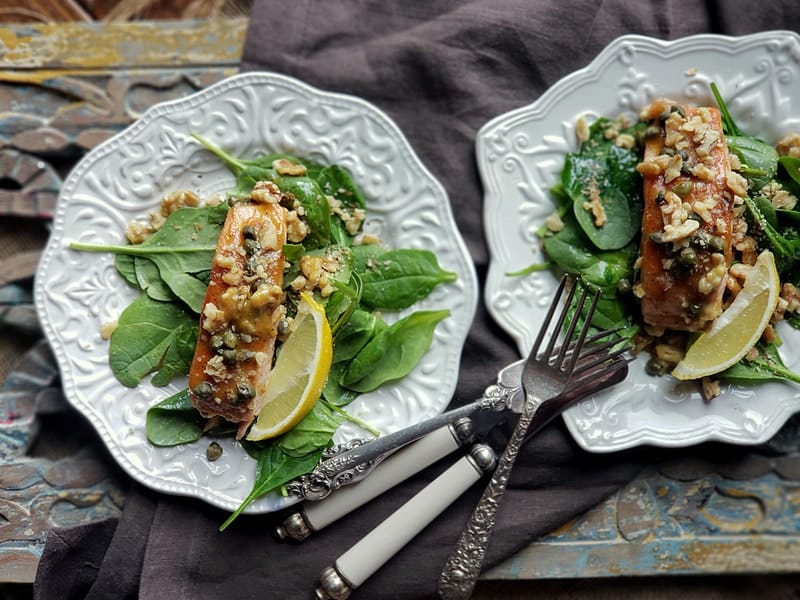 If you love salmon, then this honey mustard salmon is what you want. Under 30 minutes & super deeelish! Healthy and simple!
Honey Mustard Salmon and Walnuts
There were so many things I loved about this recipe. First of all, it's salmon, and we are salmon lovers. In fact, we're doing a fishing trip to Alaska real soon. And, I'm continually looking for new ways to prepare it and new flavors. In the case of Ann's recipe, it was the flavors that intrigued me. That mustardeeee honeeeeee taste along with a crunch of walnuts. I mean how much better it gets.
Almond Crusted Salmon
Such a delicious and mouth-wateringly recipe! Crispy on the outside, moist and tender on the inside Almond Crusted Salmon made with only a few basic ingredients. Baked salmon with the crispy almond crust is a great alternative to meat steak. It is cooked in the oven and turns out to be quite dietary. As a side dish, you can serve a light salad of fresh vegetables, seasoned with lemon juice or olive oil.
Salmon Marinade Mustard
The recipe is so simple that even a beginner in the kitchen can do it. A minimum of effort on your part and the dish invariably turns out to be very tender and juicy. The fish tastes salty-sweet, very aromatic, with a slight mustard note.
When it comes to adding a more delicious recipe on your dinner/lunch table, definitely you're going to love these simple and tasty asian inspired salmon & mandarin oranges recipes!
Dijon Mustard Salmon
Salmon is a healthy fish. It is rich in essential fatty acids. It is very important to use it for those who want to increase the level of Omega-3 in the body. Dedicated to all lovers of fish and light soulful dinners! It's the perfect healthy dinner recipe and can be made in less than 30 minutes. Love an easy recipe like this? Also, be sure to try our apricot mustard pork bbq!
Mustard adds a slightly tangy flavor, not overwhelming, but just enough to bring out more flavors.
Mustard Sauce For Salmon
As the name suggests, the sauce is intended for salmon dishes. It works best with fried or baked fish. It is also well suited for lightly salted salmon fillets. This is the easiest Baked Salmon with a sweet and tangy Buttery Honey Mustard Sauce! This recipe requires minimal effort and basic ingredients. It is also a healthy recipe to stay on track.
Here are a couple of other quick recipes that you should give try:
Apricot mustard spicy sauce
One dish salmon and vegetables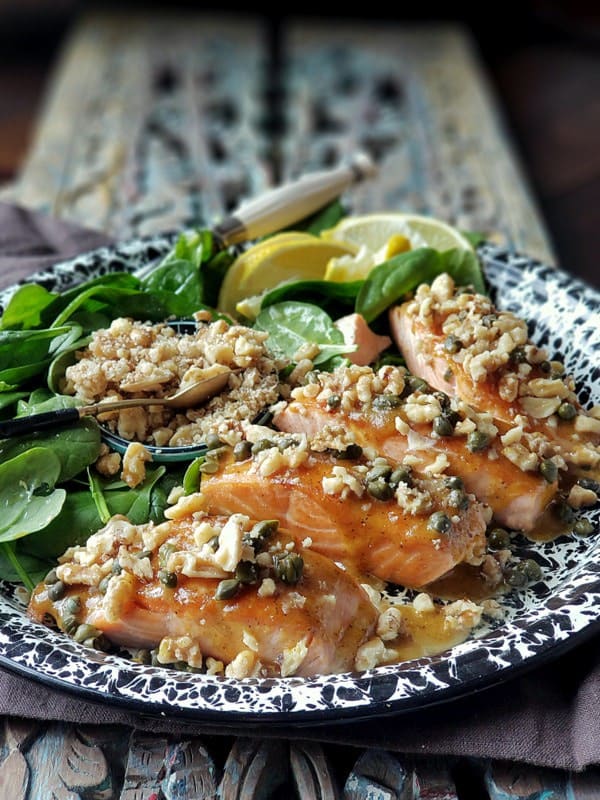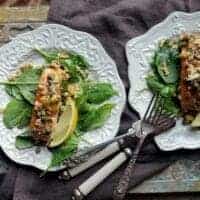 honey mustard salmon and walnuts
If you love salmon, then this honey mustard salmon is what you want. Under 30 minutes & super deeelish! Healthy and simple!
Ingredients
1 to 1 1/2 lb. salmon filet, about 1 1/2 to 2 inches thick in center most part, skin on, cut into three to four slices
1 tsp. sea salt
2 Tbl. oil
2 Tbl. Saucy Mama Smoky Garlic Mustard
1/4 cup honey
1 cup walnuts, chopped
2 Tbl. capers, drained
4-6 cups fresh spinach
Fresh lemon wedges when serving
Instructions
Put salt on each of the salmon pieces.

Heat a large cast iron skillet on medium high. Let it get hot. Add the oil and let it heat.

Add the salmon slices, skin side up, into the skillet. Cover and cook for about three minutes.

Carefully flip the salmon to skin side down and cook on medium (covered) another three minutes.

Remove from heat. Flip salmon back to skin side up and remove the skin. It should easily peel off.

Cover the salmon. Meanwhile, prepare your plates for serving. Put equal amounts of fresh spinach on each plate. Add a piece of salmon to each plate.

In a small bowl, combine the mustard and honey and blend well. Slather equal amounts of this mixture on the salmon.

Top with equal amounts of capers and chopped walnuts. Serve immediately!