I've got some amazing foodie friends who develop some pretty fabulous recipes. Love those that are simple and really healthy. So, I found this recipe for salmon from Ann over at Sumptuous Spoonfuls, and I just knew I had to make it. Ann is a yogini, committed to living a life of mindfulness in every way including what she eats.
Ann's Recipe
There were so many things I loved about this recipe. First of all, it's salmon, and we are salmon lovers. In fact, we're doing a fishing trip to Alaska real soon. And, I'm continually looking for new ways to prepare it and new flavors. In the case of Ann's recipe, it was the flavors that intrigued me. That mustardeeee honeeeeee taste along with a crunch of walnuts. I mean how much better does it get.
My Variations
I did vary Ann's wonderful recipe just a tad. Knowing she would not be offended at all, I tweaked to our liking. That's what recipes are all about, getting the inspiration then adjusting to your particular palate preferences. Instead of baking the salmon, I pan seared it to get a more crunchy crust on the top of the salmon. Then I used a smoky garlic mustard from Saucy Mama which meant I didn't want to add more garlic to the mustard honey sauce. Saved me a step! It worked fabulously! The last thing I did was sprinkle on capers as well as walnuts. And, I used a lot more walnuts, lots of walnuts. They worked so well with the spinach, too! For some reason, I wanted more of that salty briny taste, hence the capers! Then I served my salmon on a bed of naked spinach. To die for!
One More Thing
I love salmon that is moist, pink and translucent inside. If you want your salmon cooked more, then a minute or two on each side. When I was on FOX network's MasterChef Season 2, my dish that I served to the judges, including the bellicose and intimidating Chef Gordon Ramsey, was salmon. When I placed my dish on the serving table and I was nose to nose with him about two feet apart, he looked at me dead in the eyes and without blinking and holding his fork up, he said to me in his British accent with dead seriousness, 'When I cut into this salmon, it had better be moist and translucent inside.' My response? 'Yes, Chef, it is.'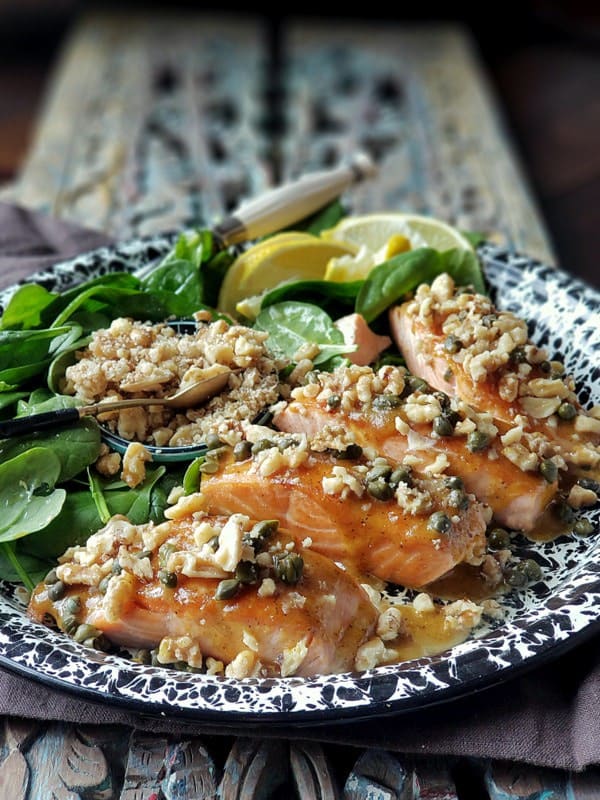 honey mustard salmon and walnuts
Ingredients
1 to 1 1/2 lb. salmon filet, about 1 1/2 to 2 inches thick in center most part, skin on, cut into three to four slices
1 tsp. sea salt
2 Tbl. oil
2 Tbl. Saucy Mama Smoky Garlic Mustard
1/4 cup honey
1 cup walnuts, chopped
2 Tbl. capers, drained
4-6 cups fresh spinach
Fresh lemon wedges when serving
Instructions
Put salt on each of the salmon pieces.
Heat a large cast iron skillet on medium high. Let it get hot. Add the oil and let it heat.
Add the salmon slices, skin side up, into the skillet. Cover and cook for about three minutes.
Carefully flip the salmon to skin side down and cook on medium (covered) another three minutes.
Remove from heat. Flip salmon back to skin side up and remove the skin. It should easily peel off.
Cover the salmon. Meanwhile, prepare your plates for serving. Put equal amounts of fresh spinach on each plate. Add a piece of salmon to each plate.
In a small bowl, combine the mustard and honey and blend well. Slather equal amounts of this mixture on the salmon.
Top with equal amounts of capers and chopped walnuts. Serve immediately!
https://allyskitchen.com/honey-mustard-salmon-and-walnuts/
©ally's kitchen intellectual property