south african spiced salmon eggs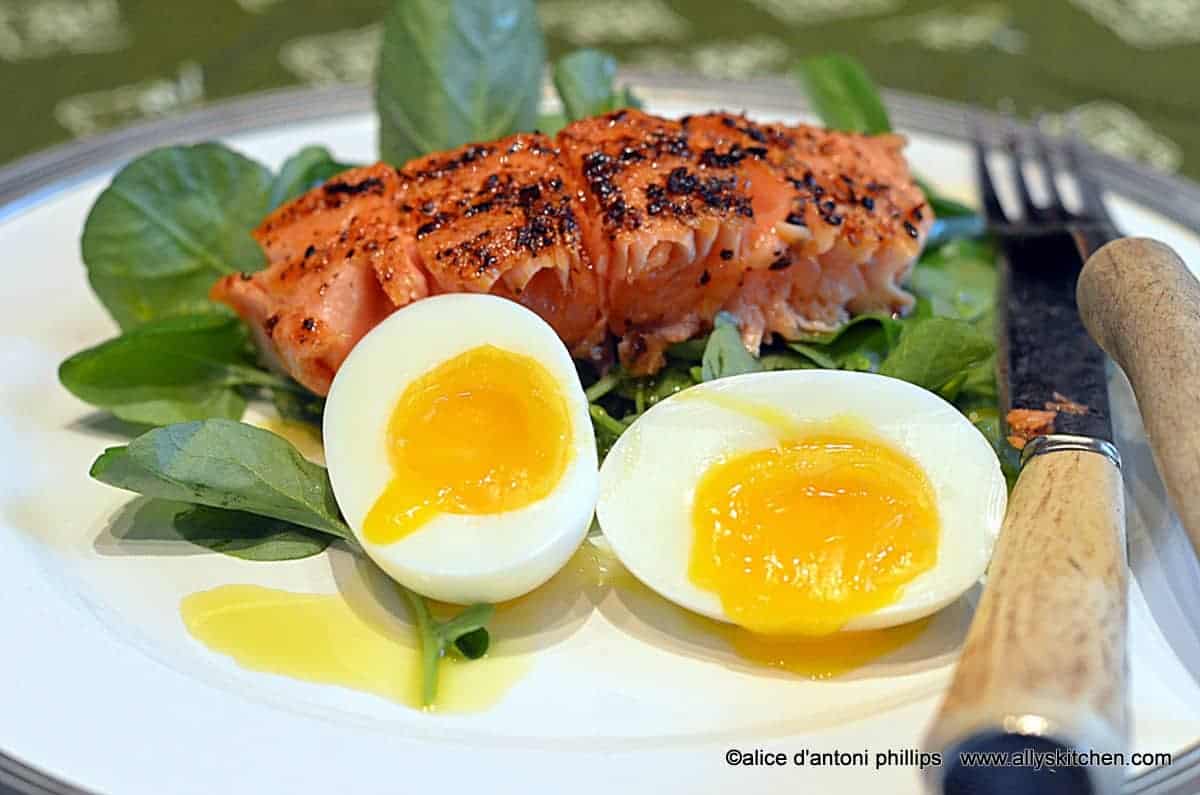 Salmon
South African spiced salmon and eggs are the weekend perfect breakfast or brunch. You'll feel like you're at a chic cafe eating something simply divine!
Salmon and eggs are a fun way to create a gourmet breakfast, lunch, brunch or dinner. This south african spiced salmon has a slight kick with lots of added flavor.
Blackened Salmon Recipe
You know what 'blackened' seafood is probably. It's a spicy mixture that gives the fish, shrimp, and, yes, salmon a real kick. You can use a variety of spice mixtures to get this blackening that you want.
My Princess Sous Chef, Rosemary,who assisted me at the World Food Championships sent me this unique spice blend from Trader Joe's. South African Smoke Seasoning. And, it's got that blckened flavoring spice mixture that I wanted for this salmon. Now I'm sure you could find it online, but I've also decided that you can make it, and the mixture of spices is right here for you! This salmon was beyond fabulous in taste.
The smokey scent of the spice came through and there's just a hint of heat. Nothing drastic. Salmon's a healthy and easy fix for any meal. From start to finish, this dish may take you 15 minutes to prepare! Adding the global flair to the salmon just makes the monotony out of breakfast. You've opted for something more exotic and enticing. Yes, you might even think you're on an African safari!
But you don't need to buy your South African spice mixture for this recipe. Just make it according to my instructions.
Salmon Nutrients
Salmon is one of those really healthy foods that we all should be eating at least weekly. Just in case you don't know why, here's a synopsis of eleven impressive health benefits from Healthline:
Rich in Omega-3 Fatty Acids. Salmon is one of the best sources of the long-chain omega-3 fatty acids EPA and DHA.
Great Source of Protein
High in B Vitamins
Good Source of Potassium
Loaded With Selenium
Contains the Antioxidant Astaxanthin
May Reduce the Risk of Heart Disease
May Benefit Weight Control
Salmon Recipes
Lots of salmon recipes give us options for cooking this delicious seafood. And, you don't need to do much to the salmon to make it even more scrumptious. You want to make sure your salmon recipe lets the salmon be centerpiece flavor. And, no recipe does this better than this South African salmon with eggs. Of course, you can look at many of my other salmon recipes. Honestly, all are quite different yet simple and easy!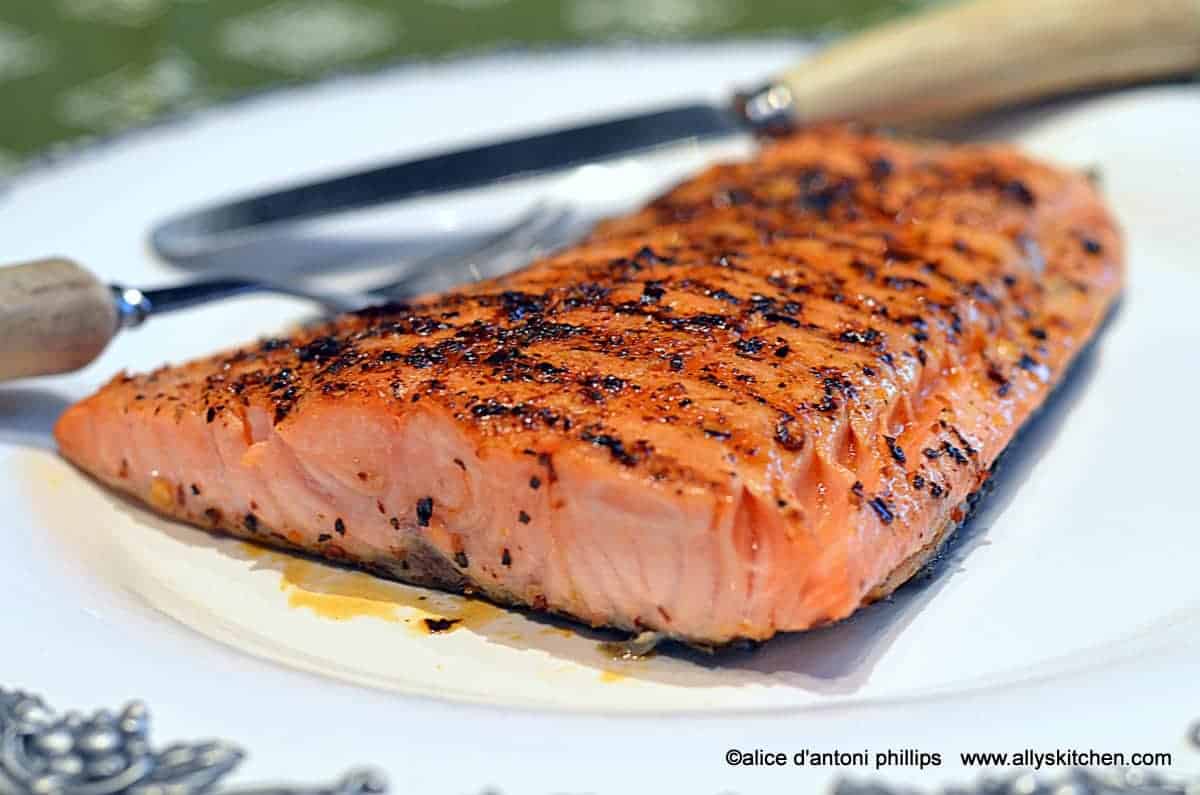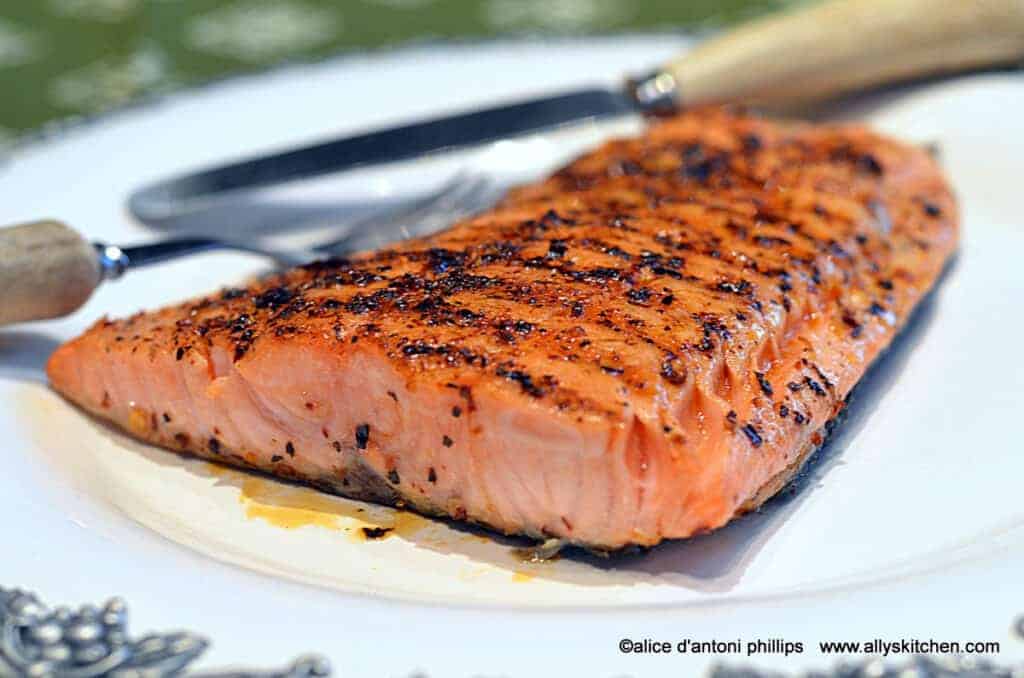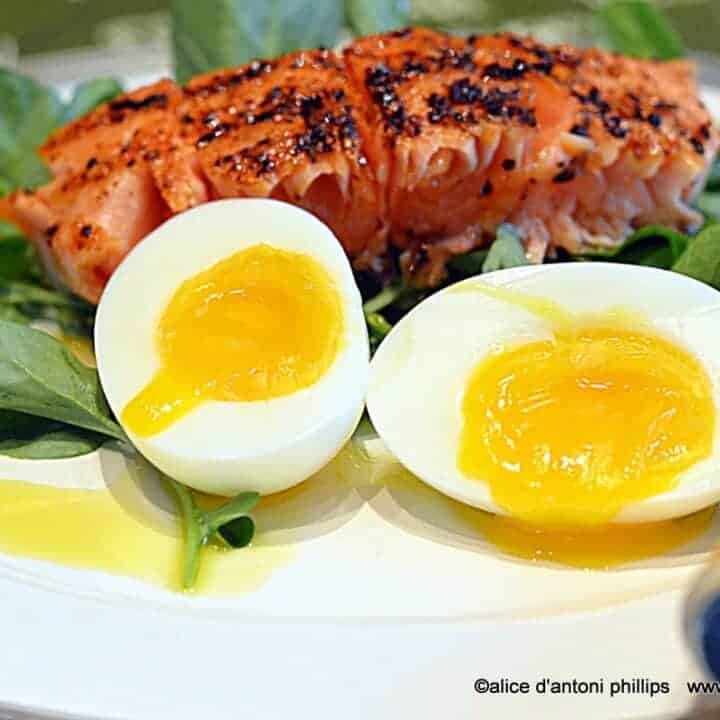 south african spiced salmon eggs
South African spiced salmon and eggs are the weekend perfect breakfast or brunch. You'll feel like you're at a chic cafe eating something simply divine!
Ingredients
Salmon filet, about 16 ounces or one pound
3 Tbl. coconut oil
1/2 tsp. salt
2 tsp. smoked paprika
1 tsp. garlic granules
1 tsp. dried basil
1/4 tsp. cayenne
2 to 4 soft boiled eggs, or finished to your desired yolk
4 cups baby greens, such as arugula, watercress, pea shoots, spinach
2 Tbl. olive oil
1 small lemon, juice
Instructions
In a small bowl, blend together the salt, smoked paprika, garlic, basil and cayenne.
Rub into the flesh of the meat side of the salmon. (If no skin on the bottom side of the filet, divide and rub and both sides.)
In a heavy cast iron skillet on medium high heat, put the coconut oil. Let it get hot.
Put the salmon in (meat side down) and pan sear for about 3 to 4 minutes. Flip to the other side, reduce the heat to medium and sear another about 3 minutes.
Remove from the heat. Cover with a lid and let it sit for 3 to 5 minutes.
Serve portions over a bed of greens drizzled with equal parts of olive oil and a spritz of lemon juice and the eggs. Spritz the salmon with some lemon juice before serving.