My Princess Sous Chef, Rosemary,who assisted me at the World Food Championships sent me this unique spice blend from Trader Joe's~~South African Smoke Seasoning~~now I'm sure you could find it online, but I've also decided that you can make it, and the mixture of spices is right here for you!  This salmon was beyond fabulous in taste…the smokey scent of the spice came through and there's just a hint of heat~~nothing drastic.  Salmon's a healthy and easy fix for any meal…from start to finish, this dish may take you 15 minutes to prepare!  Adding the global flair to the salmon just makes the hummdrummm breakfast more exotic and enticing~~you'll think  you're on an African safari!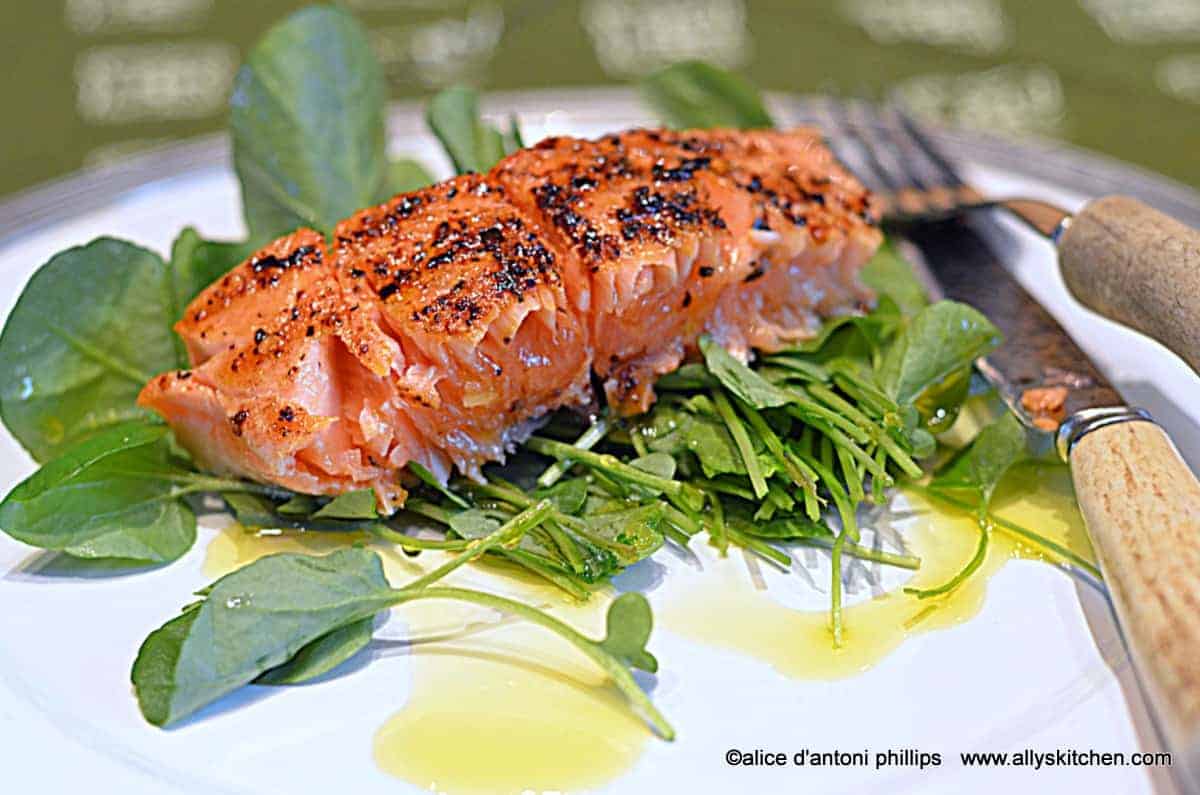 Serves: 2
What you need:
1 salmon filet (about 10-12 ounces and about 1 1/2″ to 2″ thick in the middle)
1/2 tsp sea salt
1 1/2 tbl South African Seasoning Blend (Note:  Trader Joe's sells this spice blend or you can make it by combining 1 tbl garlic granuales, 1 tbl dried basil, 1 tsp sea salt, 2  tsp smoked paprika, 1/2 tsp red chili flakes)
Canola cooking spray
2 eggs soft boiled (watch this video to learn how~~How to Boil an Egg)
3 cups fresh watercress
1/4 cup olive oil
Sea Salt & Pepper to taste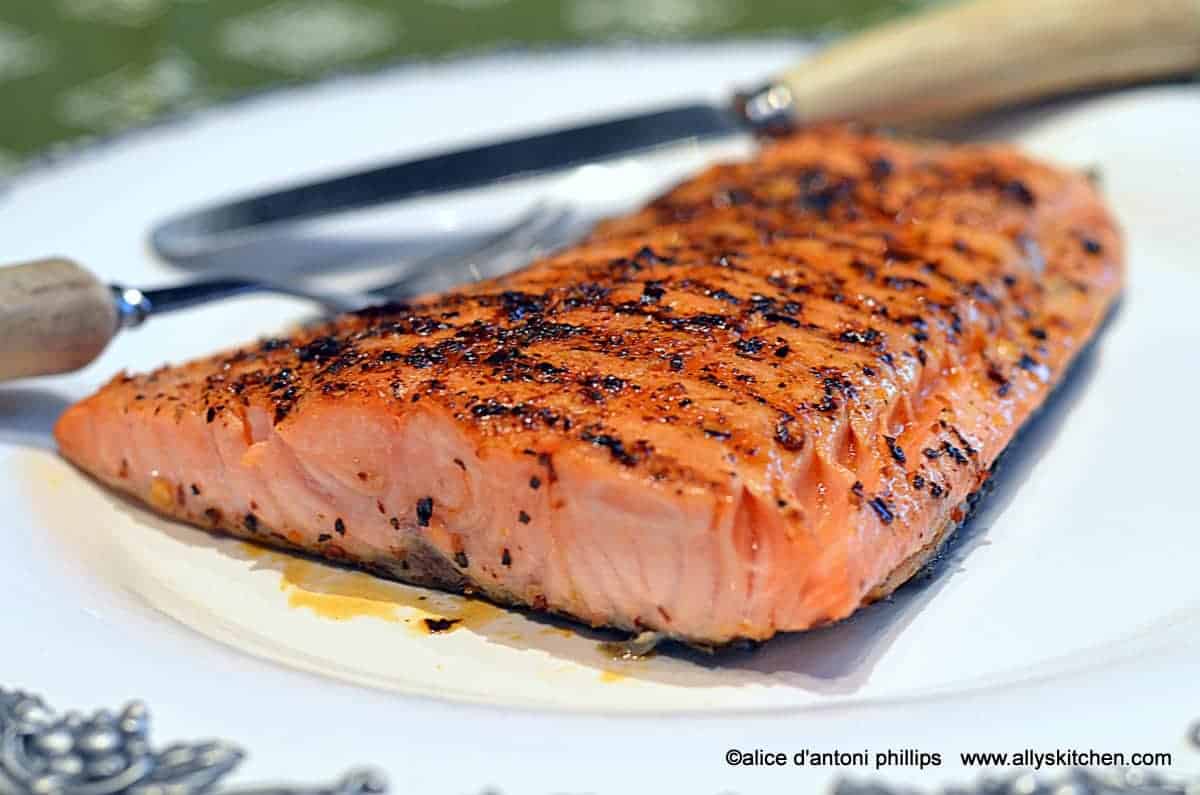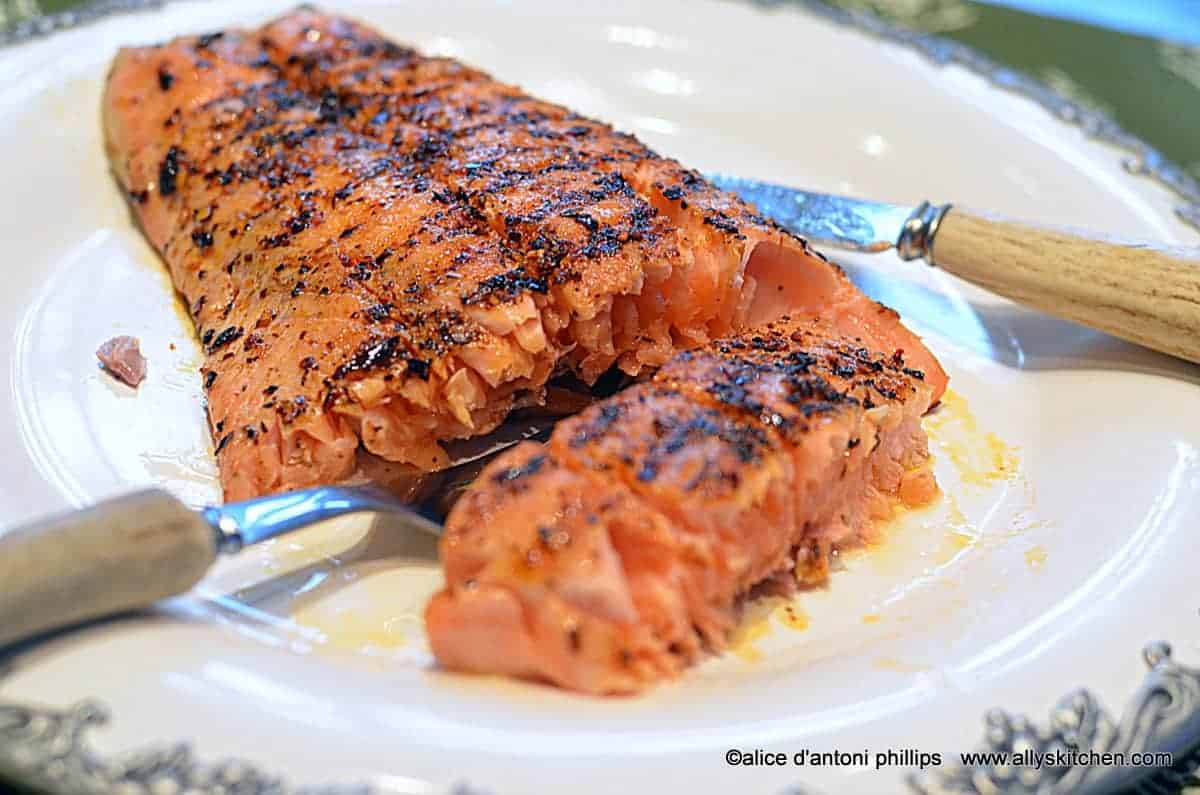 What you do:
On medium high heat, coat a cast iron skillet with cooking spray.  Sprinkle the sea salt and South African spice blend on the salmon filet.
Coat with cooking spray then press in the spices/salt with the palm of your hand.  When the skillet is hot, put the salmon in skin side up.
Cover with a lid and let it cook about 3-4 minutes.  Flip to the skin side down., reduce heat to medium, cover with the lid and cook another about 3-5 minutes.  The center of the salmon will be moist and translucent.   (If you prefer it more done, cook a little longer.)
Put equal amounts of watercress on each plate.  Drizzle with some of the olive oil, salt and pepper.  Place the salmon piece atop the watercress.  Slice the soft boiled egg in half on the plate.  Serve and eat!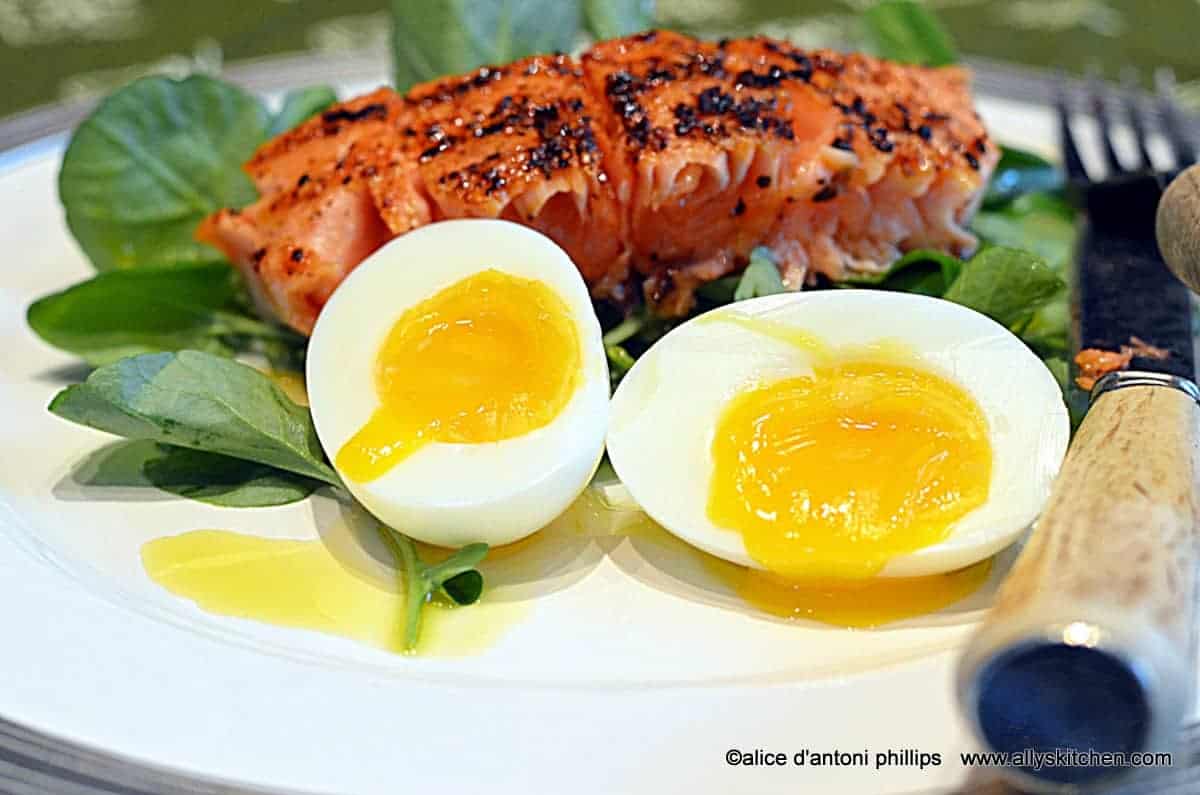 ©alice d'antoni phillips   www.allyskitchen.com