Easy Homemade Noodle Bowls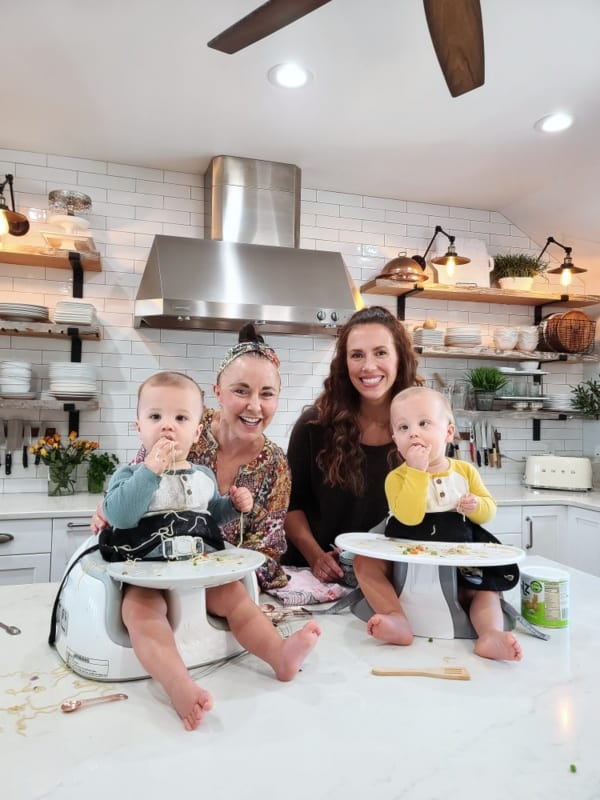 Babies and grownups love these easy homemade noodle bowls! Full of veggies and lots of Asian flavors and the creaminess of coconut milk!
Easy Rice Noodle Bowls
Noodle bowls are the rage. When we were in China, noodle bowls were our breakfast, lunch and dinner. And, oh, my, the many types of noodle bowls!
Buddha Noodles
These bowls of delicious noodles, which can be ramen noodles or rice noodles, come with an array of vegetables and meats if you prefer.
Best Noodles
I'm not sure which noodles I love more. Ramen or rice noodles. But here are a few of my favorites for that you might check out and order.
Baby Buddha Noodle Bowl
When I serve Asian dishes or any ethnic dish for that matter, I love to pull together as much of the experience as I can. And, that means, serving in dishes that are representative of the cuisine. It's something that simple adds another dimension to the dining experience. And, here are some of my favorite bowls. Remember, you can use these for other things, too!
Buddha Noodles Recipe
Noodles are definitely comfort food in my book. I suppose that's why I love creating recipes with them.
This easy Thai Red Curry Shrimp Noodles has a subtly sweet coconut sauce that just complements the vegetables and shrimp!
The Noodle Bowl
This noodle bowl is basically three parts. Veggies. Seasoning. Noodles.
It all comes together in no time at all. That's one of the great things about serving noodle bowls. And, you'd better be ready to eat when the noodles are ready!
Noodle Bowls
Any combination of veggies can be used in this recipe.
That's another plus about it. You can clean out your vegetable drawer and make it all work effortlessly.
Vegetarian Noodle Bowl Recipe
While this recipe is vegetarian, you can add a protein if you want.
My choices would be some type of seafood or chicken.
Ramen Noodle Bowl
Sometimes the mention of ramen noodles brings up thoughts of unhealthy. And, there's truth to that. But, if you're using plain ramen noodles, which are fabulous, without the seasoning packets, which sometimes can be full of salt and other ingredients that aren't so healthy. My Asian Chicken and Ramen Noodles is proof of this!
Noodle Soup Bowl
So many kinds and types of noodles. And, every culture's cuisine seems to have noodles, whether it's pasta or noodles.
Thank goodness because noodles or pasta differences tend to go with different types of sauces better than others. For instance, angel hair pasta, which is thin, tends to work better with an oil-based sauce. Then the thicker noodles or pasta tend to hold thicker, heavier sauces better.
Chicken Noodle Bowl
Making this recipe a chicken noodle bowl is as simple as adding chicken.
Here's what I'd do. Use either of these recipes for chicken tenders! Sheet Pan Mango Habanero Chicken or Skinny Girl Sheetpan Creole Chicken
Toddler Noodle Recipe
Of course, this recipe is perfect for toddlers, too. Ingredients are healthy. There's nothing too spicy. If you want more spice then you can add.
And, make sure the vegetables and small diced and soft and tender. For those little ones with not too many teeth, it helps!
Baby Noodles Recipe
What baby doesn't love soft noodles, especially if these noodles are in a creamy sauce.
That's another great thing about this recipe. Just use the sauce combination and put the noodles in the sauce. You don't even need to add the vegetables if you don't want to.
Kid Friendly Noodles Recipe
Kids love pasta and noodles. Most kids' menus at restaurants have at least one noodle choice, usually mac and cheese. And, my granddaughter, Emeline, makes one mean Mac and Cheese and Peas that you must try!
Kids Noodles
So what's the difference between noodles and pasta. Well, according to Spruce Eats, not much!
Asian wheat noodles are generally made with wheat flour and egg, just like Italian pasta. One key difference, however, is that—while Italian pasta is made by rolling and then slicing the dough—many forms of Asian egg noodles are made by pulling and stretching the noodles.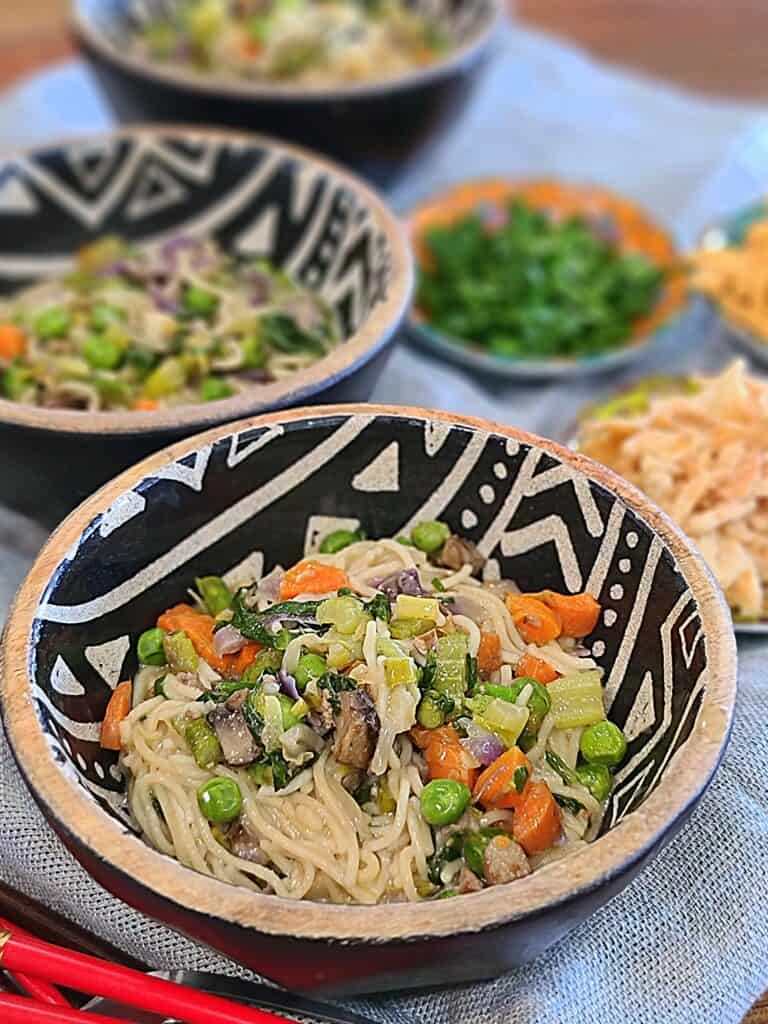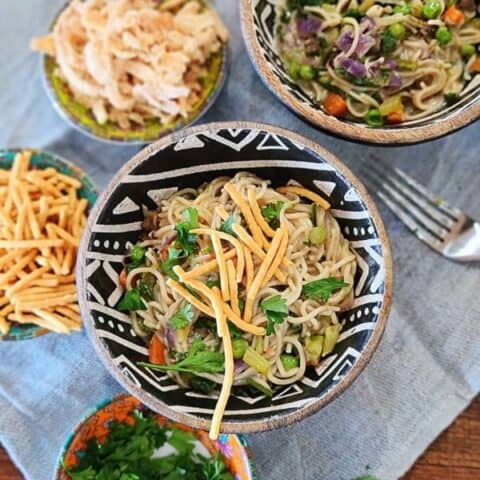 Easy Homemade Noodle Bowls
Ingredients
2 Tbl. Garlic, minced
4 Tbl. Toasted sesame oil
VEGGIES:
1 cup purple cabbage, fine chop
1 cup celery, sliced
1 cup carrots, small dice
4-5 asparagus stalks, cut into small pieces
1 cup fresh spinach, chopped, packed
½ cup baby bella mushrooms, small dice
½ cup fresh bean sprouts, chopped
1 cup peas, previously frozen
SEASONING:
2 Tbl. Nutritional yeast
3 Tbl. Organic coco aminos
3 Tbl. Fish sauce
3 Tbl. Ginger, freshly grated
LIQUID:
32 oz. chicken stock
1 can (13. 6 oz.) coconut milk
NOODLES:
12 oz. rice ramen noodles
OPTIONAL:
1 cup chicken livers/gizzards, cooked and finely mashed and minced
Instructions
In a large skillet (10"+ with lid) over medium heat, add the oil and garlic. Sauté about two to three minutes.

Add the vegetables. Stir and cook about 5 minutes then add the seasonings, nutritional yeast, coco aminos, fish sauce and ginger. Optional: Add mashed livers/gizzards. Blend well.

Add the chicken stock and stir. Add the coconut milk and stir. Add the noodles and submerge them into the liquid. Cover for a few minutes. Then when noodles begin to soften, gently pull them apart with two large forks.

Reduce heat to low. Cover skillet with tender noodles. Let the mixture cook about 7-10 minutes.
Ready to serve!
Notes
Precook the cabbage, carrots and celery (separate bowls and covered) in the microwave on high for about 90 seconds/each. This will soften them prior to putting them in the recipe.