sriracha steak bites and pasta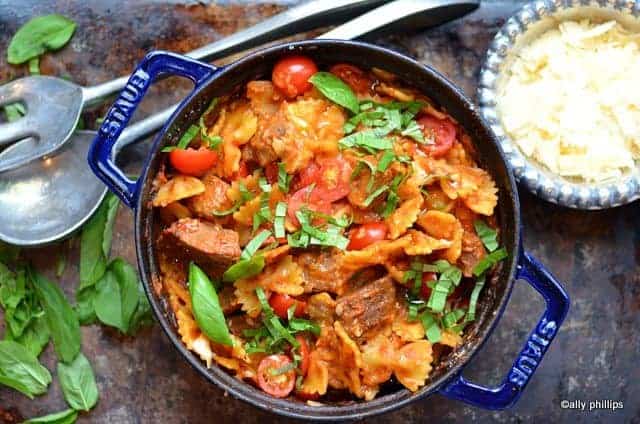 Yes, this sriracha steak bites and pasta is a one-pot wonder recipe that will do a disappearing act real fast. Now if it doesn't, it's also one of those dishes that gets better the next day. If you have leftovers, then you're gonna be dancing and twirling! Just check my littl' love not to you in the recipe!
Cooked in a hot oven, the steak bites that have marinaded in a wonderful mixture then bathe in the glory of a natural and healthy Dole Garden Soup that's pure and simple ingredients with no preservatives. These 5 varieties of soups are versatile because they can be used in so many dishes from stews and soups to pot roasts and pizza.
You'll want to get my cookbook, Ally's Kitchen~A Passport for Adventurous Palates (on Amazon and B&N online) because I have quite a few recipes using not only the garden soups but other DPF products!
This recipe is all my zany brain creation (as well as my opinions): it is sponsored by DPF. For a complete disclosure, click here.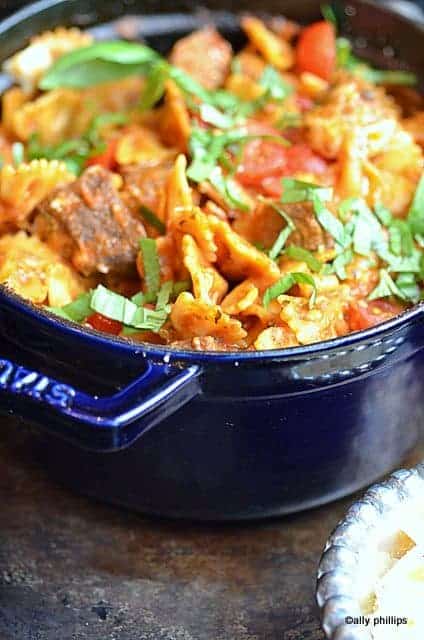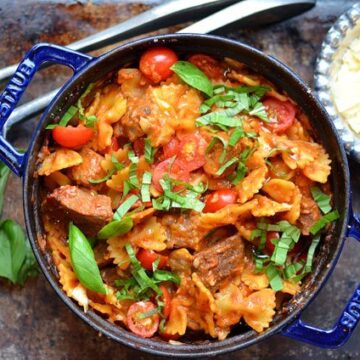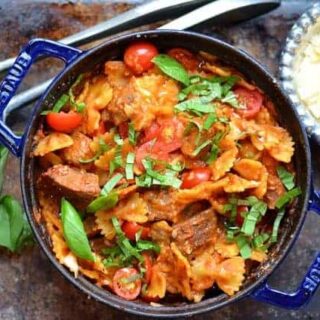 sriracha steak bites and pasta
Ingredients
Preheat oven to 400
!
!
1 ¼ lbs. tender beef cut, ribeye or NYstrip, cut into about 1-2" bite size pieces
1 tsp. sea salt
2 tsp. Italian seasoning mixture
3 tsp. sriracha
1/3 cup Worcestershire sauce
1 box (26 oz.) Dole Tomato Basil Garden Soup
2 cups water (divided)
2 cups bow tie pasta
¾ cup parmesan reggiano, grated
1 cup cherry tomatoes, sliced in halves
½ cup fresh basil, chopped
Instructions
Put the beef bites in a mixing bowl. Combine in another small bowl the salt, Italian seasoning, sriracha and Worcestershire. Drizzle on the meat, toss and blend. Cover and refrigerate for about an hour or more.
!
!
Put the meat in a Dutch pot (be sure to add all the remnants of the good marinade seasoning into the pot). Add the Dole soup and one cup of water. Cover tightly (I use double foil and a lid.) and cook in a preheated 400 oven for one hour. After an hour, add another cup of water, the pasta and blend together. Cover and return to the oven cooking another 25-30 minutes.
!
!
Remove from the oven and add the parmesan, tomatoes and blend in. Cover with the lid and let the beef/pasta rest on the stove top for about 15 minutes before tossing in the basil and serving. Now all you need to do is toss together a salad or maybe some green beans, broccoli?
!
!
Notes
With any leftovers, it becomes the most amazing breakfast dish. Just put in a cast iron skillet coated with cooking spray. Warm over low heat (cover with a lid). Then steam a few eggs on top~presto! You have a luscious breakfast treat!