grilled hamburger sriracha soup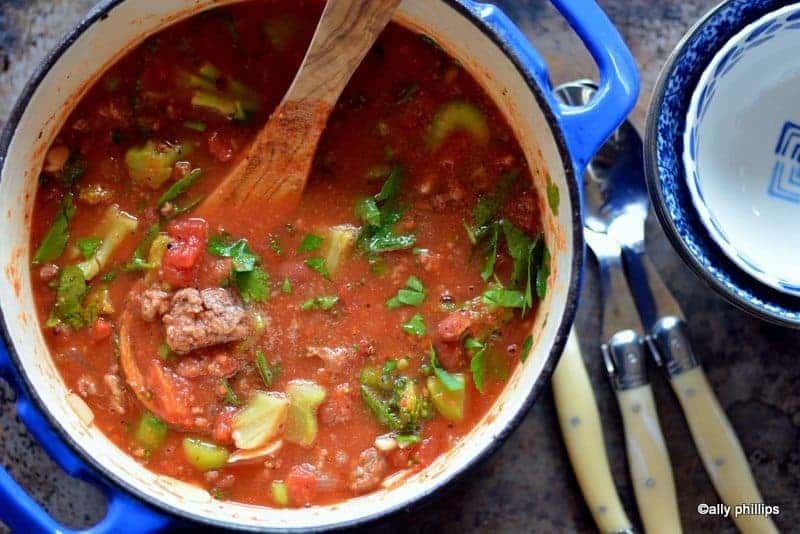 Hamburgers. Love them. Love them when they're cooked on an outdoor grill then put on a soft tender bun and topped with good ol' classic yellow mustard, pickles, lettuce and onions. Nothing fancy for me. Not even cheese. I don't know about you, but sometimes we have burgers leftover. So they're refrigerated. But, for me, never taste quite the same the next day. The magic is gone for me.
That's how this grilled hamburger sriracha soup was born. From a couple of lonely, yet perfectly grilled and tasty, burgers in my refrig!I also used basically leftover veggies I had, so you make the choice of what you want to add. Of course, all had been cooked, so I just threw it in. If you're doing new potatoes, carrots or other uncooked veggies, you can microwave to pre-cook or just let the soup cook a little longer once you put the veggies in. Some veggies I use in soups, I love to retain the crunch factor, like celery! If that's not your palate happiness, then cook longer to soften the celery.
Next time you're grilling hamburgers, throw in a few extra and have the next night's dinner ready to go in just a jiffy!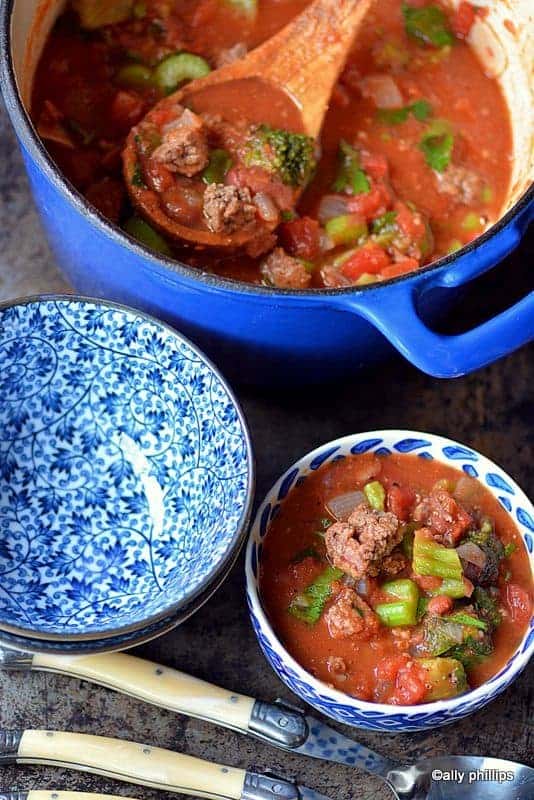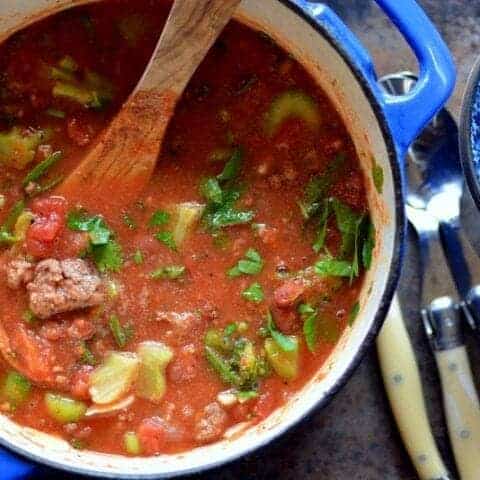 grilled hamburger sriracha soup
Ingredients
3 Tbl. Oil (I used bacon drippings.)
1-2 grilled hamburger patties, leftover, about 10 ounces, cut into bite size pieces
2 Tbl. Garlic, thin slices
½ cup sweet onions, diced
1 tsp. sriracha
½ tsp. sea salt
½ tsp. coarse ground pepper
1 ½ cups beef broth
½ cup beans (your choice, I used pinto.)
1 cup broccoli, previously steamed & in bite-size pieces
1 (10 oz.) Rotel mild diced tomatoes & green chiles + rinse out can with ¼ cup water
2/3 cup celery, sliced
½ cup fresh Italian parsley, loosely packed
Instructions
Put the oil in a Dutch oven pot over medium high heat. Add the hamburger, garlic and onions and sauté about 5 minutes stirring several times.
Add the sriracha, salt, pepper, beef broth, blend, cover with a lid and let it cook about 10 minutes.
Turn heat to medium. Add the beans, broccoli, and tomatoes and blend. Put lid on pot and cook about 20 minutes.
Turn heat to simmer. Add celery and let the soup simmer for about 15-20 minutes. Add the parsley right before serving.
Notes
Try topping a hot bowl of this soup with tortilla trips and grated cheese!