roasted baby peppers with cumin & cilantro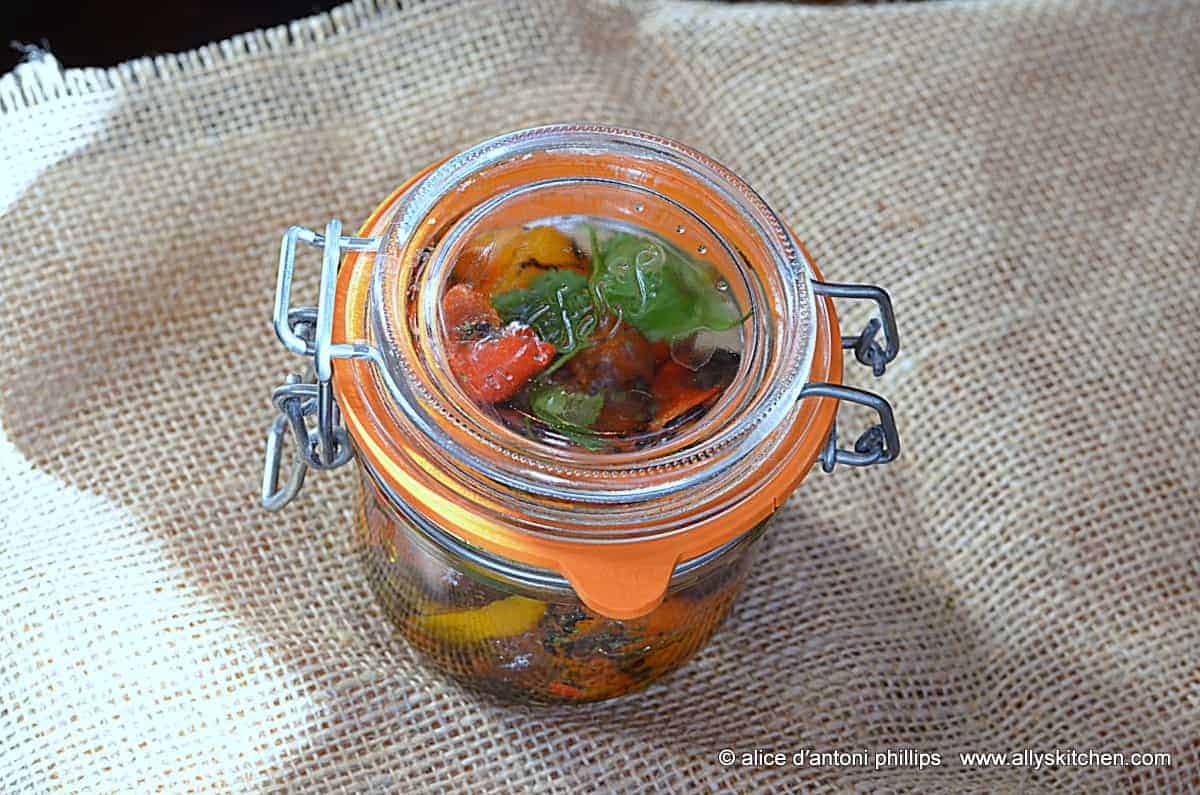 If you have a gas stove roasting peppers is just so easy and a great way to preserve peppers when they're in season.  And, if you don't have a gas stove, then you can use your outdoor gas grill!
Sometimes I use baby peppers, other times I use the big peppers~~either one, I love to mix colors.  Keeping roasted peppers in the refrigerator and on hand is great for so many things like sandwiches, salads, antipasto and more.  Another intriguing thing about this easy recipe is that you can mix up spices and herbs creating your own couture line of roasted peppers depending upon your palate and mood~~I mean go Asian, Middle Eastern or Italian~~it's all in how you combine your spices and herbs.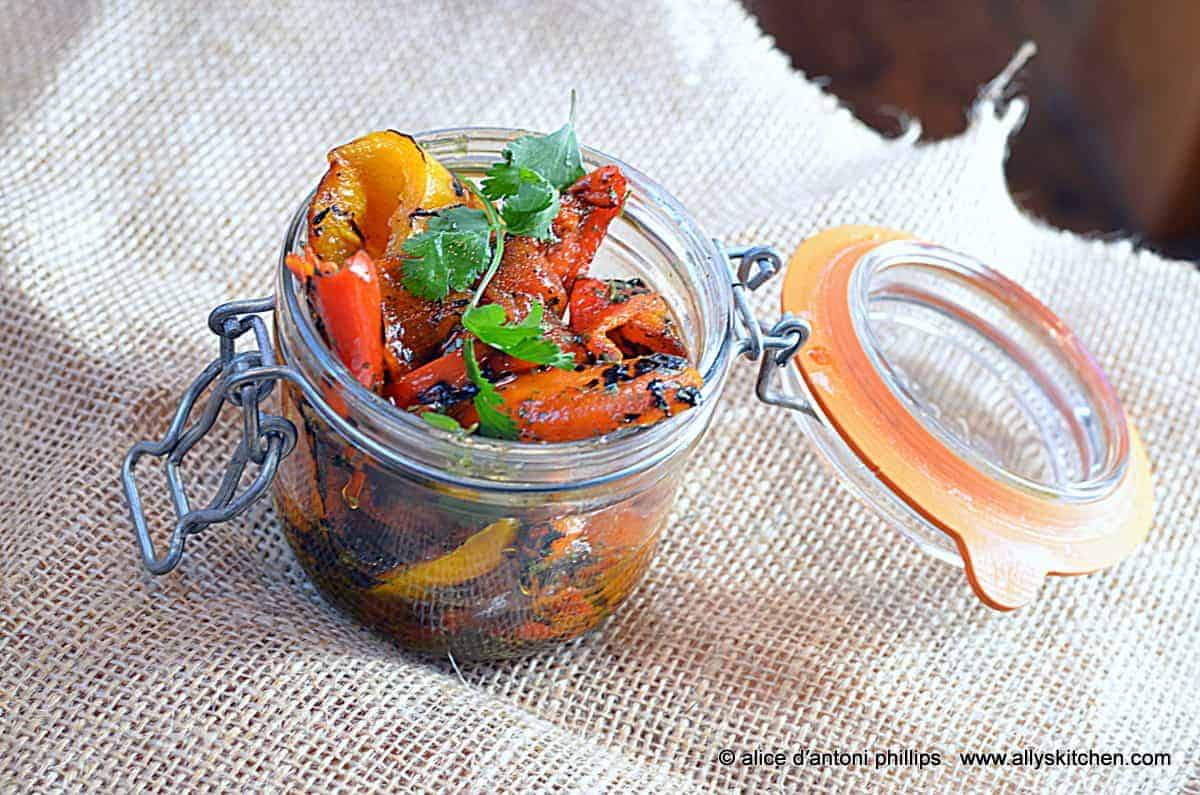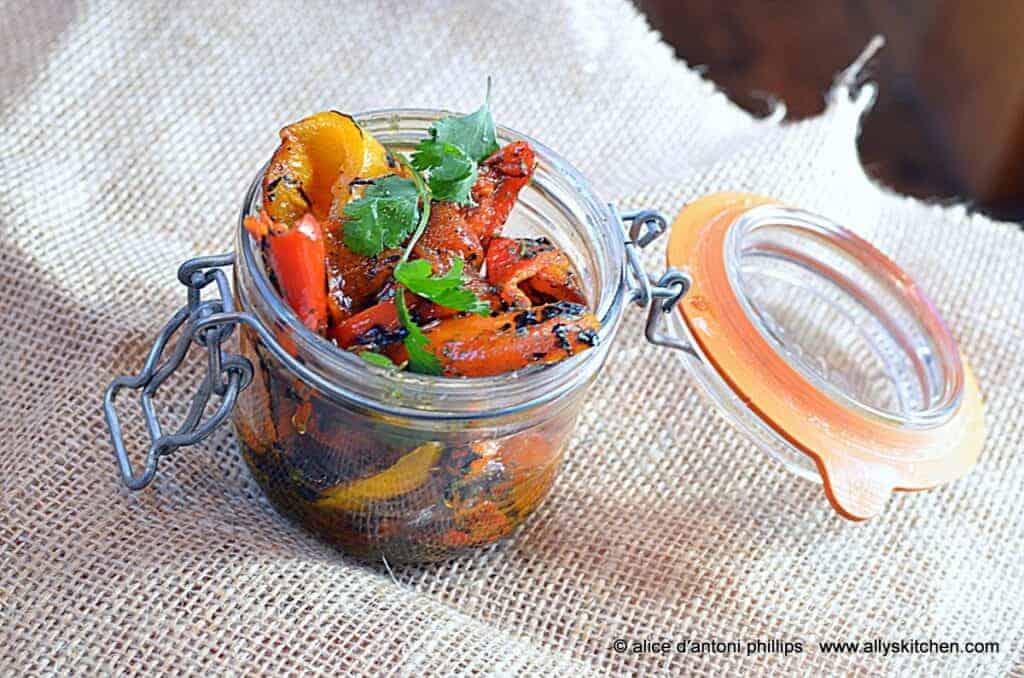 Makes: 1 full cup
What you need:
10-12 baby peppers washed, tops cut off and sliced in halves (or you can roast whole)
1/4 cup extra virgin olive oil
1/2 tsp cumin
1/2 tsp sea salt
1/4 tsp red chili flakes
1/2 tsp dried cilantro
3-4 sprigs of fresh cilantro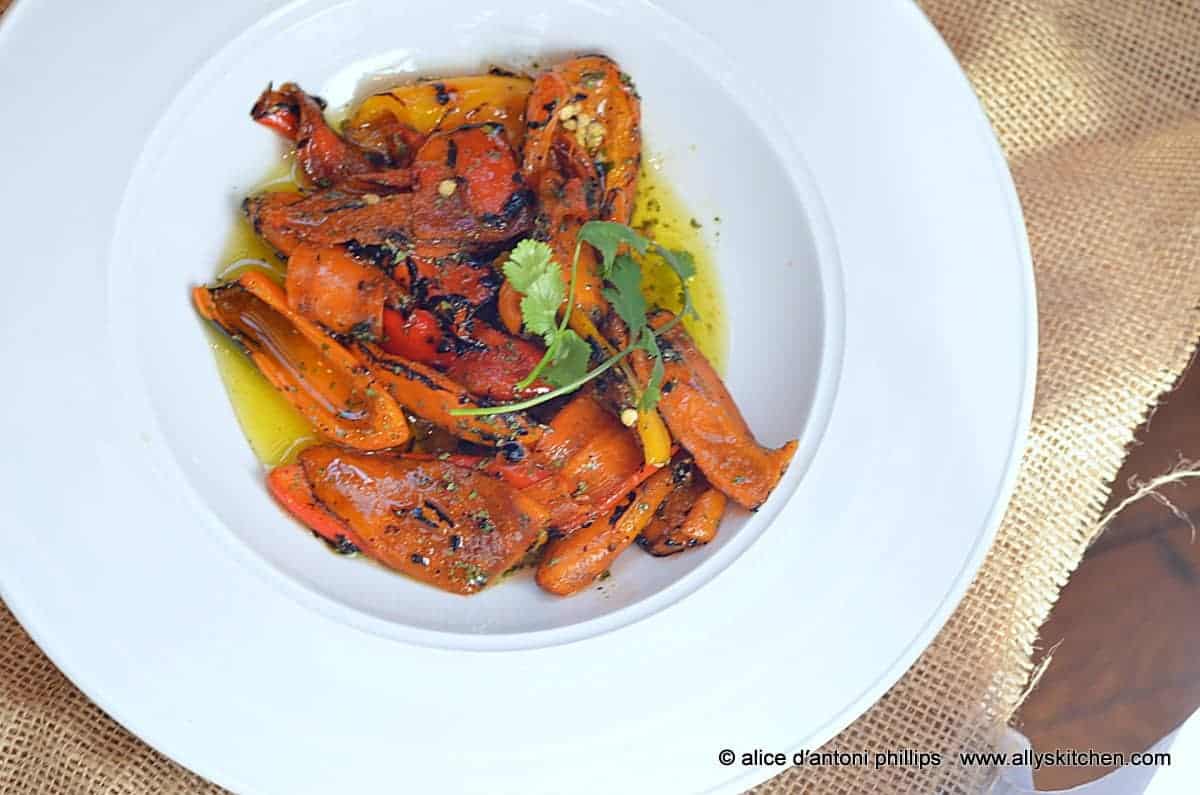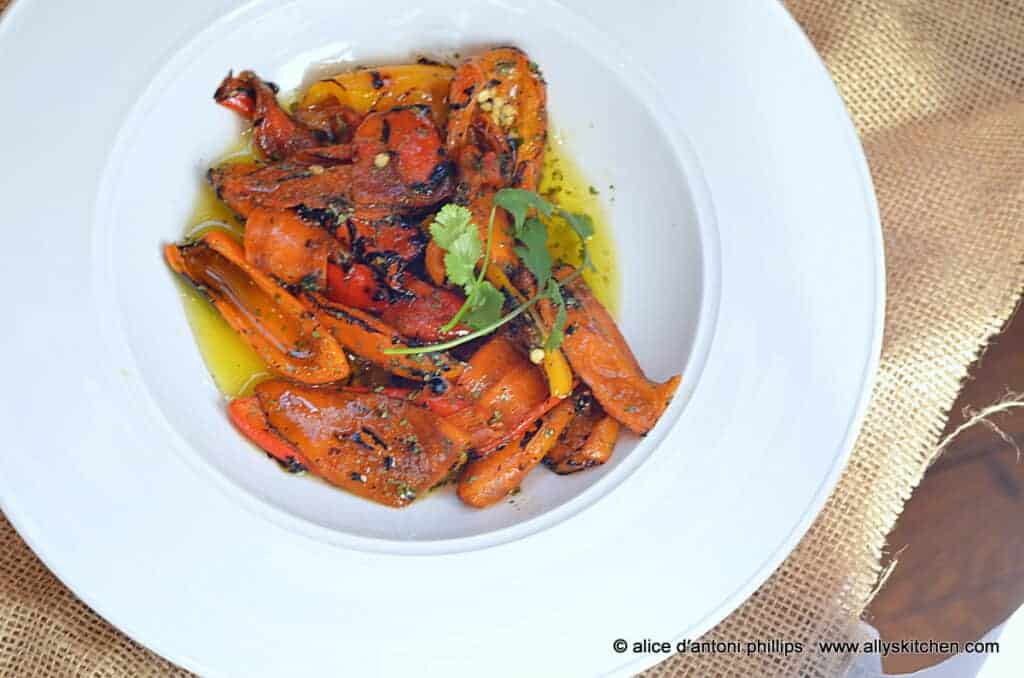 What you do:
Roast the peppers on an open gas flame rotating as the skin begins to bubble and burn.  When done to your satisfaction (how burned do you want them), remove to a bowl and cover w/a lid.  Let the peppers steam and sweat for an hour or more.  When cool, remove as much of the skin and charring as you like. Place in a small bowl.  I prefer some black charring on my roasted peppers. (Note: If you roasted whole, remove the stems and inside guts and most of the seeds and slice into your desired pieces.)
Combine the olive oil, cumin, salt, chili flakes and dried cilantro in a small bowl.  Drizzle this mixture on the roasted peppers, toss and blend.  Toss in the fresh cilantro.  Store the peppers in a glass container and refrigerate.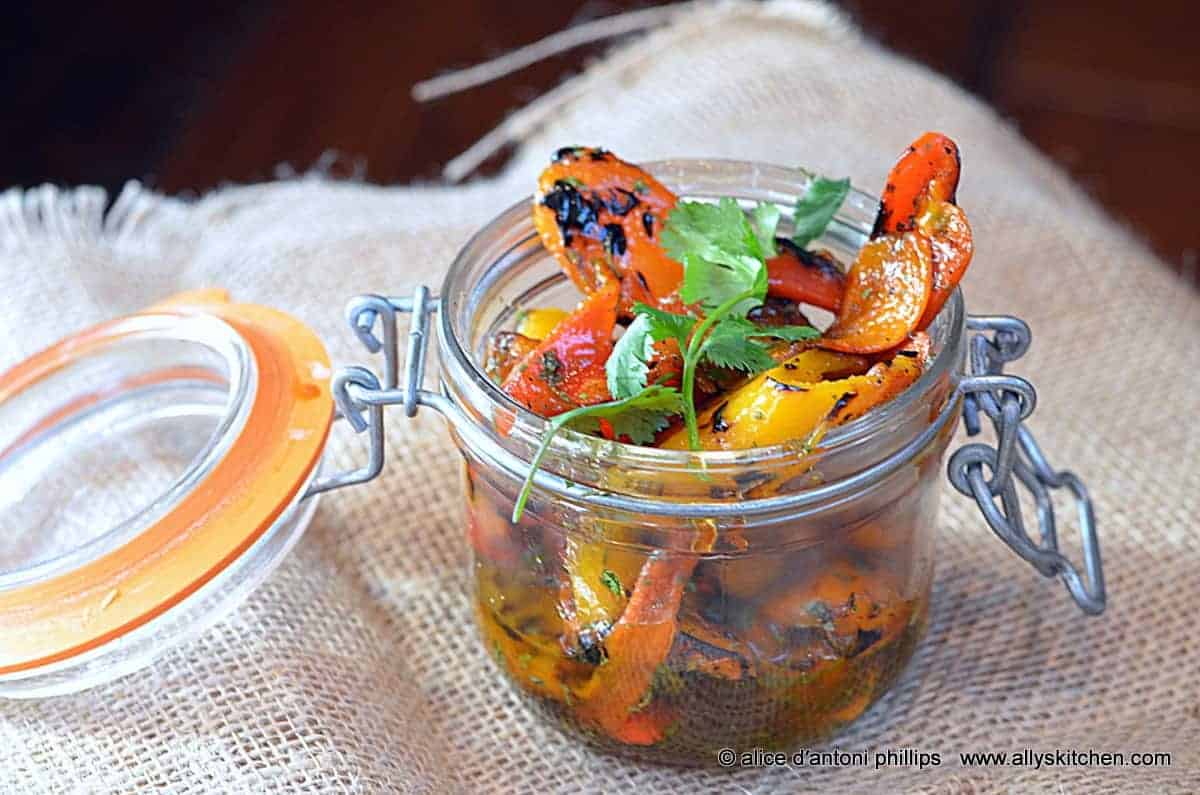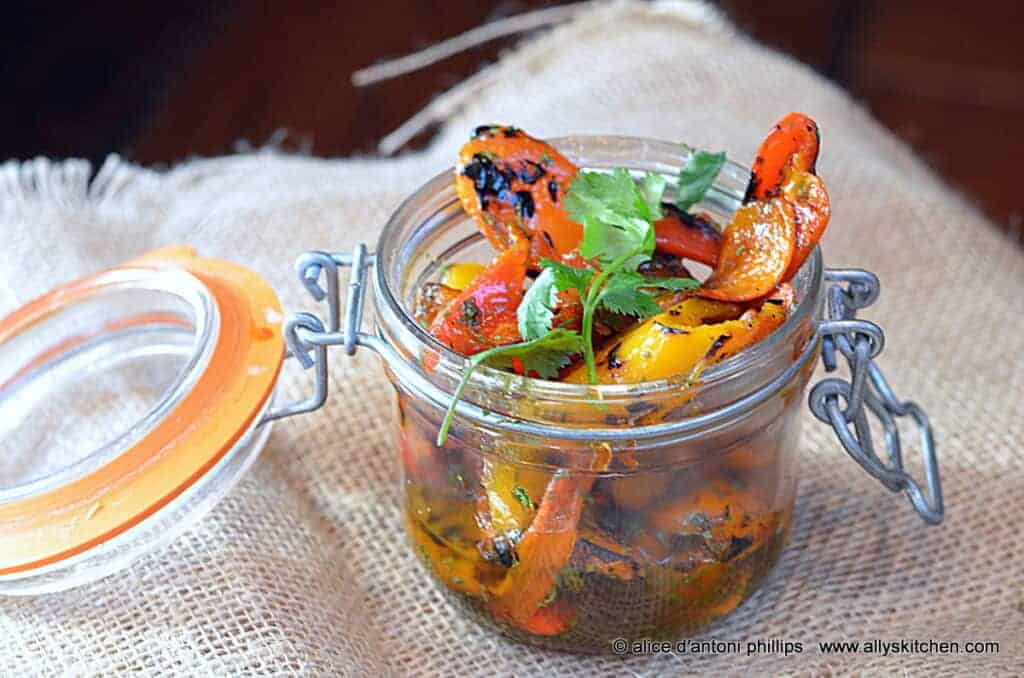 ©alice d'antoni phillips  www.allyskitchen.com