No doubt, chicken is one popular bird, and folks love different ways to serve up the clucker! When you 'spatchcock' a chicken you not only speed up the cooking of the bird, but you also have a might pretty presentation whether you serve from the skillet or put on a platter.
If you're intrigued about the word 'spatchcock' then just click here for some explanations. I know that this technique for cooking yields one juice boholicious bird that will be devoured. If you have leftovers, even if it's just the carcass and bones, throw them in a pot with some water and simmer for a couple of hours. Throw in any leftover juices, too. You'll have fabulous broth you can use as stock for soup! Nothing goes to waste!
The pineapples are compliments of my friends at Dole Packaged Foods~~for more on this~click here~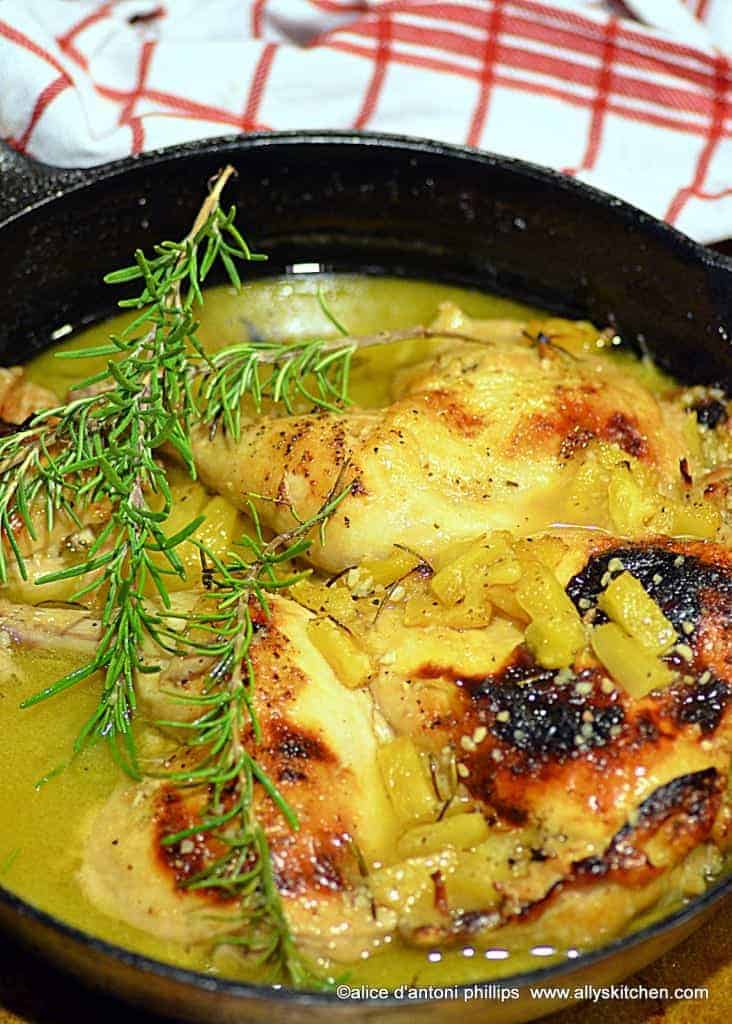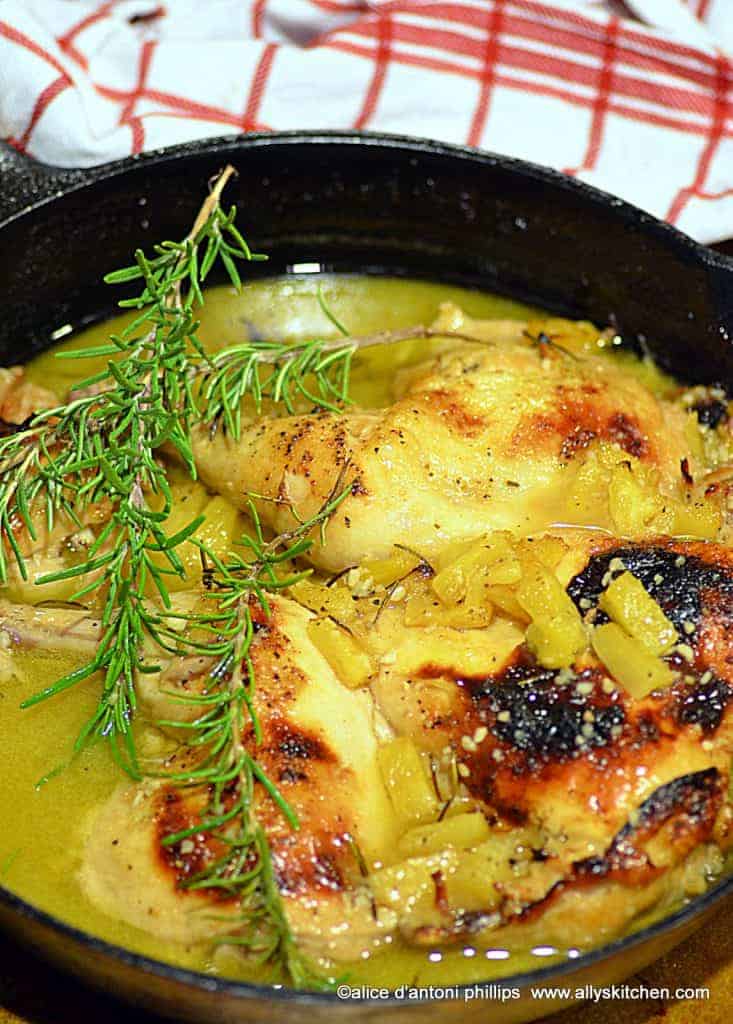 spatchcock pineapple rosemary chicken
Ingredients
Preheat oven to 425
Cooking spray
1 (3 lb.) whole organic chicken
4 Tbl. butter (cut into pieces)
2 Tbl. extra virgin olive oil
1 Tbl. lemon pepper
2 tsp. sea salt
1 cup white wine
2 cups chicken broth
1 cup Dole Sunshine pineapple tidbits, with about 1/2 cup juice
Instructions
Clean the chicken well. Flip over from the breast side and using a sharp knife and steady hand, slice down the spine of the chicken but not all the way through. Flip back over and press down to flatten and butterfly.
Coat a heavy cast iron 10-12" skillet with cooking spray. Place a couple of sprigs of rosemary in the skillet then the chicken on top of it. Place the butter pieces on the chicken (under the wings) then drizzle on the olive oil. Sprinkle with the lemon pepper and salt.
Pour the wine and chicken broth into the skillet, add the pineapple/juice and place the remaining rosemary on/around the chicken. Cover with a lid (securely) and put the skillet on a cookie sheet. Roast in a preheated 425 over for 50-60 minutes. Remove the lid, take a ladle and scoop broth on the chicken several times. Cook another 15-20 minutes uncovered to brown the chicken. Remove, take out the cooked rosemary sprigs, add two fresh ones and replace the lid. Let the chicken rest for about 15 minutes before serving.
As you can see, I put cooked jasmine rice right in the skillet as a side.
https://allyskitchen.com/spatchcock-pineapple-rosemary-chicken/
©ally's kitchen intellectual property