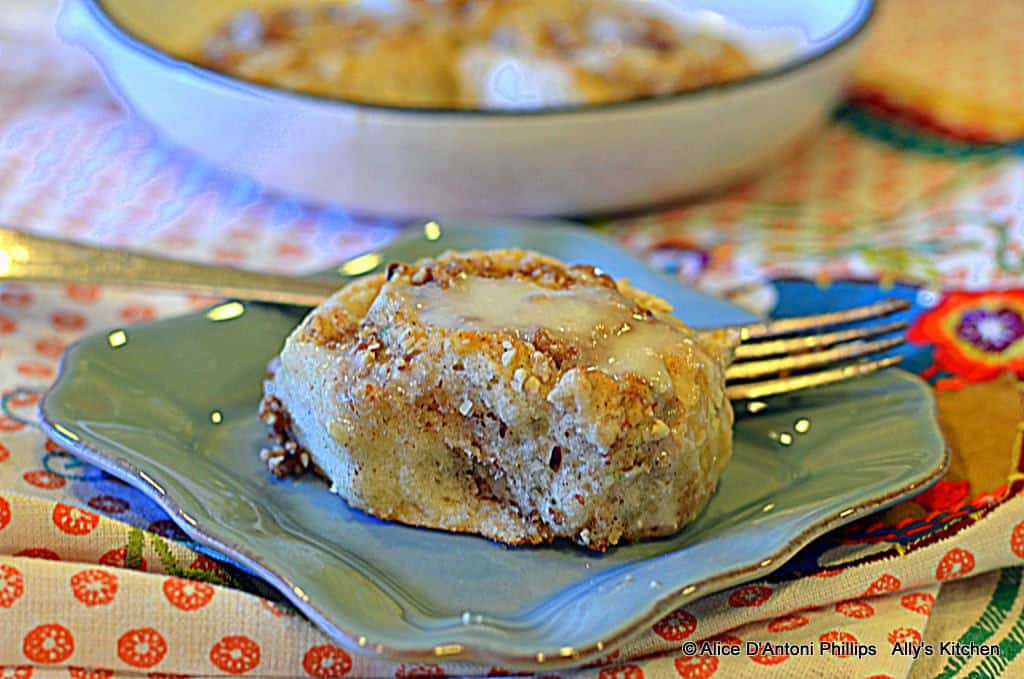 These are what I call 'hearty' cinnamon rolls…they're not like 'Cinnab0n' cinnamon rolls~~yeasty and soft.  These are like cowboy cinnamon biscuit rolls!  A texture that has some dense mass, some bite and chew…don't expect them 'melt in your mouth' like marshmallows~~you'll need to bite then chew the love and feel the explosion of flavors!  Baked in a cast iron skillet, they stay warm and cozy for a while after you pull them out of the oven.  Be sure to catch 'em while they're hot because that when all the luv oozes out!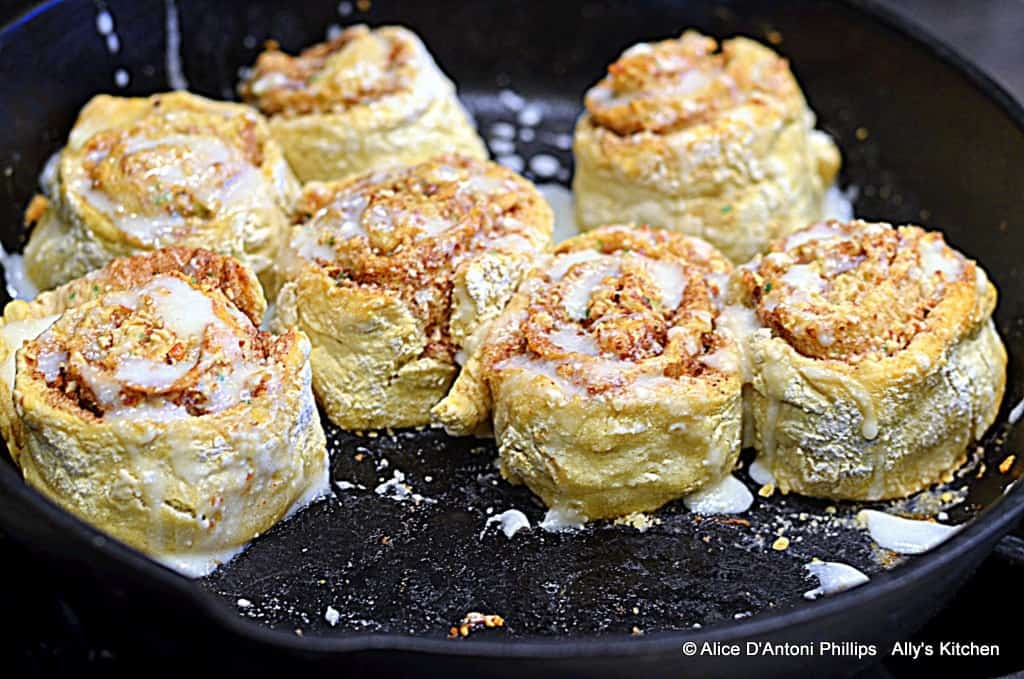 Preheat Oven:  350
Makes:  About 12
What you need:
4 cups self-rising flour (divided~~reserve 1 cup for rolling out dough)
1 ½ tsp sea salt
2 tsp baking powder
1 ¼ cups water
6 tbl melted butter
½ cup sugar + 2 tsp cinnamon=mix  (I used Saigon Cinnamon~~if you can find it, taste the difference!)
½ cup ground almonds (optional)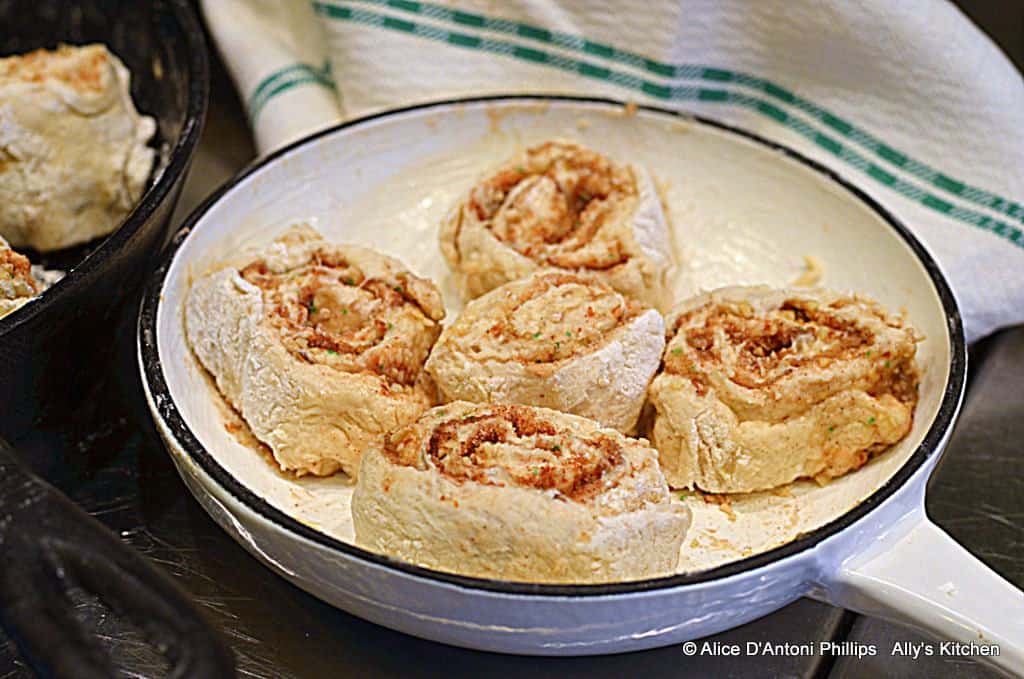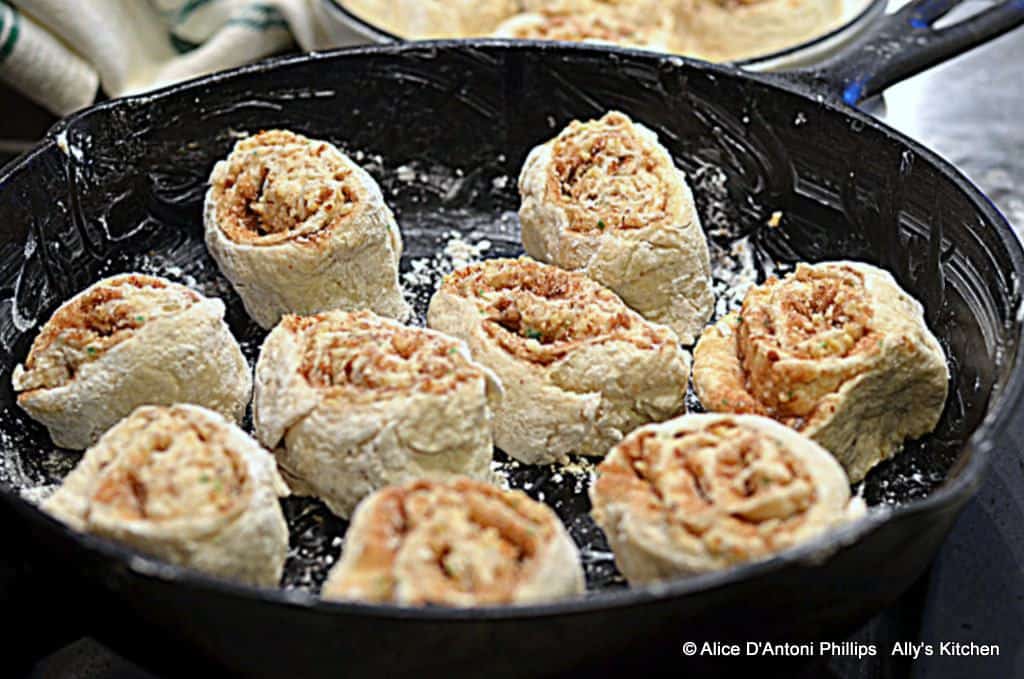 What you do:
In a large mixing bowl, combine 3 cups flour, salt and baking powder and mix with your hands.  Add the water and blend with a wooden spoon about 3 minutes until thick and gooey. Put about ½ cup flour on a clean surface.  Dump dough on it.  Sprinkle some of the remaining flour on top.  With the hands/heels of hands pat out the dough (making sure there's flour underneath) into a large circular-like (it will be irregular) shape—about 18" in diameter.  Keep working from the inside out and adding flour to the top as you need it.
Using a pastry brush (or your fingers) spread the melted butter on the dough out to the edges.  Sprinkle on the cinnamon sugar all around then the ground almonds.  Starting with one side roll into a long 'snake'—you may need to use a thin metal egg turner to push gently under the dough to release from the surface adding a little flour as needed for a clean release.
Cut into rounds about 1 ½" thick.  Place in a greased cast iron skillet leaving about 1/2'" between each.  Cover with a clean towel and let raise for about 30 minutes.  Bake in a preheated 350 degree oven for about 18-20 minutes.  Remove and let cool about 5 minutes.
You might dust with confectionary sugar, make a confectionary sugar drizzle a cream cheese icing—it's totally up to you!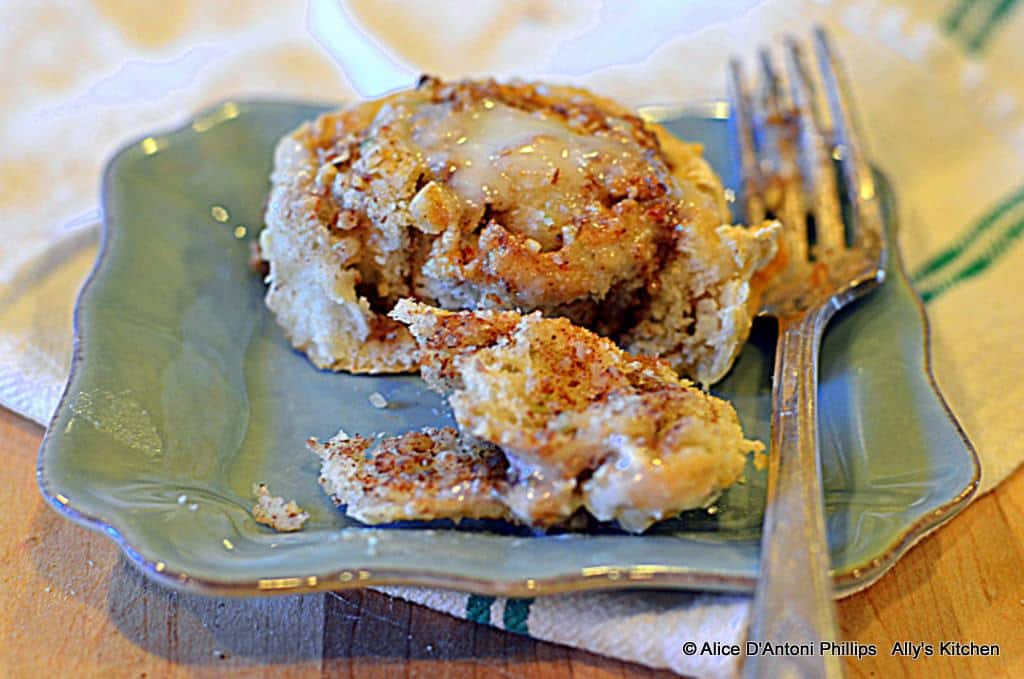 ©Alice D'Antoni Phillips    Ally's Kitchen