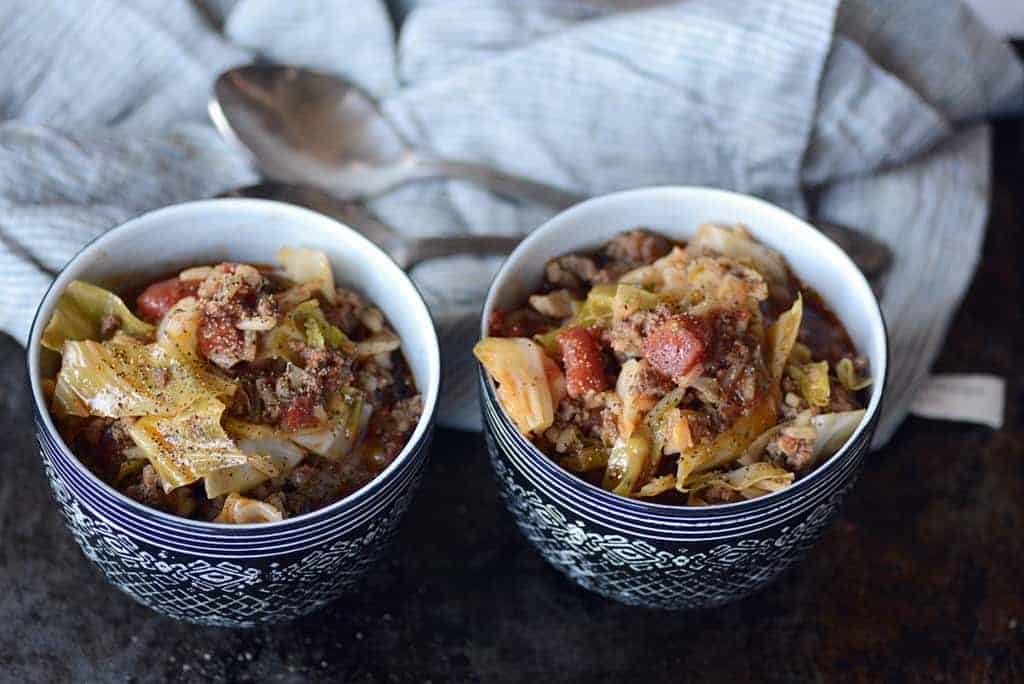 My Mom's Croatian cabbage rolls were to die for. Now I've taken parts of her recipe and made it into a belly-warming cabbage roll soup!
Old Fashioned Cabbage Soup
Aromas, scents and food are the most provocative memory stimulators for me.
When I go out very early in the morning on a warm summer day, the scent of dew, grass, leaves, and nature immediately evoke memories of being at camp as a kid.
Cabbage and Potato Soup
In the Fall, when I smell newly fallen leaves or hear the crunch as I walk over them, I think of the days back in West Virginia when we'd rake the yard and build a huge mound of dried leaves, then the prize for doing all this work? Jumping in them, rolling, crunching and squealing with joy!
Food also enhances and stimulates my memories of the past. And, this cabbage roll soup is one that makes my heart sing.
Cabbage Roll Soup Recipe
Mom used to make cabbage rolls, or Croatian sarma, all the time when I was growing up.
She'd make huge pots of cabbage rolls. And, we kids would eat on them for days. As we warmed the cabbage rolls, they'd sometimes just 'disintegrate' into a souplike mixture!
Easy Cabbage Roll Soup Recipe
I remember her steaming the large cabbage leaves in the stock pot, pulling them out, letting them cool, then meticulously rolling them, like precious gifts, and securing the cabbage roll with a toothpick.
Unstuffed Cabbage Soup
Oh, the scents and the aromas that would bombard the house, all about a thousand square feet of it, as we'd await a glorious meal!
Deconstructed Cabbage Roll Soup
This cabbage roll soup is a take off on Mom's cabbage rolls. I've really made it simple and easy by using prepackaged cooked rice.
This recipe's perfect for using leftover rice, too.
Easy Cabbage Roll Soup
I chose the long grain and wild to get more flavor, but there's a selection of types of pre-cooked rice from jasmine to brown to others.
Cabbage and Pork Soup
The Italian sausage adds more layers of flavor, and I chose the hot version.
Making the soup even more flavorful is the dried beefy onion soup; it's just a quick and simple way to ramp up the taste and cut down on some time in preparation.
Yugoslavian Stuffed Cabbage Rolls
This soup will keep for several days. And, it's perfect for freezing. Think about doing individual servings and taking to work for lunch.
Nothing like remembering your childhood and past with food. And, I'm delighted to bring this new version of Mom's cabbage rolls to you big stock pot!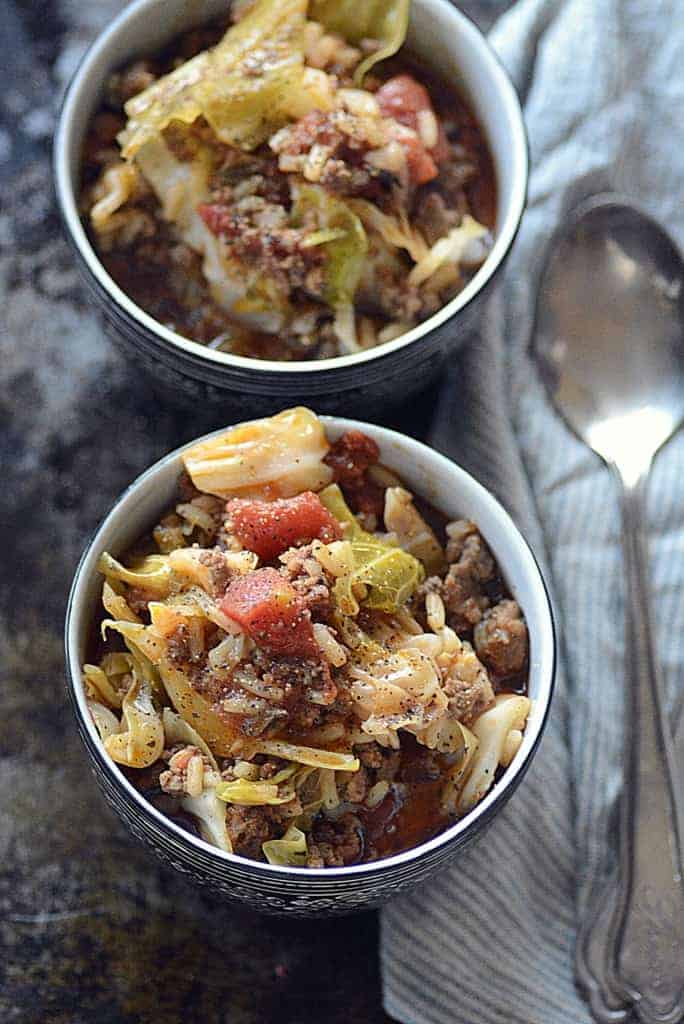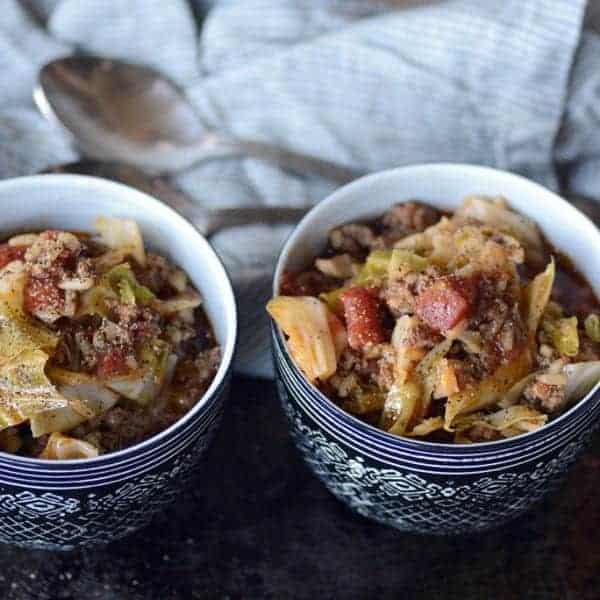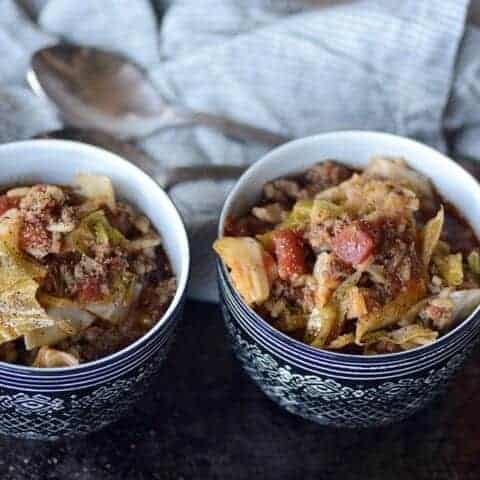 cabbage roll soup
Ingredients
¼ cup oil
1 lb. ground beef
½ lb. ground sausage, hot Italian (preferred)
1 ½ tsp. sea salt
1 ½ tsp. coarse ground pepper
½ tsp. red chili flakes
¼ cup concentrated tomato paste
2 Tbl. No-Salt Spice Mixture, i.e., Costco brand, Mrs. Dash brand
1 can (28 oz.) Italian diced tomatoes + one can filled with water
1 prepackaged rice (8.8 oz.), long grain and wild, or leftover rice works fine
5 cups cabbage, chopped
Instructions
In a large Dutch pot, put the oil. Turn heat to medium high. Add the beef and sausage and brown.
Add the salt, pepper, red chili flakes and tomato paste and blend in well. Reduce heat to medium, cook for about 5 minutes.
Add the tomatoes/water, blend into the meat well. Add the spice mixture Cover and cook for about 15 minutes.
Add the rice and cabbage. Cover the pot. Cook for 30 minutes. Stir once or twice. Ready to eat!
Notes
If you don't want to add pork, just increase the amount of beef or add another ground meat, lamb, turkey, chicken and some red chili flakes (about 1/2 teaspoon).

Add more water if needed. If you want more tomatoes, feel free to add more!