croatian nut roll povitica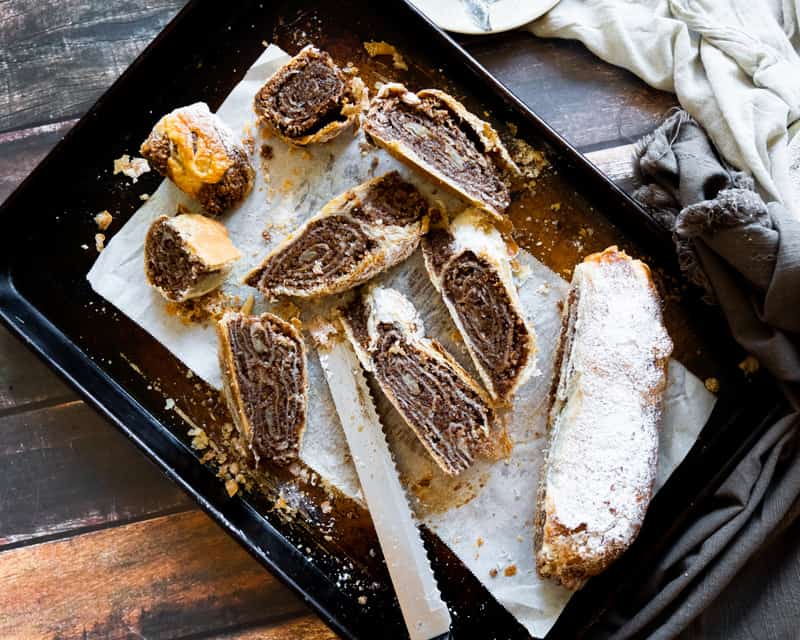 Growing up Mom spent all day making her exquisite croatian nut roll povitica. I've created an easy way for you to enjoy this ethnic delicacy!
Croatian Nut Roll
One of my favorite things to look forward to during the holiday season as a kid? My Mom's Croatian nut roll!
How to Pronounce Povitica
You can listen various pronunciations on YouTube. 'PO vuh teet zuh' 'PAW vit tah kuh' But, you can just call it a Croatian Nut Roll or Croatian Nut Bread!
Povitica Bread
Making this delicious traditional holiday bread can take all day. That is, it can take all day if you're doing it the old-fashioned way.
Croatian Bread
But, if you're making this Croatian bread using my short cut, yes, puff pastry, then you can have amazingly delicious loaves of povitica in no time at all. Make ahead of time and freeze!
Povitica Recipes
With any of the povitica recipes, adjust and modify to your tastes. If you want more of the classic cinnamon taste, then simply omit the cocoa and add more cinnamon. If you want to use almonds then you might swap vanilla extract for almond extract. If you want to sprinkle in raisins or dried cranberries (I think I'd chop them up finer.) then that's your choice. And, if shredded coconut is your love, like mine, then make it all about coconut!
Making Povitica
This is the way my Mom made povitica. It was an almost all day process. Oh, gosh, I remember that there was no stand mixer. No fancy equipment to make this recipe other than pure love and Mom's strong hands.
Walnut Povitica Recipe
Walnut povitica is classic. And, I love love this simplicity of just walnuts and maybe some cinnamon. Sometimes I'll trade cinnamon for all spice or even cardamom. If you haven't tried cardamom, used a lot in traditional Swedish pastries, then give it a try. Every loaf of povitica that you make becomes different.
Kolachi Roll
Mom called it kolachi roll. Maybe because she filled it with ground poppy seeds and sometimes fruit.
Kolachi or kolache are Czech pastries. You fill dough usually with fruit and sometimes cheese. It's very Eastern European. And, I've had this original delicacy, that's what I consider it to be, when visiting Croatian and Eastern European countries.
Recipe for Nut Rolls
My goal for this recipe is to make a recipe for nut rolls that's easy. A recipe that won't keep you in the kitchen all day because I know many of you just don't have that kind of time.
Povitica Recipes
Povitica recipes call for making the thinnest of delicate doughs. And, this is the foundation of this recipe. However, it takes a long time to do this. And, I'm not sure we all can devote that much time to creating this dough. I remember Mom having the entire kitchen table top covered with flour and the dough and her constant rolling and stretching of this dough to make it paper thin. Hopefully, my technique will make you want to make this recipe without all the time required.
Puff Pastry Nut Roll Recipe
Puff pastry is a perfect alternative for the homemade dough. It's readily available. It can be gently and delicately rolled to a much thinner version and larger size. And, I know that when baked you have thin layers of the crispy dough. Probably more crispy than making your dough, but, nonetheless the layers of the delicious filling rolled in the dough.
Povitica Bread
Pronounced 'po-vuh-teet-zuh', this Croatian bread or nut roll can be filled with any kind of ground nut and spices. Sometimes I like simply having ground almonds or walnuts, sugar and butter. Simple and delicious.
Croatian Nut Roll Recipe
Having a simple and doable Croatian nut roll recipe makes the holidays all the merrier because in no time at all, you can be slicing and enjoying this tradition in your home. That's what the holidays are all about, having a few traditions that we look forward to. And, I'm so happy to share one of mine with you.
Croatian Bread
Besides this Croatian bread, I've got a few more Croatian inspired recipes that you might want to enjoy. It reminds me of growing up in those coalfields of West Virginia and watching Mom cook marvelous healthy food in our postage stamp sized kitchen.
Eastern European Red Potato Salad
Easy Apple Roll Up Cinnamon Pie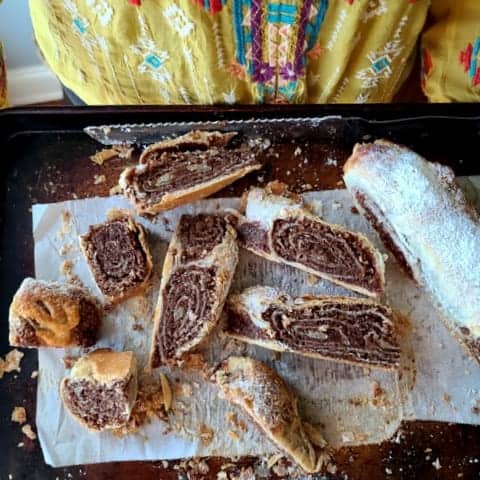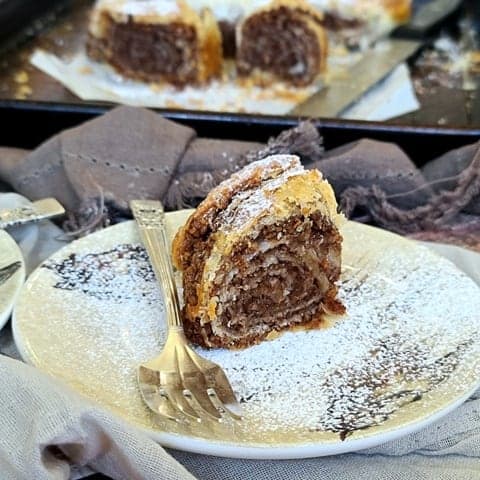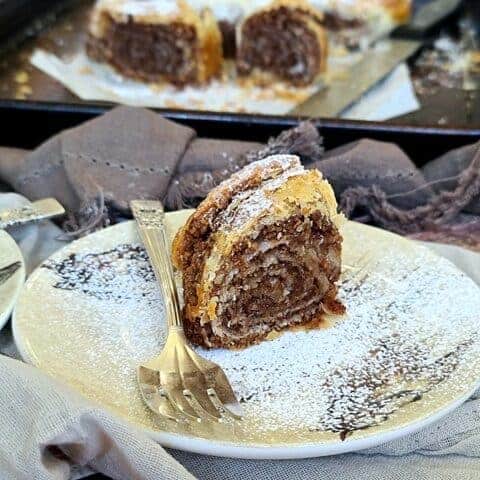 croatian nut roll povitica
Yield: Makes three small loaves

Growing up Mom spent all day making her exquisite croatian nut roll povitica. I've created an easy way for you to enjoy this ethnic delicacy!
Ingredients
Preheat oven to 350
1 (13 oz.) package refrigerated puff pastry, room temperature
¼ cup flour, all purpose
3 cups walnuts
¾ cup sugar + 1 Tbl. sugar, divided
¼ tsp. salt
2 tsp. cocoa
1 Tbl. cinnamon
¼ cup milk
8 Tbl. butter, room temperature
1 tsp. vanilla
1 egg, separate yolk and white, divided
Powdered sugar for dusting
Instructions
Have a large clean flour cloth (28" x 28"). Place on a clean surface.
Dust flour cloth with some of the flour. Unroll the puff pastry. Use a rolling pin and gently roll out thinner to about 24-26" by 20-24" or slightly larger without any holes in the dough.
Put the walnuts, three-fourths cup of sugar, salt, cocoa and cinnamon in a food processor. Pulse until a tiny crumbly mixture.
Pour into a large mixing bowl. Heat the milk and butter, melting the butter. Add the vanilla and blend. Pour into the nut mixture and blend well.
Add the egg yolk to the nut mixture and work into it. The mixture will be thick like play dough. Put dollops of the nut mixture on the rolled-out pastry.
Use a spreading knife to evenly spread over the dough leaving about ½" to ¾" from the edges. Gently start rolling the dough end opposite yourself.
Roll carefully until in one long snake roll. Brush with egg white.
You can make into a 'U' 'S' or tight 'W' or zigzag shape and put on a parchment paper lined cookie baking sheet or bread pan.
Let the parchment paper extend on opposite ends. This helps with removing from baking sheet or pan when cooled.
Bake in a preheated 350 oven for 50 to 55 minutes. Remove and let cool completely.