Nicoise Salad
A nicoise salad has the ring of something fancy dancy. Maybe something really challenging to make. But, hold on to your seat because this salad is one of the easiest ever. And, you'll dazzle those you serve it to with it's colorful beauty and delicious flavors! The hardest thing about making a nicoise salad, well, at least for me, is sounding French enough in my pronunciation of 'nicoise' For some reason my West Virginia twang and Southern drawl kind of fracture the word!
Salad Nicoise
The salad nicoise is all about primarily all fresh ingredients from the market. Add to them some seasonings and your palate will be perfectly delighted.
Originating in the sunny city of Nice in Provence, there's very little cooking involved making it perfect for beginning cooks. Therefore, lots of raw vegetables are used, however, some can be cooked like I've done here with the fingerling potatoes. Interestingly, the nicoise salad has a very Mediterranean spin to it making it cross borders and provide immense tastiness!
Because there are so many variations of this salad, the salad itself is more of a category rather than a defined salad that doesn't change. So, don't hold tight to my recipe, create your own array of healthy ingredients on a large platter.
Actually, the iconic Julia Childs had an impact on nicoise salad. As Cooks Info explains, Julia Child insisted on green beans and tomatoes in the recipe, and on lining the bowl with lettuce. She also insisted that each ingredient be tossed in the dressing separately, and then assembled, rather than combining everything and then tossing. "I've seen people swish everything together," she said. "And it just looks like hell." [1]
Nicoise Salad with Canned Tuna
When you can't access fresh tuna, canned tuna is surely a wonderful alternative. And, nicoise salad with canned tuna is quite fabulously delicious. I'd recommend finding albacore tuna packed in water. It's got succulent flavors once you combine with the other ingredients. And, it's relatively inexpensive. Tuna packed in oil just gives you extra calories that you can skip.
Salad with Tuna
There are all kinds of ideas for salad with tuna. And, when I'm looking for adding a protein to a salad and creating a salad meal, I oftentimes grab a can of albacore tuna. You'll get some great ideas from these salads with tuna that I've posted. Each is a tad bit different. Maybe a different dressing. Possibly a few different ingredients. And, all are quite tasty and simple. That's what you like salad with tuna that doesn't break the bank.
Healthy Salad Dressing
Now this healthy salad dressing that I've created for this nicoise salad is full of robust flavors. That's probably because of the inclusion of one ingredient. Not sure if you've used this ingredient often, but once you try it, you'll see.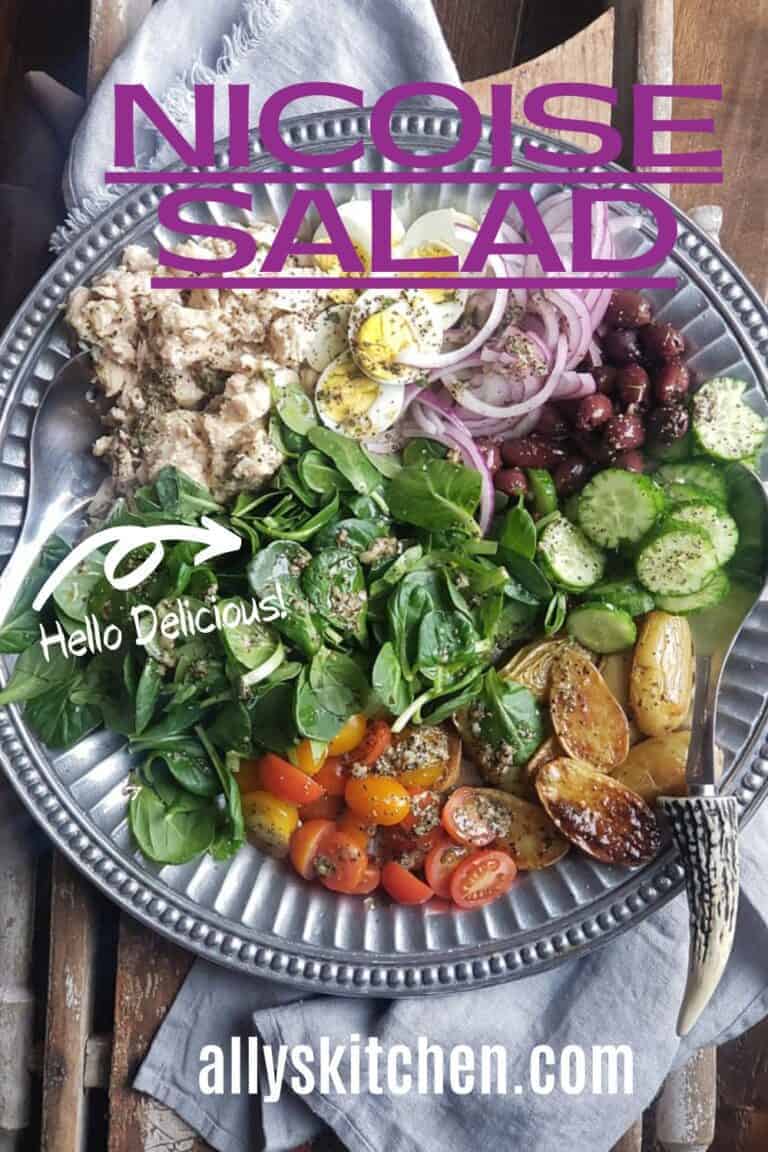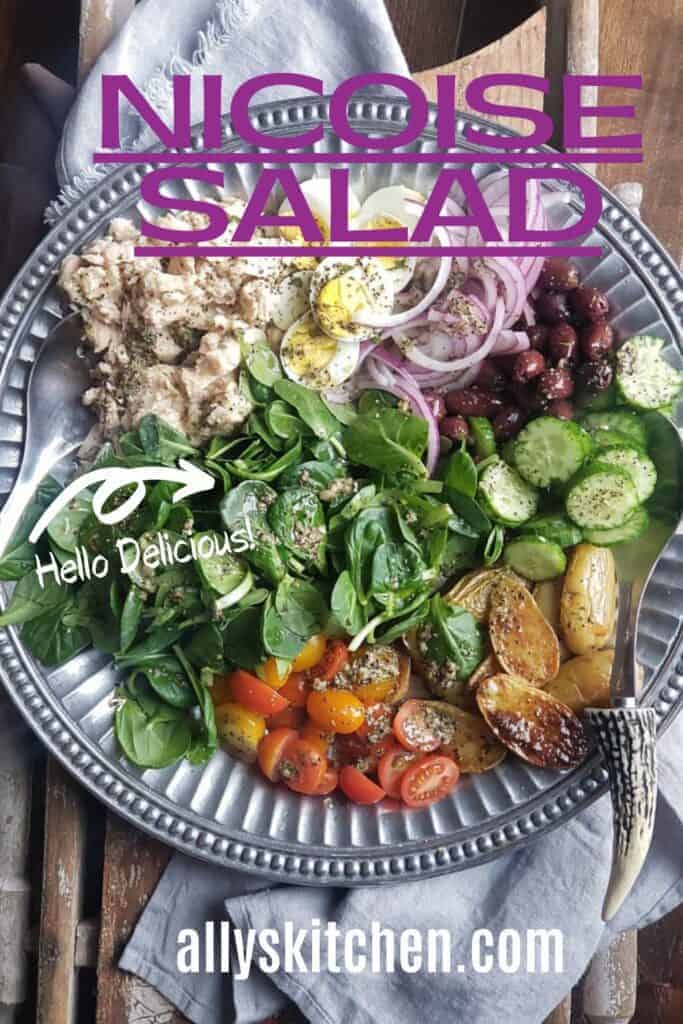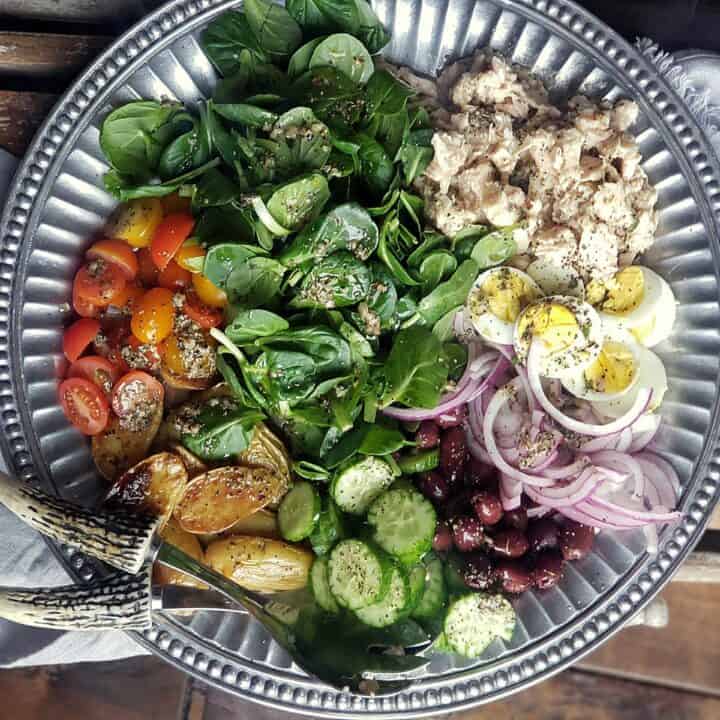 niçoise salad
Ingredients
3 cups fingerling potatoes, sliced lengthwise in halves
1/3 cup+ 2 Tbl. extra virgin olive oil, divided
2 Tbl. red wine vinegar
2 tsp. garlic paste
1 tsp. Italian seasoning
1 tsp. anchovy paste
1 tsp. coarse ground pepper
3 cans albacore tuna, packed in water, drained
1 cup kalamata olives, pitted
1 ½ cups mini cucumbers, sliced
1 ½ cups cherry tomatoes, sliced in halves
1 cup red onions, half-moon thin slices
3 cups greens, packed, spinach, arugula, or baby bok choy leaves, etc.
2 hard boiled eggs, sliced in four to five rings each
Instructions
Put the potatoes in a microwavable bowl with one-fourth cup water. Cover and microwave on high for 3 minutes. Remove. Drain off water completely. Heat a cast iron skillet on medium high heat.
When hot, add two tablespoons of olive oil. Put the potatoes in the hot skillet laying on the flat surfaces. Pan sear to a golden brown. Remove from heat. Set aside until ready to plate.
In a large glass measuring cup whisk together well one-third cup olive oil, garlic paste, Italian seasoning, anchovy paste, and pepper.
Put the chunks of tuna in a medium mixing bowl. Drizzle on about one-third of the vinaigrette mixture and gently toss. Set aside. Put the olives in a small bowl. Drizzle on about a tablespoon of the vinaigrette. Toss and blend. Set aside.
Place individually the tuna, potatoes, olives, cucumbers, tomatoes red onions, greens and hard-boiled egg slices on a large platter. Drizzle with the remaining vinaigrette. Ready to serve!
Notes
You can add your favorite vegetables to this salad platter like fresh green beans, asparagus, zucchini, etc.