Easy Roasted Sweet Potato Salad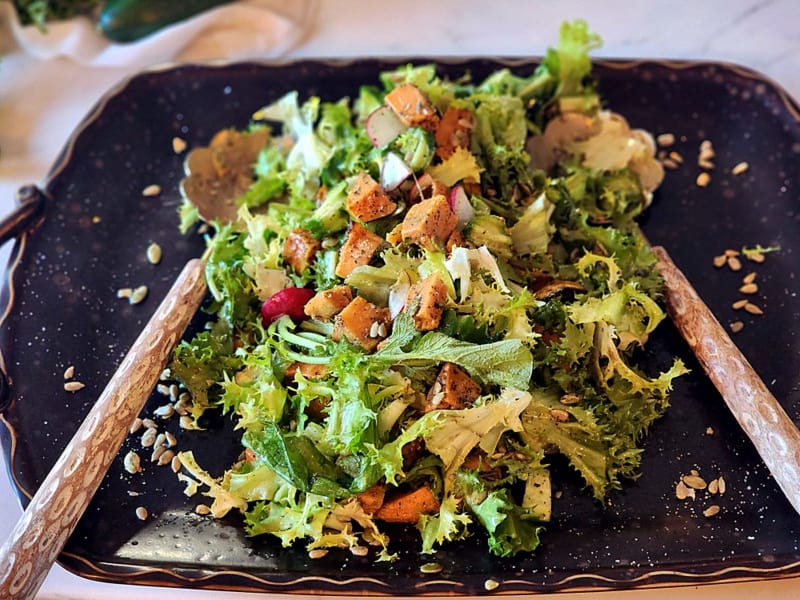 Sweet potato salad is a unique healthy diversion from a regular salad. The hardest part? Roasting the sweet potatoes! Then throw it together!
How to Make Sweet Potato Salad
The most 'difficult' part of this recipe? Roasting the sweet potatoes.
You can roast the potatoes ahead of time, refrigerate, then make the salad another day. Keep these roasted sweet potato bites in your refrigerator for so many other things!
Sweet Potato Salad
There's no mayo in this potato salad. It's a Mediterranean version of a salad with your best extra virgin olive oil and fresh lemon juice.
Sweet Potatoes in Salad
Sweet potatoes in salads are a healthy different diversion.
The health benefits of sweet potatoes are indisputed. High in fiber and antioxidants, sweet potatoes help your body from free radical damage.
They're also great for a healthy gut and brain. Putting the roasted sweet potatoes in your salad gives you an incredibly rich source of beta carotene, which converts to vitamin A supporting your good vision and immune system.
Roasted Sweet Potato for Salad
These sweet potatoes are roasted in the oven with delicious spices adding to the flavor profile of this salad.
Hints of cardamom and all spice come together with a hint of maple syrup and then the crunch of all the other vegetables you're putting in your salad!
Roasted Sweet Potato Salad with Feta
While I didn't add feta cheese to my salad, you could certainly do so. Another great crumbled cheese to use would be goat cheese. And, if you're a blue cheese lover, or gorgonzola, you can have a bite of tang with the salad!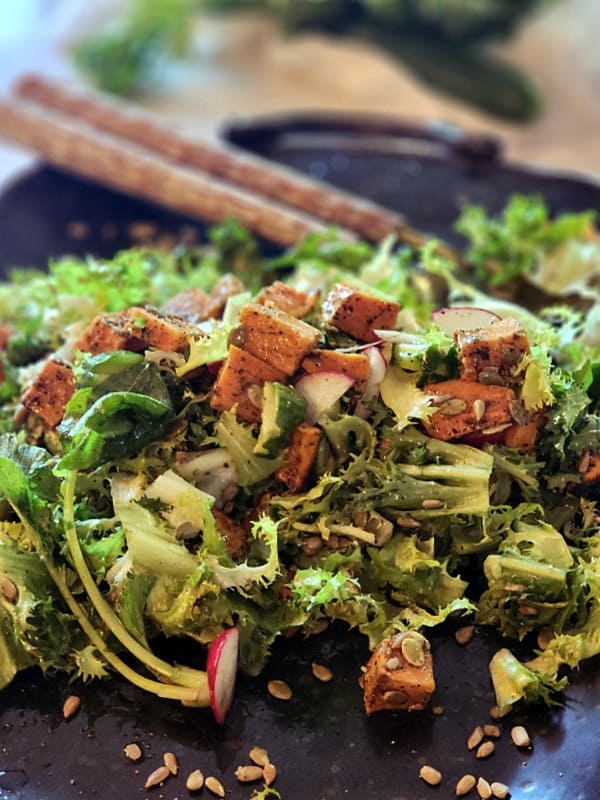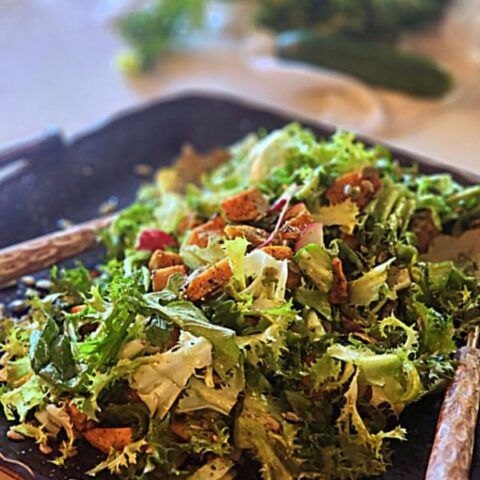 Easy Roasted Sweet Potato Salad
Ingredients
2-3 sweet potatoes, peeled, diced into bite size pieces
1/4 cup + 2 Tbl. extra virgin olive oil, divided
1 tsp. allspice
1/2 tsp. cardamom
1/2 tsp. sea salt
6 cups frisée salad greens
1/3 cup radishes, very thinly sliced
1/2 cup cocktail cucumbers, diced
1/2 cup pumpkin seeds
3 Tbl. maple syrup
1/2 cup celery, sliced
1 lemon, juice only
Instructions
Preheat oven to 400
Put the diced sweet potatoes on a parchment paper covered cookie sheet. Drizzle on 4 tablespoons of olive oil. Toss the potato pieces. Sprinkle on the allspice, cardamom and salt. Toss and coat potatoes well.
Roast in a preheated 400 oven for about 15 minutes or until tender (pierce with a small wooden skewer). Turn oven to broil and brown for a few minutes. Watch carefully. Remove and cool.
Assemble the salad ingredients on a platter or in a bowl. Top with the roasted sweet potatoes and pumpkin seeds. Drizzle on the maple syrup.
Drizzle on the remaining olive oil and lemon juice. Salt and pepper to taste. Toss and blend well. Serve immediately.