spicy chocolate red dragon cookie sandwich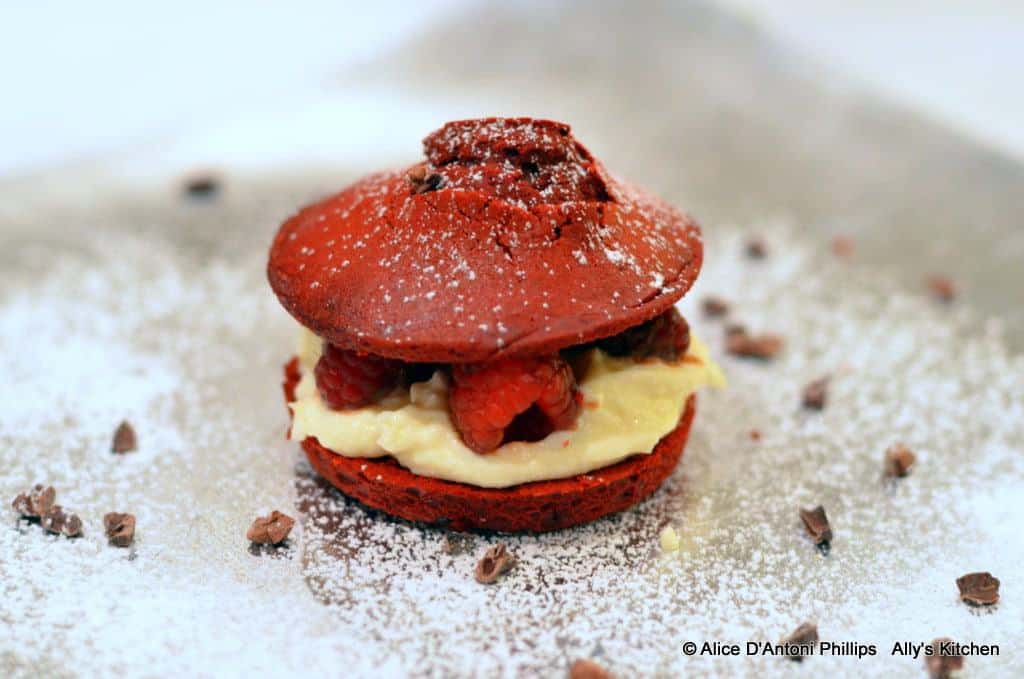 This recipe artistry was entered into the 2012 Scharffen Chocolate Contest~~no win, but believe me, GOOD! I just couldn't make up my mind as to whether I wanted waffle cookie sandwiches or round cake cookie sandwiches~~it's like seeing two stunning LBDs (little black dresses)~~you buy both~  Well, I made both!
While they had basically the same taste, the symphony  on your palate was slightly different because of the finish~~crispiness of the waffle cookie and smoothness of the round cake cookie.  But, who really cares…I mean when you have something made with these decadent ingredients that make the Spicy Chocolate Red Dragon Cookie Sandwich, you have flames of happiness!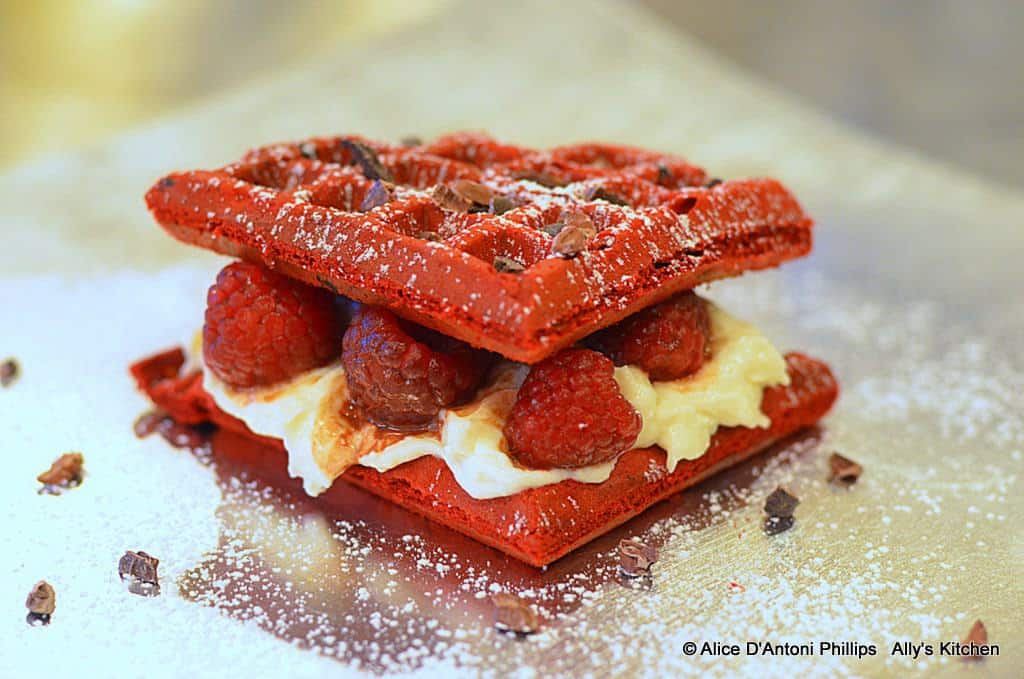 Preheat Oven to 350
Makes 8-10 cookie sandwiches
(Note:  Bake in a sandwich cookie baking pan. Openings 3" diameter and about ½" deep.)
What you need:
Cookie Batter:
1 cup self-rising flour
½ tsp sea salt
½ tsp baking powder
¼ tsp red chili pepper flakes
2 tsp instant espresso coffee
2 oz unsweetened dark chocolate 99%
2 oz semi-sweet chocolate 62%
1/3 cup canola oil
¾ cup sweetened condensed milk
2 beaten eggs
1/3 heavy cream
3-5 tsp red food coloring
Dragon Berries:
2 tsp unsweetened cocoa powder
2 tbl white sugar
3 tbl tequila
¼ tsp chili pepper flakes
1 cup raspberries
Filling
½ cup softened mascarpone
¼ cup whipped cream cheese spread (in tub)
¼ cup ricotta softened cheese
¼ cup sweetened condensed milk
3 tbl tequila
Garnish/Plating:
¼ cup confectionary sugar
3 tbl cacao nibs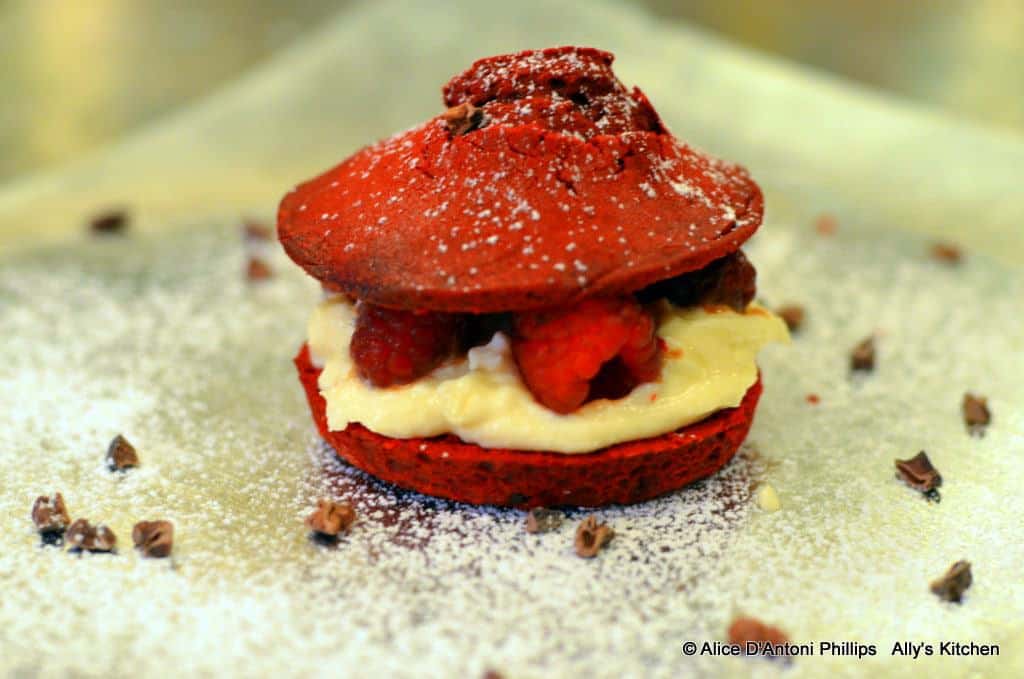 What you do:
Cookie Batter:
In a large mixing bowl, combine the flour, salt, baking powder, chili pepper flakes, and instant espresso and blend. 
Put the two chocolates (that have been broken up somewhat) in a small glass bowl and microwave for about 45-60 seconds to melt.
Pour the melted chocolate in another medium-size mixing bowl, then add the oil, sweetened condensed milk, beaten eggs, and heavy cream and blend well.
Add the wet ingredients to the dry and blend well making a thick batter.  Coat the sandwich cookie tin with cooking spray.  Place a heaping tablespoon into each of the openings.  Spread out a little.  Do not overfill. 
Bake in a preheated 350 oven for about 10-12 minutes.  When done, remove from oven.  For the cookie cakes that will be used on the bottom, flatten out the top if it has raised up.  Take a small cast iron skillet, place some parchment paper over the cookie, and press down on it using the skillet.  This will help flatten the bottom cookie.  Leave the tops raised (if they are). Cool on a rack.
Dragon Berries:
In a small bowl, combine the cacao powder, tequila, sugar, and chili pepper flakes.  Blend well.
Place the berries in another bowl.  Drizzle the marinade from #1 over them and toss gently.  Let sit for about 20+ minutes.  Then drain off liquid.
Options:  Leave the berries as is or slightly mash the berries.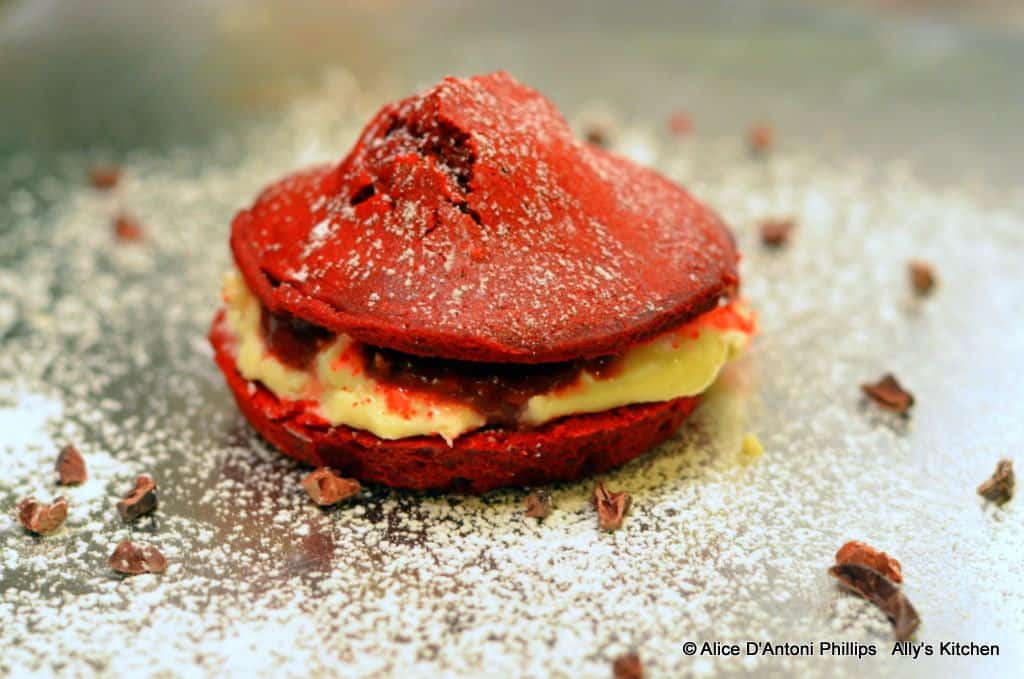 Filling:
In a medium size mixing bowl, combine the softened mascarpone, whipped cream cheese, ricotta, and sweetened condensed milk and blend.
Add tequila and blend.
Refrigerate about 20-30 minutes.
Assembling:
When the cookie cakes are cool, spread about a tablespoon plus of the filling on the bottom cookie (flattened cookie).
If using whole berries put several (3-5) on the filling.  If you have slightly mashed the berries, place about a teaspoon on the filling.
Place the top of the cookie sandwich on the berries and gently smoosh.  Careful—not too hard!
Dust top with confectionary sugar and sprinkle some cacao nibs around the cookie sandwich.
Serve immediately or refrigerate.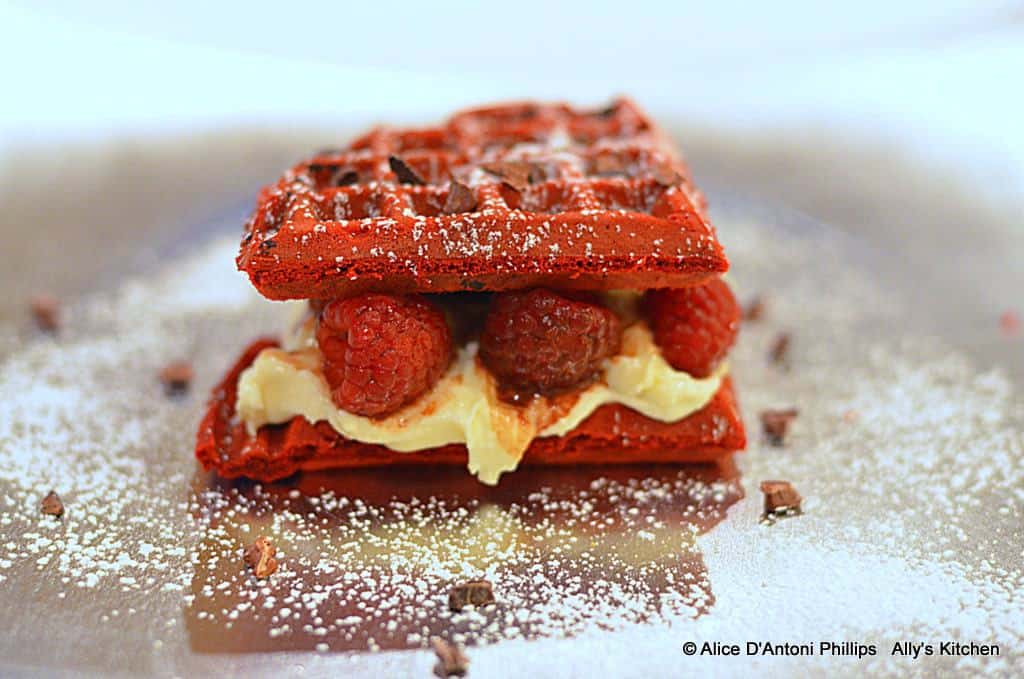 ©Alice D'Antoni Phillips  Ally's Kitchen