chewy oatmeal date raisin nut cookies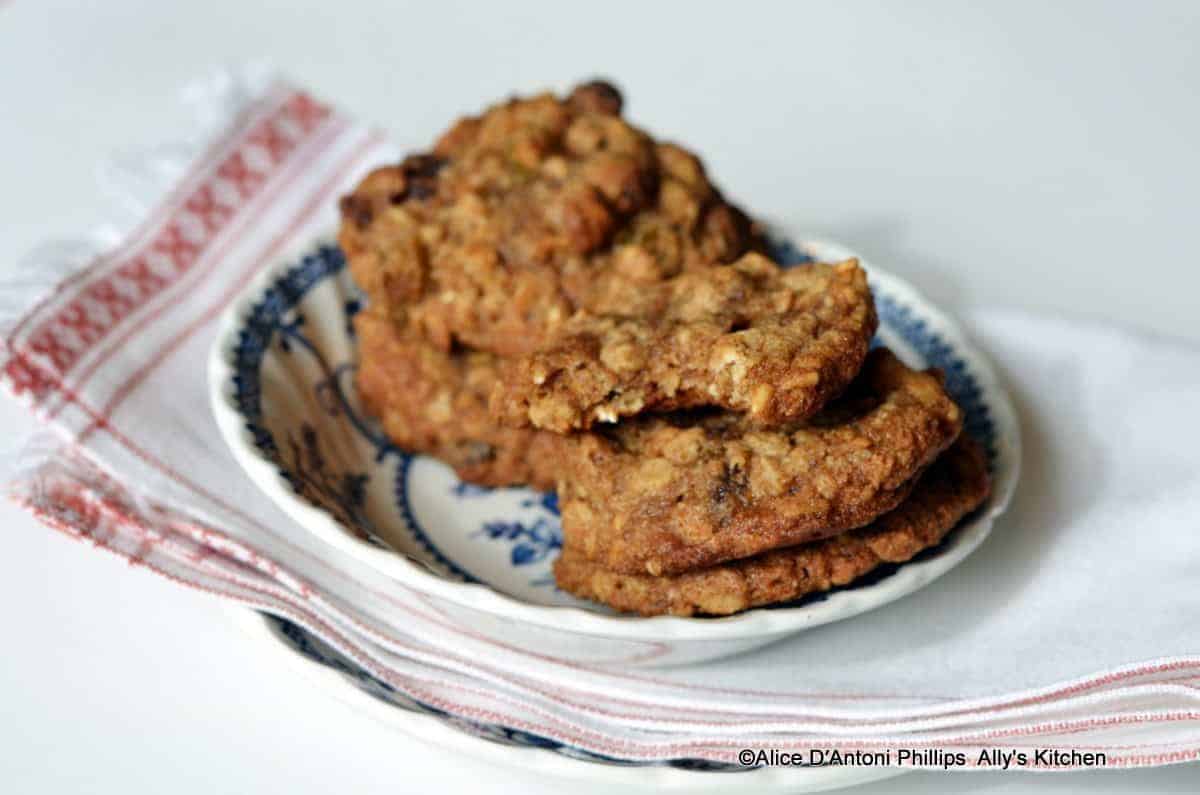 Oatmeal Cookies
The best of oatmeal cookies. Yes, these chewy oatmeal date raisin nut cookies recipe from scratch will be your new family favorite. Chewy and nutty to boot!
It's really hard to mess up these chewy oatmeal date raisin nut cookies! This recipe is a variation of one that I've used for a while from the 'Better Homes and Gardens' cookbook copyright 1970! That was my very first cookbook, and its wear and tear, stains, dog-ears, and tattered cover are evidence that this book has been well-used!
Raisin Oatmeal Cookies
Another recipe I've used for oatmeal cookies is the one right on the inside of the oatmeal box, and it's called 'Disappearing Oatmeal Cookies'. Now, I like a lot of nuts and always want raisin oatmeal cookies. Dates give me an extra texture with chewy. And, if you like that then it's gonna work for your palate. Another cool idea is to sprinkle some finishing salt atop the cookies for a slight salty flair. Sweet, salty, nutty, crunchy, crispy, chewy. I mean what else do you want! You got it in the chewy oatmeal date raisin nut cookies.
Best Cookie Recipes from Scratch
I must say that this is one of my best cookie recipes from scratch. Sometimes, yes, I get in a pinch, maybe lazy, and I'll buy some of the refrigerated roll cookies, sugar, oatmeal, chocolate chip. But, this recipe is just so darn easy that I should make more and freeze them. Yes, you can freeze them. Just make sure you don't crowd them and put in plastic containers rather than freezer bags. With freezer bags, they can end up getting crushed and broken. And, you'd end up with cookie crumbles. But, hey, that's ok, too. Just sprinkle these crumbles on vanilla ice cream!
Best Cookie Recipes of All Time
Ever think about the top cookie recipes? Well, if you Google it, you'll get different lists of the ten best, all-time best and most loved cookies. And, one thing you'll see in most all of these lists is the oatmeal cookie. Yes, it's right up there with the snickerdoodle and chocolate chip cookie. With this oatmeal cookie recipe, you can or omit dates, raisins and nuts. Or you can substitute golden for dark raisins. Use almonds instead of walnuts. It's all up to you and what floats YOUR oatmeal cookie boat! xoxo ~ally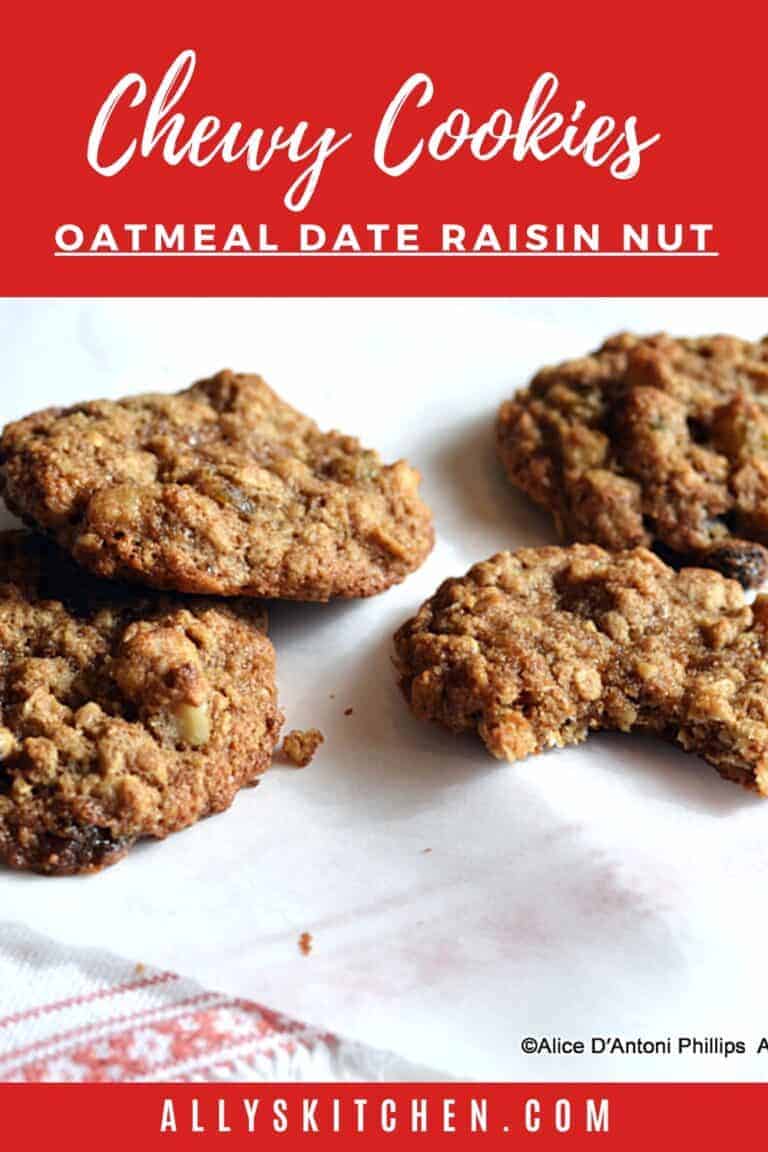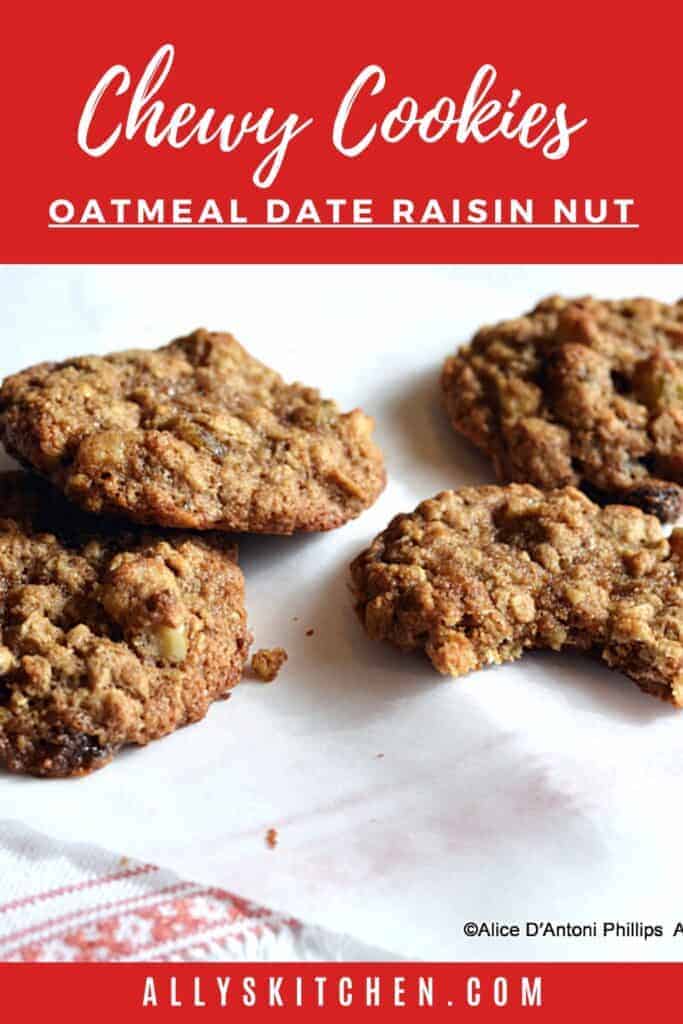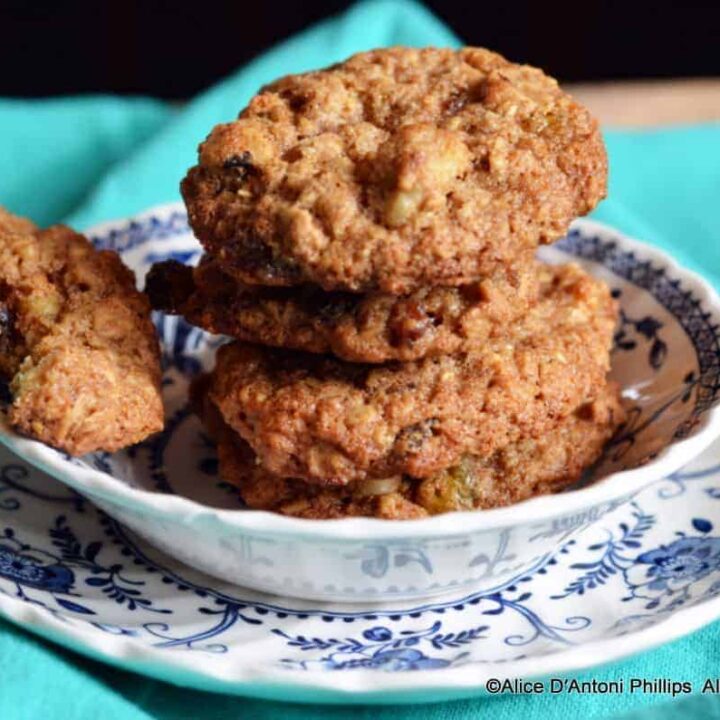 chewy oatmeal date raisin nut
The best of oatmeal cookies. Yes, these chewy oatmeal date raisin nut cookies recipe from scratch will be your new family favorite. Chewy and nutty to boot!
Ingredients
Preheat Oven to 350
¾ cups room temperature butter
1 cup packed brown sugar
½ cup white sugar
2 beaten eggs
2 tsp. vanilla
1 tsp. ground cinnamon
1 tsp. ground allspice
½ tsp. ground cloves
½ tsp. round nutmeg
½ cup milk
2 cups all-purpose flour
1 ½ tsp baking powder
½ tsp. baking soda
2 cups old fashioned oats
½ cup steel cut oats
1 cup chopped walnuts
½ cup diced dates
¾ cup golden raisins
Instructions
In a large mixing bowl, cream together well the butter and brown and white sugar. Add the eggs and beat about 3 minutes.
Add the vanilla and spices and blend well. Add the milk to the batter. Sift together the flour, baking powder and baking soda and add one-third of this dry mixture at a time to the wet mixture blending well.
Add the oats and work into th batter. Finally, add the nuts, dates, and raisins. Using a spring form scoop, dollop the batter on to a parchment-lined cookie sheet.
Do not crowd cookies giving about 2-3" space between each. Bake in preheated 350 oven about 10 minutes. Repeat with all the batter. Let cool and eat.
Notes
Substitutions:
Coconut Sugar for Brown/White Sugar
GF Flour for Regular Flour
All Spice Mixture for individual spices outlined
Almonds (or your choice) for walnuts
Nur milk for Cow's Milk