It's really hard to mess up these cookies!  This recipe is a variation of one that I've used for a while from the 'Better Homes and Gardens' cookbook copyright 1970!  That was my very first cookbook, and its wear and tear, stains, dog-ears, and tattered cover are evidence that this book has been well-used!
Another recipe I've used for oatmeal cookies is the one right on the inside of the oatmeal box, and it's called 'Disappearing Oatmeal Cookies'~~now, I like a lot of nuts and always want dates because the combo of the crunchy and chewy works for my palate~~another cool idea is to sprinkle some finishing salt atop the cookies for a slight salty flair~~sweet, salty, nutty, crunchy, crispy, chewy~~I mean what else do you want!  Sorry, no creamy!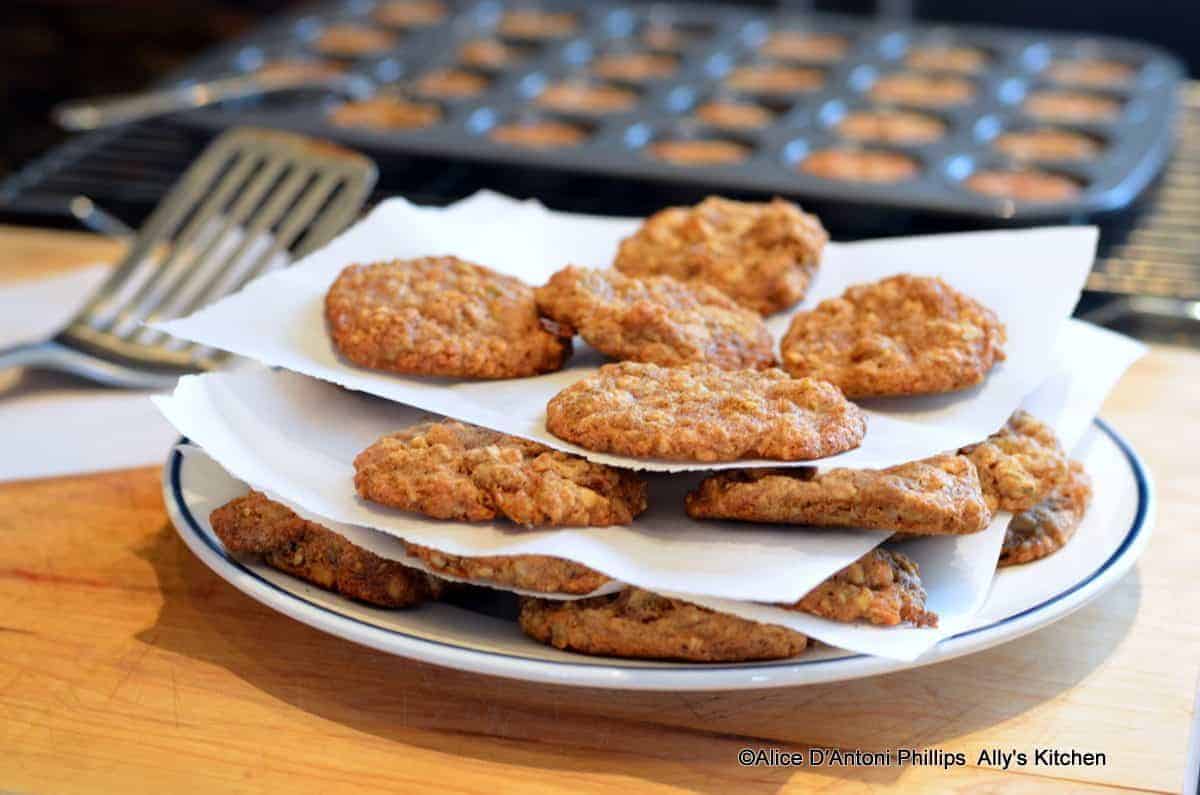 Makes:  4+ dozen cookies
Preheat Oven to 350 
What you need:
¾ cups room temperature butter
1 cup packed brown sugar
½ cup white sugar
2 beaten eggs
2 tsp vanilla
1 tsp ground cinnamon (I used Saigon cinnamon.)
1 tsp ground Jamaican allspice (You can use regular allspice.)
½ tsp ground cloves
½ tsp round nutmeg
½ cup milk
2 cups all-purpose flour
1 ½ tsp baking powder
½ tsp baking soda
2 cups old fashioned oats
½ cup steel cut oats
1 cup chopped walnuts
½ cup diced dates
¾ cup golden raisins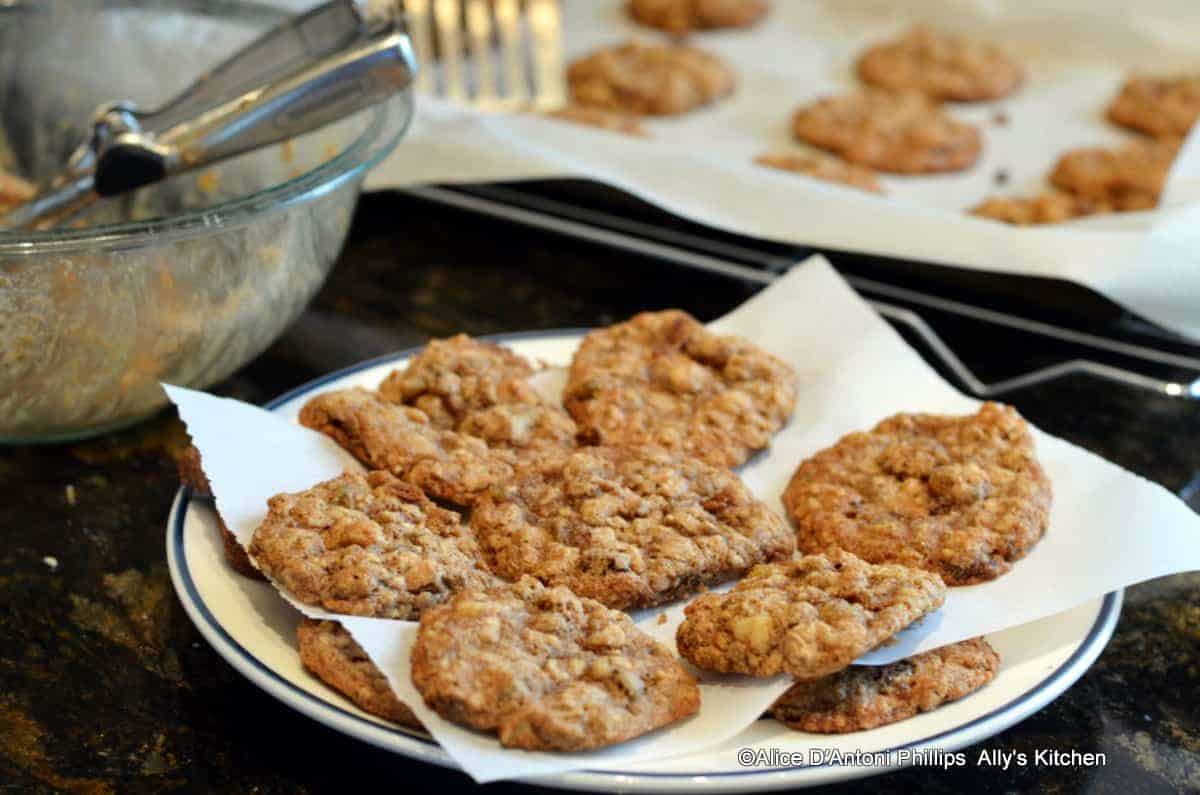 What you do: 
In a large mixing bowl, cream together well the butter and brown and white sugar.  Add the eggs and beat about 3 minutes.  Add the vanilla and spices and blend well.  Add the milk to the batter.
Sift together the flour, baking powder and baking soda and add one-third of this dry mixture at a time to the wet mixture blending well.  Add the oats and work into the batter.  Finally, add the nuts, dates, and raisins.
Using a spring-form scoop, dollop the batter on to a parchment-lined cookie sheet.  Do not crowd cookies giving about 2-3" space between each.  Bake in preheated 350 oven about 10 minutes.  Repeat with all the batter.  Let cool and eat.
(Note:  These also make a cute mini-muffin using cupcake liners if you want.)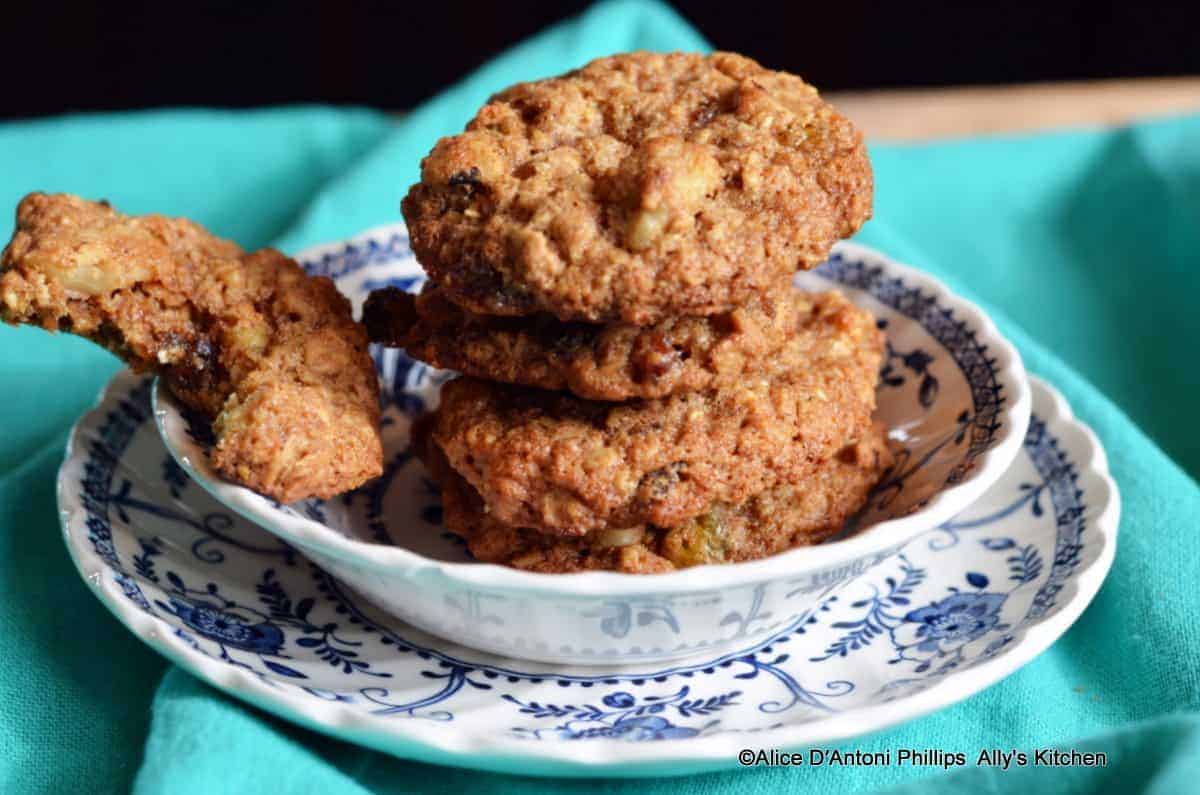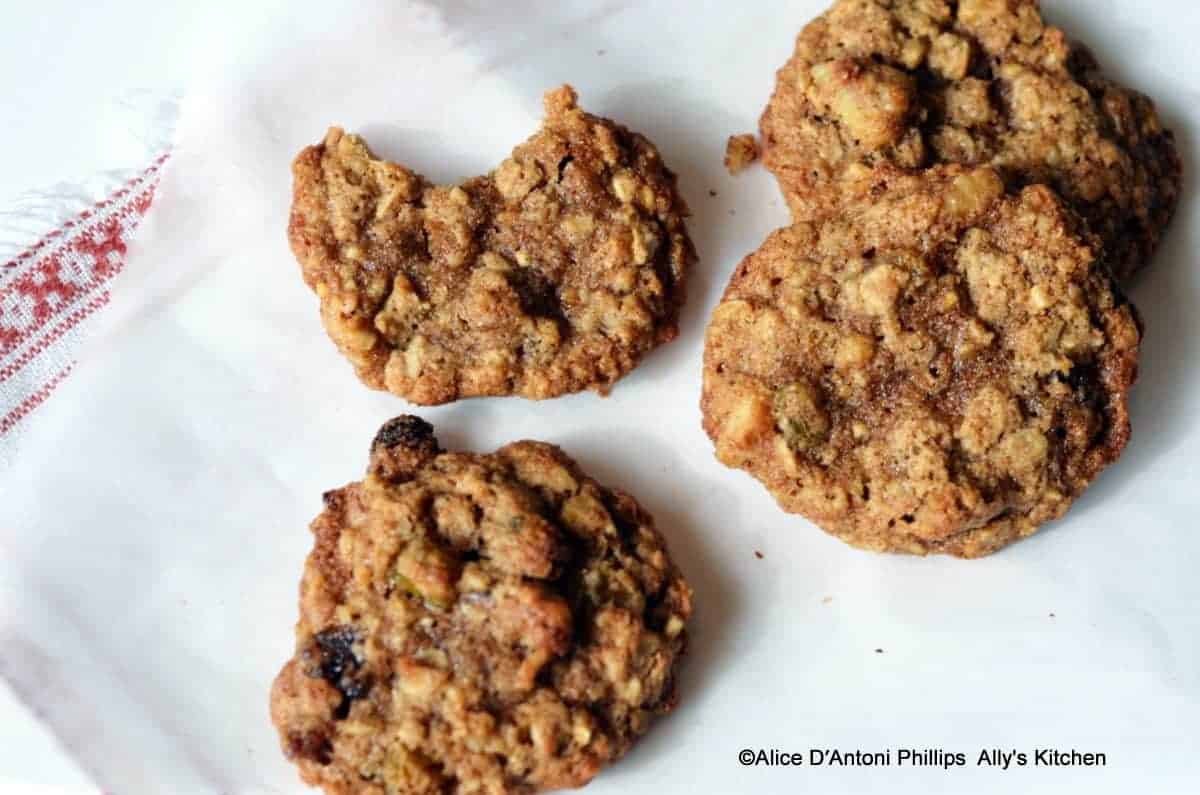 ©Alice D'Antoni Phillips www.allyskitchen.com