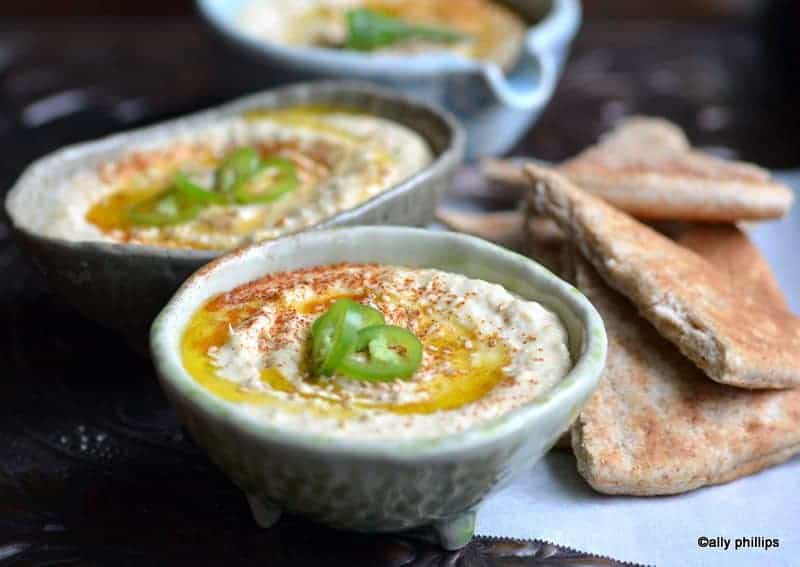 If you want to taste the most divine pineapple serrano hummus, then grab this recipe! No cooking. Simple turn on the food processor!
Best Hummus Recipes
Thanks to Dole Packaged Foods for partnering with me for this post!I consider it one of the best hummus recipes out there. I am the creator of this recipe and for the description and information that follows. For full disclosure, click here!
I never knew what real hummus tasted like until I went to Israel. Standing on a street corner in Tel Aviv along with my other friends who were part of Taste of Israel, we experienced real authentic hummus It was warm, it was creamy, it was ethereal. We all were like hungry little' piglets dipping torn pieces of warm flatbread into the several bowls we had. I also learned that it was pronounced 'whoooooo muss'.
Hummus Ingredients
Hummus ingredients are few but critical. You want to have the basics of the garbanzo beans or chick peas. And, you'll need your tahini!
Flavors of Hummus
Flavors of Hummus vary. Most probably are savory. But, why not have a hummus flavor that has a subtly sweet twist. That's what you're going to get with this hummus that's been made by so many people, And, the results and reviews are all the same. It's out of this world!
One of my favorite spice mixtures is Harissa! And, I'm using it in this Bone Broth Hummus that's packed with nutrients!
Best Hummus
Probably what makes this a best hummus is the combination of sweet and spicy. Yes, you have that 'heat' and kick from the serrano peppers and the sweetness from the pineapples.
Healthy Hummus Recipe
This healthy hummus recipe is all my zany brain creation, and it's sponsored by Dole Packaged Foods. For a complete disclosure of my work with the good folks at DPF, click here!
Here's a new twist on tabbouleh! It's got a hint of sweet. Come on, you know you want to check it out!
Authentic Hummus Recipe
After eating lots of authentic hummus recipes in Israel, I came home with a new vision of hummus. This pineapple serrano hummus is a version of 'authentic' but with certainly an original twist!
Sandwich with Hummus
OK, a sandwich with hummus is fabulous, but what if you make your own flatbread! Well, I have some easy recipes, and one of them I actually learned to make while in Israel!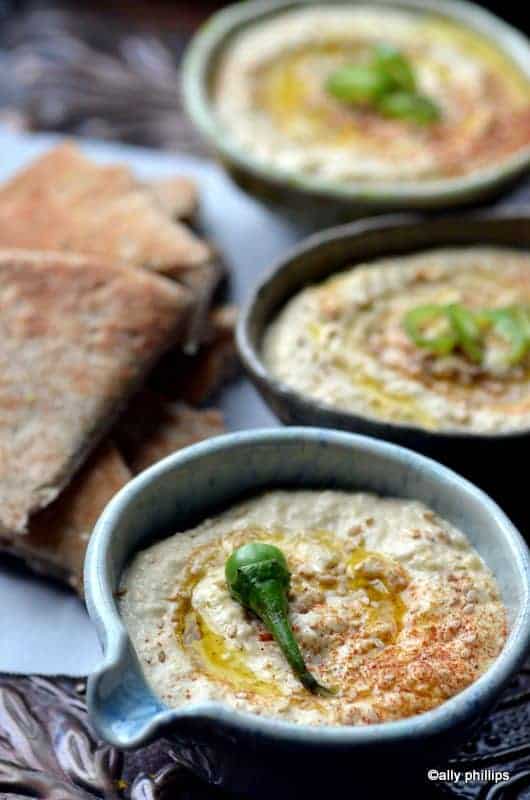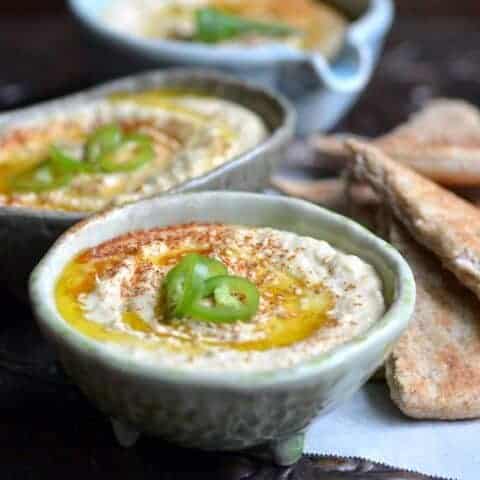 pineapple serrano hummus
Yield: Makes about 3 cups

If you want to taste the most divine pineapple serrano hummus, then grab this recipe! No cooking. Simple turn on the food processor!
Ingredients
4 garlic clove pieces, peeled
½ cup tahini
1 can garbanzo beans, drained & reserve liquid
½ cup Dole Packaged Foods crushed pineapple, with juice
1 ½ tsp. sea salt
1 Tbl. serrano pepper, fresh and chopped + more for garnish
½ lemon, juice
3 Tbl. extra virgin olive oil, divided
1 Tbl. sesame seeds (garnish)
Dusting of paprika (garnish)
Instructions
Put the garlic, tahini, garbanzo beans, pineapple, salt, serrano pepper, lemon juice and two tablespoons of olive oil in a food processor and blend. If needed, add ¼ cup of the liquid from the beans and blend into a creamy mixture.

Place in a bowl. Make concentric circle swirls with a butter knife. Drizzle on remaining olive oil and sprinkle on the sesame seeds then dusting of paprika. Chill or serve immediately. Serve with pita or flat bread.