Super Bowl week brings out the most outrageous snack ideas and recipes that one can even imagine! I mean there's so much out there and most of it, let's be honest, is basically unhealthy! It's full of fat, carbs, cholesterol, sugar and everything that's really not good for you. Now I'm not being a prude here. No one loves these snacks more than me, and I know that this is most probably what the majority of folks want. All I have to say about this is, if this is THE one day of the year essentially THE only day of the year that you indulge in this feeding frenzy, then there's probably no problem. But, if not, then you might want to look at some other options for that Super Bowl spread.
To err on the healthy side, I thought I'd come up with a snack plate that has great taste and won't break the calorie bank, nor the cholesterol, glycemic, and/or fat banks! And, this avocado tomato crunch does just that. It's a perfect recipe that brings out all the best tastes, flavors and textures. You've got the creaminess of the avocado. Then there's the tart citric of the fresh lime juice. Oh, the heirloom tomatoes are another great addition, not only beautiful with an array of hues but some juiciness. Finally, we have those salty crunchy pistachios that just give gorgeous tasty crunch.
Sometimes we're not sure about which nuts to use and why. Well, let's take away any confusion with this great post from The Healthiest Nut! It focuses on your keto goals. Hey, I'm not doing keto, but I do eat a lot of nuts, so I reckon I'm on the keto edge of eating. This, however, is a very comprehensive article and sure worth the read.
Another thing about this recipe is that it makes the most delicious snack anything of the day, night, year, season, whenever! For me, it's always more gratifying eating anything knowing that what I'm eating is doing my body good. And, avocado tomato crunch will make your body happy!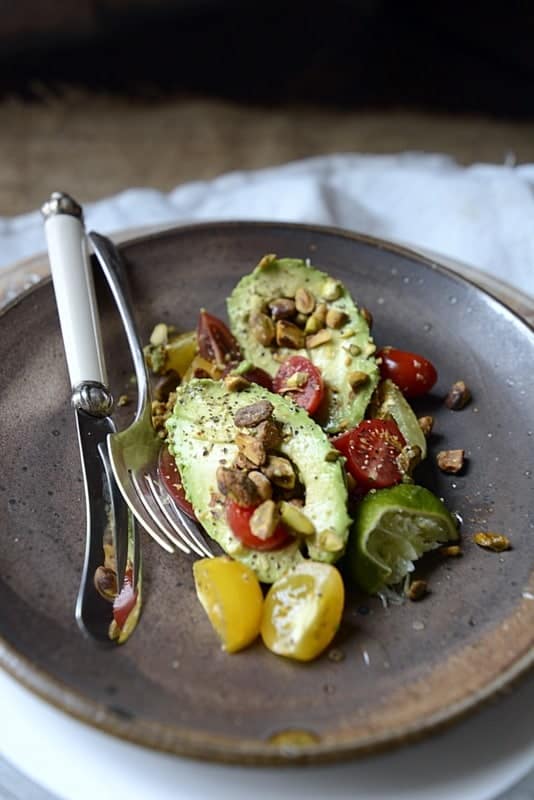 Ingredients
1 avocado, scooped out into two halves
6 heirloom cherry tomatoes, sliced in halves lengthwise
1/4 cup salted pistachios, chopped
1 lime, juice
Salt & Pepper to taste
Instructions
Place the avocado on a plate.
Add the tomatoes and chopped pistachios.
Squeeze on lime juice. Use salt and pepper to taste.
https://allyskitchen.com/avocado-tomato-crunch/
©ally's kitchen intellectual property