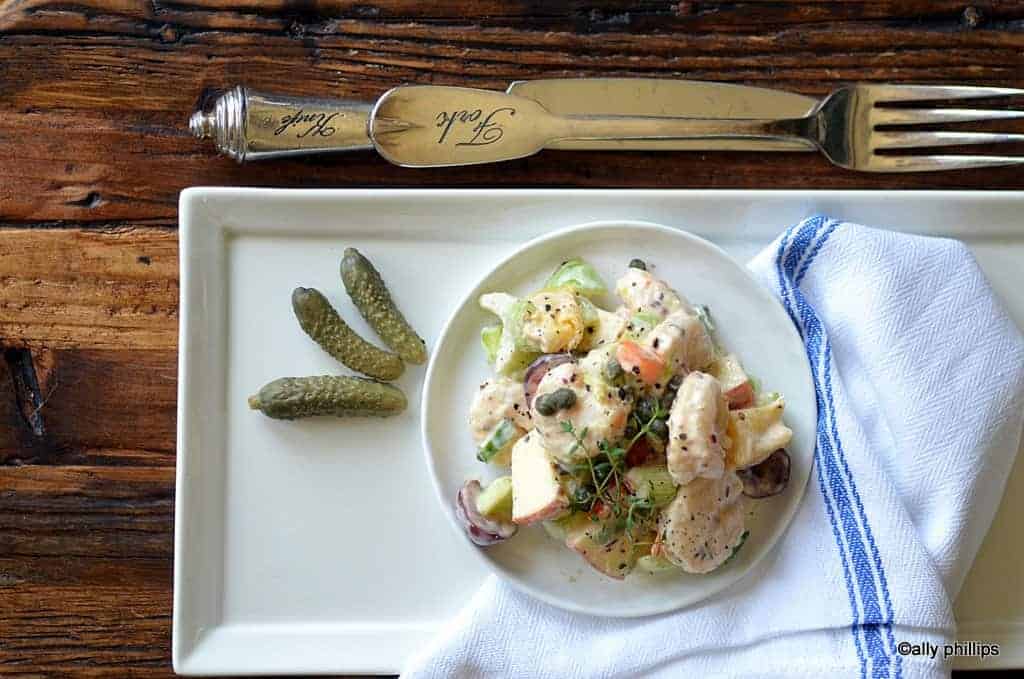 Living in the South and on the coast, we're really lucky to have the world's finest seafood at our fingertips, and, literally in our front yard, which is the briny waters of the inlet. Yes, we forage these waters for crabs, clams, oysters, flounder, shrimp and more.
While these shrimp didn't come from our waters, they did come from the South. They're Wild Gulfcoast Shrimp, which is right up there with the best quality and flavor known to mankind. Now I've visited this area, met the people who work in this industry and who regulate this treasure for the world, And, I can second their expression that 'every shrimp has a tail' and reading about wild caught Gulf shrimp is worth the time! In fact, I even wrote a blog post called 'is there a heart in seafood'~check it out!
This is my version of a southern shrimp salad~I love the healthiness of it and the fact that only a little mayo is used. There's a definite tangy briny taste with the capers, cornichons and Greek yogurt, but it's certainly not overwhelming, then at the most unexpected time your palate will get a pop of sweet. It's just the right blend and enough to make you smack your lips and say 'Uuuummmm dat's good!' xoxo ~peace & namaste~ ally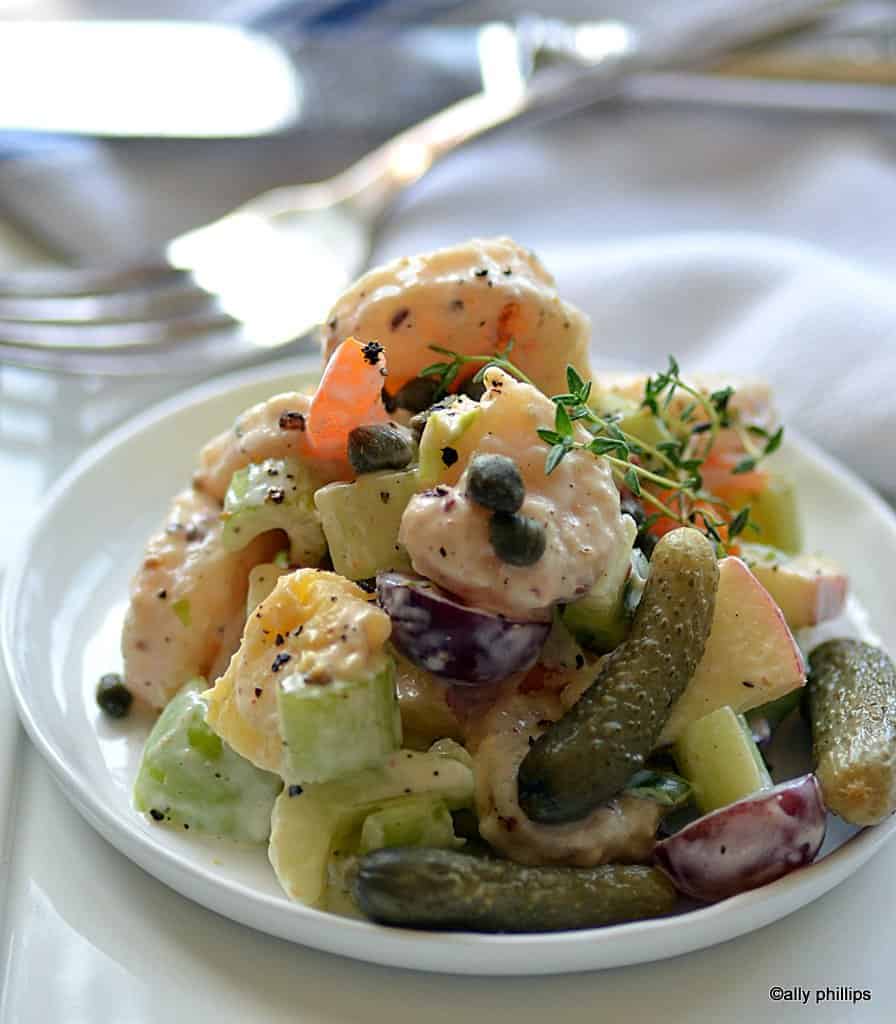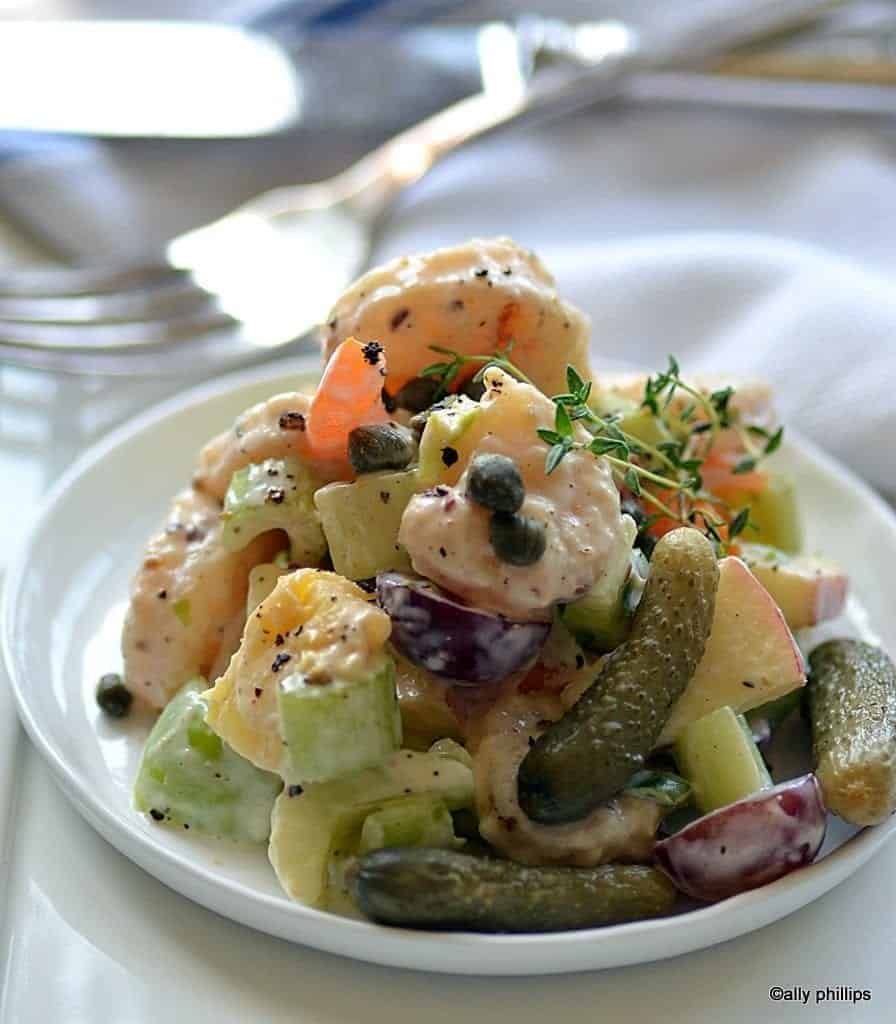 Serves: 4
What you need:
20 large shrimp, peeled, deveined, detailed
2 Tbl. butter
2 tsp. lemon pepper
1 cup peppers, diced (any color(s))
¼ cup capers with 2 Tbl. juice
1 cup celery, sliced
3 green onions, sliced with green tops
1 cup pineapple pieces, previously frozen, thawed and drained
½ cup red grapes, seedless and sliced in halves
½ cup crispy apple, peel on and diced
2 Tbl. Mayonnaise
1/3 cup Greek yogurt, plain
3 Tbl. Lemon juice
1 Tbl. Fresh thyme (plus sprigs for garnish)
½ tsp. sea salt
1 tsp. Fresh cracked pepper (plus when serving)
12 cornichons (garnish when serving)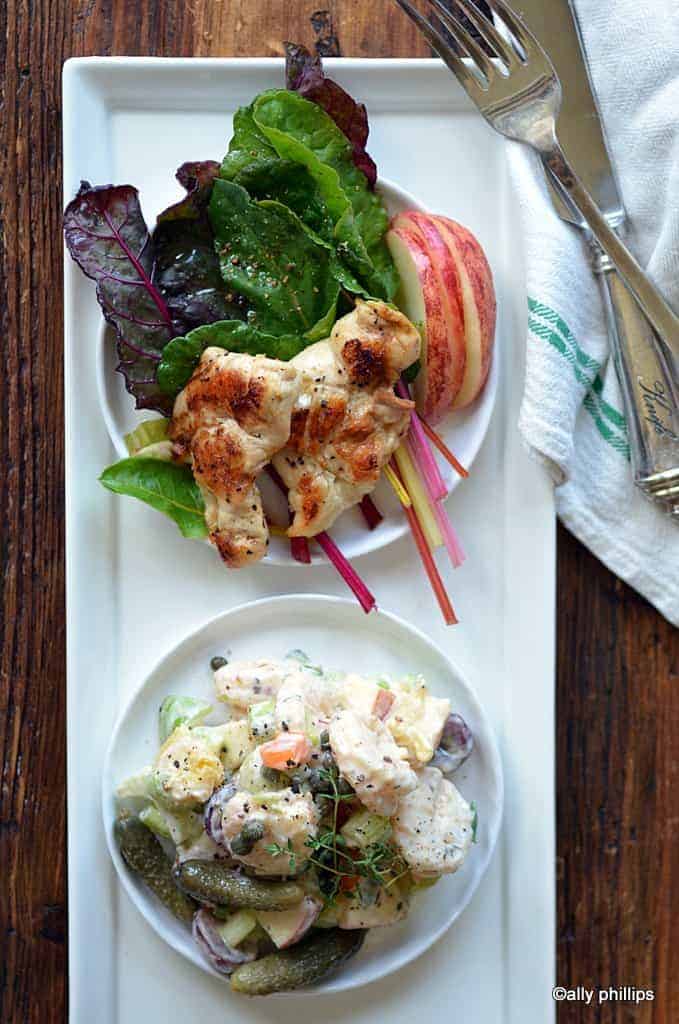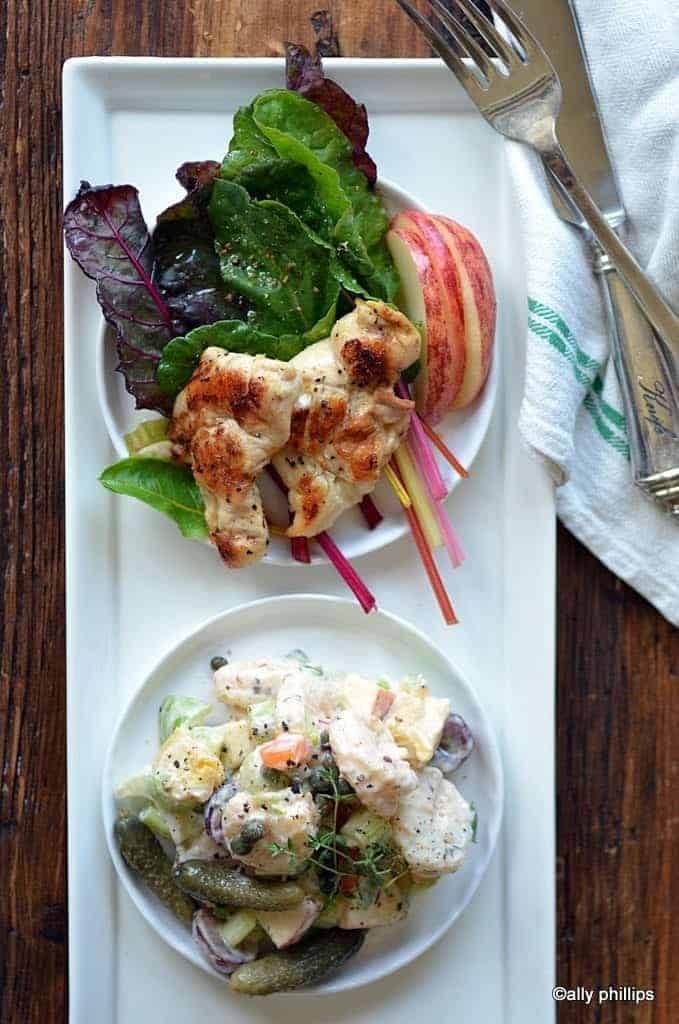 What you do:
In a large non-stick skillet over medium heat, melt the butter. Add the shrimp, sprinkle with lemon pepper and cook about 2-3 minutes on each side. Remove from heat and set aside to cool about 10 minutes.
In a large mixing bowl, combine the peppers, capers, celery, green onions, pineapple pieces, grapes, apple pieces. Toss and blend. Add the shrimp (use a rubber spatula to get all the good butter drippings from the skillet) and toss with your hands. Refrigerate for 30 minutes.
In a small mixing bowl, combine the mayonnaise, yogurt, lemon juice, thyme, salt, pepper and blend well. Refrigerate until ready to mix with the shrimp mixture. Blend and refrigerate until serving.