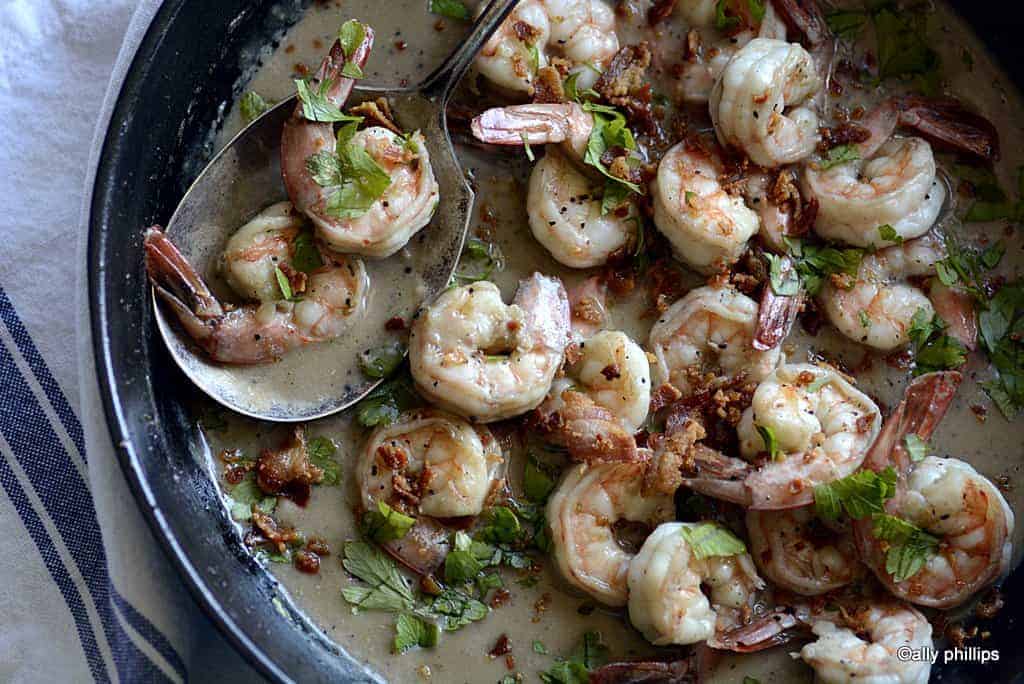 Hurricanes are a tragic natural disaster. Living on the coast of South Carolina, I don't look forward to 'hurricane season'. Unlike the 'holiday season' it's fraught with some underlying anxiousness each time a 'disturbance' starts circulating in the far away Atlantic ocean. This shrimp & pancetta gravy recipe is inspired by hurricane season. In particular, Hurricane Matthew that struck the coast of South Carolina on 8 September 2016. Yes, we were almost in the eye of the tiger, and we experienced significant damage. However, on the bright side, it could have been worse!
For about five days, we were without power. I'm so so thankful I wasn't born in the 1800s when there wasn't power. Oh, the conveniences we take for granted just can't be enumerated. For days, as I'd go into a room, I'd immediately flip the switch. Such a force of habit. There were so many things I was thankful for, like flushing toilets, cool outdoor temperatures, sunshine, low humidity, ice to buy and more. These were things that got us through these days that made it easier in the initial cleanup.
Having a gas stove was a blessing. That meant I could still cook. And, cook I did. Endlessly between cleaning out refrigerators, freezers, raking, bagging debris and more. We live on a small dirt road. There are 13 families. So, I was delighted to invite and feed neighbors as we all were in the same boat and knew what was happening with each other. Besides my freezers were full of great food, so it had to be cooked and eaten.
When you don't open a freezer, it's amazing how long food will stay frozen without power. Then when you move things out and start loading it up with 30 to 60 pounds of ice, it preserves even longer. This shrimp was pulled out and I knew what I was going to make. There was a beautiful packaged of pancetta to go with it. Such a classic combination in the South, shrimp and grits or shrimp and rice and a rich brown gravy.
By about day four, we were able to get UPS delivery, and what did I do when he brought my package to the kitchen door?  I fed the UPS guy! This is the dish that I was cooking when the beautiful brown truck pulled up to my house with a delivery.  He grinned from ear to ear mostly because he told me he'd just had his power restored to his home that morning. And, when I handed him his plate, he smiled more and left with a little more skip in his step!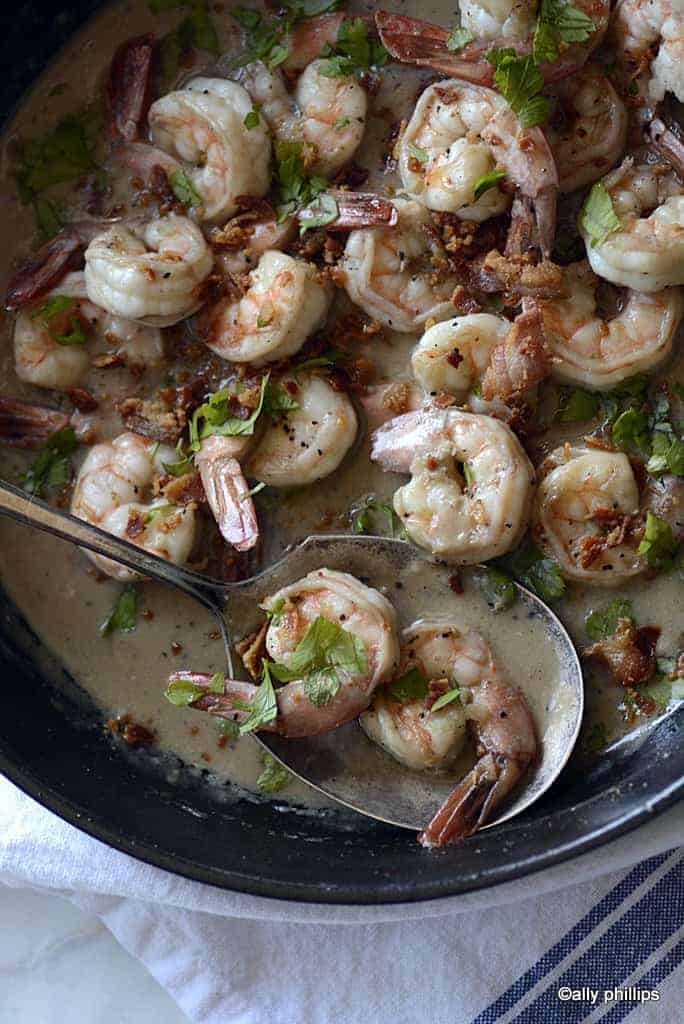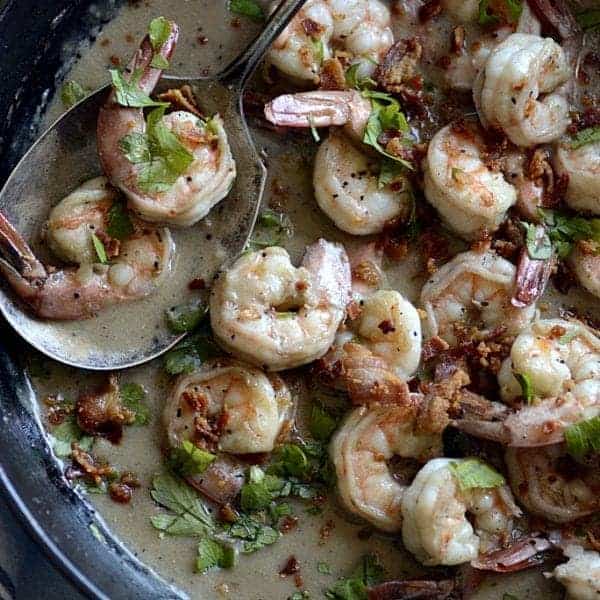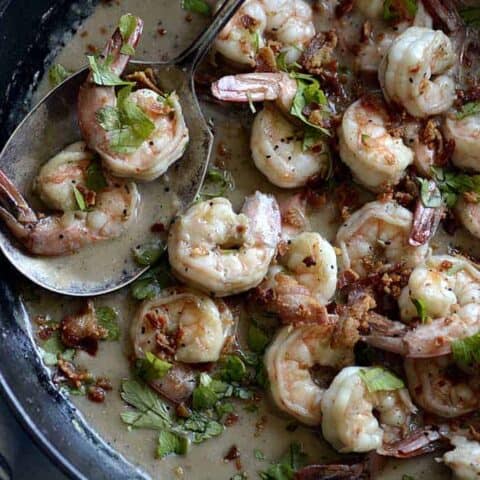 shrimp & pancetta gravy
Ingredients
1 package (3 oz.) pancetta, fried, remove pancetta & crumble (set aside), reserve drippings in skillet
2 Tbl. butter, salted
1 lb. large shrimp, tail on, deveined
½ cup white wine, chardonnay
2 Tbl. all-purpose flour
1 cup chicken broth
1 tsp. coarse ground pepper
¼ tsp. red chili flakes
2 Tbl. fresh Italian parsley, chopped
Sea Salt to taste
Instructions
Over medium heat, melt the butter in the skillet with the pancetta drippings. Add the shrimp and cook on each side about 90 seconds.
Immediately remove shrimp to a plate using a slotted spoon or spatula.
Keep heat on medium. Add the wine and deglaze skillet and let it sizzle about 2 minutes. Whisk in the flour making a paste and cook for about 90 seconds whisking the entire time.
Slowly add in the chicken broth and blend well. The gravy should thicken.
Add the pepper and chili flakes. Turn off heat. Add the shrimp into the skillet, fresh parsley and crumbled pancetta.
Cover with a lid and let it sit on the warm blaze about 3-5 minutes.
Notes
As the gravy cooks and simmers, it will darken.

Serve the shrimp/gravy over grits or rice.

If gravy is too thick, just add more chicken broth.

It's important not to overcook the shrimp. It will steam in the gravy when covered.