How to Make Your Home Peaceful and Tranquil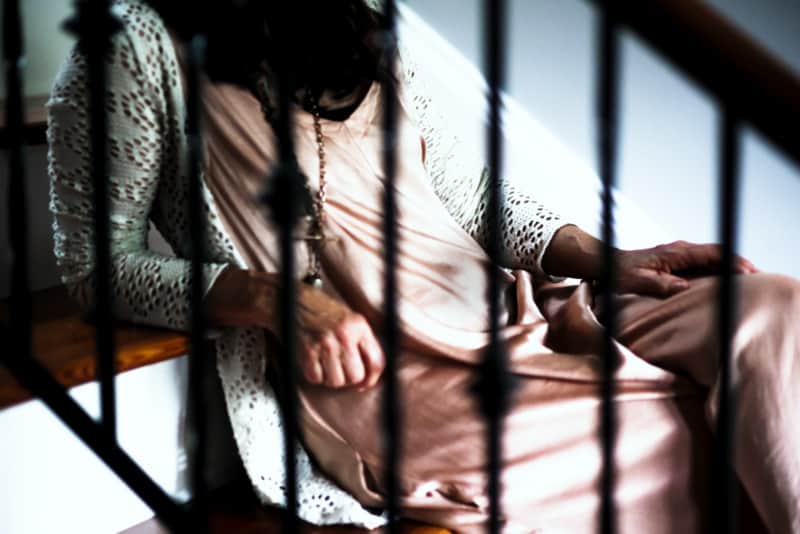 The global pandemic has changed our homes! Doable simple ideas to make your home peaceful and tranquil are easy. Survive, thrive and it!
peace in your home
It has been almost a year since the way we live changed globally. Through all these months, we have had to stay at home to prevent this pandemic from continuing to grow, entire families have had to adapt to working and studying from home. Faced with this unexpected change, many of us have had to adapt spaces in our homes to establish offices, school classrooms, and home gyms. But, you still want to make your home peaceful and tranquil!
Before 2020 it was easy to differentiate between office time and time at home. That is difficult because we are working in the same place where we are supposed to rest and relax, leaving behind the stress and pressure that our jobs can generate us.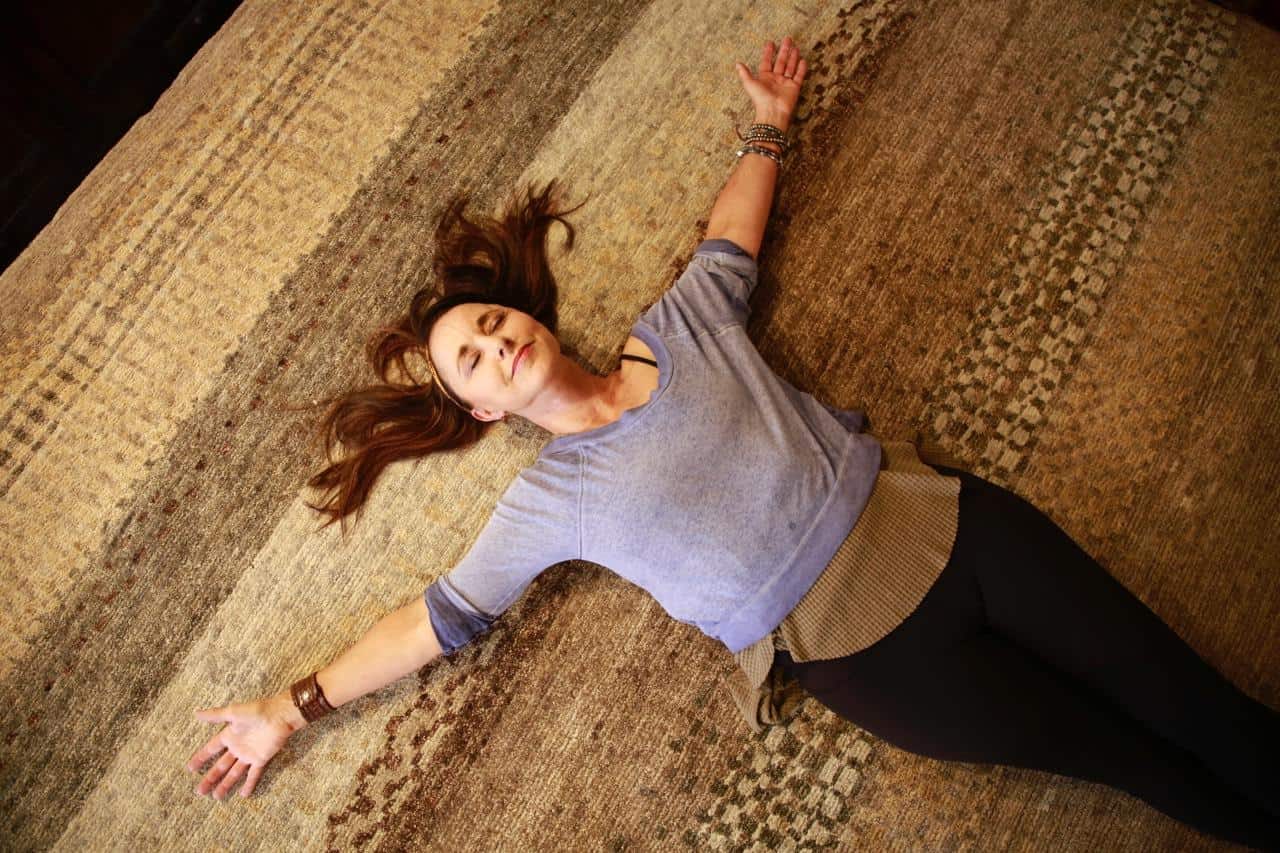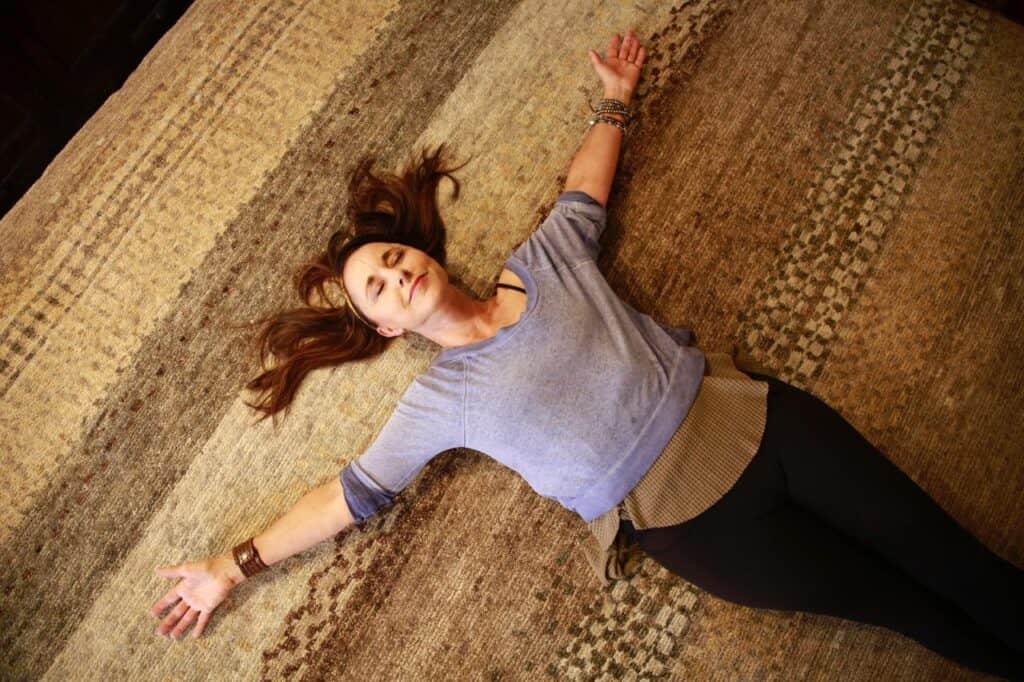 Peaceful Environment
Although we need to stay at home, we must develop new ways to separate time for work, rest, and entertaining. Yes, making home peaceful is #1.
Now more than ever, it is essential for our well-being that our house is a place where we feel comfortable, secure, happy, and inspired to carry out our day-to-day tasks.
I know that making changes to your home's design or decoration would not mean significant changes for humanity. However, this kind of changes at home can help make you feel comfortable and relaxed after a long and stressful day.
There are some easy tips to make your home peaceful and tranquil. We can find ways to improve our home to turn it into a more pleasant and organized place, and that can be the difference to be able to have a more relaxed and calm life.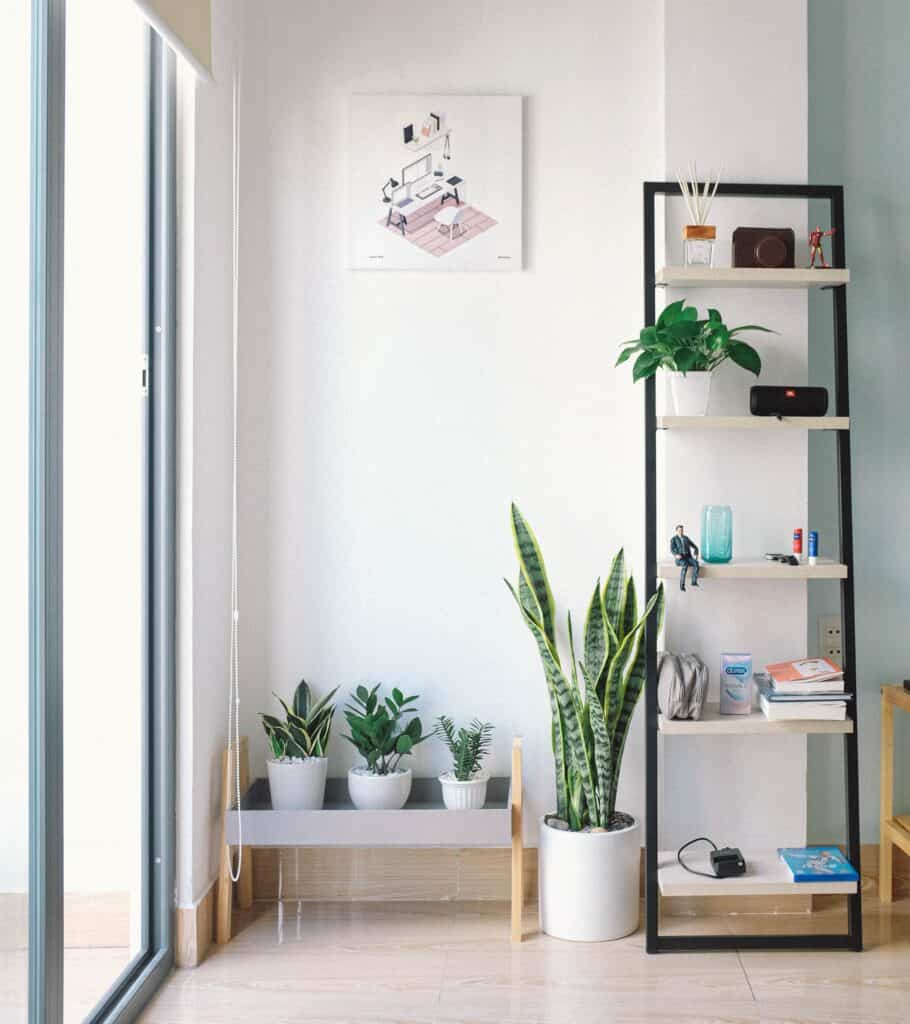 Peaceful Home
Renewing our home's colors with natural shades like blues, grays, greens, whites, and beige will turn it into an oasis of peace and joy.
Giving color to a room not only has an aesthetic purpose but also has positive psychological effects. Research suggests that there are shades that can stimulate the brain while others tend to lower stress levels with a calming effect. If our offices are now at home, then it is advisable to choose colors that allow us to remain focused and calm at the same time.
If we want to have a tranquil home, natural shades like blues, grays, greens, whites, and beige would be the appropriate choice. Blues and greens are perfect colors for a quiet home office. Studies suggest that green shades increase concentration, while with light blue, you can decorate your walls with shelves or photographs without the risk of overloading the space.
Peaceful Spaces
We can renew our home's colors to turn it into an oasis of peace and joy, and here are two simple ways to start.
The first one identifies the most viewable areas from room to room; these are commonly the kitchen and the living room. Selecting gentle, neutral tones such as white or beige for the living room and kitchen would make the choice of colors easier for the following areas.
The second approach is beginning with space where you want to have the boldest color. Your master bedroom can be an example of this. From there, you can choose lighter tones that blend in harmony with each other.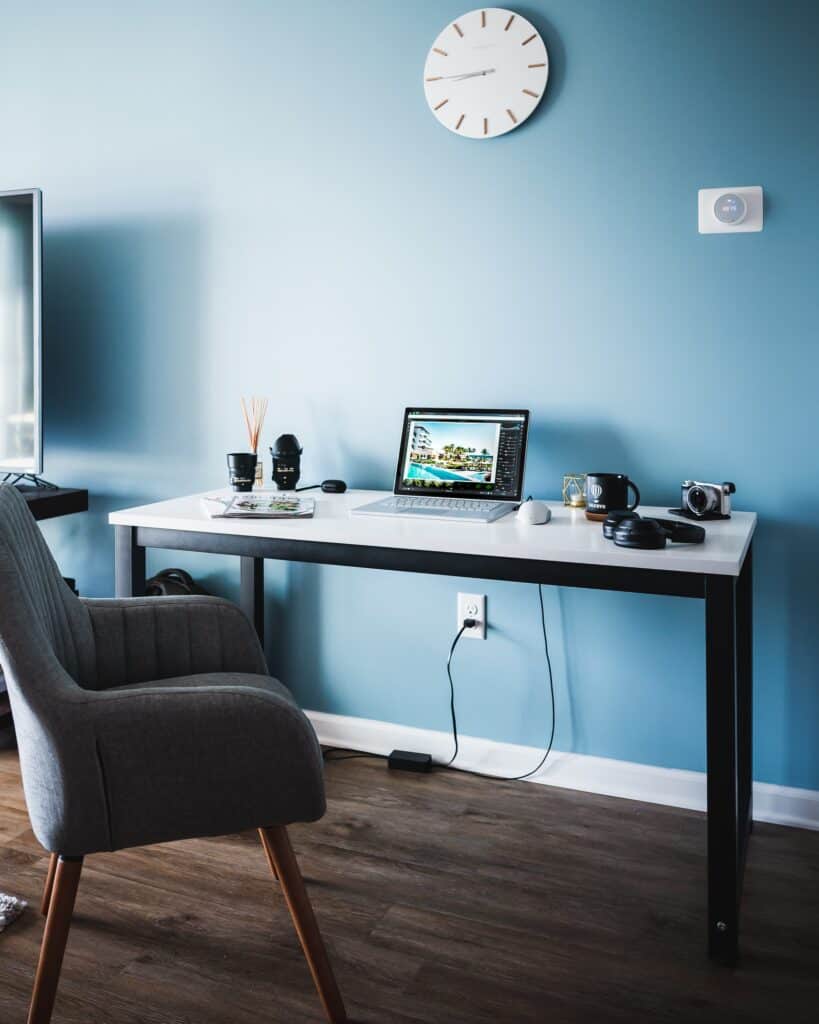 Relaxing Room Ideas
The feeling that you can breathe better can keep you calm and relaxed.
Natural light can help keep you relaxed, and maintaining your windows open at home gives you a feeling of freedom when fresh air comes in from outside.
We've got to consider having natural light sources. Let the sun bright on your day. Sunlight works well to make our spirits happier. Set your office near a window that lets natural light in, and you can have a view of the outdoors. Natural light will help keep you relaxed during work time. In rooms where you have windows, try to keep the curtains pull off to the sides to light up naturally.
Since we can't get out of the house as much as we did before, opening windows at home can give you that feeling of freedom when fresh air comes in from outside. Experts have recommended maintaining good indoor air quality and increase ventilation by opening windows.
New ambiance and relaxation can also come from simple ideas like:
– Making a mosaic display from old tile and glass
– Knitting or crocheting your own bed throws, cushion covers, and rugs
– Updating lounge blinds and curtains
Calming Room Ideas
Free yourself from stress organizing your home to live happy and calm.
Because we want our home to become a retreat from stress, we need to get rid of the clutter. A messy house can be a huge stressor, a rise in anxiety and exhaustion. If you'd like to start organizing your home, you can start by sorting things into three groups: what you can recycle or donate, what you can keep, and what you can throw away.
You can find more helpful tips from experts on this topic since books, blogs, and even Netflix series specialized in teaching us how to get rid of clutter at home.
Creating a Relaxing Environment
A touch of nature at home can lower your stress levels.
Having flowers in a beautiful vase in any space in our house can have a relaxing effect as they are always pleasant to the eye and the smell. Studies have found that potted plants can reduce stress and make people feel calm. In a Harvard University investigation was found that women who surround themselves with plants live longer and happier.
There are specific types of plants that are helpful to lower stress levels. Plants like Peppermint, Chamomile, Jasmine, and Lavender can work inside the house or in our garden.
Although it may sometimes seem challenging to have indoor flowering plants, some require less time and care investment. Flowers such as geraniums, orchids, jasmine, and peace lilies are low-maintenance plants that boast beautiful blooms easy to grow indoors.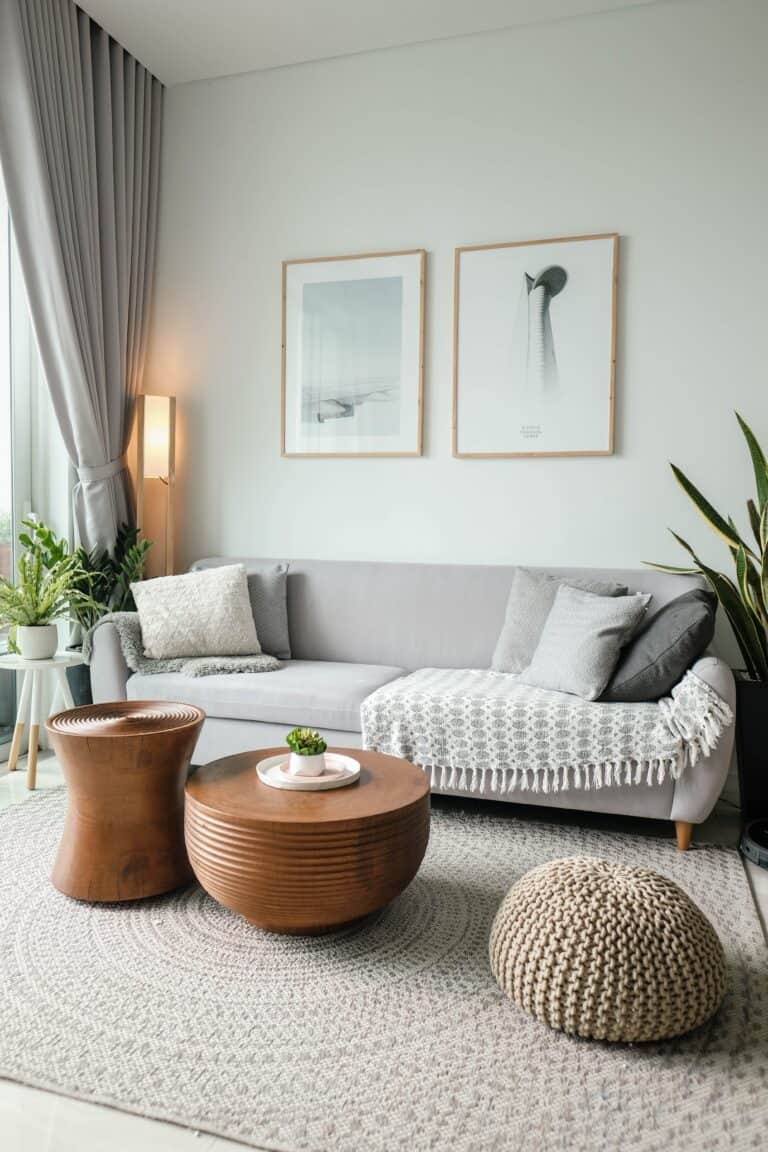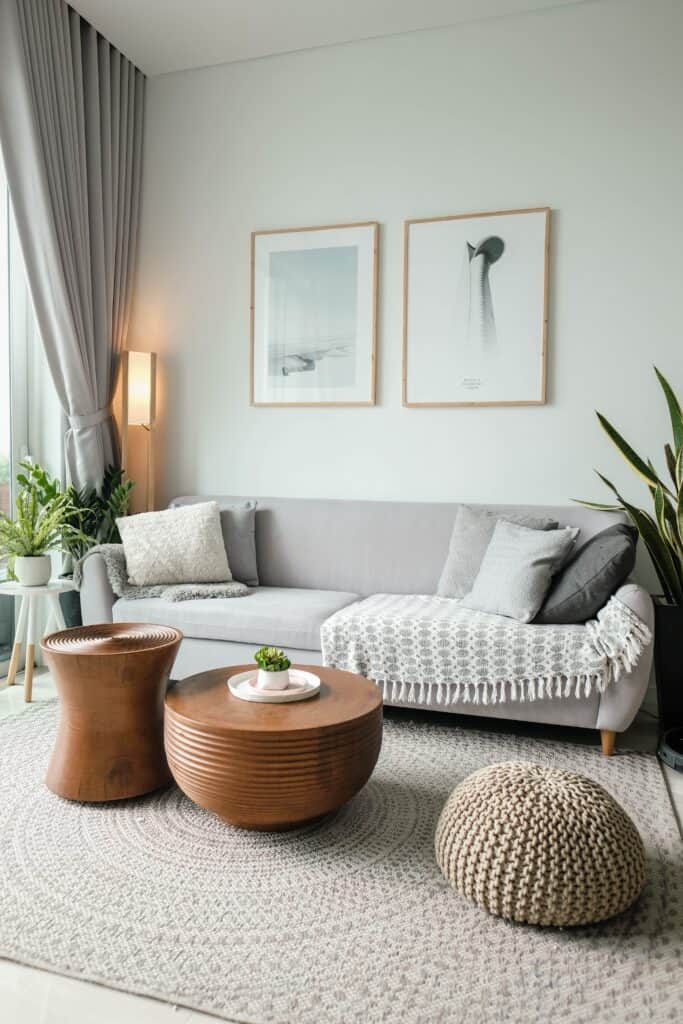 Relaxing at Home
A home must be a cozy place to live in that always invites you to relax.
Place throw pillows and blankets in every bedroom and the living room. You will give each space a softer, calmer, and more relaxing appearance and feel that you can rest whenever you feel tired or stressed.
Using throw pillows and blankets is a simple way to give pattern, color, and warmth to any space. It is an excellent strategy to make a more modern and cozier home. When we have to work from home, separate the office from the rest area. It would be great to enter a bedroom or living room with a decorative touch such as pillows and blankets that invite you to lie down and relax watching your favorite movie or reading a good book.
How to Create a Relaxing Room
Improve your Home to Take Care of Your Well-Being
This new normal has pushed us to transition to new ways of living, working, learning, and having fun. Our lives have changed, and we had to find the best ways to live. These are just a few simple things to do to transform and make your home peaceful and tranquil. A place where we can continue to work, learn and, above all, take care of our well-being, keeping us happy and relaxed until these pandemic times are over.