I totally love recipes like this orange marmalade spicy chicken drum sticks! Why? Not just because it's super luscious and delicious, but also because it's so versatile. I mean you can use this orange marmalade mixture on any cut of chicken: thighs, breasts, even the whole chicken, but I love these chicken drum sticks. And, if you want to try it on pork or lamb, yes, it will work!
There's nothing difficult or complicated about this recipe. If you can dump and stir, then you've got it. Something else about this recipe. I've tried to cut back on the sugar and by using this brand of orange marmalade, Polander, you're getting the wonderful flavors of the citrus orange without the calories of the sugar in regular marmalade. An addition of the honey gives you just a hint of sweet. Then you've got the smokey and spicy. So, it's all wrapped up in one sauce that just is coated and loaded on the chicken then roasted in a hot oven!
If you don't eat all these fat drum sticks, then just refrigerate and when ready to eat, warm on low (about 300 degrees) in the oven for 15 or 20 minutes. Be sure to wrap snuggly in foil! xox ~ally
PS! Have you tried any of my Skinny Girl Recipes???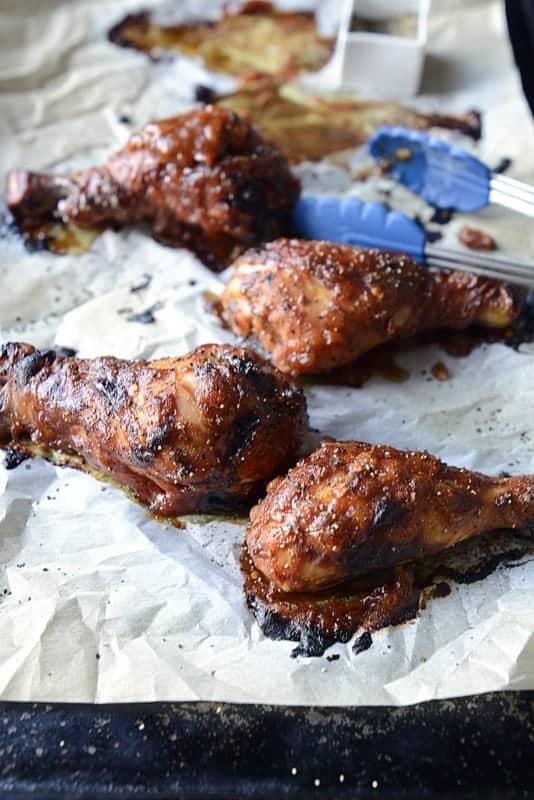 orange marmalade spicy drum sticks
Ingredients
Serves: 3
Preheat oven to 400
6 chicken drum sticks, large plump
1 tsp. sea salt
1 tsp. smoked paprika
1 tsp. McCormick's Perfect Pinch Caribbean Jerk seasoning mixture
½ tsp. coarse ground pepper
½ tsp. red chili flakes
½ cup orange marmalade, sugar free (I used Polander brand)
2/3 cup ketchup
¼ cup honey
2 Tbl. Mustard, classic yellow
Instructions
Rinse and pat dry the chicken drum sticks. Place in a medium mixing bowl.
In another small bowl, combine the salt, paprika, Caribbean Jerk seasoning mixture, pepper, red chili flakes, marmalade, ketchup, honey and mustard. Whisk together well.
Pour about half plus of this mixture on the drum sticks. Toss and coat them well.
Line a cookie sheet with parchment paper. Place the drum sticks on the cookie sheet. Dollop about a teaspoon plus more of the thick sauce on top of each drum stick and spread out.
Take a doubled piece of foil and lightly place on top the chicken. Roast in a 400-degree oven for about 30 minutes. Remove the foil after 15 minutes and let the chicken continue cooking uncovered. It will get a slight char on it.
The internal temperature should be about 165 for doneness. For more browning/charring, turn oven to broil (chicken should be about 12-18" from broiler) for a couple of minutes.
Remove when done. Recover with the foil and let the chicken rest for about 5-7 minutes.
Serve with remaining sauce and your favorite tastes, flavors and textures like salt and pepper kettle chips, pepperoncini, olives, deli sliced pepper rings, bleu cheese dip, veggies and more!
Notes
You can also use chicken wings or drumettes with this recipe!
https://allyskitchen.com/orange-marmalade-spicy-drum-sticks/
©ally's kitchen intellectual property