~ biscoff chocolate crumbly sticks & bites~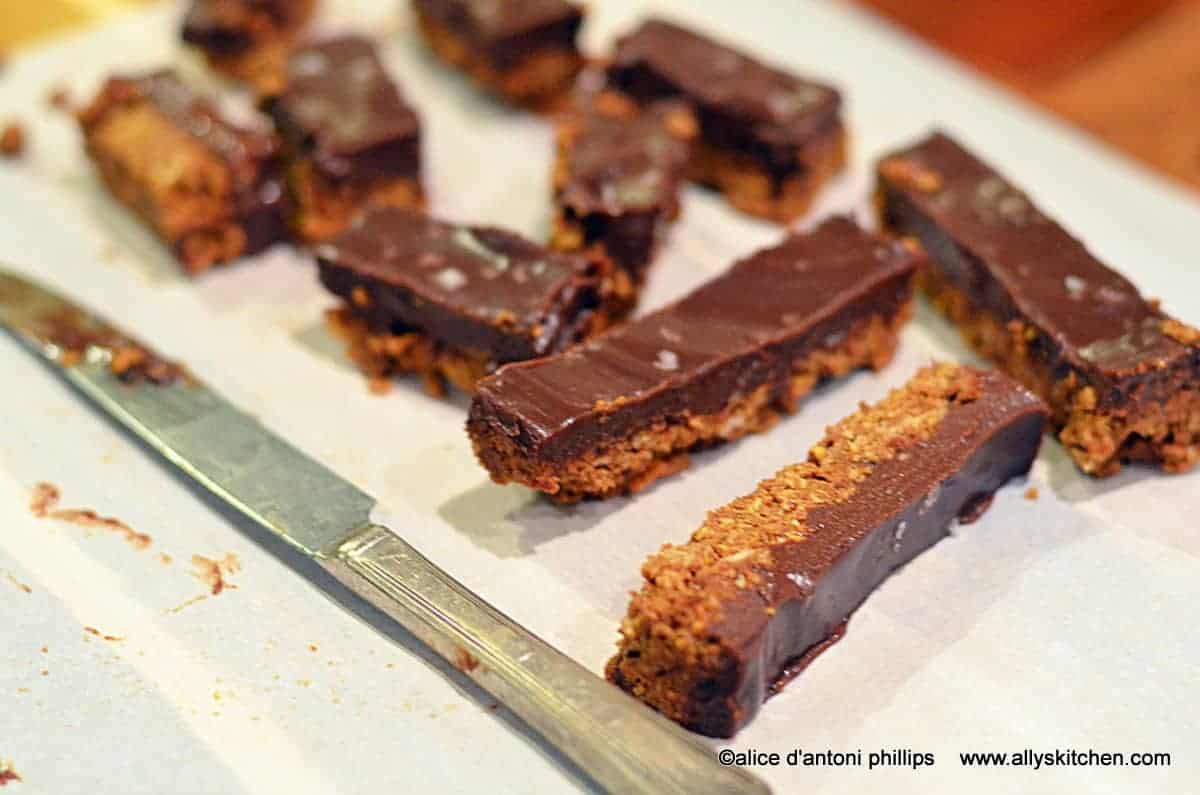 You live and learn. That's so true when cooking. So, in this easy quick recipe, I learned that to make the slicing of the sticks and bites easier I should have lined my baking dish with parchment paper. Alas, I didn't~~cutting them in the pan was a pain and getting the first few out even more tricky.
You'll see in the 'what to do' what I SHOULD have done, next time, I will! I also learned that I should have mixed the cereal crumbs with more of the chocolate mixture, and I'm included that in what you do.  These critters are full of sinful goodness~~the kind that you only want a taste of, must exercise Herculean self-discipline with, and probably best give most away lest you regret your indulgences!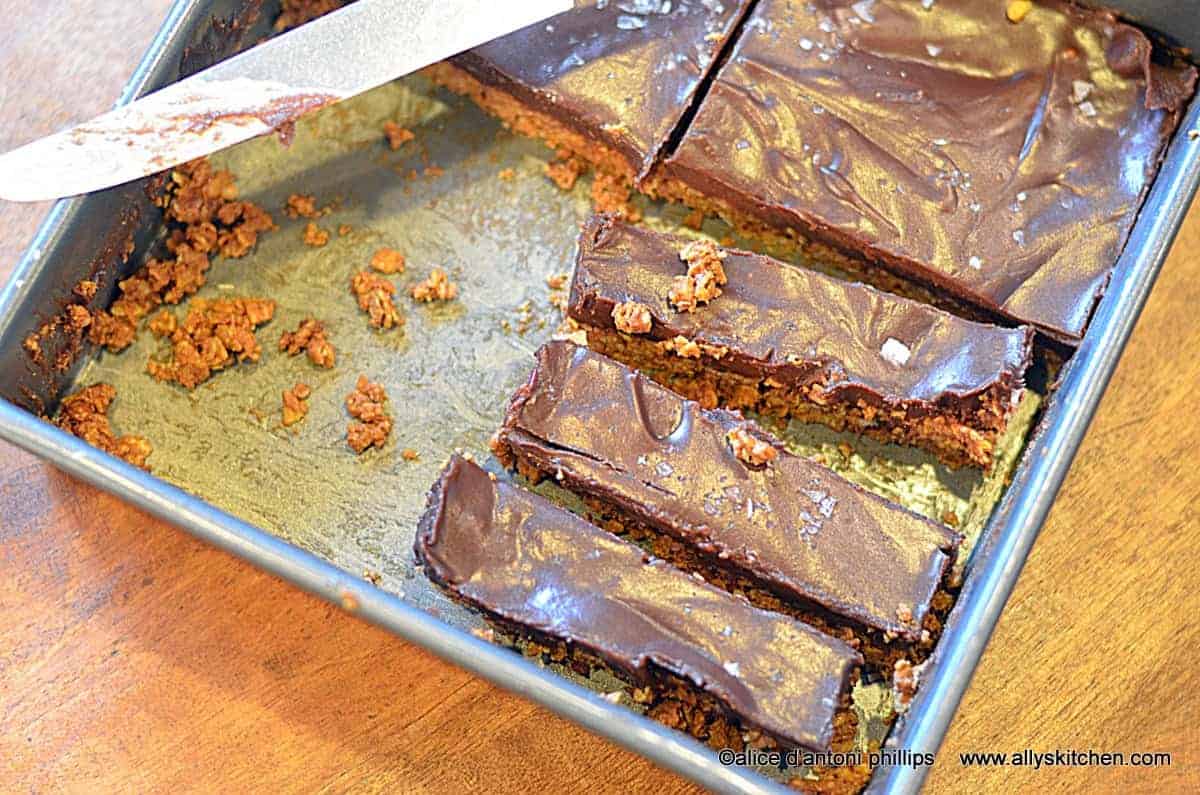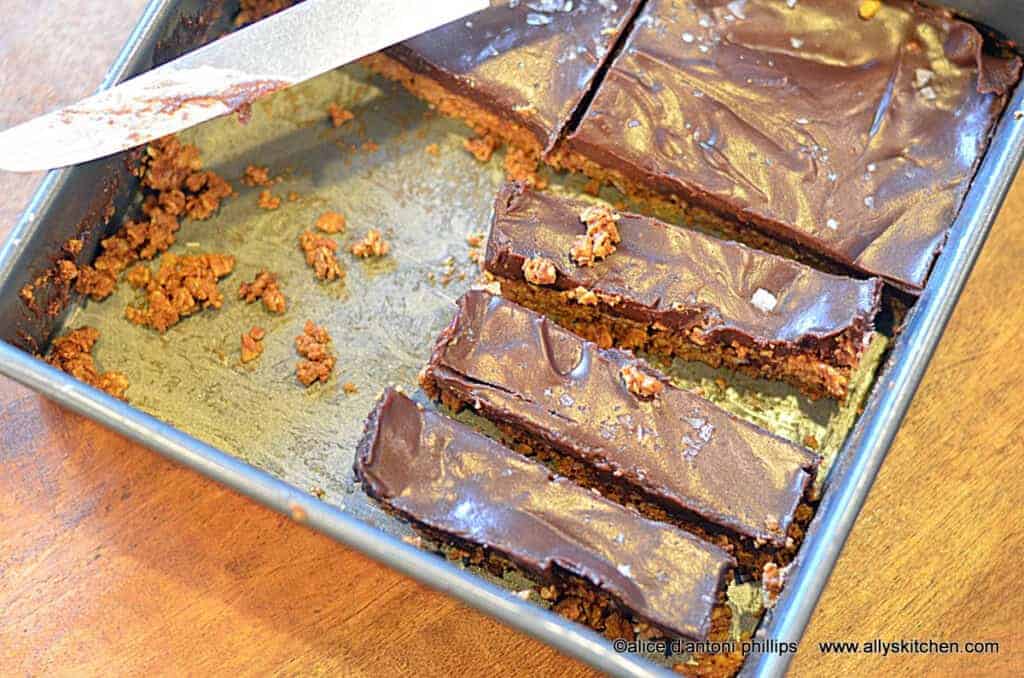 Makes: One 8×8 pan
What you need:
1 cup half and half cream (or whole cream)
16 oz. chocolate pieces (try to use the best you can manage)
¼ tsp sea salt
1 tsp. butter
1 cup Biscoff spread (can substitute peanut butter)
3 cup crushed cereal flakes (i.e., corn flakes, crispies, or combo—about 4-5 non-crushed cups)
Pinch of finishing sea salt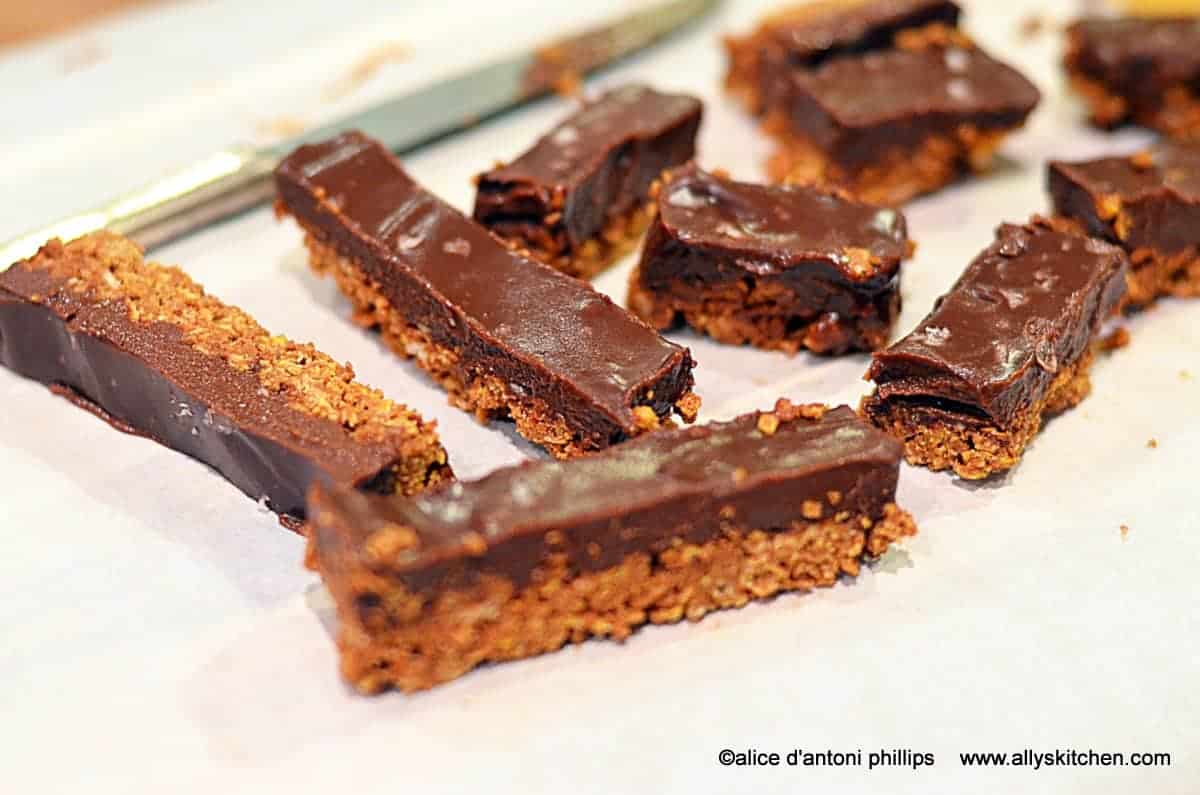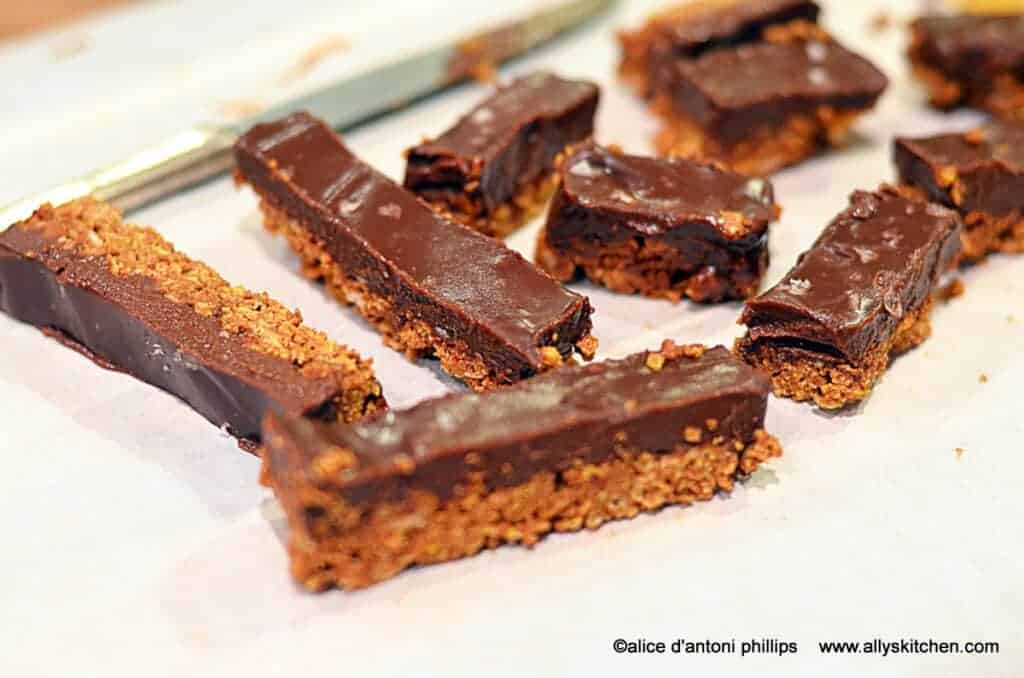 What you do:
In your 8×8 baking pan lay a piece of parchment paper so that only two sides have paper extending beyond the sides making 'handles'. This will allow for easier removal and cutting.
Make a double boiler using a medium-sized pot filled about halfway with water, then put a cook-safe bowl (the clear type are the best) over the water. Turn the heat to medium high, put in the cream and let it get warm. Add the chocolate pieces, salt, stir and let them melt making a sauce. Reduce heat to medium low, add the butter, and blend.
Pour about half of the chocolate mixture into another bowl, add the biscoff and blend. Add the crushed cereal flakes, blend and pat well into the parchment paper-lined baking dish. Pour the remaining chocolate mixture over this and spread. Sprinkle with finishing sea salt.
Refrigerate for several hours before removing and cutting into sticks and bites. You can also put this in the freezer.
Remove using the paper 'handles' and cut into whatever size sticks and bites your littl' pee-pickin' heart desires! Keep them refrigerated until serving.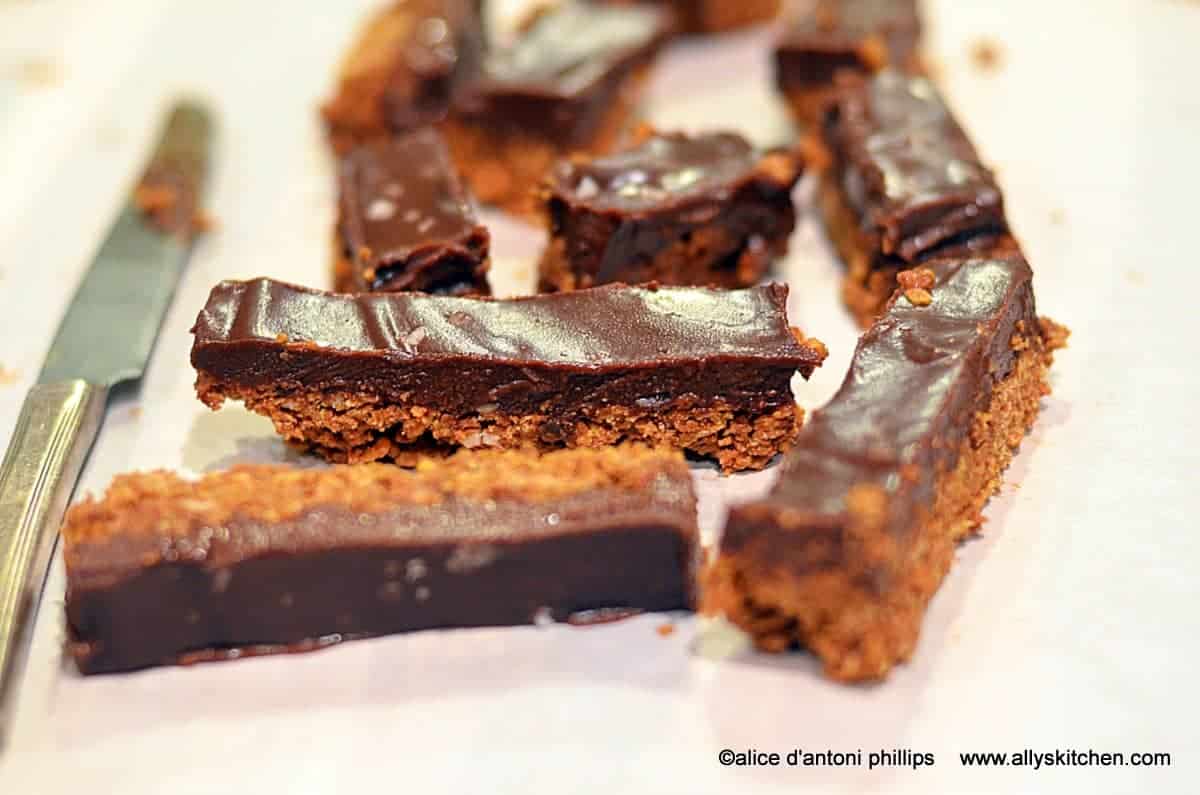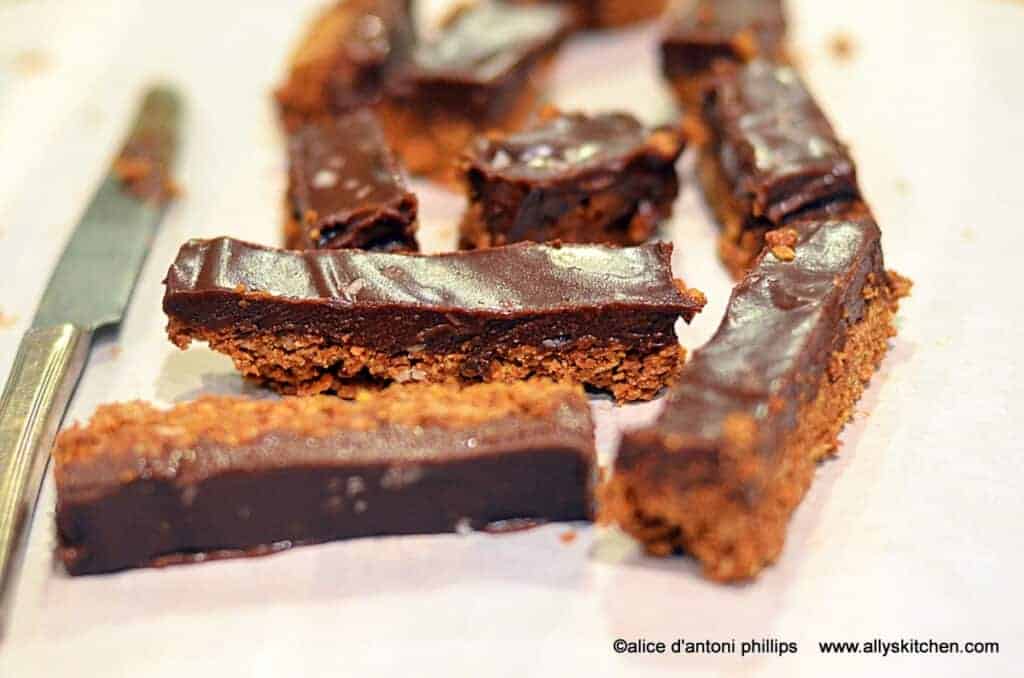 ©alice d'antoni phillips www.allyskitchen.com